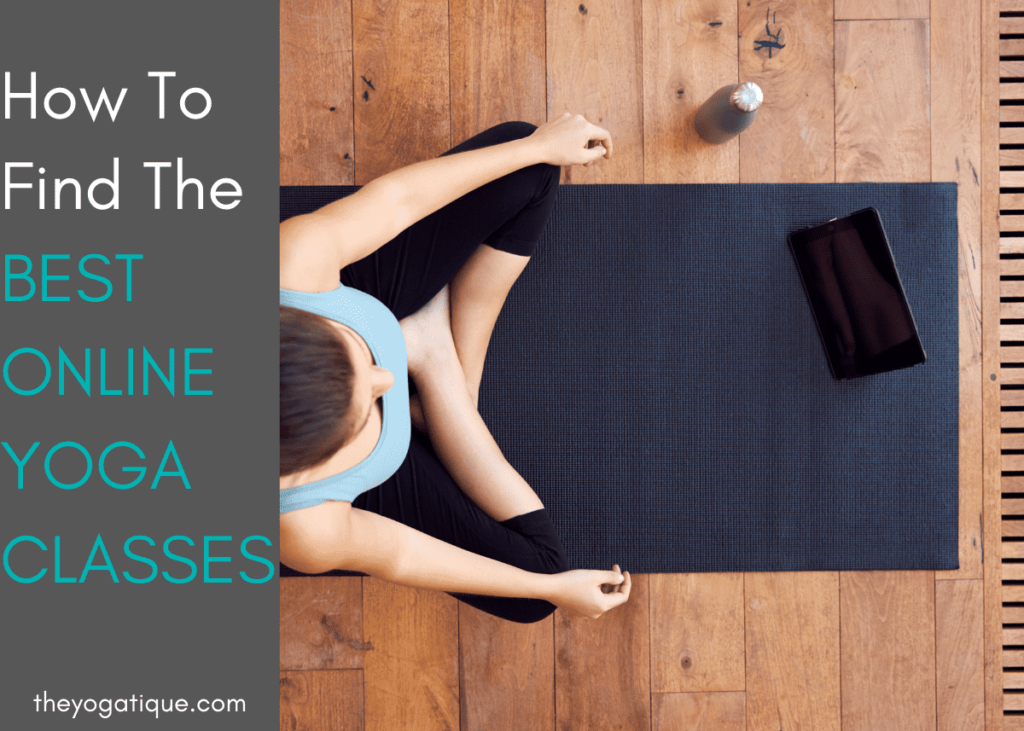 There are a couple of obvious reasons that come to mind as to why online yoga classes are the latest fitness craze. But with so many options, it's hard to determine which online yoga memberships offer the best online yoga classes. That's where The Yogatique comes in, we try all of the online yoga subscriptions out, so you don't have to!
According to a 2017 poll by Yoga Journal 43% of Americans are practicing yoga at home, confirming that online yoga continuous to become all the rage. If we compare that with the percentage of those polled practicing yoga in-studio coming in at 40%, it appears that people are ditching the studios in favor of an at-home practice with lower costs and fewer limitations.
Are you ready to get in on the at-home yoga lifestyle to get fit and feel great at home, too?! With the availability and affordability of yoga apps and online yoga subscriptions, there's no better or easier time than now to advance your practice.
---
Article content:
(Click any link below to jump directly to section)
---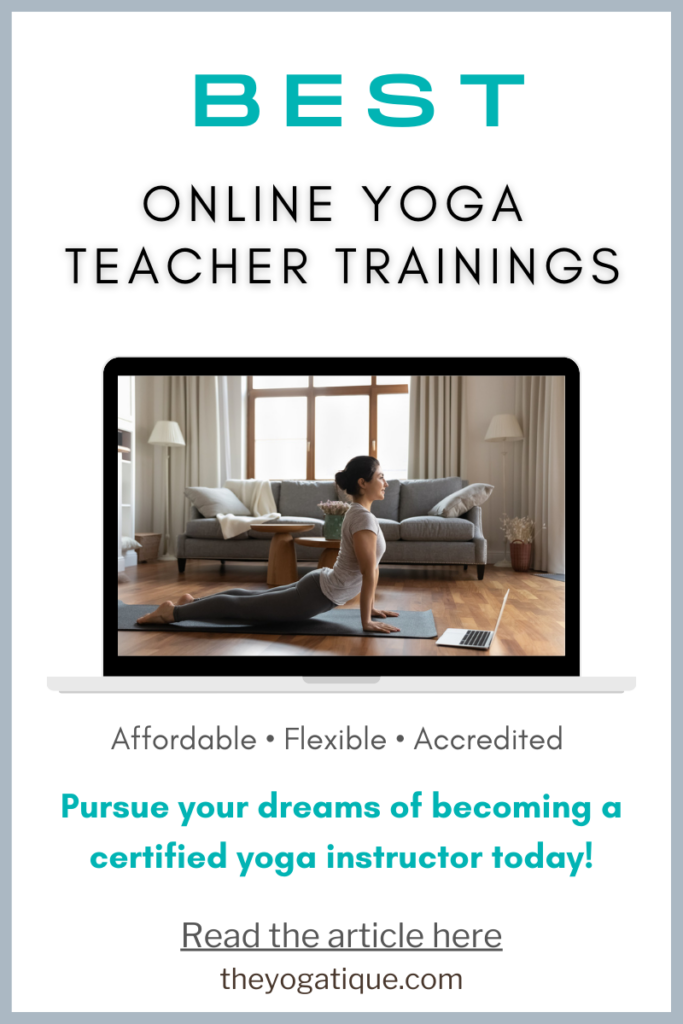 IS YOGA TEACHER TRAINING ON YOUR RADAR?
Online Yoga Teacher Training Offers
Affordability ✔️
Flexibility ✔️
Certification ✔️
Lifetime access ✔️
⬇Click below to discover the best Yoga Alliance registered online YTT's to join now ⬇
Why yoga is moving online
In recent decades, the rise of the boutique yoga studio was apparent in every metropolitan area, but with this stiff competition came a price war to capture all of those eager customers wanting to be a part of the wellness movement.
It might seem though that the price war became a battle of perceived value because, despite the fact the competition got stiff, prices just seemed to keep going up. We don't think we are alone in saying that the price of a yoga studio membership is now rather exorbitant for a lot of us. Hence the popularity of online yoga memberships.
So now, we've got a plethora of options at our fingertips as yogis, but we still need to determine the best online yoga classes and memberships that tick all the boxes.
When it comes to choosing an online yoga subscription membership to go with, there are a few things to observe or look for that might help you decide which studio is right for you.
Most importantly, you'll want to decide if you like their instructors, and the main style of yoga the studio focuses on.
Do you prefer that the yoga teacher is instructing a class, or demonstrating the flow themselves, personally? Do you like an added touch of music, or do you find that distracting? How often do they add new classes and how many classes do they have now? Do they have an app and/or can you download classes for offline viewing? Do they offer morning yoga and evening yoga routines?
By considering those questions above, you'll be able to quickly determine if an online yoga subscription is a go or a no.
Online yoga continues to gain popularity
The Good Body highlights the trend in online yoga with a poll that elaborates on the various reasons people are so keen to pick up this 5,000-year-old practice. According to The Good Body's yoga statistics, there are 36 million active practicing yogis in the United States with an increase of 50% from 2012-2016. And it's not surprising that yoga has become one of the number one remedies for stress relief, as their article professes.
The Good Body's poll also asserts that Americans spend 16 billion dollars per year on yoga classes and other yogic lifestyle must-haves. We all know we can't live without our favorite yoga pants. Who can resist the perfect pair of curve-clinging gravity-defying leggings?!
A good choice for online yoga & fitness classes
In recent months, it seems that Alo Yoga and Alo Moves are dominating the online yoga space with their eye-catching ads, attractive price point, and expansive online fitness and yoga class offerings. At this moment in time, Alo Moves is hard to beat when it comes to class quality, class variety, and value for money with over 1,700 classes and counting. From complete beginners to advanced practitioners, there's something for everyone on Alo Moves – trust me, I've been an Alo Moves member for over 8 years! Use code THEYOGATIQUE25 for 25% off Alo Moves here.
The cost of online yoga subscriptions versus in-studio classes
So besides the flexibility that online yoga memberships afford and the opportunity to practice yoga with world-class yoga instructors in your own living room, another very appealing reason to switch to doing yoga online is the price. For the cost of one drop-in yoga class you can join an online studio and have access to unlimited premium yoga classes.
At the very high end of the pricing spectrum, an online studio will cost you $20/month. In the United States that is literally the same cost as one drop-in yoga class. To put it in different terms – you could practice every single day for an entire month for $20/month online, or you could go to one drop-in class for the same amount of money. We know which one we'd choose!
Can a beginner do online yoga?
The question of whether or not a beginner can do online yoga is not a simple answer. If you have never attended a yoga class in your life it is imperative that you join an online studio that has an extensive beginners area.
Look for video and photo tutorials and beginner flows. Advance slowly and really get to know each pose before moving on. In an ideal scenario, you can find an entire beginner series to join where each class builds upon the previous class.
As a yoga newbie, it is essential that you take your time getting familiar with the practice, overstretching is a thing and injuries can happen from yoga.
Joining the online yoga community
With so many great options available at the stroke of a key, we hope to help you find the best online yoga classes on The Yogaitque and to inspire you to join the movement. Whether you're a complete beginner, an aspiring teacher, or an advanced practitioner there is certainly an online yoga subscription that is perfect for you!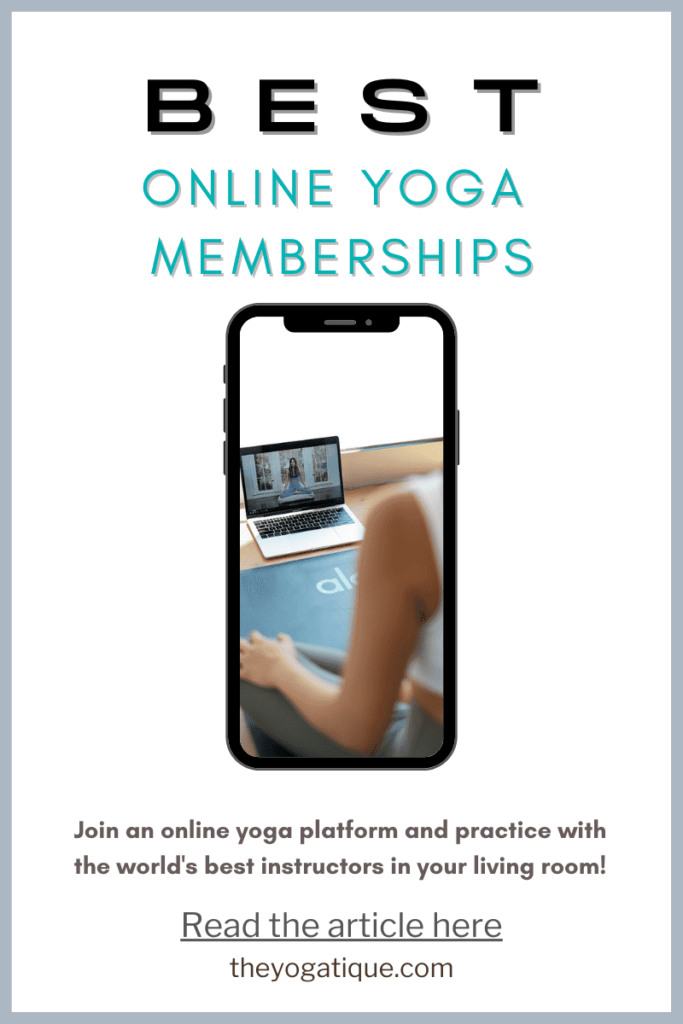 SEARCHING FOR THE BEST
ONLINE YOGA MEMBERSHIP TO JOIN?
Online Yoga Subscriptions Offer
1,000's of classes ✔️
Best instructors ✔️
Affordability ✔️
Flexibility ✔️
⬇Click below for the best online yoga memberships ⬇
Some online yoga studios, online yoga teacher training programs, and brands that we write about may offer us a small commission should you decide to make a purchase or signup after reading our content. Thank you for enabling us to exist!