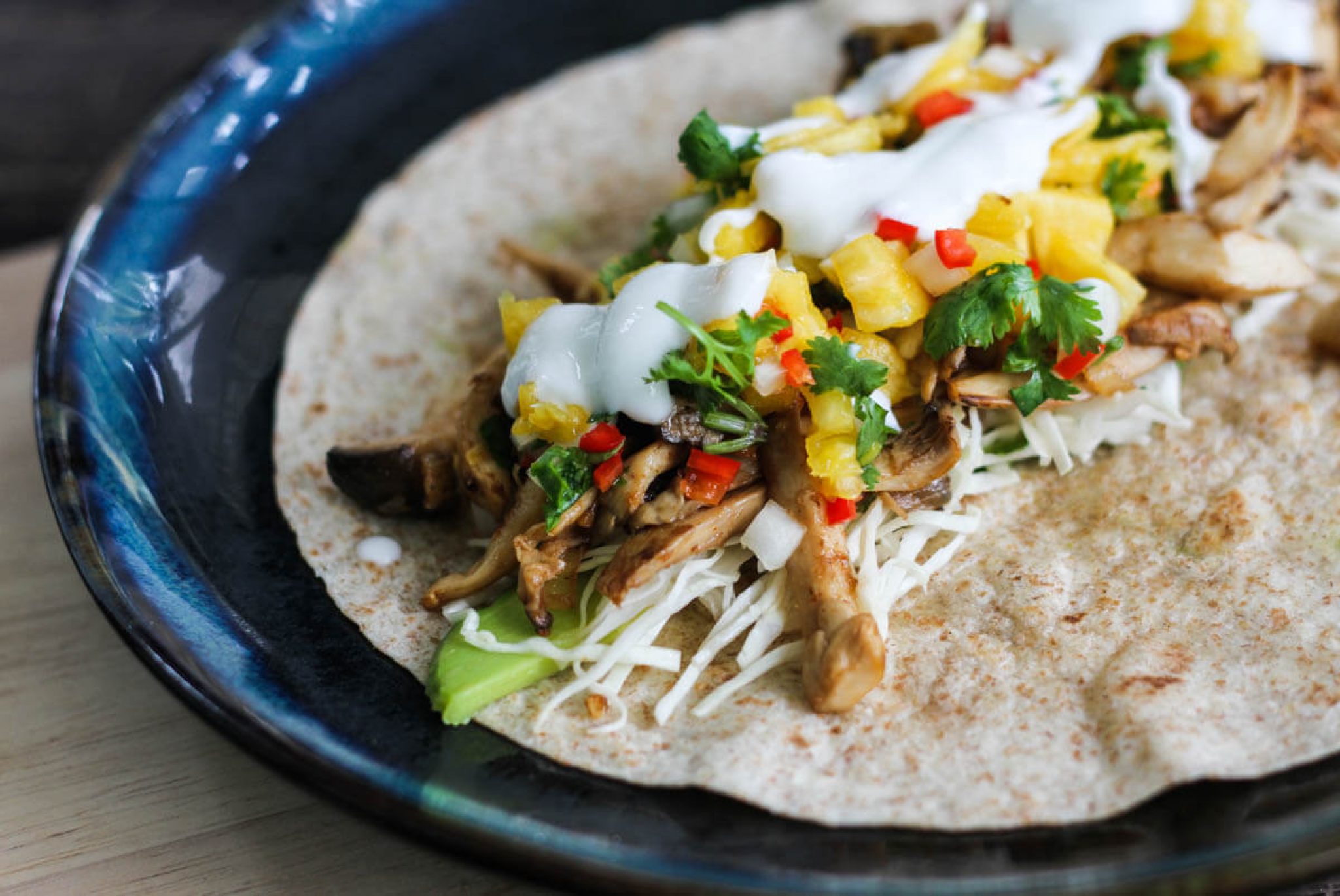 Nourishing wholesome yogi vegetarian tacos
As a plant based person I am always in search of tasty meat substitutes, especially those that can be made at home and these easy vegetarian mushroom tacos are something I just can't keep to myself!
Mushrooms are one of my all time favourite veggies, although who am I kidding, I don't think there is a vegetable that I don't like! Super versatile, tasty, low in calories and packed with vitamins, mushrooms can be made into plenty of interesting dishes that even your carnivorous friends will love. King Oyster mushrooms are big mushrooms with chunky stalks, they are also called King Trumpet or French Horn mushrooms, and sometimes even the very grand sounding Trumpet Royale. They boast a hearty texture that does not break down through cooking, these funghi keep their firm and almost chicken-like character, making them perfect in a taco. This recipe is vegan, but as always feel free to substitute or add in things like grated cheddar.
The savoury mushrooms make a flavourful contrast to the sweet and slightly spicy Pineapple Salsa.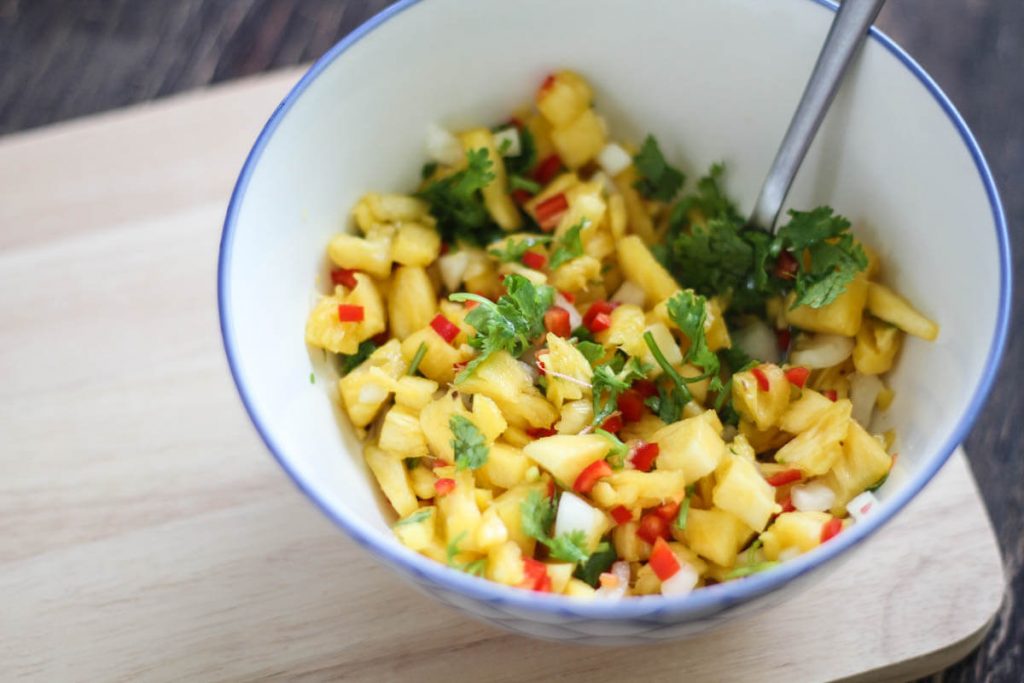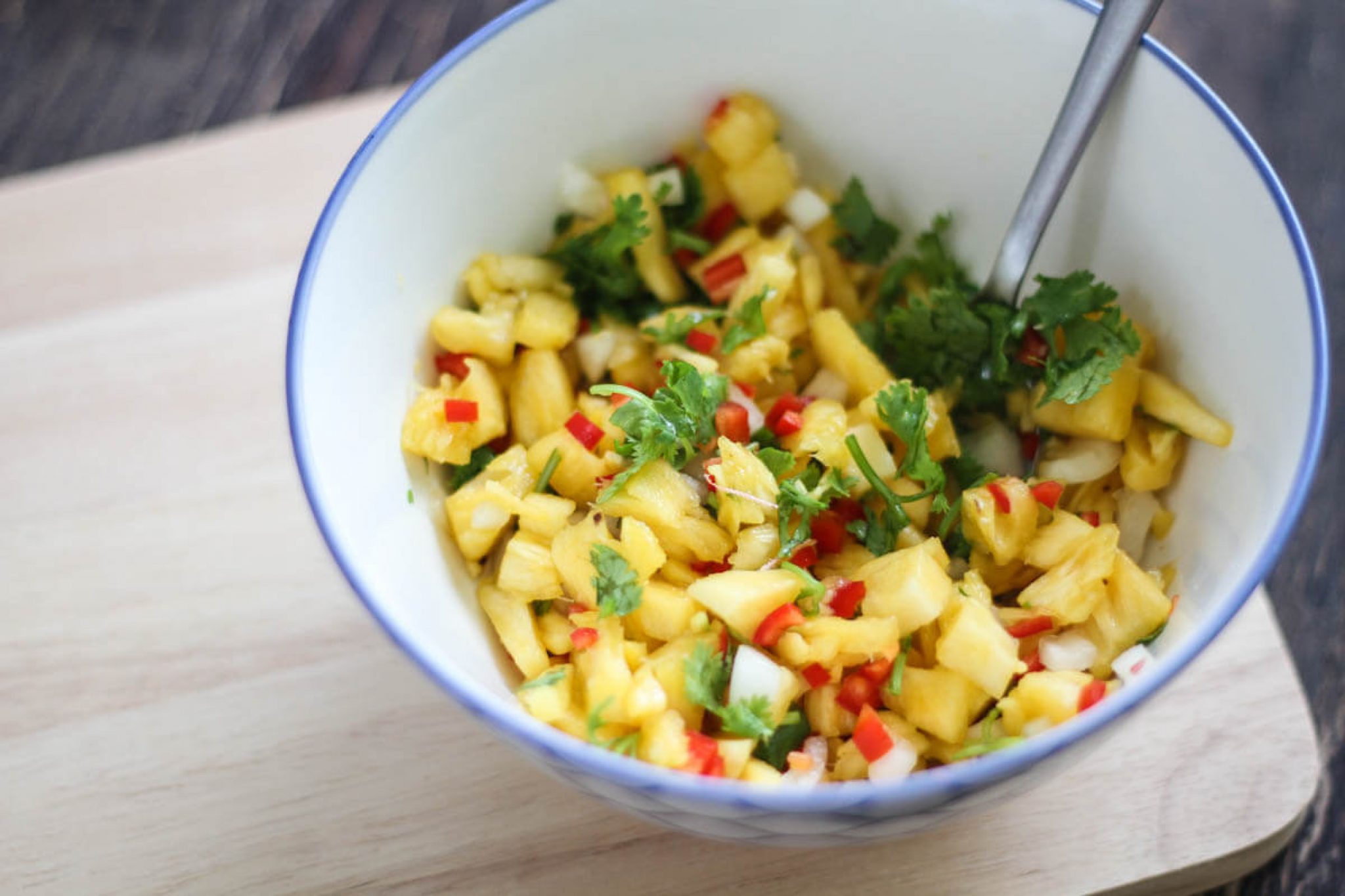 I adore pineapple salsa and tend to make extra to keep in the fridge. It also goes down a storm at BBQs as a side dish. In the tacos I add in thinly sliced avocado for a buttery taste, quick pickled white cabbage for sour, and some plain yoghurt and green onions to finish. This simple recipe is ready in less than 30 minutes, giving you tacos that are fresh, fruity and delicious.
Ingredients
Makes two 8″ tacos. I find one is perfect for a light lunch. All of the components can keep in the fridge for a couple of days to be used as more tacos or in other dishes.
2 tortillas of your choice, 8″ diameter. I used wholewheat ones.
For the mushroom 'meat' mix
3 cups king oyster mushrooms, shredded
1 clove garlic
1/4 cup white onions, chopped
2 teaspoons Taco Seasoning (Shop bought or homemade, up to you)
1 dessert spoon vegetable oil
Pineapple Salsa
3/4 cup pineapple, chopped. Fresh is best but canned will also work
1/4 cup onion, chopped finely
1/2 red chilli – can add more or less of this depending on your taste
Small handful of chopped fresh cilantro, or to taste. I love cilantro so I use quite a lot, but you can leave it out if you like
Quick Pickled Cabbage
1 cup finely shredded white cabbage
1 tablespoon of apple cider vinegar
To Serve
1/2 avocado, sliced
Plain vegan yoghurt / Sour Cream
Chopped green onions
Begin by preparing ingredients for the mushroom mix. When shredding the mushrooms use two forks and split them lengthways.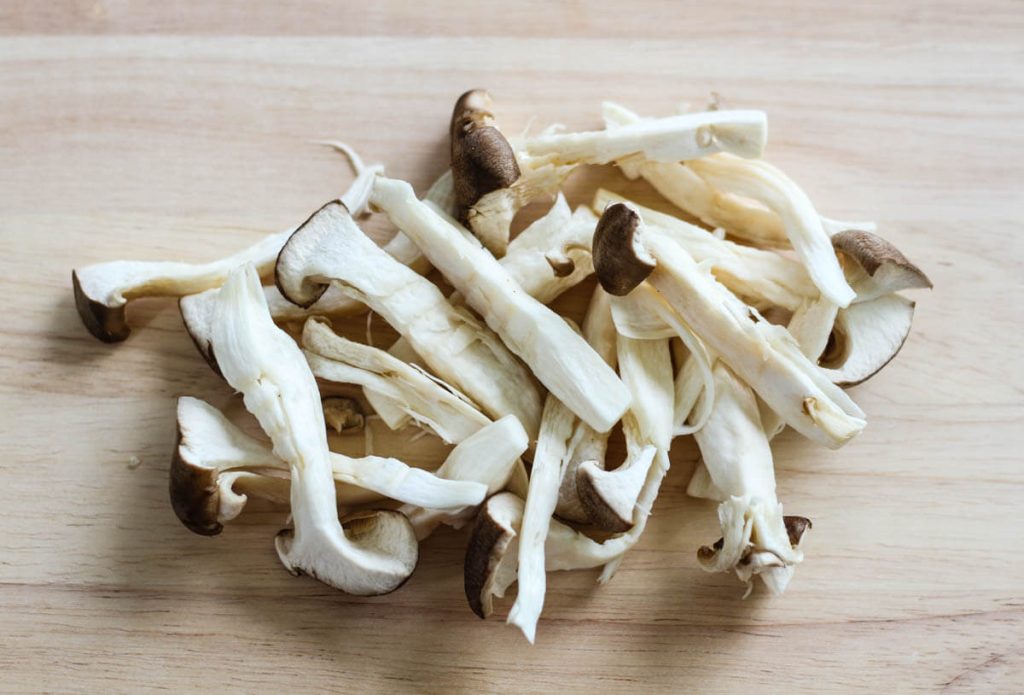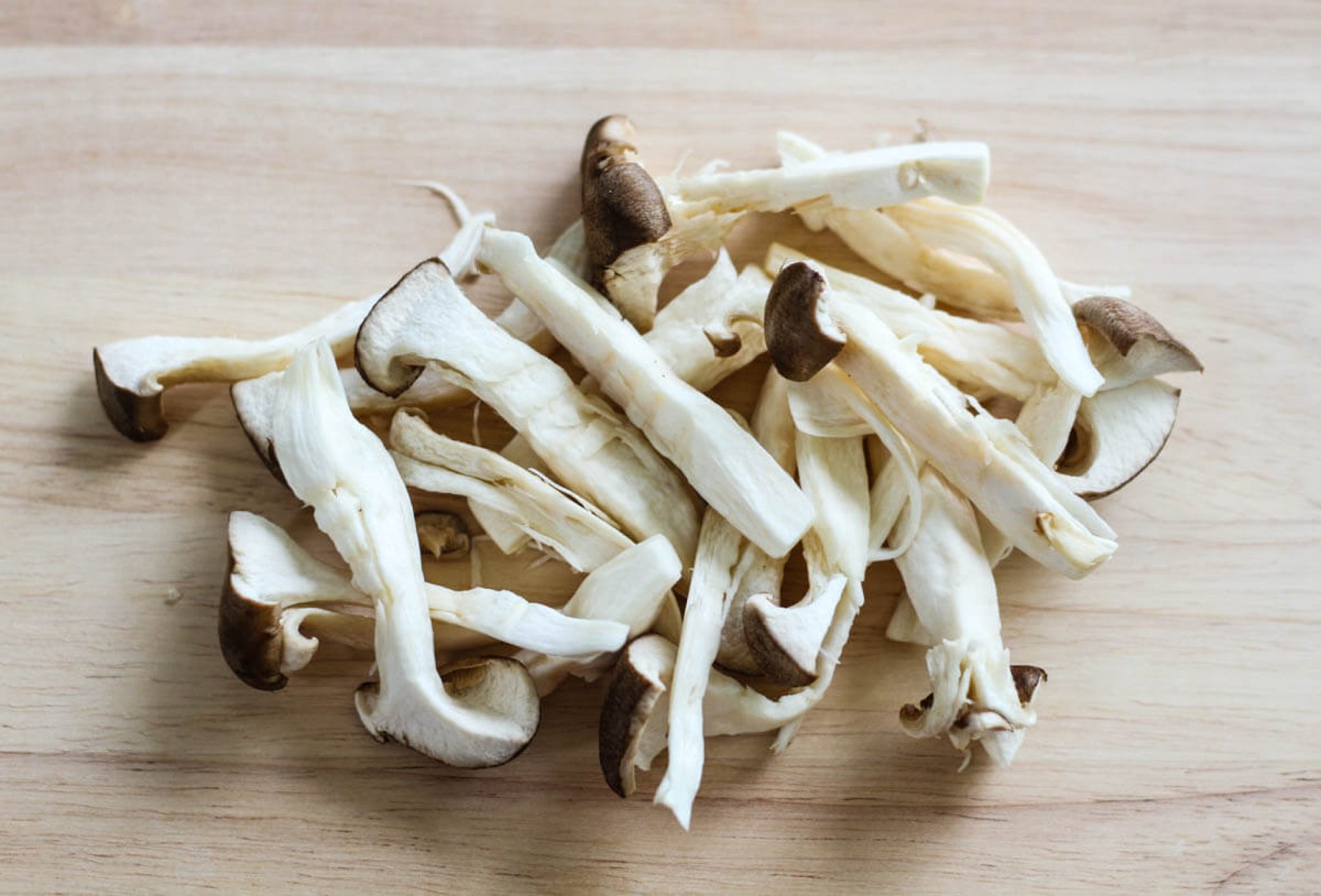 Heat the oil in a non stick pan and gently fry garlic and onions until starting to brown. Add shredded mushrooms and fry gently until they start to soften. Add taco seasoning and fry for another 5 minutes on a low heat. Taste as you go! Once cooked, turn off heat and leave to stand.
Chop and combine all ingredients for pineapple salsa in a bowl. In a separate bowl, add the apple cider vinegar to the cabbage and work together with your hands.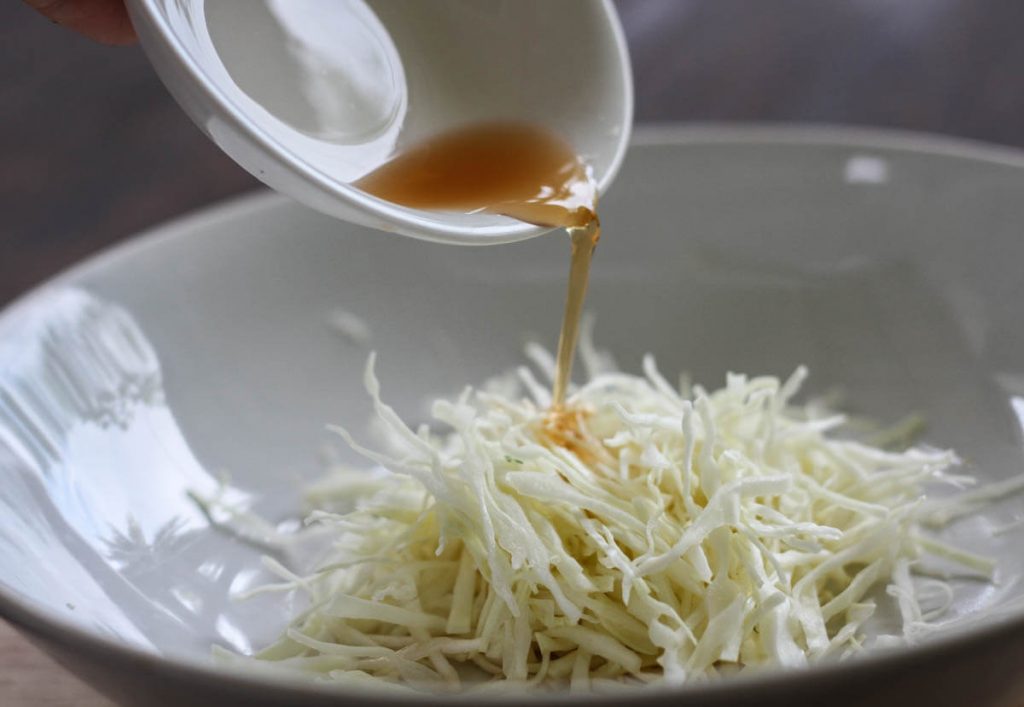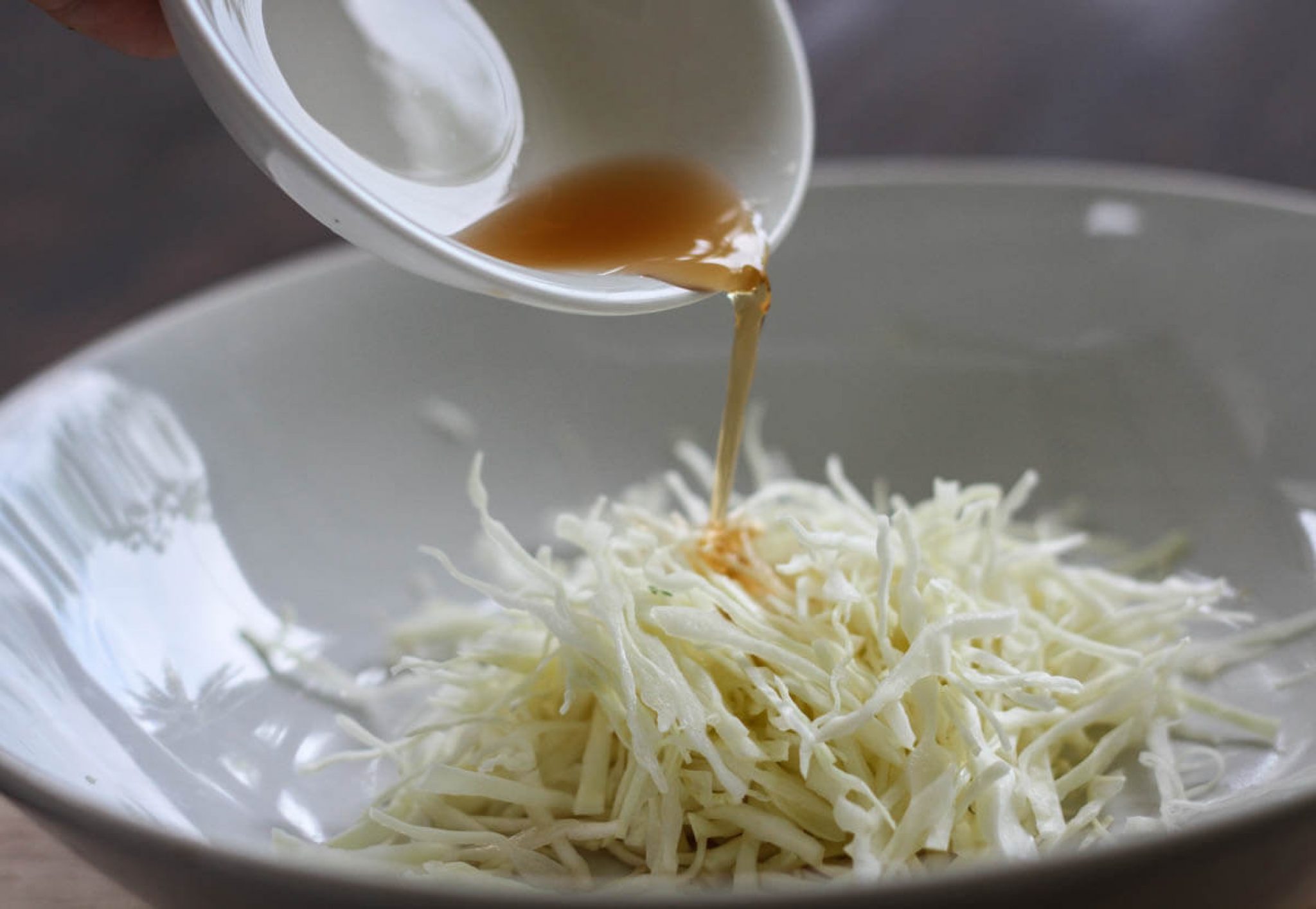 Chop green onions, peel and slice the avocado.
To serve
Check the temperature of your mushrooms, if they've cooled too much heat them back up.
Gently heat the tortillas in oven or pan. Start by laying the avocado slices, then add the cabbage (use tongs or your hands, don't pour from bowl as you don't want any extra vinegar to end up in your taco!)
On top of the cabbage add your mushroom mix, then some of the pineapple salsa. Top this with a few spoons of vegan yogurt or sour cream and garnish with a sprinkle of green onions. Fold in half or wrap and enjoy!