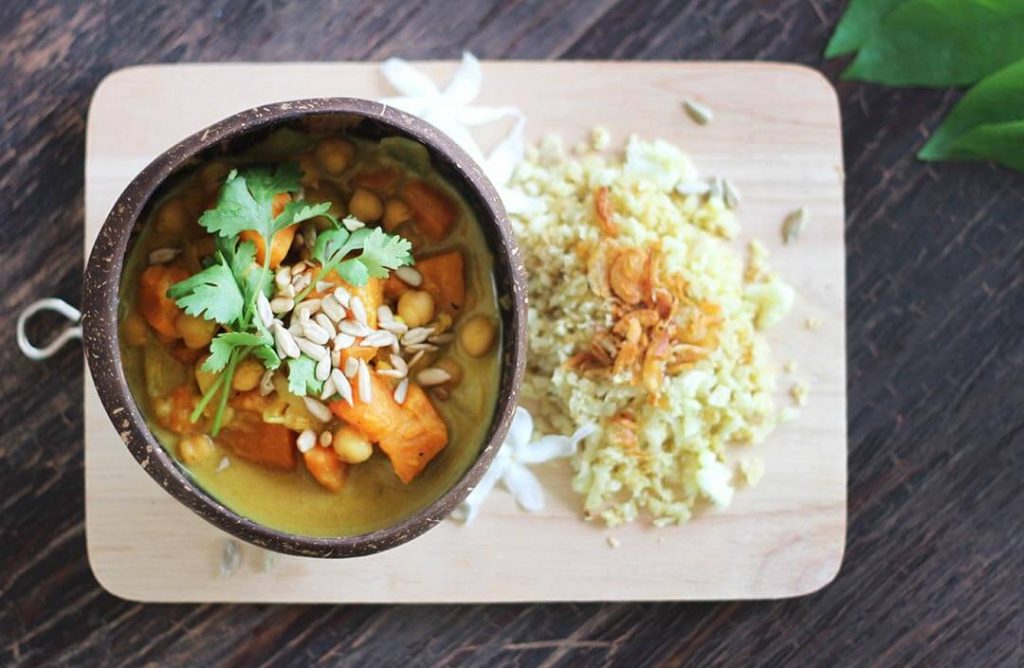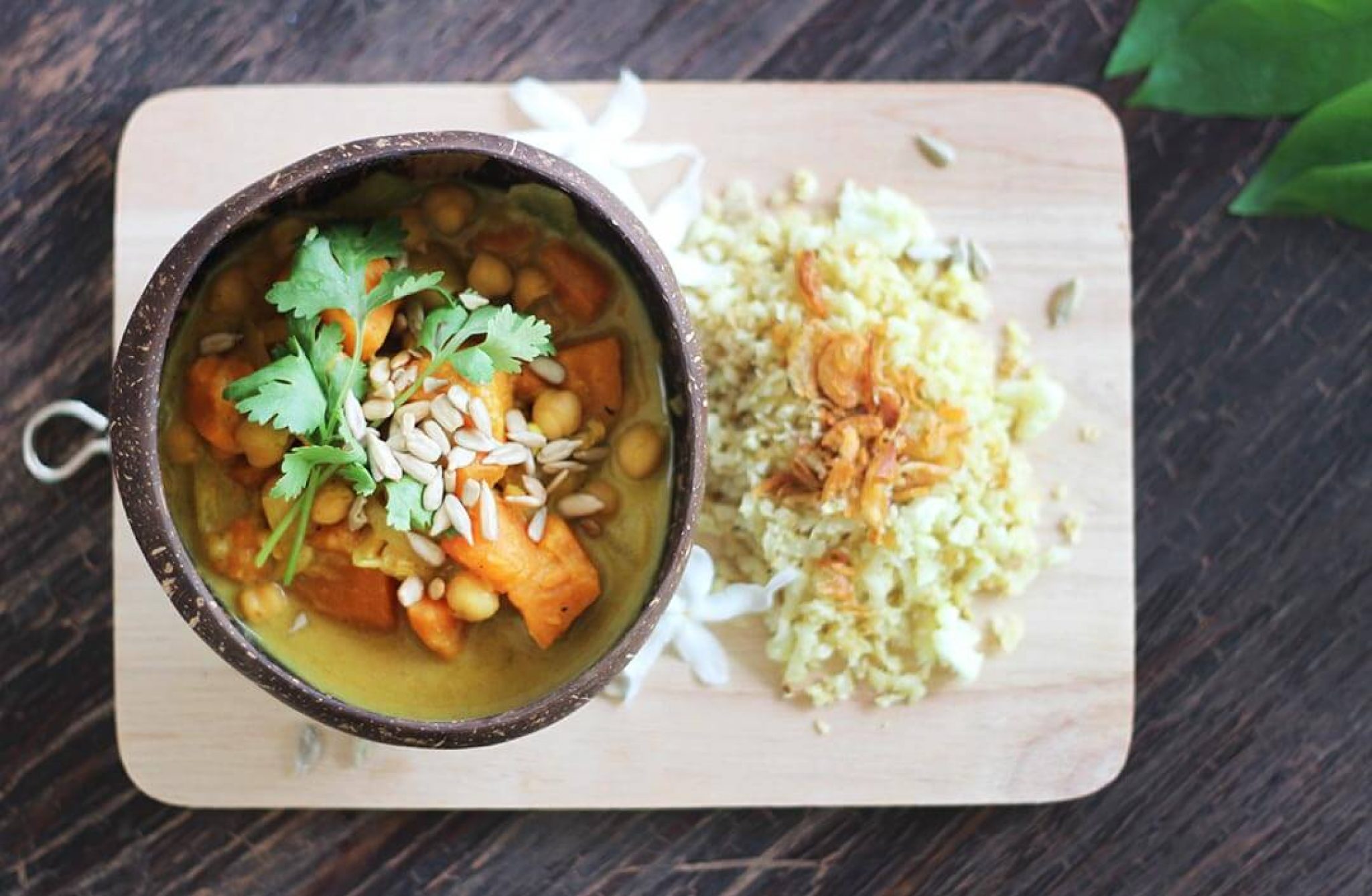 Delicious Curry with Gluten Free Cauliflower Rice
When you want something quick, hearty, healthy and delicious, look no further than this delicious curry. With creamy sweet potato, filling chickpeas and a coconut sauce, served with cauliflower rice, this dish gives you plenty of nutrients, is low in fat and is also gluten free.
For the base I use plenty of ginger with the onion and garlic, and then add extra turmeric, making this full of immune system boosting ingredients, as well as being delicious.
Gluten free curry goodness
I tend to double the amounts for the curry to make a big pot as it only improves in flavour the next day, freezes really well and it's amazing blended into a thick soup. I also like to use this curry as an element in a buddha bowl, or in a wrap with quinoa or rice. I have even been known to bake this into a pie with spinach, it really takes the comfort food level of this up a notch! So many possibilities from just one dish that can keep your meals interesting, but also quick and simple. I will be posting more of these ideas than link back to this recipe so keep an eye out for them…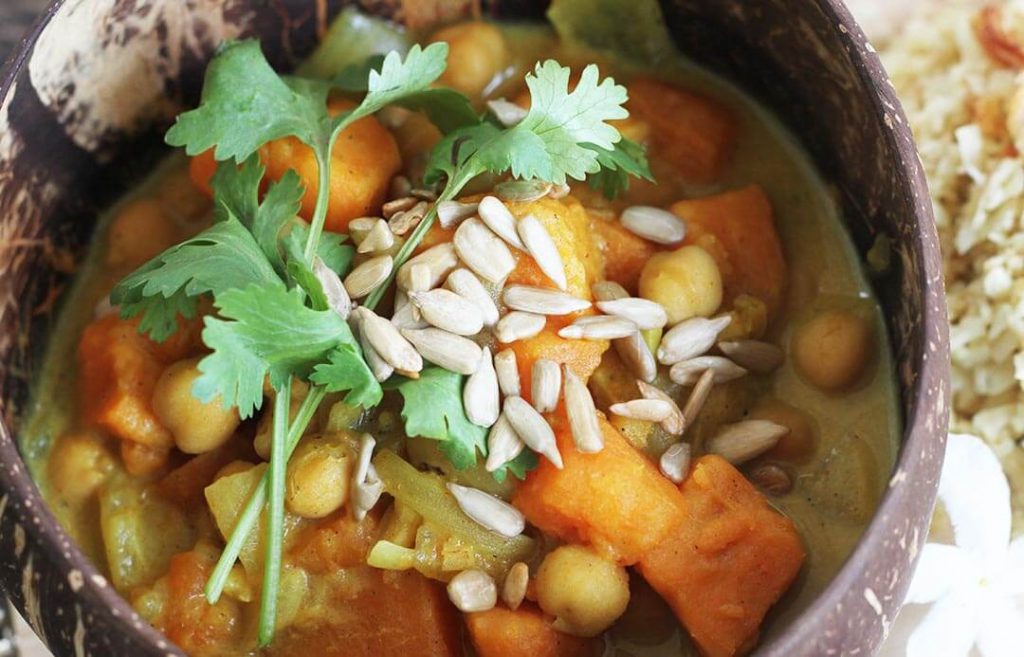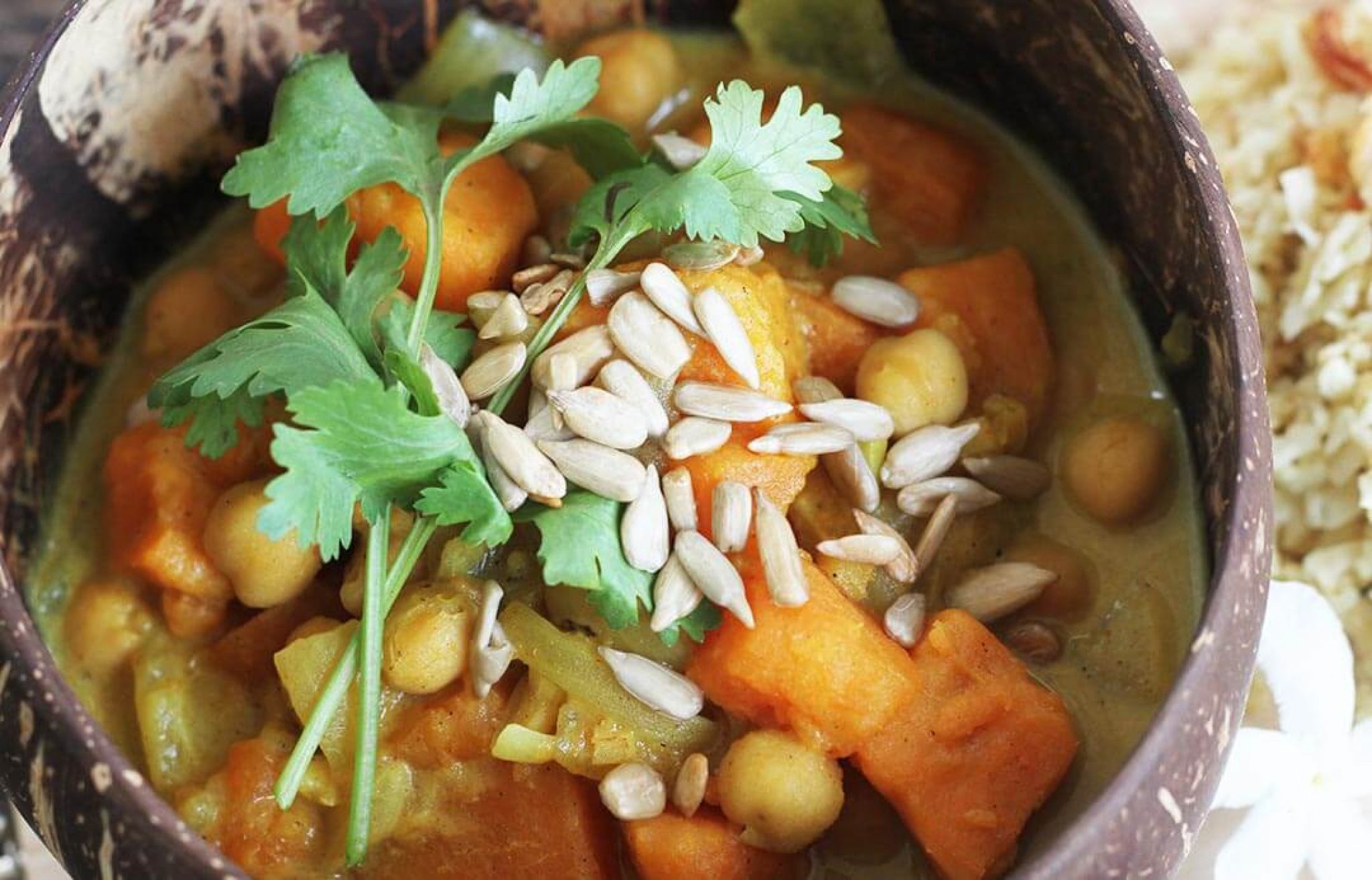 Ingredients
Makes 3-4 portions
Ready in 30 minute
For the Curry
500g / roughly 3 cups sweet potatoes, peeled and chopped into medium chunks
400g can of chickpeas, drained and rinsed
2 cloves of garlic, finely chopped
1 large onion, sliced
1 thumb size bit of ginger, peeled and finely chopped (can add more or less to your taste)
200ml coconut cream
1/3 a vegan stock cube
Splash of cooking oil (sunflower, coconut etc)
2 teaspoons Garam Masala
1 teaspoon turmeric
1/4 teaspoon ground pepper
Chilli powder / flakes to taste
*** Note on spices – please feel free to use more or less in line with your personal taste! Also different spice mixes will vary in taste and strength.
For the Cauliflower Rice
1 cauliflower, grated*
I clove garlic, finely chopped
Splash of cooking oil – I usually wipe the pan with kitchen roll after adding a small amount of oil to use minimum oil here.
*Use your judgement here as portioning depends on the size of the cauliflower! A portion of the 'rice' is around 1 cup. You can use a hand grater or a food processor to prepare the cauliflower.
To serve
Cilantro
Crispy onions (readymade)
A few sunflower seed kernels
Method
Prepare all ingredients. In a large non-stick wok or saucepan, heat the oil gently, then add the onions and garlic. Gently fry for 2 minutes before adding the ginger.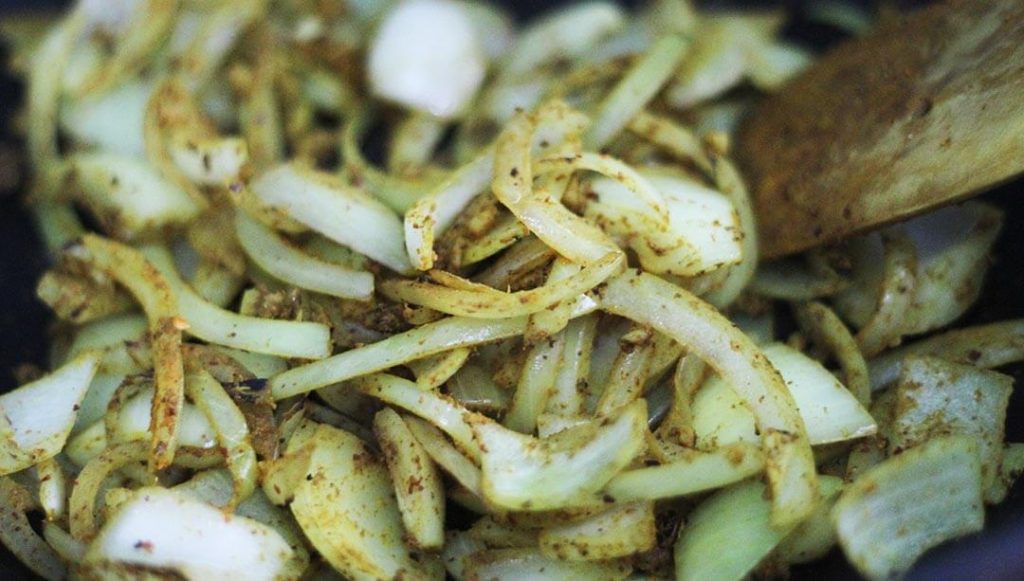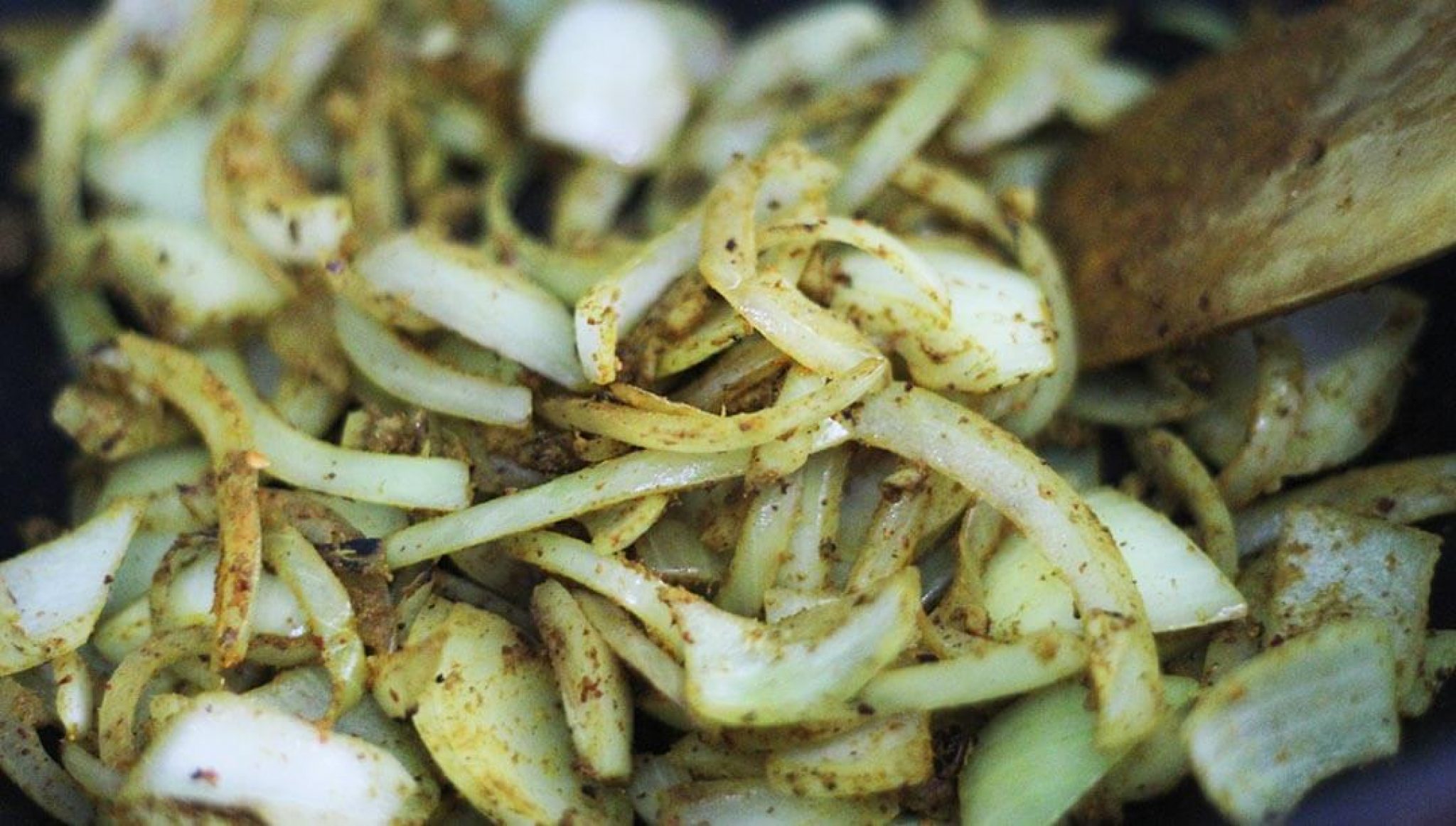 This is when the curry starts smelling really good
Cook for another 2-3 minutes, stirring constantly, then add the Garam Masala, turmeric, pepper and chilli powder. Keep everything moving so that the spices get a little toasted. Add the sweet potato, stir and then add water to just cover the ingredients. Crumble in the stock cube. Bring to a boil and then reduce heat, cover and simmer for 12 minutes or until the sweet potato is cooked through. While this is simmering you can start cooking the cauliflower rice.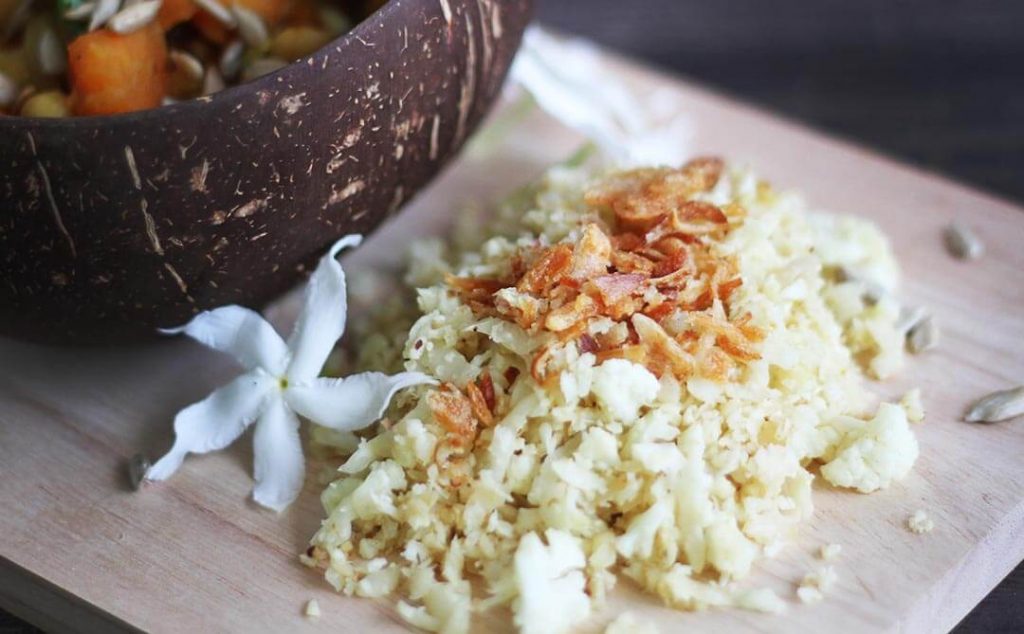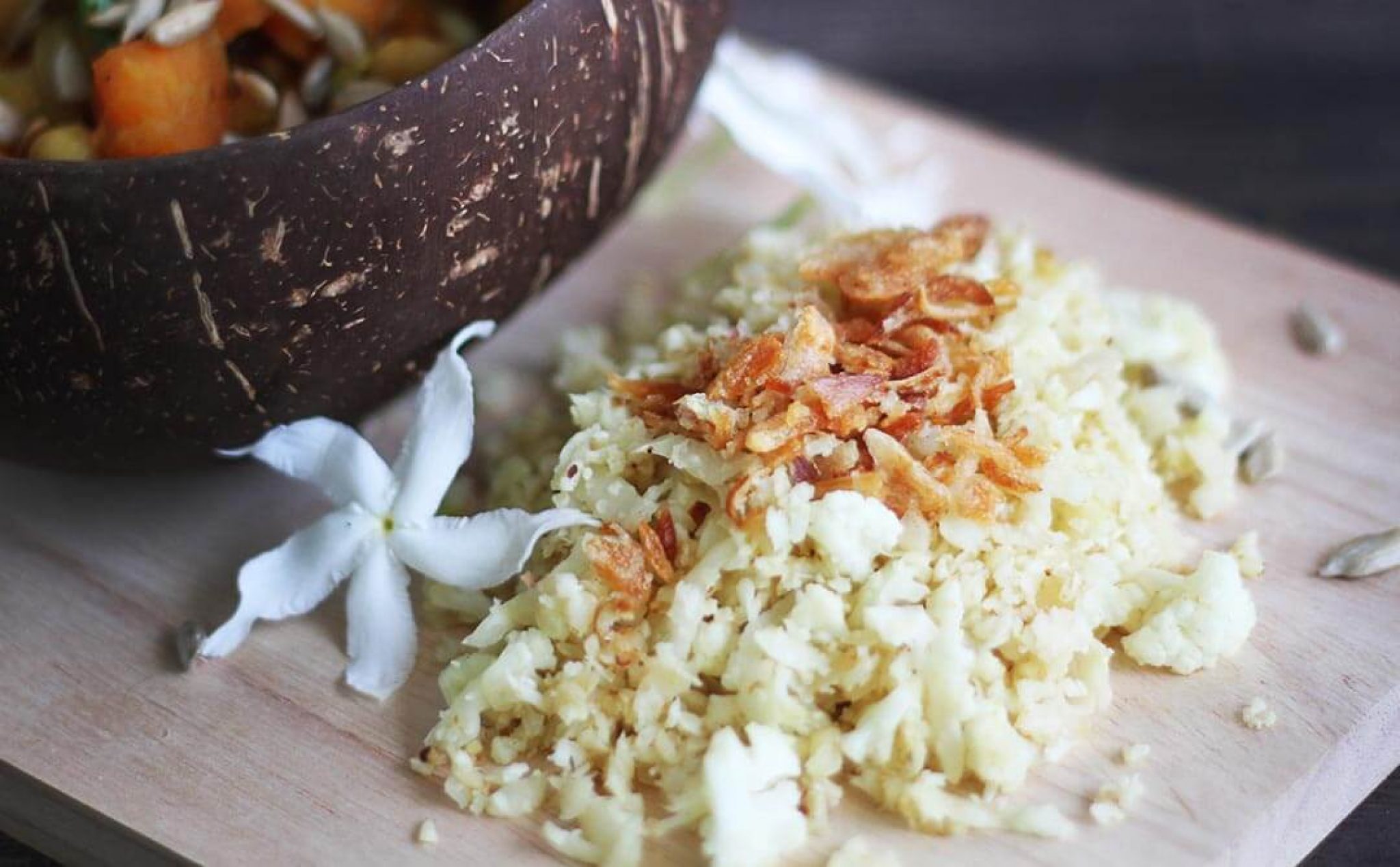 In a non-stick wok heat the oil and fry the garlic until starting to brown. Add the cauliflower and stir fry for 5-7 minutes. Add salt and pepper to taste as desired.
Check that your sweet potatoes are cooked, then add the chickpeas and coconut milk and simmer for a further 5 minutes. Turn off heat and leave covered until ready to serve.
Viola, dinner is served!