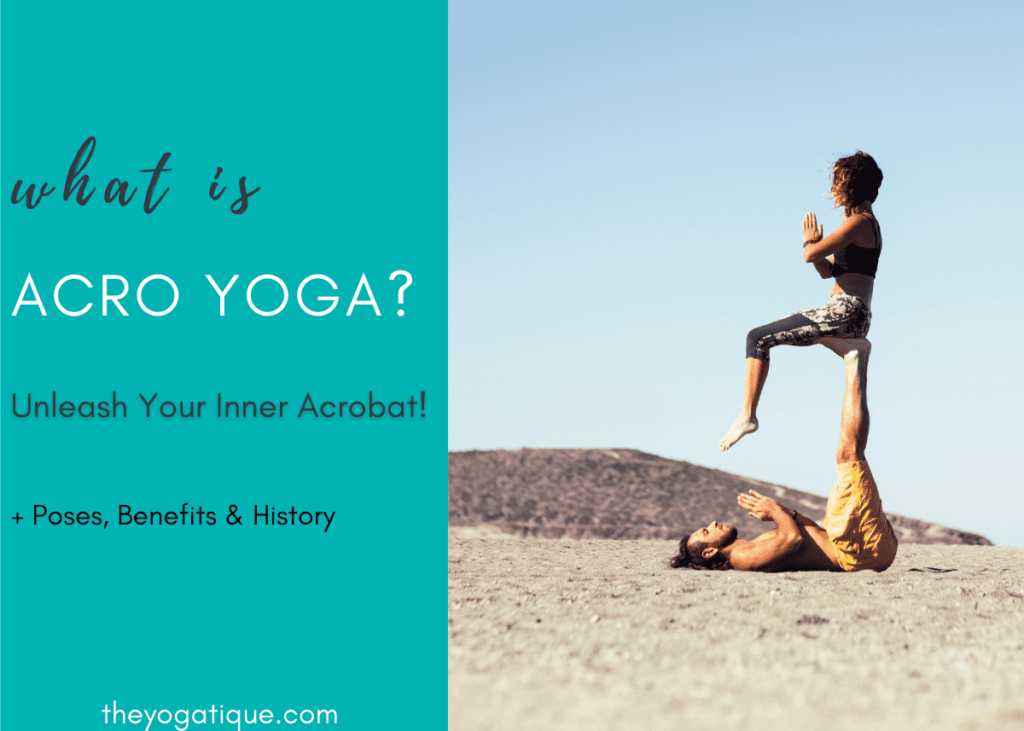 Have you ever encountered a group of yogis in the park practicing what looks like a fusion of yoga and acrobatics? You find yourself staring at them and very curious to learn more, and thinking to yourself what is Acroyoga, and do you have to be a super bendy acrobat to achieve those positions?! Or is this accessible to the rest of us? In this article, you'll find out.
Welcome to Acro yoga!
This unique movement practice is exactly what it looks like, a blend of traditional Hatha yoga and acrobatics (with elements of therapeutic Thai massage included).
It looks fun, right? But I know what you're thinking, it doesn't look easy at all!
In this article, we'll explore this trending yoga style together.
---
Article content:
(Click any link below to jump directly to section)
---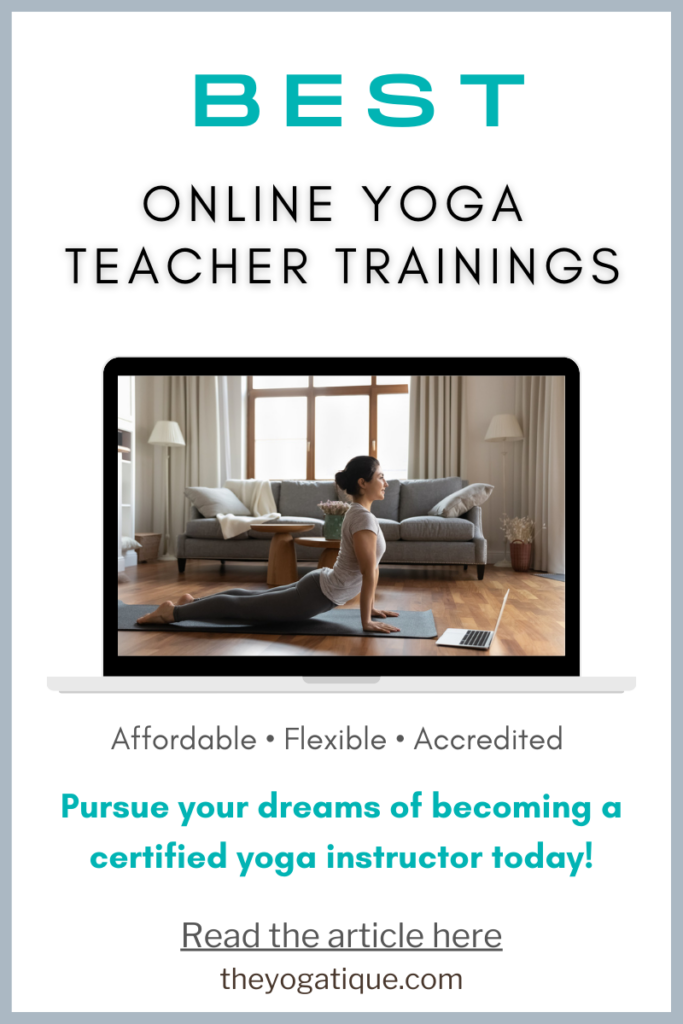 IS YOGA TEACHER TRAINING ON YOUR RADAR?
Online Yoga Teacher Training Offers
Affordability
Flexibility
Certification
Lifetime access
⬇Click below to discover the best Yoga Alliance registered online YTT's to join now ⬇
What style of yoga is Acroyoga?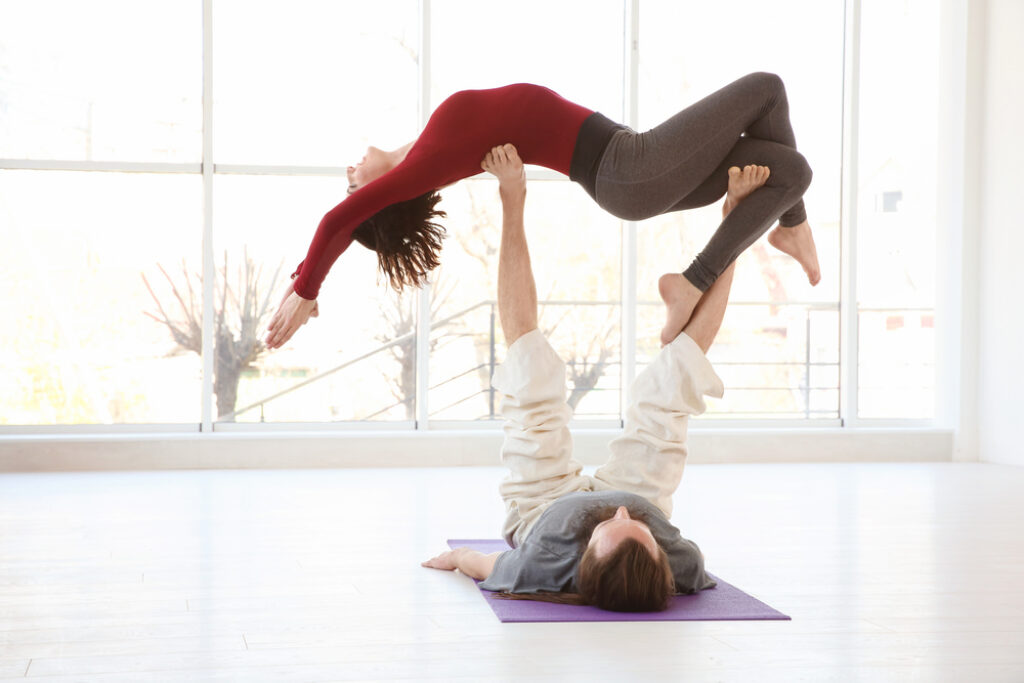 Acroyoga is a blend of traditional Hatha yoga and acrobatics. But a different kind of acrobatics than say, aerial yoga.
What's unique about Acroyoga is that, unlike all other yoga styles, you cannot do this practice alone.
Acroyoga requires two or three people serving different primary roles. So yes, you need a partner for acroyoga – you cannot do acroyoga alone. First, one partner will be the base; they will typically lie down with their back on the ground as they hold the other person's weight.
The second person is the flyer, who practices acrobatic positions or yoga poses while elevated by the base. The base is typically heavier and stronger, while the flyer is usually the lighter and more flexible yogi.
Finally, the third person will be the spotter, assisting the flyer and base and helping to keep them safe. Having this third person, or spotter, makes the practice much safer.
You can do this physical practice with your partner or a friend or join a group Acroyoga class and pair up with another yogi there – you do not need to be a "couple" to do acroyoga!
Is two-person yoga or partner yoga the same as Acroyoga?
Many people interchange the terms "partner yoga" and "Acro yoga," but they are not the same practice. Acroyoga is a specific style that incorporates acrobatic or flying positions, and both participants have a particular role.
Partner yoga, however, does not include acrobatic positions and features only traditional yoga postures. What's more, there is no flyer or base. Instead, the two yogis take turns supporting each other while doing asanas.
For example, one popular yoga pose used in partner work is the tree pose. To do this posture together, you stand side by side with your palms touching. Thus, partner yoga is more like a regular yoga practice but with the support of a second person.
⬇Great Yoga Alliance registered yoga teacher trainings you should look into⬇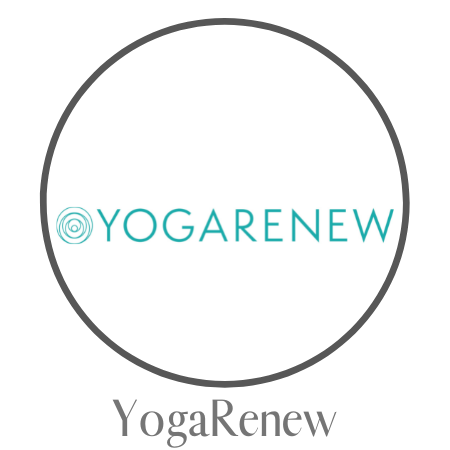 Best Price
• Yoga Alliance: 4.8/5
• 2,400+ reviews
• Self-paced
• $1,200 in free bonuses
• Offers 12+ yoga certifications
See Training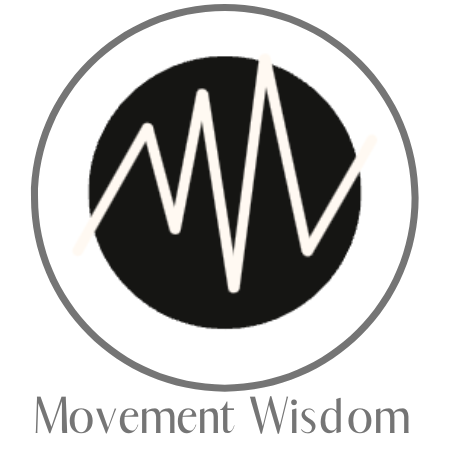 Most Popular
• Yoga Alliance: 5/5
• Learn 4 yoga styles
• Self-paced
• Expert educator
• Use code
YOGATIQUE
FOR $100 OFF
(If paid in full)
See Training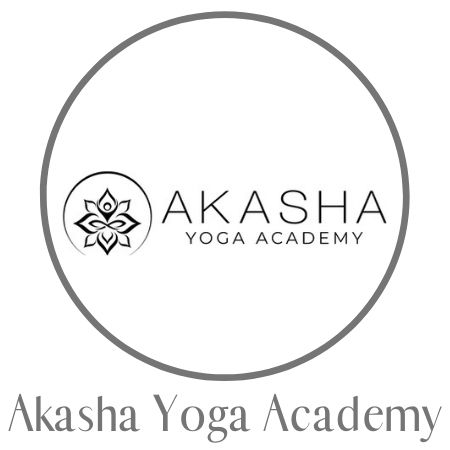 Most Heartfelt
• Deep & transformational
• Google: 4.9/5
• Curated certification paths
• Online or in-person in Bali
• Use code
THEYOGATIQUE
FOR 5% OFF
See Training
The history of Acroyoga
Acroyoga originated in the USA in 2003 when yogi Jenny Sauer-Klein and acrobat Jason Nemer founded their school AcroYoga International.
Jenny and Jason blended traditional yoga with healing arts (lunar practices) like Thai massage and various forms of acrobatics (solar practices) like circus arts and dance Acro. The result was a therapeutic flying yoga practice.
They divided the practice into two styles; L-basing and Standing. L-Basing is the most common style and involves the base laying on their back on a yoga mat while holding the flyer.
Acroyoga benefits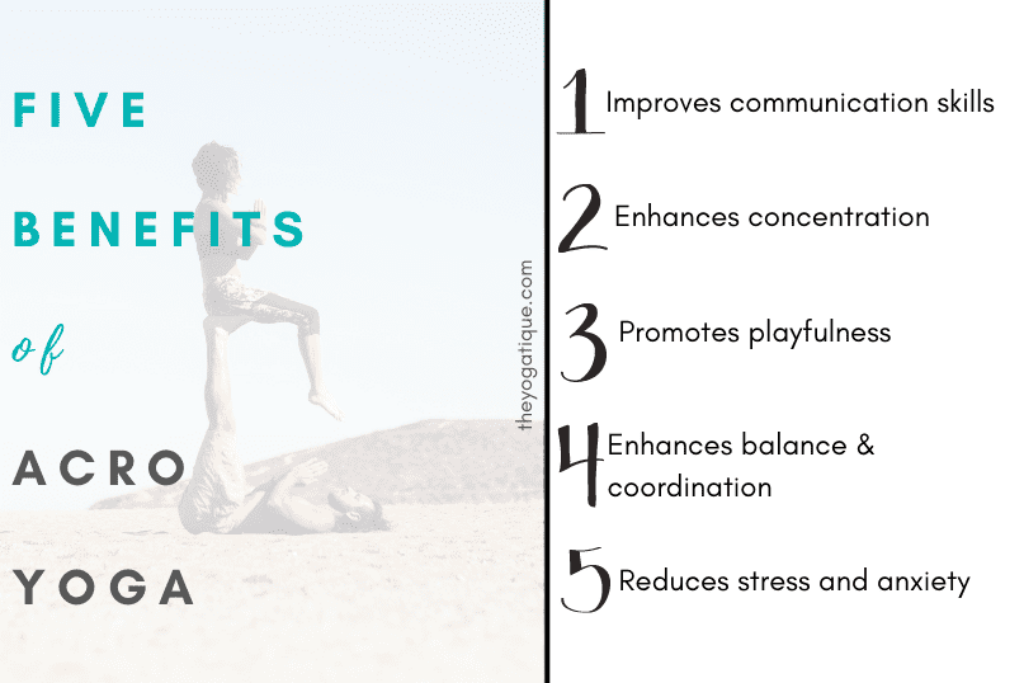 Whether you're the base or the flyer, Acroyoga provides an excellent workout. However, the role you take will determine the benefits. For example, as the base, you'll significantly improve your strength, while as the flyer, you'll gain better balance and more flexibility.
Aside from the physical benefits, Acroyoga has other purposes such as improving communication, enhancing concentration, promoting playfulness, enhancing balance & coordination & reducing stress & anxiety.
Acroyoga improves communication skills
Open, direct, and compassionate verbal communication cultivates trust, which is vital in Acro yoga. The more you practice, the better you will become at communicating effectively.
Acroyoga enhances concentration
If you think Dancer's pose requires a high level of focus, try doing it in an elevated inverted position!
Acroyoga promotes playfulness
One top reason "Acroyogis" adore this practice is because it is fun. As adults, we tend to be very serious and have lost our sense of playfulness, curiosity, and adventure. Acro yoga allows us to reconnect to our inner child again.
Acroyoga enhances balance and coordination
Many acro yoga poses require balance and coordination, which can be developed through consistent practice.
Reduces stress and anxiety – Like other forms of yoga, acro yoga can help reduce stress and anxiety by encouraging deep breathing and mindfulness.
Acroyoga for beginners
With all the advanced Acro yoga poses you see on Instagram, it's easy to assume that Acroyoga is too hard for anyone who is not a dancer or acrobat. However, while it is a challenging physical practice, there are some beginner Acro poses that anyone can do that are not that hard.
That being said, when trying this yoga style for the first time, it's essential to learn from a qualified instructor and have an experienced spotter who can guide you and ensure you don't get injured.
When you practice in this way, Acroyoga is entirely safe. However, more injuries happen when inexperienced yogis practice independently and without a spotter.
Acroyoga poses for beginners
Here are three beginner-level postures you will find in a typical Acroyoga session.
1. Plank on plank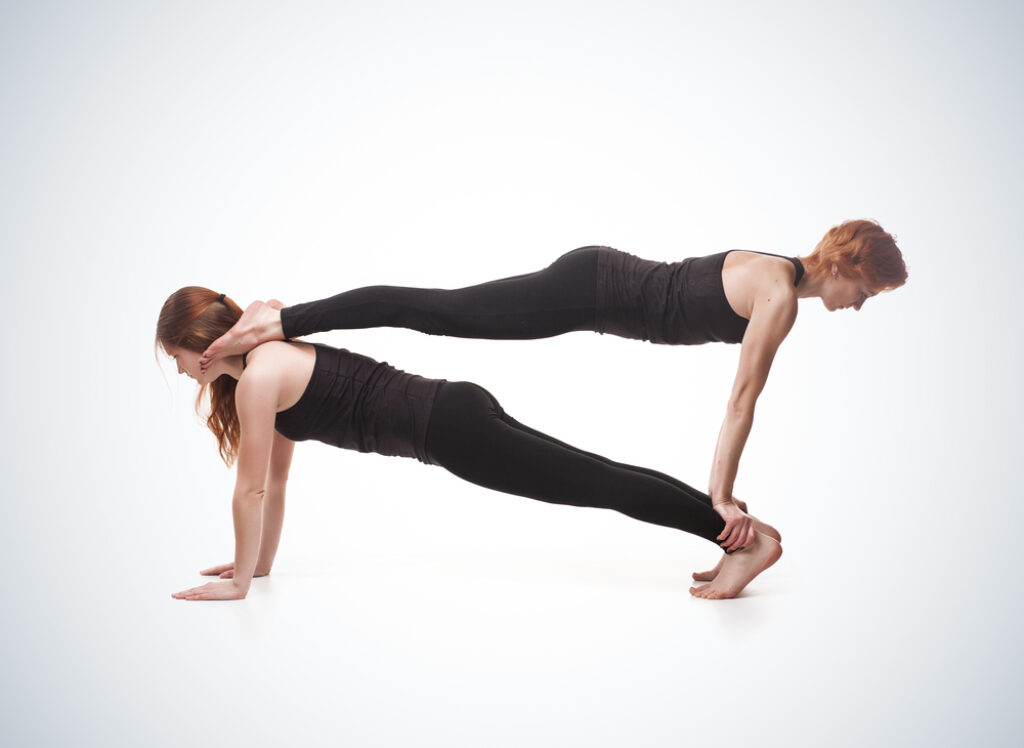 This is one of the best starting postures for beginners, as both partners build the arm and core strength needed for the more advanced poses.
First, the base comes into a standard plank position. The flyer then rests their feet on the base's shoulders and grabs hold of their ankles, so they are in a plank position on top of the base, facing the opposite way.
2. Front bird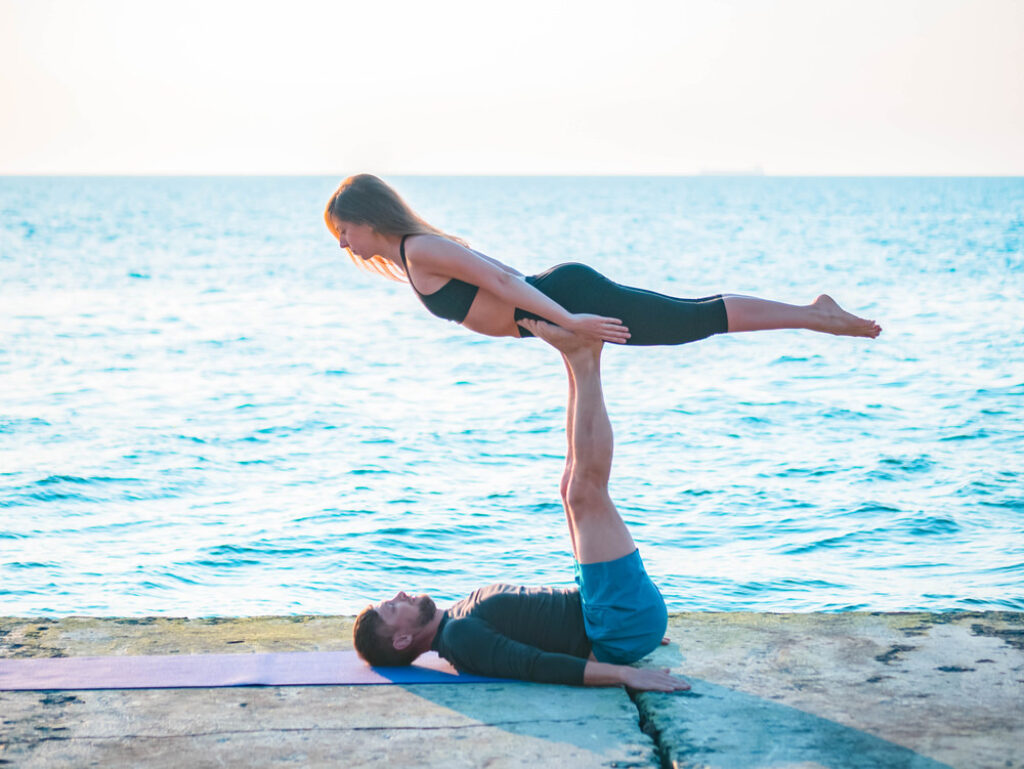 Also known as plank press or front press, this pose is the next step from "plank on a plank."
The base lays in the L-position with their legs and arms raised and knees bent. The flyer's hips rest over the base's feet as they join hands. The base then extends their legs to lift up the flyer and bring them into a straight line, and both partners hold with their arms straight.
3. Folded Leaf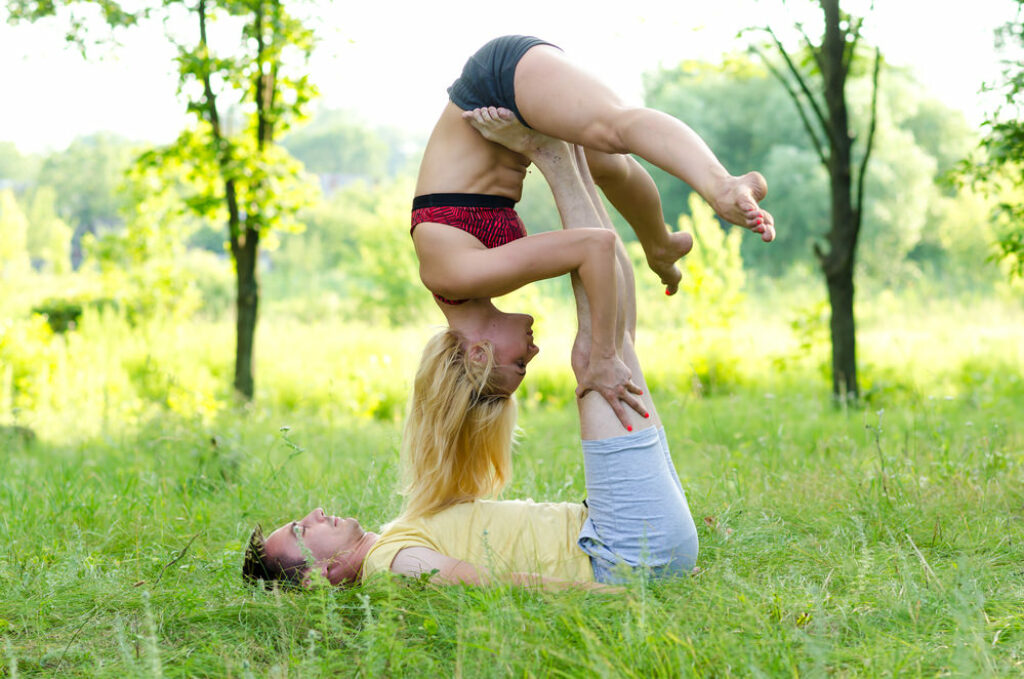 This therapeutic pose can be performed directly from the front bird position. First, the base yogi turns their feet out, creating a V shape in the flyer's hips. They then stabilize their legs to hold the flyer's weight and slowly bend their elbows to help the flyer fold forward. Both partners can then release their hands.
Takeaway what is Acroyoga?
I hope that by making it to the end of this article you now better understand that Acro yoga is a fun, challenging practice that builds strength, balance, and flexibility.
As a two-person practice, Acro also helps you improve communication skills and learn how to trust others. What's more, providing you train under the guidance of a qualified instructor, no previous circus experience is required (yay!)
FAQ about Acroyoga
What is AcroYoga good for?
Acroyoga will help you increase your flexibility, build strength, and develop balance. The practice will also help you cultivate trust and connection with other people.
What is partner yoga vs Acroyoga?
Partner yoga classes and workshops usually start with assisted postures on the floor while Acro yoga incorporates more acrobatic poses.
Some online yoga studios, online yoga teacher training programs, and brands that we write about may offer us a small percentage should you decide to purchase after reading our content. Thank you for enabling us to exist!