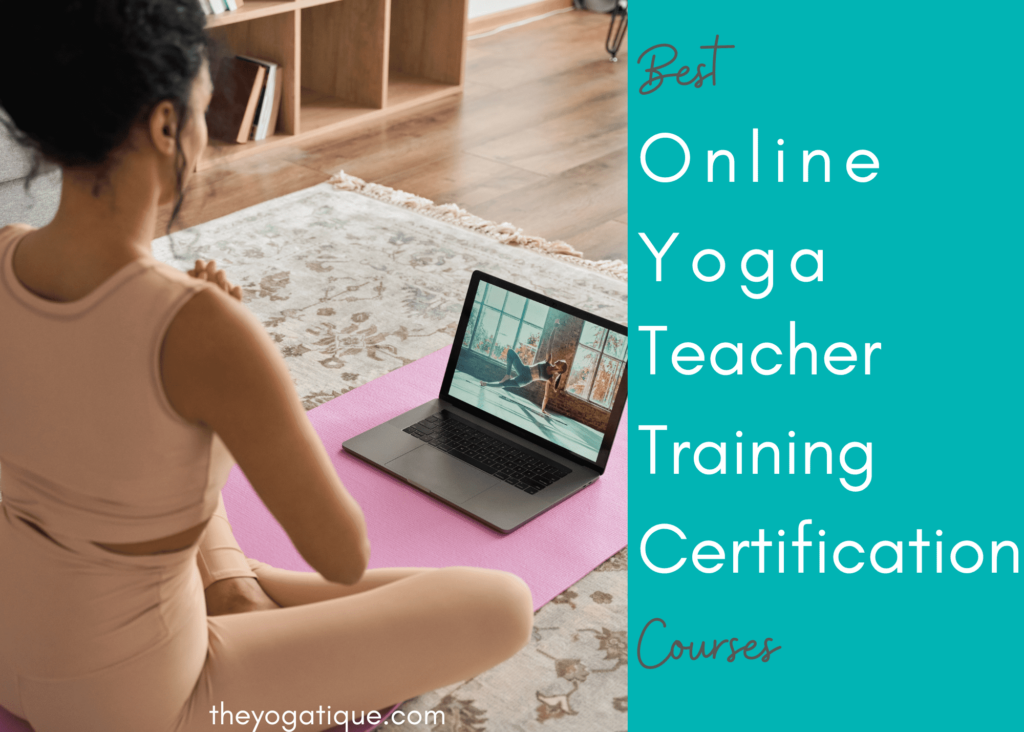 Updated in August, 2023
Hey future yoga teacher! Are you searching for the best online yoga teacher training? An affordable and flexible option to earn your yoga teaching certification? Let me help. I wrote this guide to the best online yoga teacher training certification based on my own experience and analysis of the online yoga schools I recommend below.
I am a RYT-200 (Registered Yoga Teacher 200-hr). I completed my yoga teacher training online with Aligned Yoga. I have been practicing yoga for over 15 years, and I switched to practicing yoga online over 9 years ago when I moved to Thailand and left my favorite yoga studios in the U.S. behind!
I have some great insight to help you discover the best online yoga teacher training and online yoga schools that speak to your body, budget, and soul that you can join now. If you are an aspiring yoga teacher or a Registered Yoga Teacher looking for advanced yoga teacher training or additional certifications – keep reading!
Let's find the best online yoga teacher training for you.
If you have been wondering if you can train to become a yoga teacher online…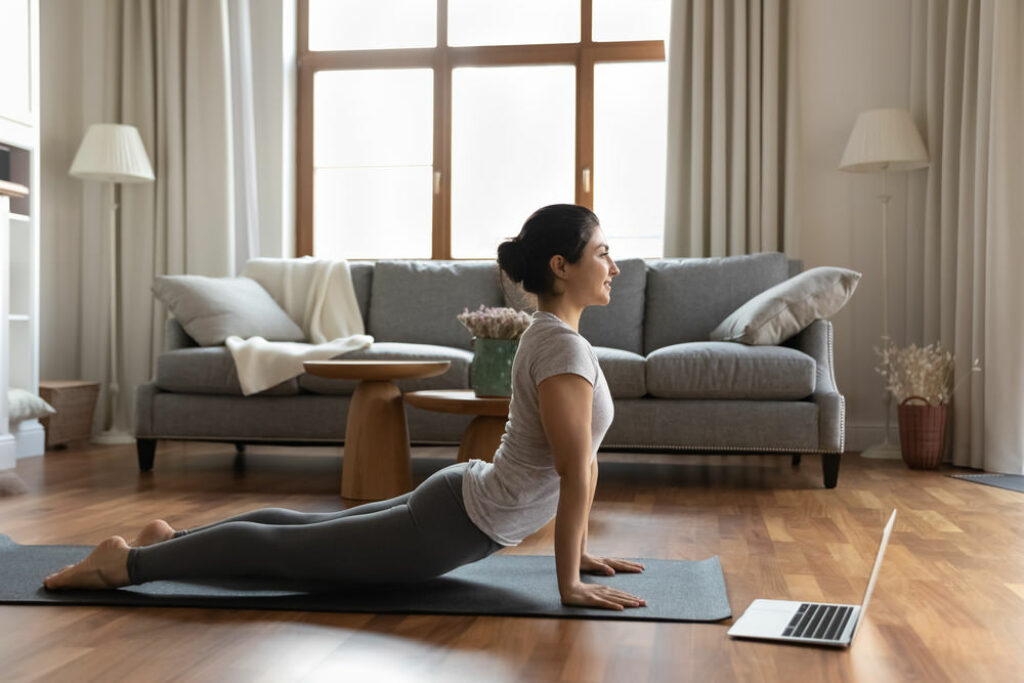 Yep, you sure can train and complete your entire yoga teacher training certification online. As well as the 200 hour online yoga teacher training that are Hatha & Vinyasa based and the main focus of this article, there are many other online yoga courses such as Yin, Pranayama, and many more.
You can complete 200-hr, 300-hr, or 500-hr yoga teacher training online, and more.
If you're already a Registered Yoga Teacher (or a Certified Yoga Teacher), you can earn CE credits (Continuing Education credits) by completing Yoga Alliance registered online CE courses to satisfy your CE credit requirements (learn more about Yoga Alliance registration & requirements).
The Yogatique's online yoga teacher training reviews are crafted to help you discover the best online yoga teacher training certification courses and online yoga schools enrolling students now. So let's get right to it.
(A note on the cost of online yoga teacher training – digital products like courses are often on sale. That said, you need to visit the actual YTT websites to see the current prices & promos).
⬇Click on any training below to read my take on the training and to get insider info!⬇
13 Best Yoga Alliance Registered Online Yoga Teacher Training
2023 & 2024
(Click on any course name above to jump directly to full details below about that training)
---
Article content:
(Click any link below to jump directly to section)
---
Learn about the differences between 200-hour, 300-hour & 500-hour YTT courses.
Career options for yoga teachers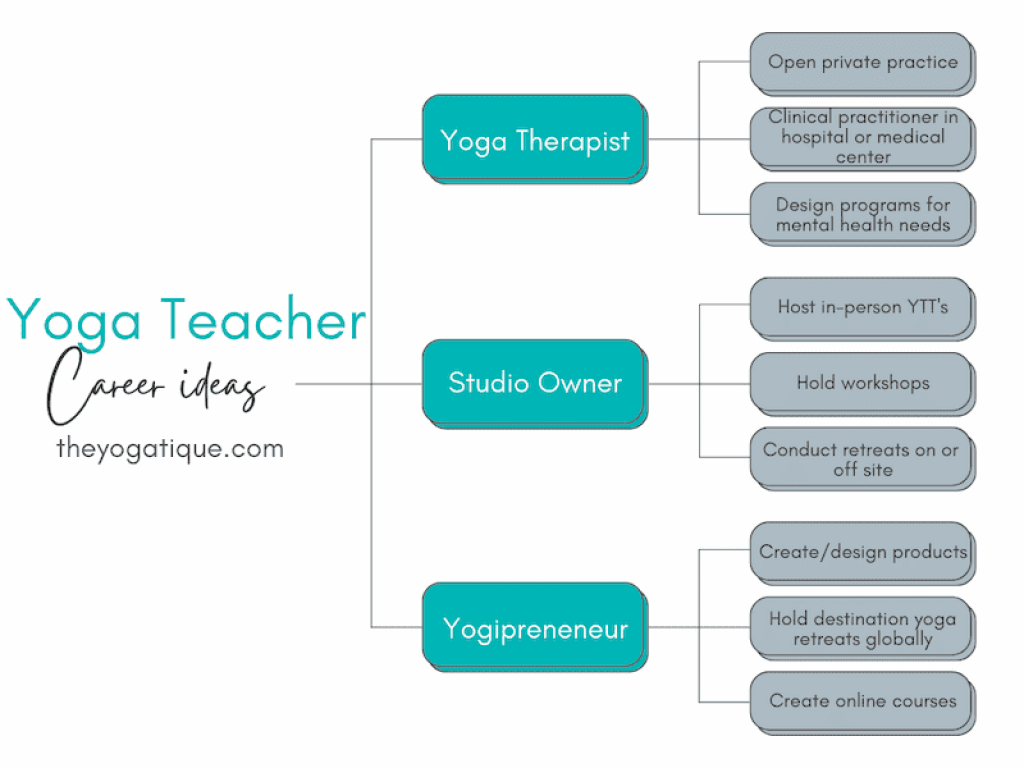 There are many career paths a person can take as a certified yoga teacher. Of course, teaching yoga classes in a local yoga studio is always an option. But so is traveling the world and leading yoga retreats, or creating yoga courses, a yoga app, or a subscription-based yoga membership business and living the ultimate location-independent lifestyle. A yoga business coach can help you zero in on the ideal yoga niche for you.
There are also more therapeutic and trauma-informed career paths yoga teachers take, such as becoming yoga therapists or teaching yoga to people affected by psychological trauma.
And here's a little secret, there is a lot of money to be made as an online yoga teacher aka 'yogiprenuer'. If you are of an entrepreneurial spirit, the opportunities are limitless, and the money-making opportunities for yoga teachers are definitely there in this digital era we are living in.
Read my tips on how to diversify and maximize financial opportunities from a social media following as a yoga teacher and get answers to other common questions about yoga teacher training if you want to be inspired by the endless opportunities that await you after becoming a RYT (Registered Yoga Teacher) or CYT (Certified Yoga Teacher).
Your opportunity to reach more people as a yoga instructor has never been greater!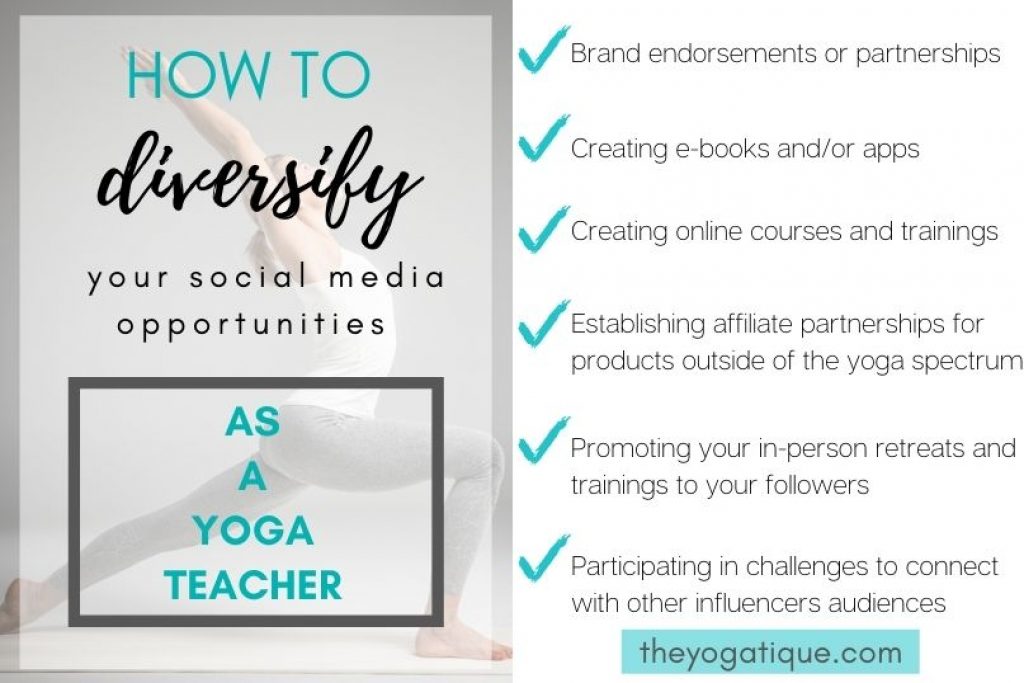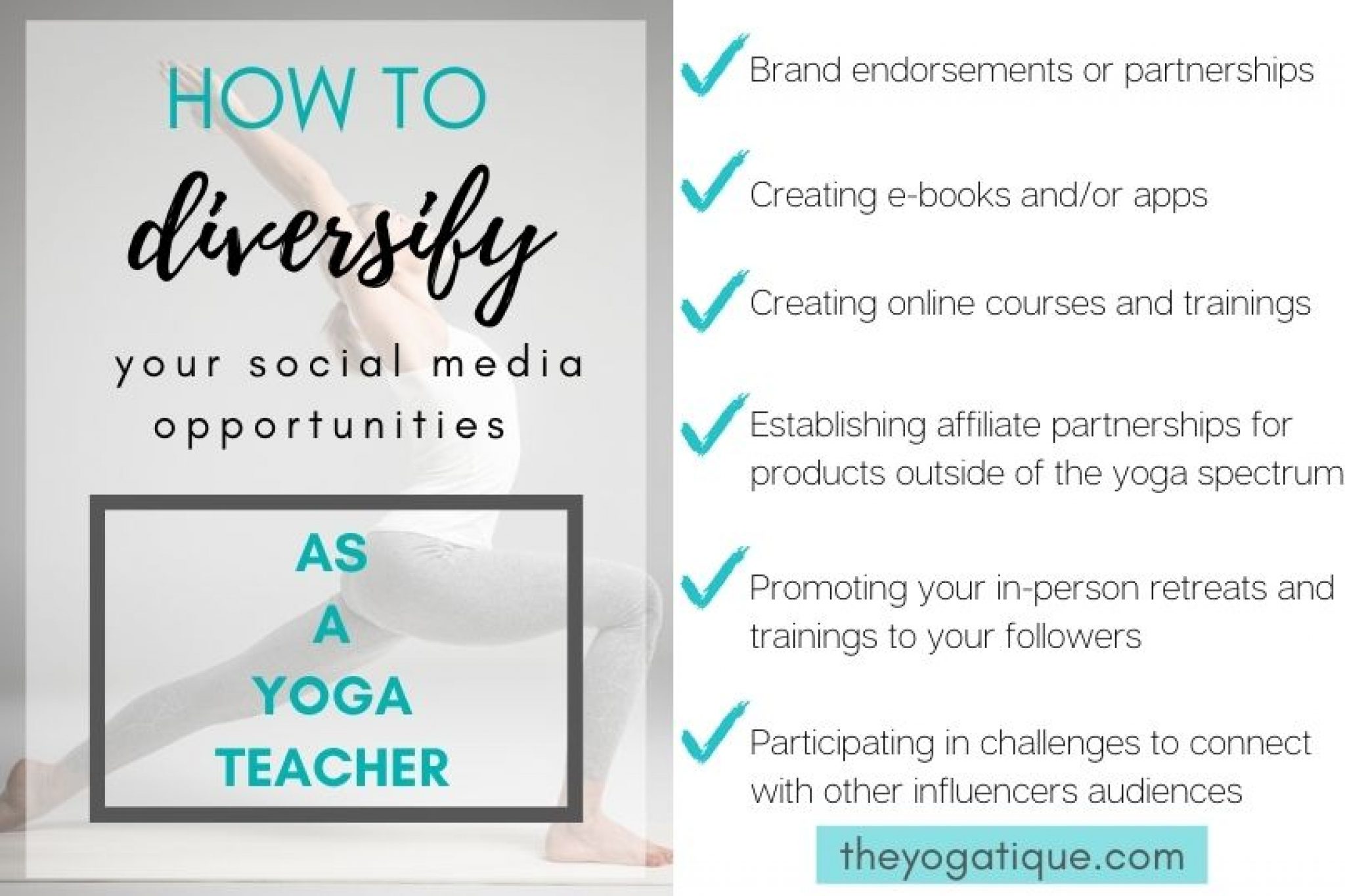 Is online yoga teacher training legit?
If you've been wondering if online yoga teacher training is legit, the answer to that is yes!
There are now multiple yoga schools, yoga teachers, and programs that offer 200 hour, 300 hour, and 500 hour yoga teacher training online. Some of the most acclaimed yoga teachers and most lauded yoga studios worldwide have adapted their in-person YTT (Yoga Teacher Training) formats to online yoga teacher training formats.
13 Best Online Yoga Teacher Training Certification Courses Enrolling Now
Immerse yourself in a total mind and body transformational yoga teacher training experience by joining Akasha Yoga Academy's online yoga teacher training program. I've been lucky enough to experience bits of the Akasha training. Engaging, rich, interactive, and thorough are just some words that leap to mind to describe this training.
This Bali based yoga academy offers an online learning experience like no other. You will be guided into the depths of yoga philosophy and the asana practice by their team of experienced master teachers.
Ignite your life's purpose in this meaningful yoga teacher training and gain a profound understanding of the breath-based Hatha yoga style from this empowering team of yoga teachers.
As impassioned and educated yogis themselves, the creators of this online YTT, Kirsten & Burkhard, have intensely studied various styles of yoga, including Ashtanga, Vinyasa, and Kundalini, while also deeply intertwining meditation and pranayama techniques into their daily practice and lives. They are supported by Devdas, a master yogi from India who has been practicing yoga since the age of sixteen.
All three of your learning guides hold RYT-500 certifications and various specialty certifications.
The Akasha Yoga Academy yoga teacher training syllabus includes
Asanas & alignment training
Cleaning breathwork
Art of living
Applied Yoga anatomy
Teaching skills
Yogic scripture study
Yogic diet
Teaching your own 60-minute yoga class
Purification, and more
Akasha Yoga Academy school ratings:
Akasha Yoga Academy takeaway:
YogaRenew is one of the most popular online yoga trainings, and one of the first yoga schools to offer online yoga teacher training back in 2015. They have since amassed thousands of reviews on Yoga Alliance, with an overall score of 4.8/5.
Of all of the online yoga teacher training programs I cover in this article, YogaRenew is by far one of the most affordable. For aspiring yoga teachers on a budget, YogaRenew may be perfect for you.
YogaRenew has a team of two, Kate Lombardo and Patrick Franco, sitting as Directors of their online school. Kate is a E-RYT 500, a certified Yin Yoga teacher, and a YACEP (Yoga Alliance Continuing Education Provider). Patrick is a E-RYT 500, YACEP, and holds a Masters Degree in Acupuncture.
Since this duo took over as co-directors, YogaRenew has refreshed their already wildly popular online courses, and they are adding new course offerings regularly. YogaRenew stays ahead of the curve and sets the trend for releasing the courses that yogis want.
This online yoga teacher training course is completely self-paced, and students have lifetime access to the entire program and course materials. This doesn't hold true for all online yoga teacher training programs.
YogaRenew has made quite a name for itself over the years in the online yoga space, and with the opening of a gorgeous in-person yoga studio in New Jersey in 2023, I think it's safe to say they've got the formula down.
The YogaRenew yoga teacher training syllabus includes
The Yoga Sutras of Patanjali
Understanding Different Styles of Yoga
6 Principles of Yoga Alignment
Learn 5 Categories of asanas
5 Bandhas of yoga, Injuries & modifications
Sanskrit
Inspiring class themes
Hands on adjustments
Chakra yoga therapy
Classroom props
Living a Yoga lifestyle
Developing confidence as a teacher
Yoga business & marketing
Find teaching opportunities, and more
YogaRenew school ratings:
YogaRenew takeaway:
I wouldn't be surprised if you have practiced with veteran lead yoga teacher Jess Rose online on YouAligned (formerly known as YogiApproved) or DoYou (formerly known as DoYouYoga). Jess has led over 1 million students globally in her online yoga classes – yes really!
The reason to signup for this training is simple: When you graduate, you'll know more than 99% of other yoga teachers out there. No joke.
The Movement Wisdom 200 hour YTT led by Jess (E-RYT 500, YACEP) is an immersive experience that focuses on learning anatomy as it relates to how we move on the yoga mat in particular.
This course intensively studies the transformational potential of yoga philosophy, how to create beautifully sequenced creative flows, the in-depth body mechanics of yoga poses, and other fascinating and essential components for a well-rounded foundational understanding of yoga.
This training is completely self-paced without being overwhelming. And even though the course is 100% online, it does an amazing job including live, interactive elements. Every week you can join multiple live teaching practices where you hang out with fellow yogis, get helpful tips from your mentors, and practice finding your voice as a teacher.
On top of that, Jess hosts live welcome- and closing ceremonies, as well as monthly meet-ups for all students. Moreover, you can be absolutely sure that all of your questions will be answered. Jess responds to every single one of your questions with a personal video.
The Jess Rose Movement Wisdom yoga teacher training syllabus includes
Vinyasa Flow
Hatha
Yin, and Restorative Yoga
The ins and outs of 100+ poses
Alignment & energetics of postures
Essentials of language in teaching
Anatomy
Form
Philosophy from Bhagavad Gita
Breathwork
Meditation
Mantra chanting
Chakra meditations, and more
Movement Wisdom school ratings:
Movement Wisdom takeaway:
Brett Larkin is the pioneer of online yoga teacher training. Since 2015, her award-winning Uplifted Yoga YTT 200 online was the first of its kind to offer yogis the chance to become certified yoga instructors online. I am a member of Uplifted, and I am a huge fan of Brett Larkin. She is truly an amazing educator.
Since the launch of Uplifted, thousands of yogis around the globe have graduated from the course with a 200 hr yoga certification. And impressively, Uplifted boasts a 96% graduation rate. This can't be said of all yoga teacher trainings.
The secret to the success of Uplifted? The accountability and support in the Uplifted training.
We can consider Brett to be the Queen of community, having built a massive YouTube following (check out Brett's half-a-million-subscriber YouTube channel) and creating a brand that is a force in the digital world.
Brett has been featured in Forbes and Entrepreneur magazines, among others, and she is a mentor to aspiring yogipreneurs via various channels. No one can set you up for success as a yoga teacher and entrepreneur better than she can.
The Uplifted yoga online program sets itself apart with its highly-qualified team of educators and its engaging and high-touch learning environment. Yes, it is an online training, but it is very interactive. The weekly group calls with the same people and personalized feedback really create a sense of community.
Uplifted trainings have a 4 month live portion and a pre-live class learning portion. 100 hours of Uplifted online learning must be completed before the live sessions begin (so get started early).
The Uplifted yoga teacher training syllabus includes
Anatomy
Asana
Ayurveda
Cardiovascular & nervous system
Chakras and the subtle body
Effective cueing
Fascia system & body reading
Grounding & energy management
Injury management & modifications
Meditation techniques & teaching
Mindfulness
Online gameplan & technical training
Pranayama techniques & teaching
Pre-Natal
Restorative
Sequencing finding your voice
Social media marketing for
Facebook & Instagram
Studio classes vs private clients
Tantra Nadis & the Gunas
The yoga sutras, Uplifted™ Alignment
Uplifted™ Body Reading – A 3D approach
Yoga money & business
Yin yoga, and more
Brett Larkin Yoga Uplifted school ratings:
Brett Larkin Yoga Uplifted takeaway:
If you have been hoping and planning to one day attend yoga teacher training in India, you may have come across Siddhi Yoga International when researching YTT's in India. Siddhi Yoga Institute has centers in India, Singapore, and Indonesia. They applied the same authentic approach they took to running their in-person yoga teacher training and applied it to their digital version of that exact same training.
You can now study under their acclaimed yoga teachers who live, eat, and breathe yoga in the birthplace of yoga – India. One look at the educators' credentials leading the Siddhi Yoga teacher training will likely put Siddhi at the top of your list.
The teaching faculty includes Dr. Sumit of Rishikesh, India who has a Master's degree in Physical Therapy and is a YACEP, Shobhit Ghanshyala (E-RYT500, YACEP), and Yogacharya Sandeep Pandey, who has a Master's degree in Yoga and Indian Philosophy from Uttarakhand Sanskrit University.
You will graduate from Siddhi Yoga as a certified 200-hr yoga teacher with a Restorative yoga certification, which is included for free.
Siddhi Yoga is a great budget-friendly online yoga teacher training option.
The Siddhi Yoga yoga teacher training syllabus includes
Anatomy and physiology
Asana alignment and modifications
Assisting
Bhakti
Chakras
Multiple styles of yoga
Postural adjustments
Pranayama
Sequencing
Teaching methodology, and more
Siddhi Yoga school ratings:
Siddhi Yoga takeaway:
Happy Jack Yoga University was founded in 2010 and has a world-class teaching faculty and world-class yoga teacher training programs to offer you. Over twenty yoga certification programs, in fact. All of which you can access anytime (and immediately) with a Happy Jack Yoga University annual membership.
Jack Boken, the co-founder of Happy Jack Yoga and friend of Tony Robbins, has a magnetism and an energy about him that will inspire you and leave an impact on you from your very first impression of him. I'm not kidding.
He has inspired thousands of yoga students in over twenty countries speaking at yoga festivals, conferences, and even on the stage at Tony Robbins events.
Jack and Hanna, co-facilitators and co-founders of Happy Jack Yoga University are both E-RYT 500's and decades-long yoga practitioners. Jack and Hanna are supported by a teaching staff of RYT-500's, and some names you may be familiar with. Sarah Beth of Sarah Beth Yoga, who has over 1.5 million YouTube subscribers, and Jen Mark, Yoga Anatomy expert and RKin, BSc., CAT(C), RYT-200 lead the modules in their respective areas of expertise: business and anatomy.
The Happy Jack Yoga 200 hour online yoga teacher training is called The Hero's Journey. It is a cohort learning experience that takes place over three months and blends online learning with weekly group calls with the lead trainers and your classmates.
You'll walk away empowered, with a deep understanding of human performance, nutrition, mindfulness, spirituality, leadership, and of course, yoga, and all that yoga is, spiritually, physically, energetically, ethically.
The Happy Jack Yoga teacher training syllabus includes
Finding your authentic voice
Busting limiting beliefs
Wisdom of yoga
Yoga business
Hands on assisting
Daily yoga practice
Increasing your energy
Meditation
Basics of teaching yoga
Deep self-inquiry
Going within
Yoga anatomy
Yoga unveiled
Business of yoga, and more
Happy Jack Yoga school ratings:
Happy Jack Yoga takeaway:
The famed yogini Briohny Smyth, affectionately known as Bri, launched her premiere online YTT in 2020. Briohny is a veteran yoga teacher who has traveled the globe leading retreats. She is also an instructor on Alo Moves.
Bri is world-famous for her Vinyasa-based ladder flows, and you'll get to learn her cueing, alignment, and sequencing methods as a student.
Bri has been leading yoga teacher trainings worldwide for over a decade. I had a great experience as a student in this online yoga teacher training – I am an Aligned graduate.
Mathieu Boldron, a name that may be familiar to you, co-teaches with Bri and covers the mantra, kirtan, and pranayama sections of the course, and let me just say that he is magic.
You will undoubtedly feel a connection with Bri and Mathieu during your learning journey. Their passion and knowledge of the practice will transcend through your screen. To study under these two is a true honor and an extraordinary opportunity.
You are unquestionably in good hands as a student of the Aligned Yoga School, which offers unparallel support.
The Aligned Yoga yoga teacher training syllabus includes
Cultivate your practice
Inversion and arm balance study
Embodiment of the asanas
Dual actions
Essential yoga anatomy and biomechanics
Kriyas
Contemplation
Communicating with cues
Assists and adjusts
Kickstarting your brand, and more
Aligned Yoga school ratings:
Aligned Yoga takeaway:
My Vinyasa Practice has been certifying yoga teachers online since 2016. They were one of the early adopters of e-learning in the yoga space.
By enrolling in the My Vinyasa Practice online YTT, you are under the guidance of Michelle Young, C-IAYT (Certified Yoga Therapist) E-RYT 500. Michelle and her team of over twenty-four yoga educators specialize in teaching alignment-based Vinyasa yoga in their yoga teacher training.
Join My Vinyasa Practice online yoga teacher training course to be a part of an in-depth and comprehensive program that has successfully graduated thousands of yoga teachers online and in-person at their Austin Texas yoga studios.
Educational integrity and accessibility remain top priorities at MVP, as does creating courses that give students as close to an in-person YTT experience as possible.
The school offers live, personalized support via chat, email, and phone seven days a week in addition to FREE one-on-one sessions with their Lead Trainers and staff.
The My Vinyasa Practice yoga teacher training syllabus includes
History & foundations of Vinyasa yoga
Living your karma through your dharma
Understanding the panchamaya kosha system
Anatomy, mechanics & sequencing
Integrating mind & body
Chakras & specializing sequences
Introduction to specialized practices, and more
My Vinyasa Practice school ratings:
My Vinyasa Practice takeaway:
The chance to attend 200 hour online yoga teacher training with Mark Stephens only comes around once a year. And this next opportunity kicks off in October.
In case you're not already familiar with Mark Stephens, he is a five-time best-selling author and yoga textbook creator who has been leading yoga retreats around the globe for 20 years. Mark's published books include: The Art of Sequencing, Teaching Yoga, Yoga Adjustments, Yoga Therapy, and Yoga for Better Sleep.
Mark has founded multiple yoga studios and foundations throughout the years, he is a Certified Yoga Therapist, and he is described by the Yoga Journal as "the teachers teacher'".
In this foundational yoga teacher training online, Mark shares his extensive knowledge of physiology, philosophy, anatomy, yoga history, Eastern and Western theories on consciousness, and many other topics that he has studied very deeply.
This 200-hour online yoga teacher training created by and facilitated by Mark focuses on what he calls the five essential elements of teaching yoga.
Mark's online yoga certification is meant to be completed over a 5 month period. It is a completely self-paced course, but every week you'll have two opportunities to meet with Mark and your peers on Zoom for three-hour discussions and Q&A.
Mark is overflowing with enthusiasm and wisdom. Just check out his website and press play on the free sneak peek OR join an upcoming free information call to get an insight into his teaching and lecture styles. He is fascinating, to say the least!
The Mark Stephen's yoga teacher training syllabus includes
Essential Elements of Asana Practice
Practical Human Anatomy for Yoga
Asanas & Alignment
Subtle Energy & Yogic Anatomy
Philosophy: The Yoga Sutras
Pranayama
Mantra
Guided Chakra Meditation
Insights from the Gita
Tantra
Surya Namaskara
Teaching pre and post natal students
Sequencing
The Profession & Business of Teaching Yoga
Mark Stephens Yoga school ratings:
Mark Stephens Yoga takeaway:
With over 400 5-star reviews on Yoga Alliance, Yoga Farm Ithaca's online YTT has become wildly popular and highly regarded. Yoga Farm Ithaca is one of the most trusted, trauma-informed online yoga schools in the world. I feel the magnetic energy of this teaching team flowing out from my screen.
Christopher Grant RYT-500, Daniela Hess RYT-500, and Jeannie O'Neill E-RYT 500, are the lead educators and directors of Yoga Farm Ithaca, and they personally teach the live online classes.
Throughout the course, they share their unique wisdom from their 20+ years as yogis and educators. Offering over 20 weekly calls for you to join, you have ample opportunities to connect with your educators. This can't be said for all online YTT's.
Yoga Farm Ithaca's certification course has two options: 1. Completely self-paced (this is new) 2. Cohort style course with a definitive start date and end date with live Zoom classes being held over a 3 month period. The live classes are also recorded and supplemented with pre-recorded modules, reading, and asana practice.
During the Yoga Farm Ithaca Yoga Alliance approved 200-hour course, you will learn many of the traditions of yoga from a multi-pronged approach from a team of highly qualified trauma-informed educators.
The Yoga Farm Ithaca yoga teacher training syllabus includes
Yoga humanities
Yoga of awareness
Yoga teaching methods
Anatomy & physiology
Breathwork & meditation
Mindfulness & teaching in school
Ethics
Yoga history & philosophy
Trauma informed yoga
Sequencing
Business of yoga
How to teach yoga online, and more
Yoga Farm Ithaca school ratings:
Yoga Farm Ithaca takeaway:
Santosha Yoga Institute is an established and Yoga Alliance approved online yoga teacher training certification program with over 12+ years of experience certifying yoga teachers.
Santosha is a sought-after in-person yoga teacher training school that holds multiple YTT's every year all over the globe.
As well as finishing the course as a 200hr yoga teacher, you'll get your choice of two extra certifications for free as part of your enrollment, including Yin Yoga, Kids+Teens, Pre Natal, or Meditation.
This transformational online yoga teacher training course is rooted in authenticity with an emphasis on studying the lineage of yoga by diving deep into the ancient texts of India, taking a dynamic approach to cover the in-depth course curriculum.
The Santosha Yoga Institute yoga teacher training syllabus includes
Anatomy
Yoga postures
Yoga philosophy
Principles of teaching yoga and sequencing
Therapeutic application of yoga
Meditation
Yoga business
Yoga nidra
Kirtan, and more
Santosha Yoga Institute school ratings:
Santosha Yoga Institute takeaway:
An exciting addition to the online yoga teacher training space is DoYogaWithMe, a very well-established and well-known online yoga platform and community founded in 2008.
After two years in the making, DoYogaWithMe rolled out their online YTT curated by Rachel Scott, the 'Yoga Education Expert' who has led more than 4,000 in-person yoga teacher training programs.
Rachel holds a Master's degree in Online Education, and she has helped develop countless in-person 200-hr YTT curriculums throughout her long-spanning career as a yoga instructor and educator. Perhaps you know her from seeing her at Wanderlust, Northwest Yoga Conference, Omega, or the Embodied Yoga Conference.
The DYWM YTTC is co-led by David Procyshyn, Fiji McAlpine, and Tracey Noseworthy. All of whom are very well-respected educators in the yoga community.
This is a no fluff training. On the contrary, DYWM is for students seeking a challenging and enriching educational experience without the glitz and glam.
This 200-hr training includes frequent Zoom calls with your classmates and lead educators and 2 livestream yoga classes with the faculty each month.
The DoYogaWithMe yoga teacher training syllabus includes
Principles of Teaching
Language of Anatomy
Anatomy of Bones and Joints
Cueing
Overview of Yoga History
Anatomy of Muscles and Connective Tissue
Sutras
Anatomy of Breathing
Pranayama
Sequencing
Anatomy of the Hip
Bandhas
How to Lead a Guided Meditation
Subtle Body
Chakra System
Anatomy of the Core
Anatomy of the Knee
Anatomy of the Nervous System
Anatomy of the Spine
Injuries and Pregnancy
Mudras
Asana Labs
Verbal Assisting
Ethics of Yoga
Business of Yoga
Sequencing Development, and more
Do Yoga With Me school ratings:
Do Yoga With Me takeaway:
There are many reasons why I recommend Full Circle Yoga School – their courses are Yoga Alliance certified, affordable, incredibly comprehensive, and insanely in-depth. Plus, if you're a bit of a spiritual seeker, you will absolutely love their metaphysical and mystical approach.
Full Circle Yoga School is a spiritually and mystically infused yoga school. Their founder, Jolie Wilson, is certified in 7 different types of yogic practices, and her personal evolution journey is continuous. Jolie views yoga as ​​a lifestyle, a science, and an art.
Full Circle Yoga School offers the multi-faceted teachings of the yogic way of life and dives deep into the movement practices of Hatha and Vinyasa. There's no question that this is a very dynamic and interesting yoga teacher training course to choose.
Full Circle Yoga School has been offering in-person yoga teacher training since 2017 in exotic locations like Florida, Hawaii, and Bali which you can still join if the sound of that strikes your fancy!
The Full Circle Yoga School yoga teacher training syllabus includes
History & Philosophy
The Five Sheaths
Archetypes & Mythology
Vedas
Upanishads
Bhagavad Gita
Yoga Sutras
Tantra
The Energetic Body
Prana
Nadis
Chakras
Gunas
Doshas
Teaching Methodology
Physical Cues & Adjustments
Modifications
Variations & Props
Principles of Sequencing
Basic Arc & Structure of Class
Sequencing within Asana Families
Planning Specific Classes
Chakra Model of Sequencing
Teaching Tips
Seat of the Teacher
Creating Space for Self-Transformation
The Physical Setting
Path of the Teacher
Holding Integrated Space
Voice & Language
Business of Yoga
Meditation
Teaching Meditation
Guided Meditation Techniques
Working with the subtle energy
Specialized Teaching
Working with Pregnant Students
Working with Injuries
Working with Depression
Full Circle Yoga school ratings:
Full Circle Yoga School takeaway:
---
Online yoga teacher training tips
There are many aspects to consider when choosing your ideal yoga teacher training. Here are some tips, questions, and considerations to keep in mind when choosing an ideal online yoga teacher training:
Do you feel a connection with the educators (yes, even with online learning!)
What is the style/lineage of yoga being taught
Does the syllabus look robust, interesting & thorough
How long is the course duration
How long are you allowed access to the yoga teacher training
Is it a self-paced or cohort/group learning format
Is the course augmented with live learning sessions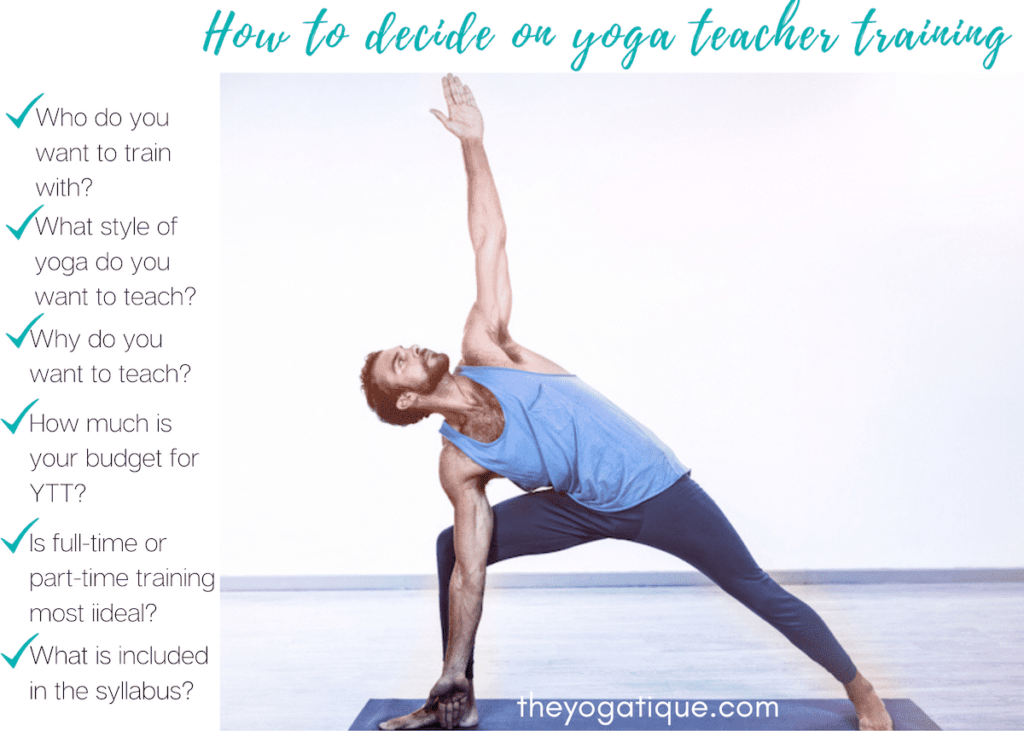 Defining your daily or weekly goals for studying, required yoga practice hours, necessary yoga anatomy vocabulary memorization, and inward self-study and meditation/journaling could be helpful to finish yoga teacher training in a timely manner.
Online yoga teacher training requires some discipline, trust me! And get ready to get fit because a daily yoga practice will be a part of your online yoga teacher training journey. Here are more yoga teacher training tips to help you get through it!
Yogi study tip -using a flashcard app is really useful for studying and memorizing yoga anatomy and asanas.
Of course, as with everything, there are pros and cons to consider. Below is a short list based on my own experience.
Online yoga teacher training pros and cons
How long does it take to complete online yoga teacher training?
Use the table below to estimate how long it will take you to complete 200 hour yoga teacher training online based on your availability.
Online yoga teacher training completion timeline estimator
If the yoga teacher training is self-paced you can move through the course at whatever pace your schedule allows for. If the course is a cohort, you will likely complete the teacher training on a certain date and at the same time as your classmates.
The length of time it takes you to complete the training should not be confused with how long you are allowed access to the course materials (which is different for each training). I have included the access allowance for each training in the descriptions.
What makes a great online yoga training experience?
Online yoga training can be very interactive and engaging by leveraging current technology – if you are attending the right program.
In fact, you are no longer ever stuck sitting in the back of a circle trying to see the whiteboard above other peoples' heads.
You are no longer not able to hear the instructor, and you can listen to the lectures multiple times. Those are some aspects I liked about my online yoga teacher training.
You have a front-row seat in the class, and you've got world-class yoga instructors coming together to collaborate and create online yoga teacher training courses that have been created with your success in mind.
Zoom in. Rewind. Pause. Watch it again. Absorb the teachings more deeply in your own quiet space without distraction at your own pace.
Most online yoga teacher trainings will cover the same basic core topics as part of their curriculum for their TTC (Teacher Training Course). But how they teach the material and how in-depth the training is in certain areas will differ.
The experience the educators have and the additional subjects they add to the training are also what really makes each course different.
Read about my 200 hour online yoga teacher training experience with Briohny Smyth.
Can you teach yoga with an online certification?
Yes, you can teach yoga with a certification you earned online. An online yoga teaching certification instills you with the required knowledge and teaching credential to teach yoga online or at a yoga studio.
Is Yoga Alliance allowing online yoga teacher training?
Yoga Alliance has approved online yoga teacher training for their RYS's (Registered Yoga Schools). Learn more about Yoga Alliance requirements and registration to learn how to register and other YA requirements.
All of the online yoga teacher training certification courses in this article are registered with Yoga Alliance. They are Registered Yoga Schools.
Learn more about Yoga Alliance and Yoga Alliance acronyms and yoga teacher titles if you're feeling confused by all of this RYT and RYS talk!
Yoga Alliance standards
The image below illustrates Yoga Alliance's new "elevated RYS 200 standards" for 200 hour yoga teacher training.
Many people think that yoga is all about the asana or physical movement practice, but yoga is actually about much more than that, and the importance of this is reflected in Yoga Alliance standards.
Aside from the requirements outlined below, look forward to exploring topics including pranayama, bandhas, chakras, nadis, yoga nidra, restorative yoga, The Yoga Sutras of Patanjali, and much more in an online yoga teacher training Yoga Alliance has certified.
Discover the best courses online to study Pranayama here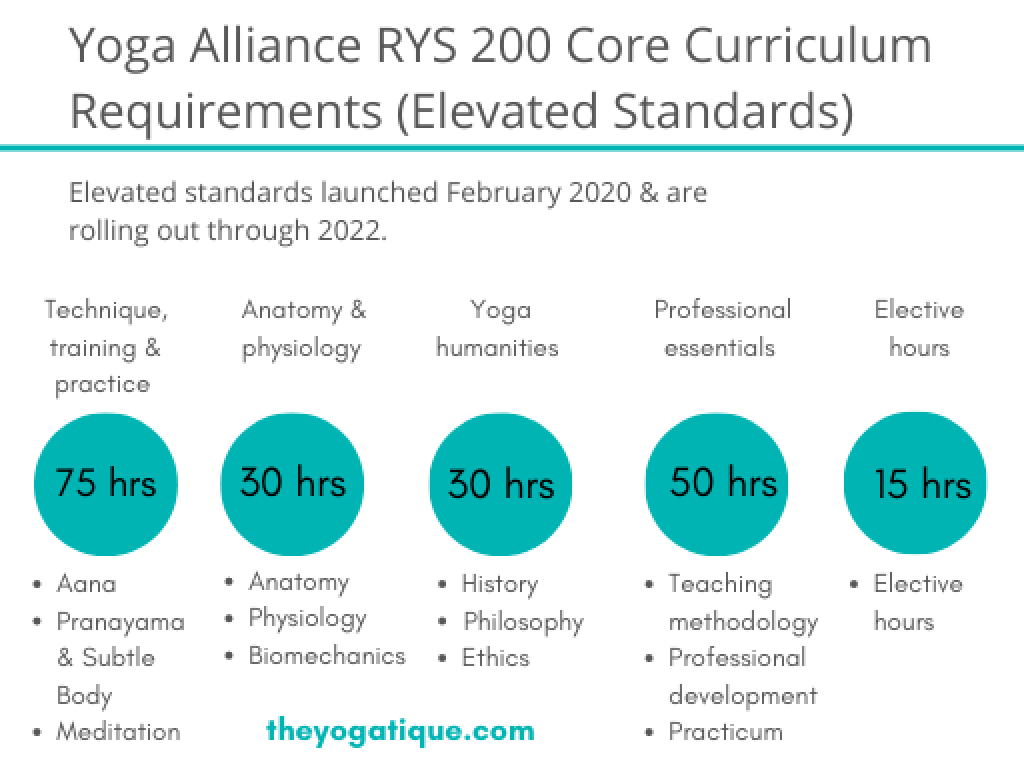 What is the highest level of yoga teacher training?
The highest level of internationally recognized yoga teacher training is 500 hours.
The 500 hours of training can be completed in one 500-hour training, or by attending 200-hour and 300-hour trainings separately. That said, many yoga teachers have attended far more than 500 hours of training, so 500 hours is certainly not where education ends for many yogis. Make sense?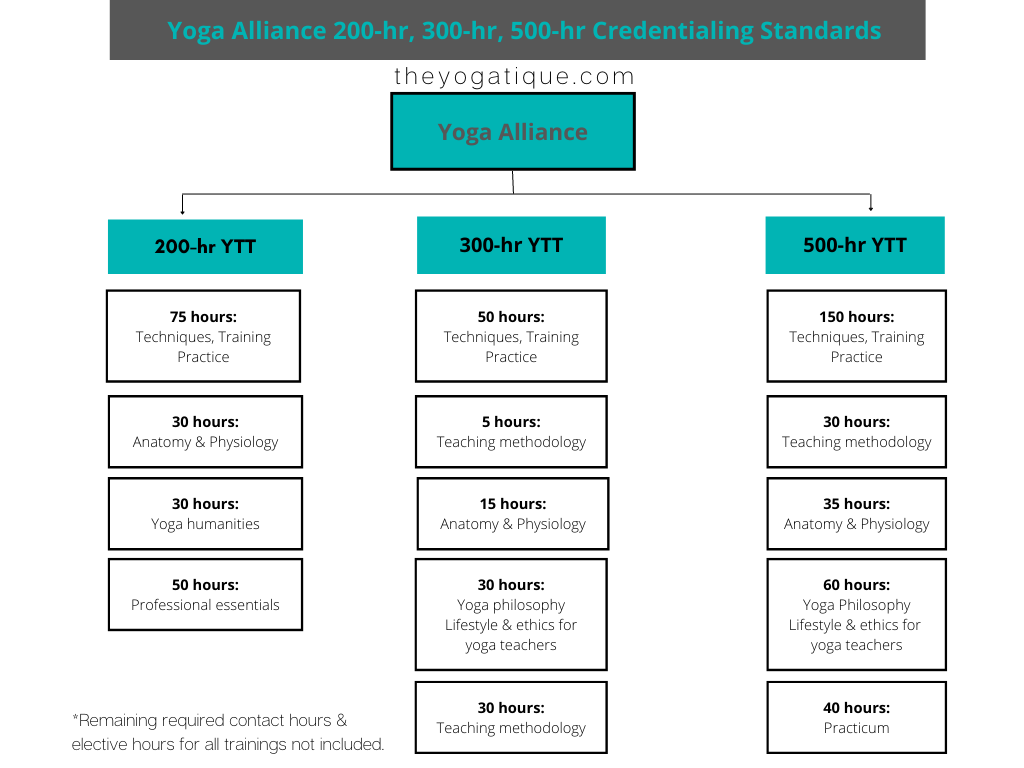 The cost of online yoga teacher training
Digital products like courses are often on sale (as in always!). That said, the actual prices of the trainings you find in this article may be lower than what you see listed here. You will need to visit each website to see the actual current course price.
That said, the cost of 200 hour online yoga teacher training starts at around $400 and goes up from there. While there is no such thing as free online yoga teacher training there are some very reasonably priced options, and most courses offer various payment plan options with NO ADDED COST TO TUITION.
How to become yoga certified online
This is what you will need to do to successfully complete yoga teacher training online and earn a certification:
Complete all required modules, assignments, reading, and quizzes.
Submit a video of yourself teaching a yoga sequence. Some schools will require just a 5 min video while others will require a much longer video.
Why becoming a yoga teacher today is a great career choice
I hope this article has inspired you to go for that yoga teacher training you've long considered.
As well as enriching your life on both a physical and a personal level, becoming a yoga teacher now is a great career choice. With the popularity of online yoga courses, virtual communities, and online yoga platforms, your opportunities are limitless if you're ready to get creative and become an online yogipreneur!
The statistics below from a 2019 poll of 2,000 yogis courtesy of Eventbrite prove that more yogis than ever want to practice more (they need a yoga teacher), are new to yoga (they also need a yoga teacher), or are also practicing yoga online or using a yoga app (still need a yoga teacher). And here are even more statistics about yoga to persuade you to take the leap!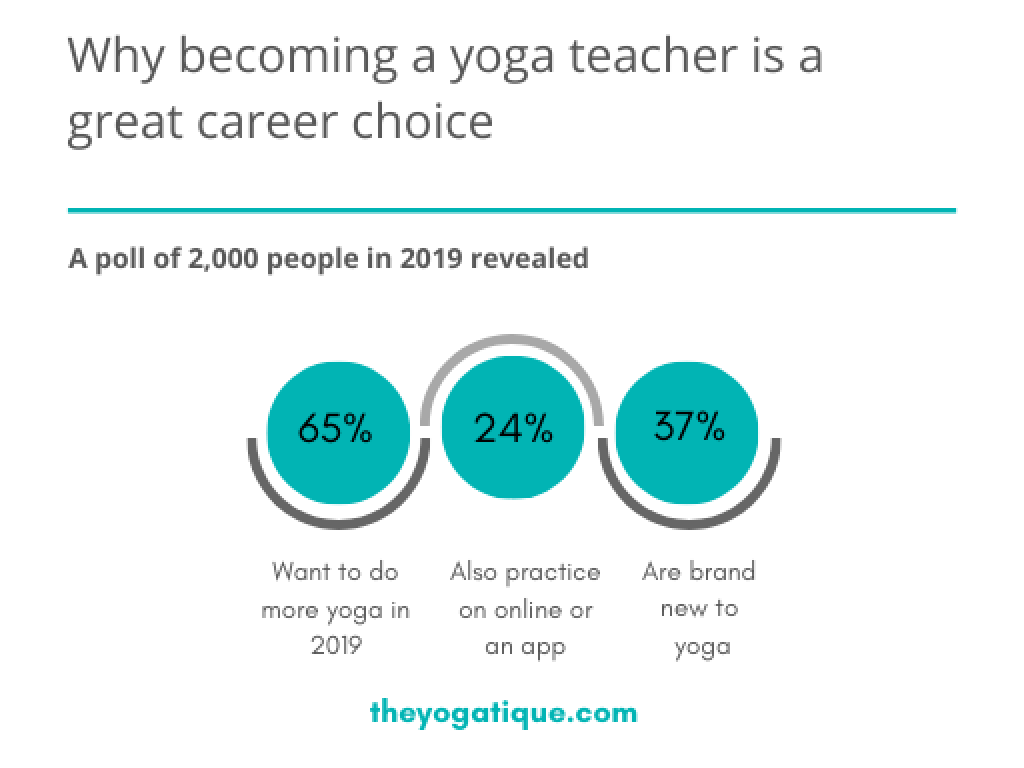 There are big opportunities in the yoga industry and I wish you the ultimate success.
Yoga teacher training vocabulary:
CE: Continuing education
CYT: Certified yoga teacher
RYS: Registered yoga school
RYT: Registered yoga teacher
TTC: Teacher training course
YTT: Yoga teacher training
YTTC: Yoga teacher training course

Takeaway best online yoga teacher training
If you want to become a registered yoga teacher, one of the online yoga courses outlined above may be perfect for you! After graduating from one of the Yoga Alliance approved online yoga teacher training courses above, you will be set up to embark on a successful career as an RYT 200. Begin your YTT journey today, be a certified yoga teacher in just a few months!
Still on the fence about taking a TTC or still have questions about it? Discover if yoga teacher training is for you before committing to anything.
Some online yoga studios, online yoga teacher training programs, and brands that we write about may offer us a small percentage should you decide to purchase after reading our content. Thank you for enabling us to exist!
FAQ about online yoga teacher training