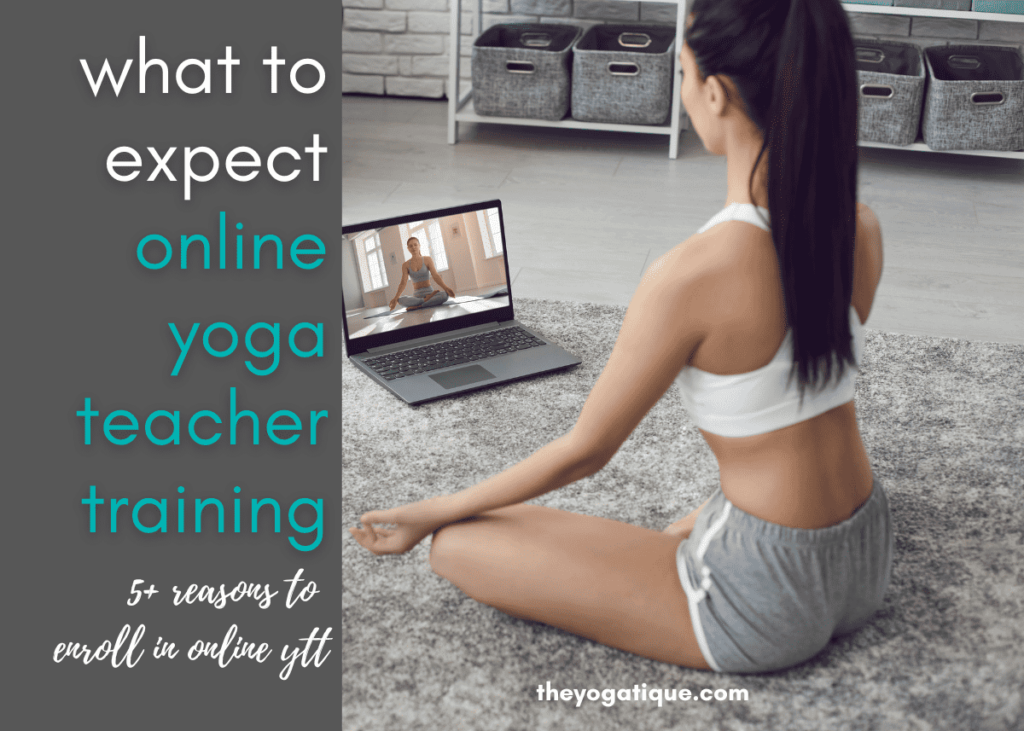 Are you an aspiring yoga teacher who is on the fence about whether you should take yoga teacher training online or in person? If so, this is for you! Have you been Googling 'yoga teacher training what to expect?' As a CYT-200 myself who graduated from Briohny Smyth's Aligned online yoga teacher training, I've got some first-hand knowledge to share with you.
As you may know, 2020 exploded with online yoga teacher training courses (also referred to as online YTT's), and becoming an RYT-200 online is now the way to do yoga teacher training.
If you've been considering becoming a yoga teacher in this new digital era, in this article I am sharing five reasons to get certified to teach yoga online + what to expect in your yoga teacher training. We'll get into looking at why becoming a certified yoga instructor online makes the most sense, and how to find the yoga teacher training program that is perfect for you.
As someone who graduated from a 200-hour online YTT myself, and also being an online yoga practitioner for 8+ years, I think I can offer you some good tips and tricks for successfully choosing and getting through yoga teacher training online.
Let's do it!
---
Article content:
(Click any link to jump to section)
---
Is yoga teacher training on your radar?
Online Yoga Teacher Training Offers
Accreditation
Lifetime access
Click below to discover the best Yoga Alliance certified online YTT's to join now!
Yoga teacher training what to expect
If you decide to get certified to teach yoga online, you can expect high-quality yoga videos, lustrous yoga pose images, and rich and expansive reading material and training manuals that give you the breadth and depth you need to graduate from the program with the confidence and skills to begin your yoga teaching career.
Here's what to expect when you enroll in online yoga teacher training…
Once you've enrolled in your yoga teacher training you will be given login credentials to access the course materials. The course will be split up into segments, or learning modules. These modules are recorded lectures featuring the lead educators covering all of the required subjects of yoga teacher training, and more.
Each section or module will end with quizzes to test your aptitude. Don't stress about the tests! What I love about the online learning format is that I could zoom in, rewind and pause, and practice the poses over and over with the manual right there in front of me until I felt I had it right. I also appreciated the chance to get to watch some theory lectures multiple times.
Most online Yoga Alliance Registered Schools (YA RYS) have also created private Facebook groups for students to join. In the FB groups you can interact with your peers and ask questions about yoga poses, or the topics covered in the lessons, or even get study tips.
I've noticed that many people will stay in these FB groups long after they've graduated and post about things like class sequencing, how to price their classes, how to create classes for certain demographics, and other topics that only come up among yoga teachers.
Joining an online community of yoga teacher trainees is a fantastic opportunity to connect with a new global community of soon-to-be yoga teachers. And aside from that, you are all going through, or have already gone through the exact same training.
Read about my online yoga teacher training experience with Briohny Smyth
How long does it take to become a yoga teacher online?
Yoga teacher training is typically completed within 6 weeks to about 6 months. Obviously, that is quite a range! The flexibility of online yoga training is so appealing to so many.
How long it takes to complete a 200 hr online yoga teacher training is determined by you, the student. An online YTT is your learning journey on your own time. You can complete an online yoga certification course in as few as three weeks if you have the time and dedication.
Attend online yoga teacher training and study under world-famous yogis
The opportunity to study under world-famous yogis might be one of the biggest reasons why people choose to get certified to teach yoga online. Briohny Smyth, Patrick Beach, Carling Harps, Janet Stone, Paul Grilley, Rocky Heron, Noah Maze, and many other world-famous yoga teachers are now offering everything from the basic 200 hour yoga teacher training online to advanced yoga teacher training online.
After you've completed your basic 200 hour training you've then met the requirements to move onto special yoga training such as Yin, Kids, Special Needs, etc. The options are literally limitless!
Get certified to teach yoga online and save money
Ok, so in case you didn't know, online yoga teacher training is way more affordable than a traditional yoga training course. You can save yourself hundreds, if not thousands of dollars by opting for an economical online yoga teacher training.
The lowest price you'll find for a generic online teacher training is about $400. A high-end training like Brett Larkin's training, is about a $2,700 investment. And there's every price point in between. Virtually all online yoga teacher training courses offer payment plan options.
↓Great Yoga Alliance approved yoga teacher trainings you should look into↓
Lifetime access to yoga teacher training course materials
Most online yoga teacher training courses offer a minimum of 12 months access to the materials while others offer lifetime access to course materials. You'll want to read all of the fine print and look at the terms and conditions before enrolling to discover how long you will have access to the YTT materials of each training.
I recommend that you move through the course at a dedicated pace so that you give yourself an intense learning experience that will imprint your brain with the knowledge and it will really stick with you for years to come. Challenge yourself to complete the course in a reasonable time frame.
Yogi study tip – download a flashcard app to your phone, and as you're moving through your online yoga certificate course create flashcards so that you can study yoga anatomy anywhere and everywhere!
Complete an online yoga teacher training course at your own pace in your own space
As mentioned above, depending on the YTT that you choose, you will have anywhere from 1 year to a lifetime to complete your online yoga teacher training. I recommend that you create a Zen learning environment at home and dive into your studies in a quiet, uncluttered space that is conducive to learning and focusing on your yoga studies.
One of the benefits of online learning is that you're no longer in the back of the class, you're right there in the front. This is one of the greatest and least talked about benefits of online yoga instructor training; your front-row seat to it all.
Learn how to create a global community in an online YTT
Yoga teachers like the ones mentioned above have perfected the aspect of creating an online global community. Briohny Smyth, for example, is an Alo Moves instructor as well as an online yoga teacher training course creator. By studying under yogis who have mastered how to create an online yoga community you will learn how to create your own community in the business portion of the teacher training.
Once you are a certified yoga teacher, you too can teach online or become an online course creator if you really want to make the big bucks as a yoga teacher. Brett Larkin has declared that her online yoga membership platform and online YTT courses have created a seven-figure business. You read that right. So if you've been wondering "how much money does a yoga instructor make", in some cases yoga teachers make a lot.
Takeaway yoga teacher training what to expect
I hope that after reading this article you are feeling confident that you can expect an amazing, high-quality, affordable, and flexible learning journey in online yoga teacher training and that there are a million opportunities that await you on the other side of certification!
If you are ready to take that next step in life towards ultimate success as a yoga teacher Join an online YTT to begin your yoga teacher training journey today for far less than you might expect!
If you still have more questions about online YTT check out this post that answers common questions about yoga teacher training – it might surprise you!
Discover THE PERFECT online yoga teacher training FOR YOU and begin your yoga teacher training journey today!
Some online yoga studios, online yoga teacher training programs, and brands that we write about may offer us a small commission should you decide to make a purchase or signup after reading our content. Thank you for enabling us to exist!