On Becoming A Certified Yoga Instructor Online – Here's What I Think About Online Yoga Teacher Training With Briohny Smyth's Aligned Yoga Course
I'm enrolled in Briohny Smyth's Aligned Yoga 200 hour online yoga teacher training, and I am going to share my experience with you here! As a practicing yogi of many years, I decided that online yoga teacher training is an awesome opportunity for me to deepen my understanding of yoga, something that has been a part of my life for far over a decade.
Read about my experience of going through this 200 hour online yoga teacher training and get some of my study hacks and insight on what I really think about online yoga teacher training. Join me on my yoga teacher training journey!
---
Article content:
(Click any link below to jump directly to section)
---
How I plan to use the knowledge I'm gaining from the Aligned Yoga online yoga teacher training
It is unlikely that I will ever teach yoga, but I love understanding anatomy and the mechanics of the body better and learning about aspects of yoga beyond the physical asana practice. Due to my "digital nomad" lifestyle I essentially solely practice yoga online. I will use the knowledge that I am gaining in the Aligned Yoga online yoga teacher training to help me to better understand the reasoning behind my teachers' cues, and to help me better self-adjust, which for me is priceless.
My first impressions of Aligned's online yoga teacher training certification program
When I first pressed play on Briohny Smyth's Aligned Yoga 200 hour online yoga teacher training program I instantly felt a connection with her, which was unexpected. I have been practicing for years with Bri online on Alo Moves, so I was more than ecstatic when she launched her online YTT. Bri is a figure in the yoga industry, and if you've ever taken a yoga class with her online you know her level of expertise. She is also an expert at the art of teaching and she is very comfortable in front of the camera. It feels like her knowledge is truly just flowing from her to me.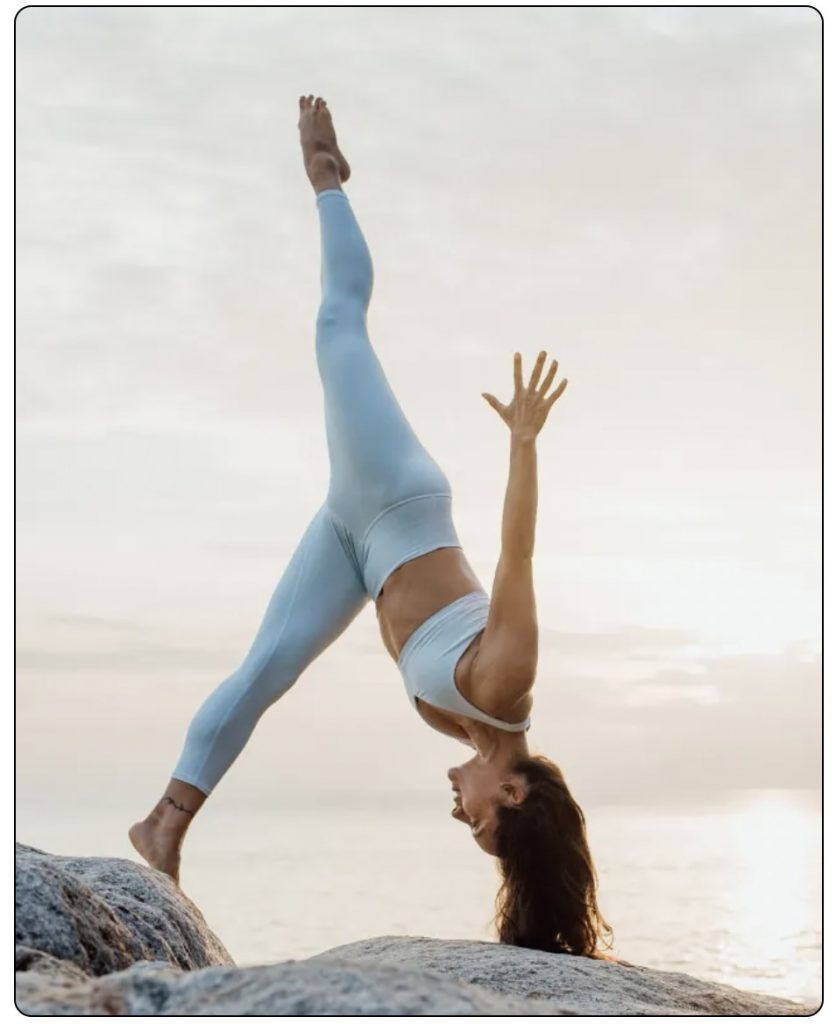 Visit Aligned Yoga Below For:
1 year free Alo Moves membership.
Sneak peek at the syllabus.
FREE 24 HOUR ACCESS TO CHECK OUT THE ALIGNED 200-HR TRAINING PROGRAM!
Explore the TRAIN path on Aligned below.
My approach to this 200 hour online yoga training
Despite the fact that I am feeling highly motivated to dive right into this online yoga teacher training and get certified to teach yoga, I knew that I would need to come up with a strategy to get myself in the game of being a student again having not been a student in so many years. My goal is to complete this online YTT in a reasonable amount of time – I'm enrolled in the 200 hour online yoga teacher training certification program. Bri offers a 300 hour advanced online yoga teacher training, also.
For me personally, I like to go all-in on things, I'm a little intense that way! I created an accountability blueprint for myself to ensure that I am working towards my goal of completing the online yoga certification course every day. This is a completely self-paced online yoga training that allows for 1 year to complete the program, but I gave myself a much shorter deadline.
My online yoga teacher training experience – some inside scoop
Bri's yoga training is Vinyasa-based online yoga teacher training. If you're familiar with her classes you are familiar with her ladder flows and strong Vinyasa flows. Her classes can be real killers, but they will tone any body up in no time!
Bri is charismatic in every way, and she knows the human body inside and out. But not only that, she is personable and passionate about yoga. To learn Bri's cueing techniques directly from her feels like a really special opportunity. Bri breaks down all of the "whys" to her every cue, and it's so interesting to be understanding the meaning behind all of her verbal adjustments and suggestions on a deeper level – an anatomical level. It honestly feels like she is talking directly to me, and I love the fact that I can pause the training or repeat modules whenever I want or need to. And I do that.
Mathieu Boldron is Bri's co-teacher for some aspects of the course and let me just say that he is magic. I love his authenticity, and he is also a born teacher. Mathieu teaches Pranayama, Kirtan, and other aspects of the course that are not asana-related. Mathieu is magnetic, and there's no screen that can stop his incredible energy from flowing abundantly!
Aligned Yoga – A Yoga Alliance approved online yoga teacher training
In 2020 Yoga Alliance made an online learning provision to allow schools that are registered with Yoga Alliance to conduct Yoga Alliance approved yoga teacher trainings online.
Aligned Yoga is a Yoga Alliance RYS (registered yoga school) so that means that this course is a Yoga Alliance approved online teacher training. What this means is that after completion, I will get an Aligned yoga teaching certification, and then I can register with Yoga Alliance to obtain a Yoga Alliance teaching certification. I will then have dual yoga teaching certificates – one from Aligned Yoga and one from Yoga Alliance.
Tips and tricks for getting through online yoga teacher training by someone who is going through it
Organization: If you're like me and you are addicted to your computer or work online it could be challenging to separate yourself from all of those enticing open tabs during your yoga teacher training. Close them! I also found that moving to an entirely different part of my house while studying my online YTT program helped me to separate myself from what I'm normally doing on my computer. This helps me to get my head into the right space to learn. Also, setting set hours to focus on teacher training is helpful.
Discipline: I decided to take this time during yoga teacher training to rededicate myself to health, inside and out. For me, that means cutting out my daily wine habit and instead of visiting the market every day to load up on fresh fruit and veg which are abundant here in Oaxaca Mexico where I'm currently at. I'm indulging in fresh mangoes every day, I'm making fresh grapefruit juice daily at home, I'm chopping up snacks of carrots and bananas topped with tahini, I'm putting nutritional yeast flakes on everything I can throw them on, I'm chugging kombucha. I kind of went all out hippy!
Dedication: I realized that to complete a 200 hour online yoga teacher training in my own time would require some dedication on my part. Frankly, I saw the dangers of just being able to put my yoga teacher training off until the next day kind of habit. It took me a while to develop my daily routine, but I decided to break up my studies into two daily sessions to stay on track to complete the course in a reasonable time frame. This also goes along well with the Aligned online yoga teacher training which is broken into two sections, The Practice and The Teaching.
Study strategies: I love flashcards! I downloaded a flashcard app to my iphone, which is also how I learned Spanish. I like this method because I create my own flashcards with my own definitions and vocab. Wherever I am, I have my flashcards to study. Think coffee shop, waiting for someone, taking public transport, etc. This is a most ideal study strategy to use for memorizing anatomy and yoga cueing.
Split screen: I also love my split screens. I oftentimes have a Google doc open on one screen and the yoga teacher training modules open in another in case I want to take any notes.
Daily asana practice: This online YTT includes a free 1 year subscription to Alo Moves (which is awesome). Bri links to a flow on Alo Moves that complements that module's educational material in each section.
Testing: Yes, there are little quizzes frequently. Nothing to stress over, but they ensure that I'm paying attention.
I hope that some of the above tips will help you get the most out of your online YTT too!
You can visit Aligned Yoga below and check out the TRAIN path to learn more, or signup for the 24 hour free access to the training.
You can learn more about the best online yoga teacher training certifications on The Yogatique, and I will most definitely post my final thoughts and more about my experience once I have completed this course!
Some online yoga studios, online yoga teacher training programs, and brands that we write about may offer us a small commission should you decide to make a purchase or signup after reading our content. Thank you for enabling us to exist!