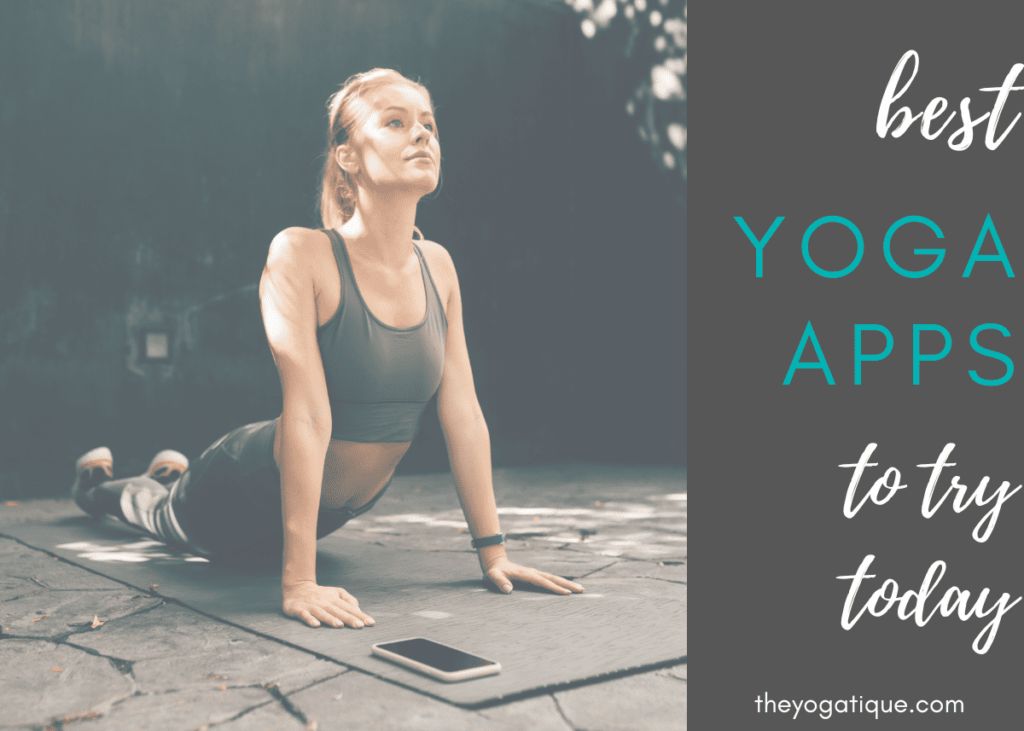 Don't you love that thanks to modern technology you can now fit your yoga workout in literally anytime, anywhere?! Yoga has evolved to fit into any lifestyle and suit any budget. You can now practice with the best yoga instructors in the world in your living room, or any room for that matter, at the touch of a button on your iPhone, iPad, Android, Apple Watch, Apple TV. Amazing, right?! In this article, I'm going to share the best yoga app that you need in your life now. Read my review, as I explain why these are my favorite yoga apps to use every dang day.
If you want to discover the best yoga app that no other articles mention, keep reading.
Beginner's guide to yoga apps: top choices for a smooth start
Today there are countless online yoga subscription-based platforms that you can sign up for, and the same goes for yoga apps as well. The recommendations I am making in this article are what I believe to be the best yoga apps for everyday use based on my familiarity with these yogis.
I am personally a longtime fan of each of the yoga instructors I am introducing here.
Let's get into discovering the best yoga app for you that you may not know about but should!
A Workout App Recommendation For All Yogis
(Click any name above to jump directly to more info about that app)
---
Article content:
(Click any link below to jump directly to section)
---
Mental health & yoga: apps to boost well-being & reduce stress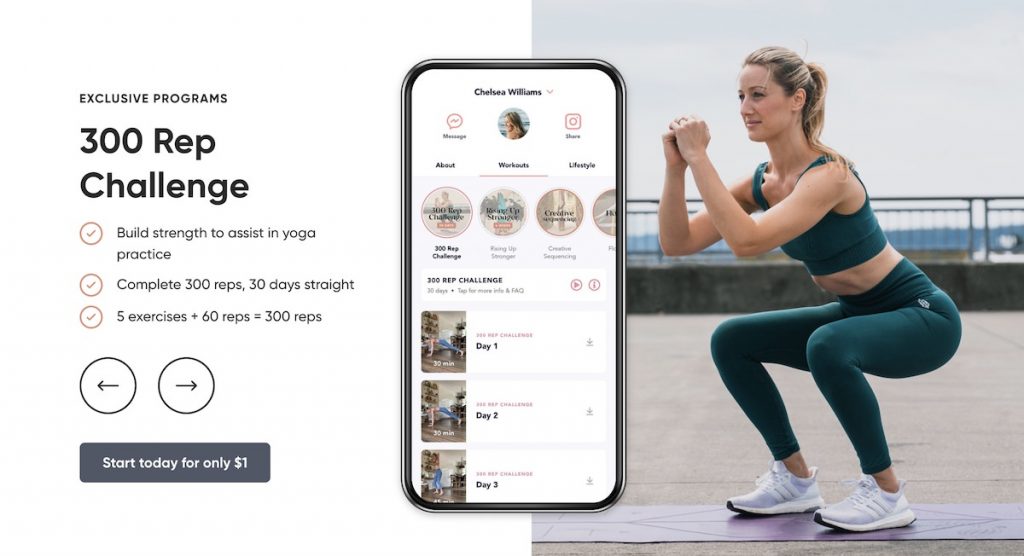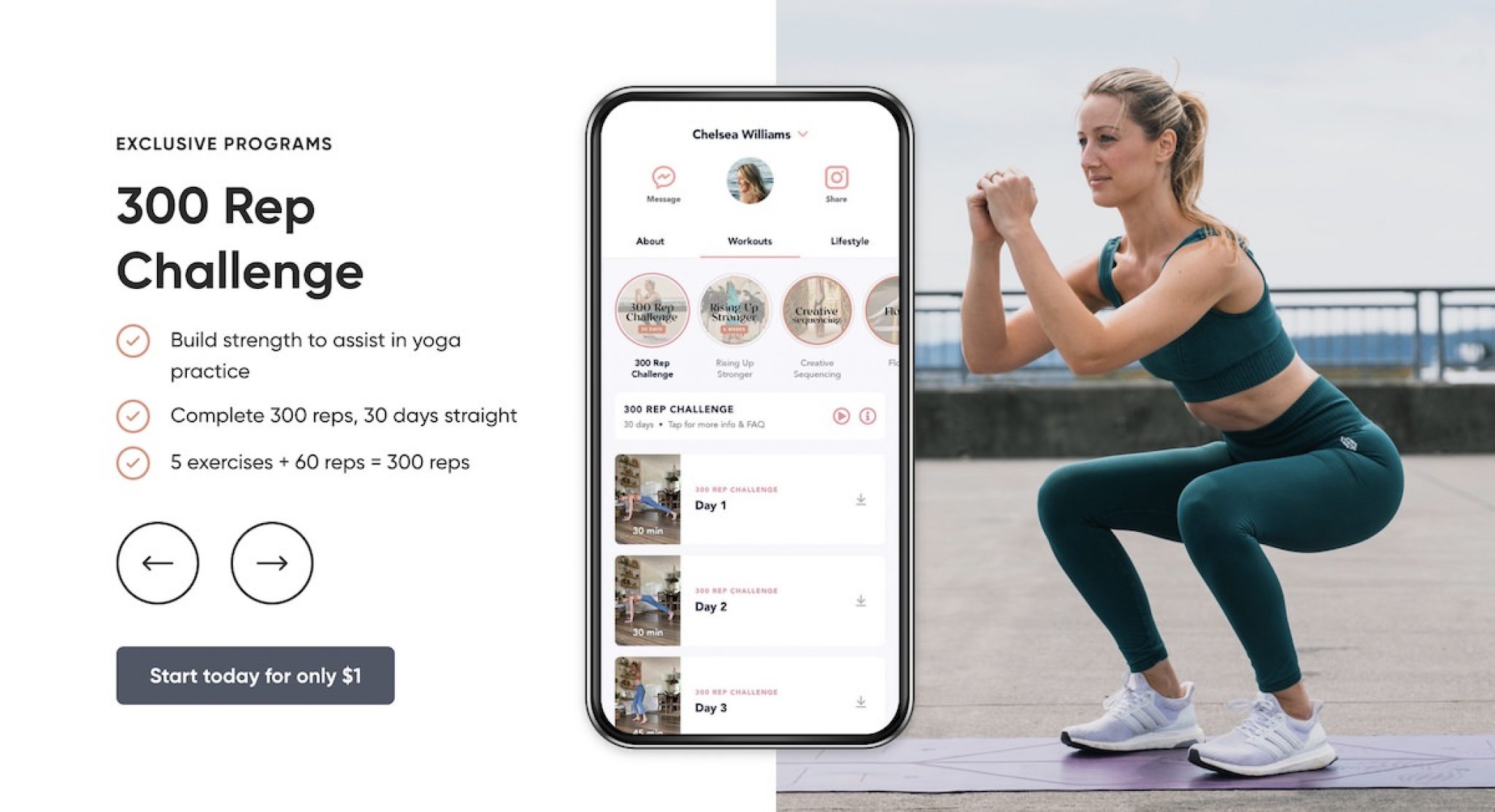 Chelsea's Yoga
(Chelsea Williams)
American Chelsea Williams' yoga journey began in 2014, as did her rise to fame on Instagram which has brought her IG following to well over 300,000 followers. An interesting fact about Chelsea is that prior to 2014 she had no background in any type of athletics and she wasn't born flexible, she worked for it!
Over the years I've watched Chelsea's style and strength evolve into the creative and strong yoga instructor that she is today. I perceive Chelsea's current style as being strongly influenced by Patrick Beach and Carling Harp's signature 'Awakening' style of yoga. I would describe this type of yoga as quite creative, and physically challenging. Her style is Vinyasa based, with a primal and functional movement component. I absolutely love Awakening yoga, and at this moment in my life this is the style of yoga I practice nearly daily.
Chelsea's app highlights include her famous 300 rep challenge, which consists of 30 days of doing 300 reps per day working various muscle groups. And every day is different, which makes it less mundane and more fun!
What I like about Chelsea's app is that it's very structured with various programs to join that each has a different daily workout or drill (no room for boredom here!), and most of these challenges are 30 days. From my experience, 30 days is enough time to get and see results when it comes to improved strength and skills.
You can easily get in 20-30 minutes of different bodyweight strength training per day on Chelsea's app and of course, that can be supplemented with full-length yoga classes, too. The class length that she offers varies. Chelsea doesn't post a ton of full-length flows, her focus seems to be more on drills and challenges, of which there are a lot. All of this considered this could be one of the best yoga workout apps.
App features:
Trial: $1 for the first month
Price: $14.99/month thereafter
Available on ios and android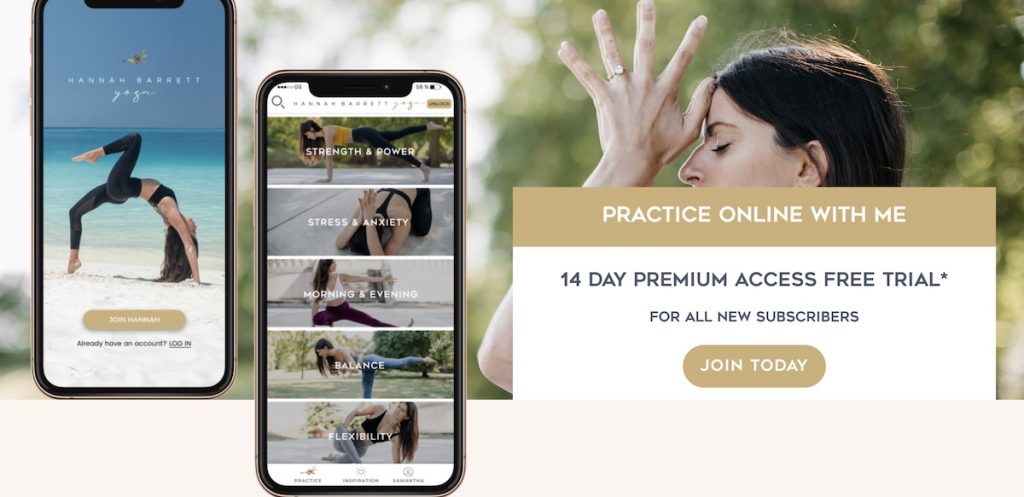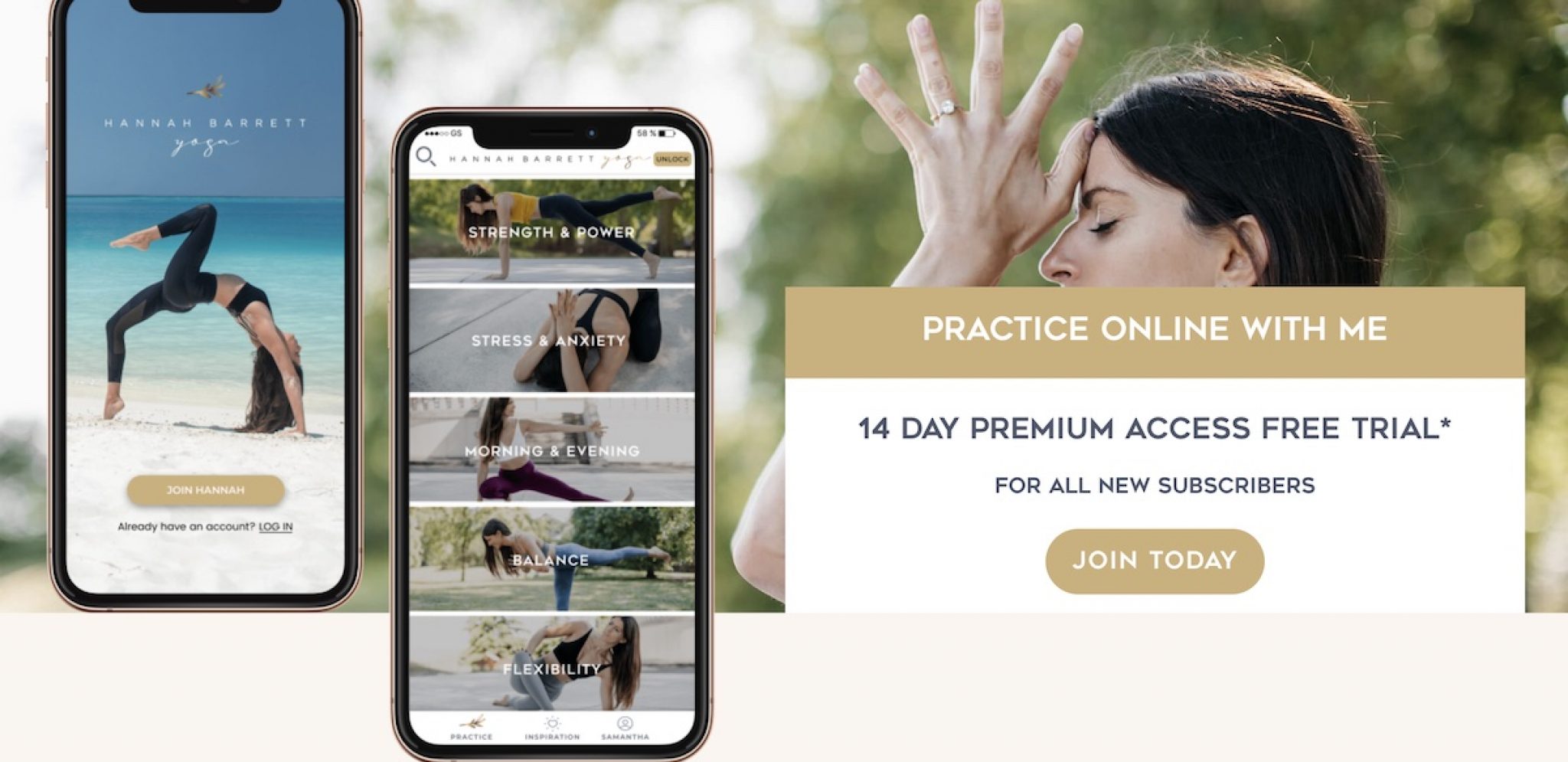 Hannah Barrett Yoga
(Hannah Barrett)
I love Hannah Barrett, her app is one of my favorite ways to get a yoga session in. Hannah's style is much different from Chelsea's in that it's more traditional in terms of the flow of movement and the poses themselves. Hannah is a RYT-600 (learn the different levels of yoga instructor certifications) who also found yoga in 2014. Hannah also has an impressive Instagram following of over 300,000.
Hannah teaches Vinyasa yoga with hard lines that adhere to the principles of alignment. What's great about Hannah's app is that she has a collection of over 300 yoga flows ready to press play on. Hannah's classes are a mix of 30 minute plus yoga flows plus many 45-60 minute yoga classes. Personally, I like full-length yoga classes versus say 15 minute classes, so Hannah's app really appeals to my preferences on this.
Hannah also offers a lot of challenges on her app (but not drills so much), most of which are 7 days. On this daily yoga app you'll find pre and postnatal yoga (so this could be a good choice for the best prenatal yoga app), mandala flows, beginner yoga classes as well as strength and power classes. She's literally got something for everyone and she's adding new classes consistently.
You can check out Hannah's YouTube channel if you'd like a sneak peek at her style as she offers many free YouTube yoga classes to try.
App features:
Trial: 2 week free trial
Price: $20.49/month thereafter
Available on ios and android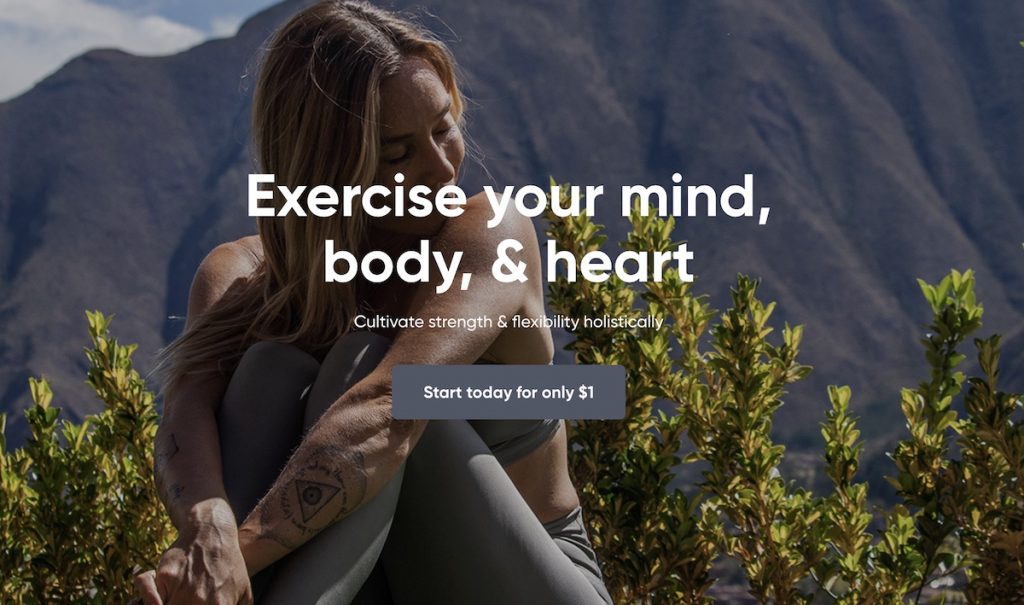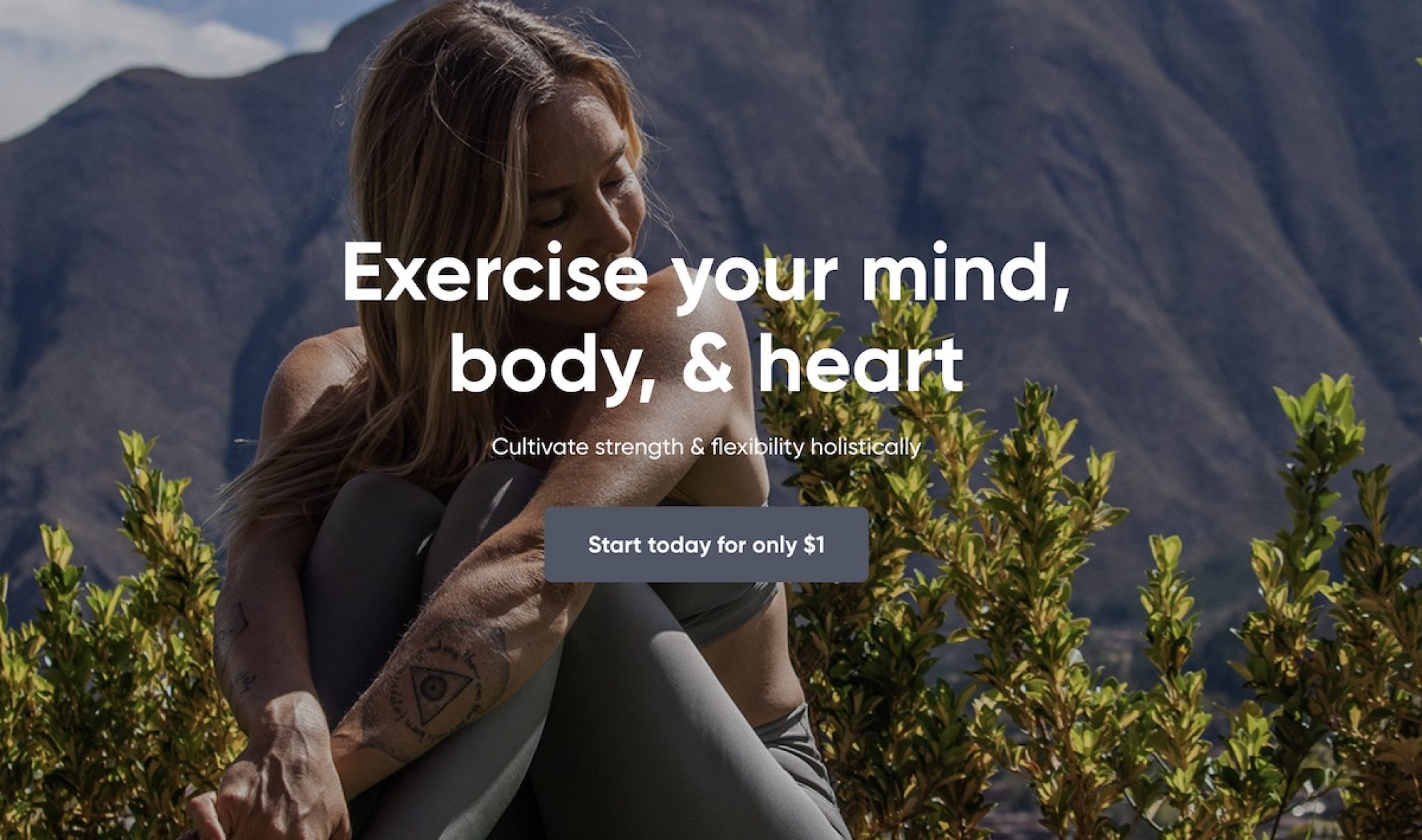 Kaylala
(Kayla Neilsen)
Kayla Neilsen is the daughter of a yoga teacher, and she has been practicing the physical form of yoga (the asana practice) for over 21 years. Kayla has over 1,000 hours of training in the styles of Baptiste Vinyasa (power yoga), Hatha, Yin, Budokan, Ayurveda, Yogic Philosophy, Traditional Chinese Medicine, and Reiki.
Kayla is a Taurus, and this is evident in her grounding flows (I'm a Taurus too!). Her holistic Vinyasa style of movement is intentional, slow, and organic. I like that Kayla leads dozens of guided meditations on her app as well as movement flows.
About 70% of Kayla's classes on her app are 45 minutes or more, so you can really get in the zone on your mat practicing with Kayla. This yogini is also well-known for her inversions and her affinity for and expertise in backbends of all types, so you can expect to see a lot of intermediate and advanced posture integrations in her yoga classes.
App features:
Trial: $1 for the first month
Price: $14.99/month thereafter
Available on ios and android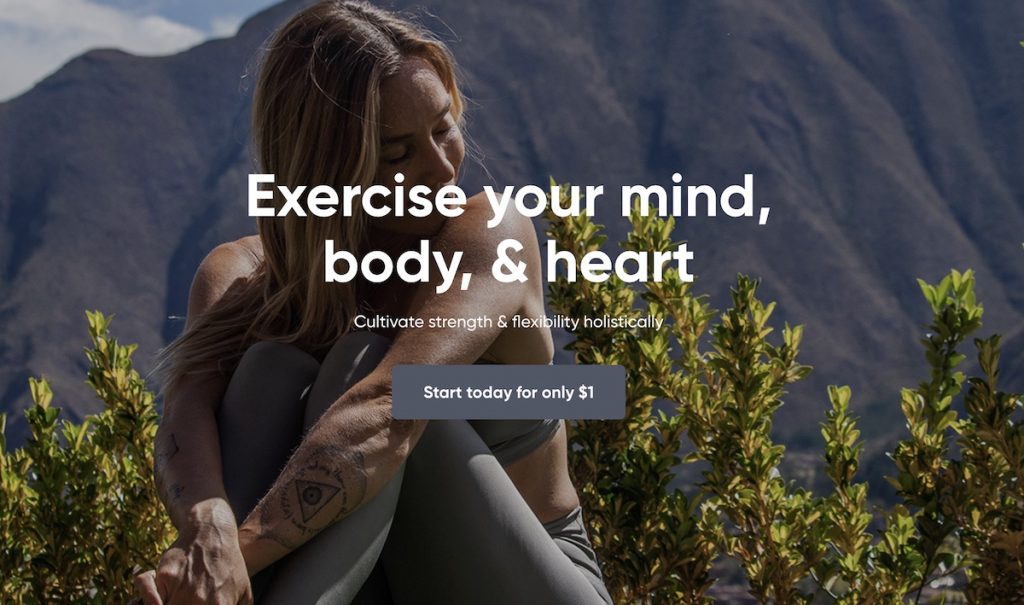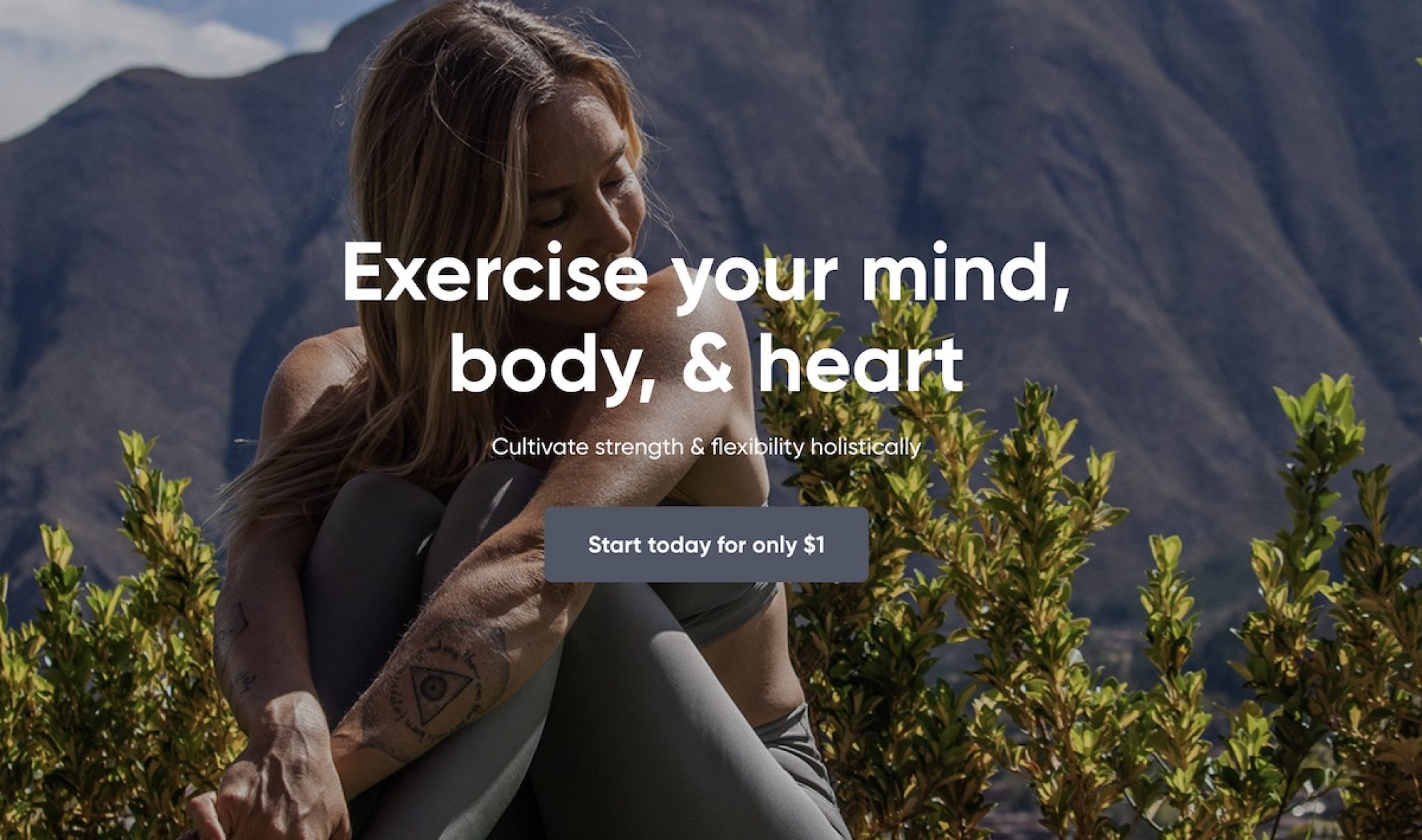 Yoga Plus
(Mary Oschsner)
Mary Oschsner focuses on beginner yoga poses and flows on her app, so if you are a beginner yogi, this might be one of the best app for yoga for beginners to check out. You can learn everyday poses, sun salutations, and various variations of yoga poses on Yoga Plus.
Mary has also created programs, challenges, and sequences specifically for beginners. This means they are slower and shorter and build on foundational poses that you are in the process of learning. In my opinion, it is very important to master the basics as a new practitioner before advancing. So signing up for Mary's beginner offerings looks like a place to start!
Mary's classes fall between the 20 minute and 60 minute range with most being at about 30 minutes and she posts a new full month-long challenge each month. A new class every day of the month to join every single month. I like this idea!
App features:
Trial: 2 week free trial
Price: $14.99/month thereafter
Available on ios and android
What is a yoga app – really?
This may go without saying these days, but a yoga app is an application that you can download from the app store to your device. Google play and the Apple app store are where millions of apps are hosted.
Yoga apps have a lot of features and they offer everything from yoga flows to healthy recipes, guided meditations to yoga pose tutorials, daily yoga challenges, and other wellness-focused content. Very often you can signup for a seven-day free trial and take a look around at the app before committing as a monthly subscriber, or you can try the app for $1 for the first month.
Hannah, Chelsea, Kayla, and Mary, the three yoginis you were introduced to in this article have created bespoke yoga app experiences using app hosting softwares like Playbook. The cool thing about Playbook is that once you join, you then have access to all of the over 200 fitness trainers and yoga instructors who are uploading their wellness content and yoga classes on the app as well.
But honestly, after sweating it out with any of those strong and powerful yogis, you may consider your exercise for the day to be done and done! Unless you need to cool down with a Restorative yoga class after they've put you through the wringer.
You may be familiar with bigger names in the yoga niche that also have apps like the Alo Moves yoga app, but when it comes to apps specifically, I am supporting small businesses. These boutique yoga apps really give you the opportunity to get to know your instructors.
Free Yoga Apps: The Best Good-for-Nothing Options for Kids and Adults
Yoga Time created by The Yoga Collective has a free version, and the quality of the classes are great. But there are very few classes, which could quickly become an issue if you like variety and practice yoga frequently. Hence why they do not make it onto my favorite yoga app list. But they are still a great choice if you've been searching for 'daily yoga app free'.
From what I've found, there are not many good choices for a completely free yoga app – really.
There may be a few free classes that a "free app" offers, but you will most likely be required to upgrade to a paid subscription to really be able to take advantage of the app. Or, you might be bombarded by ads on a free app, or they may offer very few classes and don't update frequently.
In my opinion, when it comes to things like yoga, the best things in life are not necessarily free, but they can be affordable! 50 cents/day should be pretty doable, right?!
Best yoga apps for beginners
As mentioned above, Yoga Plus (Mary Oschsner) is an ideal app choice for beginner yogis. For those wondering about how to learn yoga at home with an app – Yoga Plus is an ideal place to start. You can start doing yoga by learning new poses and practicing basic sequences with Mary and before you know it, the postures will become second nature to you.
Best yoga apps for weight loss
So if weight loss is your goal I would recommend checking out the Alo Moves app (use code THEYOGATIQUE25 for 25% off). I recommend them because they have a large selection of high-intensity yoga classes that will certainly melt those calories away.
Jump into Ashley Galvin's collection of Vinyasa yoga classes and watch your body transform (I'm not kidding). Ashley's Hatha/Vinyasa classes are full-length (60 minute) classes, for the most part, and they include a lot of strong poses (think A LOT of planks) and tricky but fun transitions.
What is an ideal yoga practice app for men?
For men who are searching for a yoga app, I recommend Alo Moves as one of the best daily yoga apps for men. The reason? The number of flows that Alo Moves offers that are led by men. Having male led flows is obviously not required, but sometimes preferred – by some men anyways!
Do you really need a daily yoga app?
One of the biggest benefits of joining a robust yoga app is that you can take yoga classes when you are offline, and this may be more useful than you first may think. Locations that do not have streaming capabilities still exist all over the planet. Your favorite remote beach vacation destination, for example.
If you've downloaded some classes to your device from your yoga app, you don't need wifi because you've downloaded the class. You can do your yoga anywhere and everywhere!
Basic to intermediate yoga pose guide
If you are brand new to yoga, these poses below will be ones that you will likely soon master with your own expression by repetition! As well as getting acquainted with the asanas below, we encourage you to look at Yoga Journal's pose guide, and most importantly, listen to your body.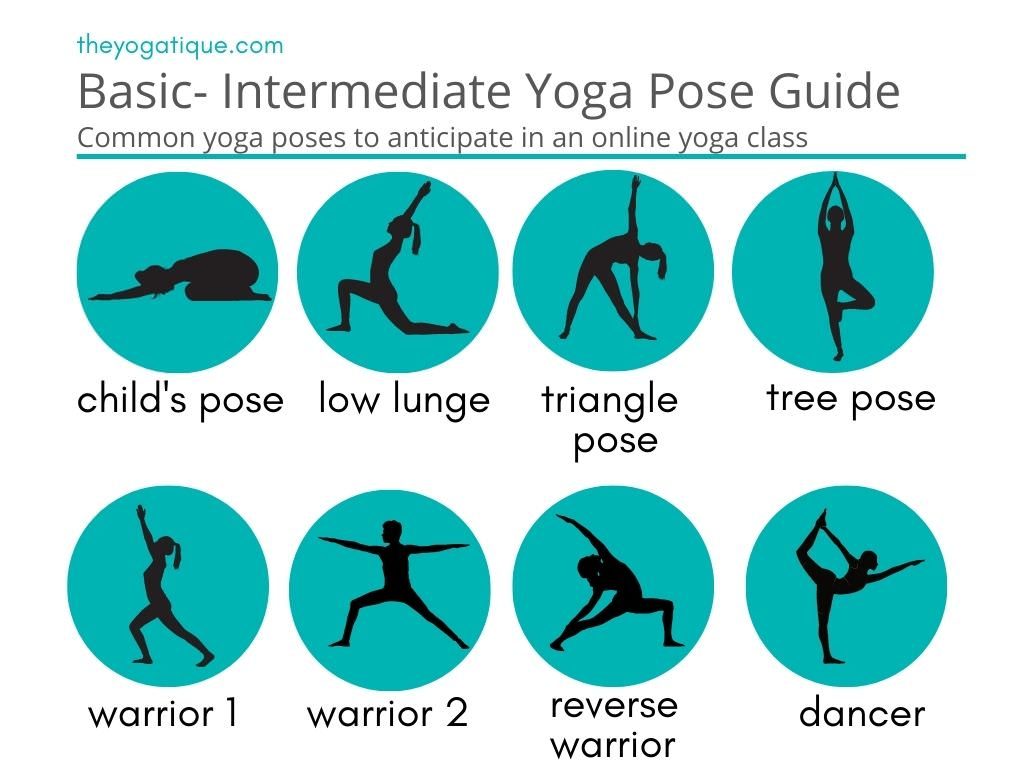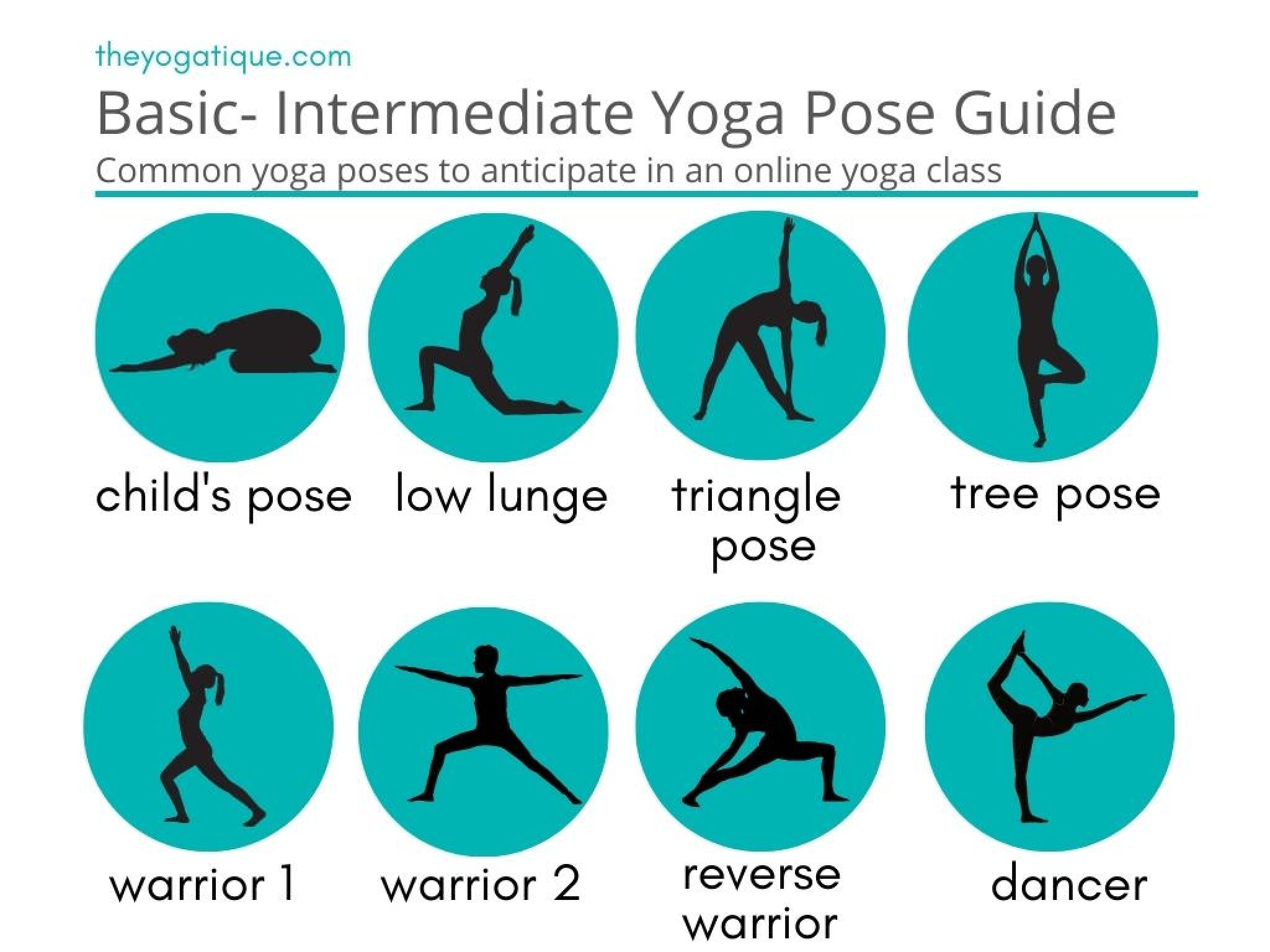 Some online yoga studios, online yoga teacher training programs, and brands that we write about may offer us a small commission should you decide to make a purchase or signup after reading our content. Thank you for enabling us to exist!