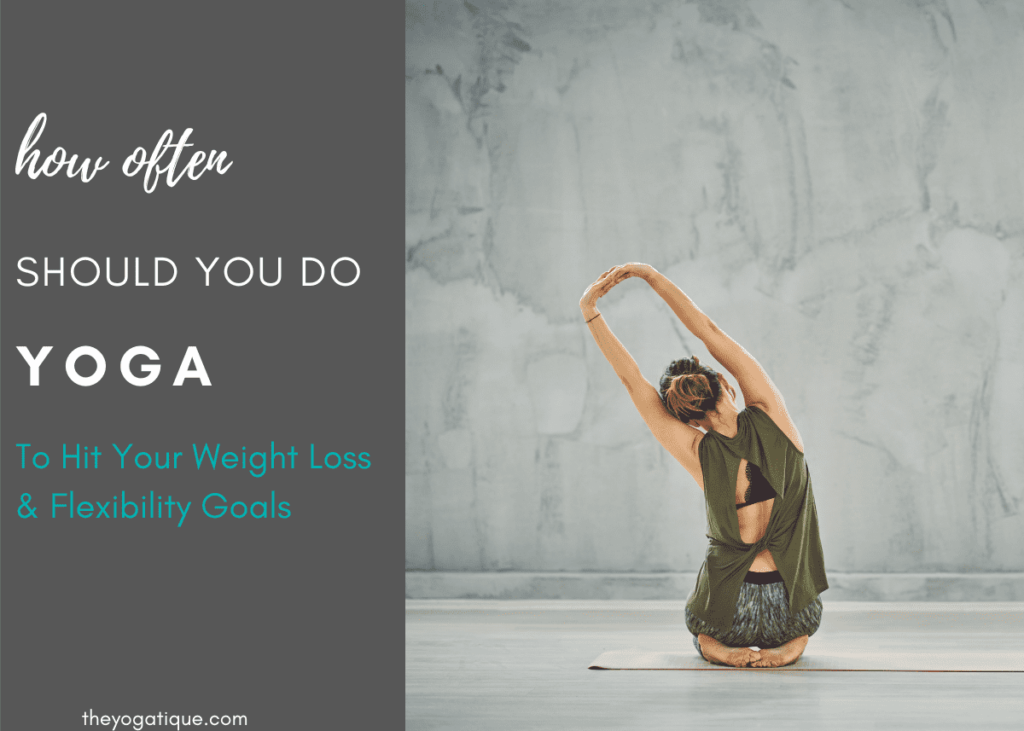 If you are thinking about getting serious about your yoga journey and wondering how often should you do yoga – this is for you.
Perhaps there are certain physical benefits you'd like to gain from practicing yoga you have in mind, like weight loss or flexibility? Or maybe you'd like to connect with yourself more deeply? There are many reasons why we choose to incorporate yoga into our lives, and in this article, I'm sharing how often to do yoga to achieve your goals.
---
Article content:
(Click any link below to jump directly to section)
---
How often should you do yoga for beginners?
According to Alo Moves, beginners are advised to start practicing yoga one to two classes a week and scale up until they develop a daily practice. 
This, of course, also depends on your fitness level. If you already have a regular workout practice in life, you can start with 3 times a week. If you're looking for yoga to become your only physical activity, then aim for 6 times a week, for at least 20-30 minutes. 
I would suggest starting slow and being mindful of your yoga practice. More yoga may not be better if you are pushing yourself. Then, you are doing a disservice to yourself.
How often should you do yoga to see the benefits?
Stress relief and relaxation come after your first yoga class, but it will take you a while to lose weight from yoga.
In general, if you practice regularly and properly with a yoga instructor, you should be able to notice physical changes to your body shape after 6-12 weeks of consistent yoga classes.
| Fitness Level | Starting Practice Frequency | Goal Frequency |
| --- | --- | --- |
| New to regular exercise | Once or twice a week | Daily practice (gradual increase) |
| Established exercise routine | Three times a week | Daily practice (as comfortable) |
| Yoga as primary zctivity | Six times a week | Daily practice |
How long should you do yoga a day?
Twenty minutes to ninety minutes of yoga is ideal, but anything over 2 hours each day could be pushing it. Even if you do a few poses occasionally throughout your day, that's great, especially if you're sitting behind your laptop all day.
If you can practice yoga for 10-15 minutes daily in life, that's great! I've felt positive changes in myself from that. Yoga changes your state of mind and body, and it can be just that easy.
In my life, I like to practice a little bit here and a little bit there throughout the day. I like to throw in a 15-minute practice 2 hours after breakfast and do a bit of slow hatha, or yin or yoga nidra in the evening. Now, that's what I call self-care.
Others prefer one strong 1-hour long session of daily yoga in the morning or evening. It all depends on your yoga goals, needs, preferences, and schedule, really.
How many times a week should I do yoga for flexibility?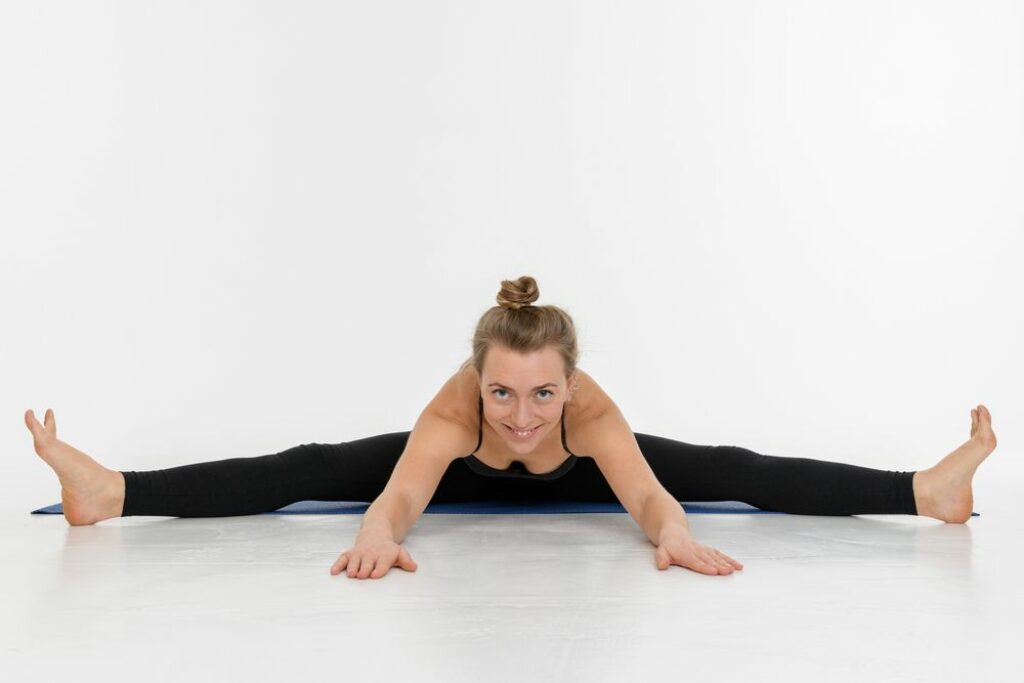 For those looking to improve their flexibility, increasing your yoga frequency to at least three to four times a week is optimal, although some sources also suggest 2 to 3 times a week. 
Most people take 2-4 weeks to see the benefits of yoga in terms of increased flexibility. It takes me 2 weeks after not having practiced for a while to see improvement in my flexibility. Yes, I am a yoga teacher, but I also have periods of not practicing.
How often should you do yoga to lose weight?
Having a 1 hour long sessions 3 to 5 times per week would be the minimal requirement for losing weight with yoga. For weight loss, make sure to have an intense practice, such as Vinyasa yoga or power yoga, and practice as often and for as long as your body will allow. You'll need to be dedicated to at least three time a week, really.
Ideally, you'd do intense yoga workouts 5-6 days a week and supplement it with 1-2 days of rest or slower styles such as yin or restorative yoga class.
How much yoga is too much?
Here's how to know when you're doing too much yoga:
It's affecting your social schedule or interfering with your sleep
Your classes are too advanced or intense, and you're pushing yourself too much
You're not giving yourself enough rest days
The golden rule is to listen to your breath and your body. If the breath flows smoothly, you're good to go. But if it's too strenuous, that's not yoga because yoga is all about harmony. So, while yes, you can practice yoga every day, some of those days should be more restful styles of yoga.
More intense styles, like Ashtanga, have a high injury rate because they are tough on the joints. Be mindful of injuries. I've had my share of injuries when I was young and more guided by my ego.
Be conscious in your personal practice, and don't push it. Don't go too far out of your comfort zone in a yoga session because your practice should indeed be comfortable. In my opinion, there are so many places where we challenge ourselves daily, so there is no need to overdo it on the mat, too. 
Some days, stepping on the mat itself alone is a struggle. On those days, you can thank yourself for even going at it for a few poses or a few minutes. I know people with depression can especially relate to this.
I wrote an article about whether or not you can get addicted to yoga. In a way, you can get addicted to yoga, but in a positive sense. You need certain brain hormones to survive and thrive, so you might as well receive them from something as healthy as yoga. And then it's only natural you'll want more of the good high.
Yoga sends your mind-body connection and awareness to a whole other level, and that's why you can get high from it because it's so good for you.
Your yoga practice has cumulative effects, so the more you do it, the longer you feel good all day.
Can I do yoga every day?
Yes, please! A regular yoga practice is the ideal goal to strive for. However, as always, listen to your body and its signals. Remember, yoga is much more than a strong physical practice we so often think of. Yoga every day can mean yoga nidra or restorative yoga, too.
Many seasoned yogis feel super stiff and broken if they do not get their daily practice in. Your body will ask for its yoga dose once you start practicing consistently.
Remember that even just lying down on the mat can be yoga. You don't have to do any yoga poses. You can simply lie down and follow your breath and body as it rises and falls. This is also yoga! And in this case, you are more than welcome to do it as much as you wish.
How often should you do hot yoga?
Once you get used to the temperature of hot yoga and build up some tolerance, you can practice it a few times each week for the best results, with the obligatory rest periods I mentioned previously.
However, you should consult your doctor for any medical conditions. Overdoing it may cause dizziness, dehydration, or nausea.
Takeaway on how often should you do yoga
Can you have too much of a good thing? As always, your body and breath know best. They are your best guides. Spoken like a true yogi, right?!
Be aware that nothing too shocking for your nervous system is good. Go easy on your nervous system. Take account of your mental state, needs, and possibilities.
The short answer to how often you should do yoga is – the more, the better, but proceed with caution. Listen to your body and pay attention to its cues.
Some online yoga studios, online yoga teacher training programs, and brands that we write about may offer us a small commission should you decide to make a purchase or signup after reading our content. Thank you for enabling us to exist!