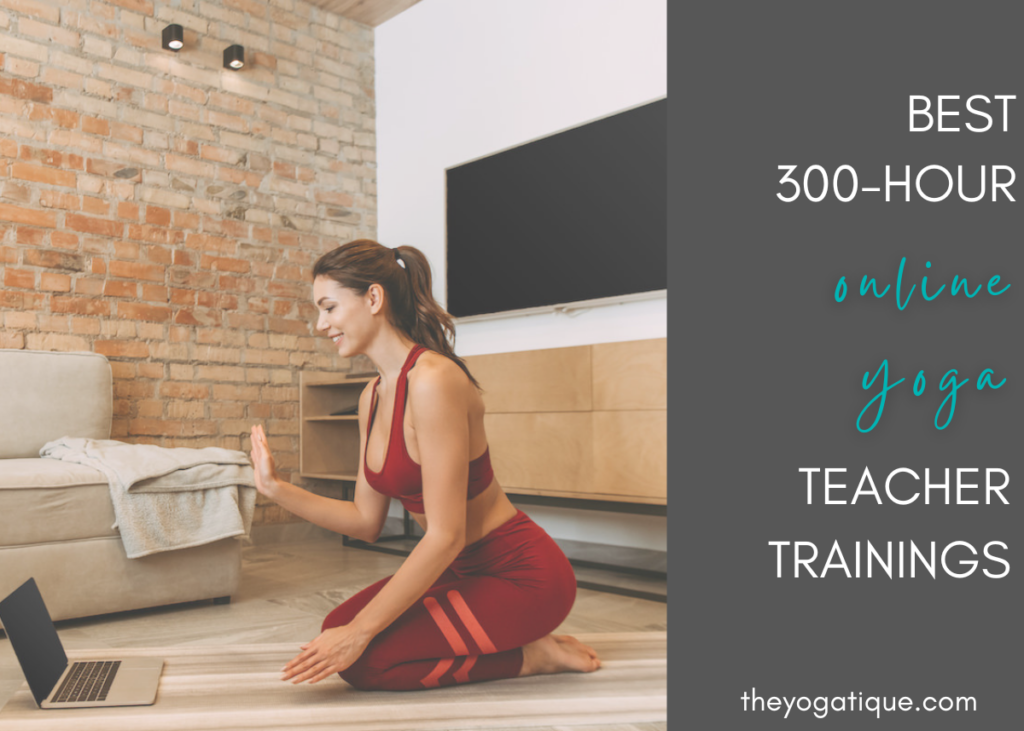 So you've already completed your 200 hour yoga teacher training, and you're still curious and you want to take your yoga teacher training journey to the next level? An online 300 hour YTT is your next step. If you've been searching for more information about the best, most authentic, and unique 300 hour online yoga teacher trainings, you're in the right place. Read on to discover the world's best 300 hour online yoga teacher training certification courses.
These advanced yoga courses have been developed by yoga textbook authors, world-famous yogis, and esteemed in-person yoga teacher training schools.
A 300 hour online yoga teacher training goes beyond the surface. Advanced 300 hour YTT (Yoga Teacher Training) courses are for the curious, dedicated, and committed!
While many yoga schools offer 200 hour yoga teacher training, only a few schools offer online advanced yoga teacher training. This article is about those schools and the best online 300 hour YTT courses to enroll in now.
All of the courses below are Yoga Alliance registered 300 hour online training options.
I am a CYT-200 (Certified Yoga Teacher 200-hr). I completed my yoga teacher training online with Aligned Yoga. I have been practicing yoga for over 15 years, and I switched to practicing yoga online over 9 years ago when I moved to Thailand and left my favorite yoga studios in the U.S. behind!
That said, I have some great insight based on my own personal experience with online yoga teacher training that can help you discover your ideal 300-hr online yoga teacher training that speaks to your body, budget, and soul that you can join now.
Become a RYT 300/500 online
In this article, as well as exploring the best 300 hour online yoga teacher training certification courses, we'll look at the course requirements designated by Yoga Alliance to comply with the Yoga Alliance 300 hour online teacher training standards.
Once you have completed both your 200 hour and 300 hour yoga teacher training, you can register with Yoga Alliance as a RYT 500 (assuming all certification courses you attended are registered with Yoga Alliance – more on that below). This works like this: 200 hours+300 hours= 500 hours of yoga teacher training.
Now, let's find the best 300-hr online yoga teacher training for you.
7 Best Yoga Alliance Registered 300-Hour Online Yoga Teacher Training 2023
(Click on any course name above to jump directly to full details about that training)
---
Article content:
(Click any link below to jump directly to section)
---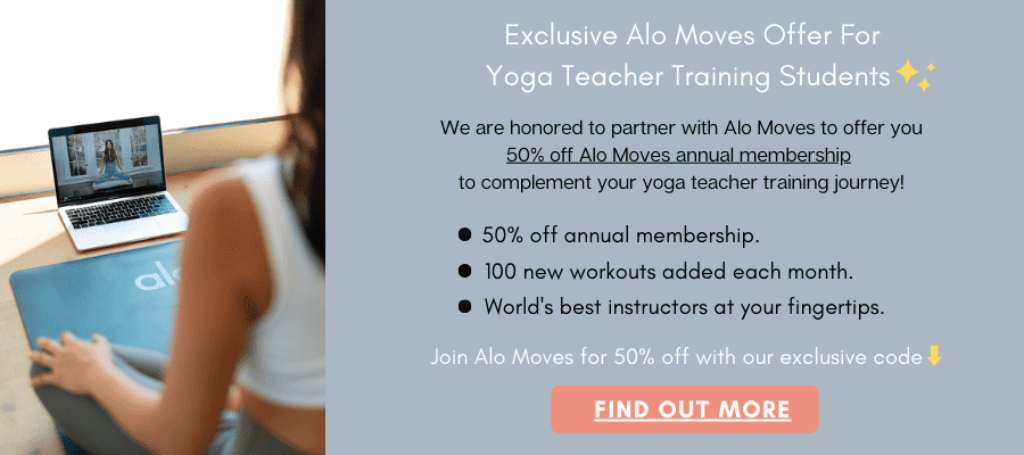 How much does a 300 hour yoga teacher training cost?
A 300 hour YTT online is pricier than a 200 hr teacher training course, there's no doubt about it. So what are a few of the deciding factors that determine the price of a course?
Big influences on the course cost are the reputation, popularity, and prominence of the educators.
It costs more to study under experienced instructors, educators, and facilitators, which is no surprise.
Also, 300 hours of training is obviously more training hours than 200 hours, so you can expect a higher price due to that as well.
7 Best 300-Hour Online Yoga Teacher Training Certification Courses
Attention yogis, Akasha Yoga Academy has finally unveiled their long-awaited and highly anticipated 300-hr online yoga teacher training!
This profound training will take you deep into three dimensions of Hatha yoga and Pranayama, Yin yoga & self-inquiry, and Spiritual heart meditation.
Kirsten, Burkhard, and their team have created yet another exceptional yoga teacher training experience that's in the same league as their other exquisite online YTT courses: 200-hr, Yin, and Pranayama.
Weaving in decades of experience teaching and practicing, while following the Hatha yoga teachings of Krishnamacharya, Akasha's advanced yoga teacher training will awaken and illuminate your own innate wisdom and master teacher within.
Deepen your practice, empower your community, and embark on a journey of depth and transformation in this interactive and immersive experience with Akasha Yoga Academy.
Why choose Akasha Yoga Academy 300 hour online YTT
The educators at Akasha Yoga Academy will infuse you with the wisdom they have collected and developed over 15 years of research and practice.
Their extensive experience of over 5000 hours of teaching has been guided by some of the most revered academic yoga masters, including A.G. & Indra Mohan, BNS Iyengar, Christopher Wallis, Reinhard Gammenthaler, and many others.
You'll get personalized feedback and 1 on 1 guidance, and you'll join a buddy network to help you stay accountable and have peer support throughout your training experience.
The Akasha Yoga Academy online yoga teacher training syllabus includes
Advanced hatha & vinyasa yoga practices & philosophy
How to develop basic & advanced arm balances,
Enriched knowledge & experience of pranayama & bandhas
Comprehensive knowledge of anatomy & TCM meridians
Expert knowledge of Yin yoga, mindfulness & meditation
The ability to lead hear-opening meditation sessions
Mudras
Restorative yoga
Explore altered states of consciousness & understand brainwaves.
Experience profound growth on this heart-opening journey that unlocks your true potential. Enroll now for 7 incredible bonuses including yoga music playlists and Tao Te Ching scripture study.
Akasha Yoga Academy school ratings
Akasha Yoga Academy takeaway
Happy Jack Yoga University was founded in 2010 and has a world-class teaching faculty and world-class yoga teacher training programs to offer you. Over twenty yoga certification programs, in fact. All of which you can access anytime (and immediately) with a Happy Jack Yoga University annual membership.
Jack Boken, the co-founder of Happy Jack Yoga and friend of Tony Robbins, has a magnetism and an energy about him that will inspire you and leave an impact on you from your very first impression of him. I'm not kidding.
He has inspired thousands of yoga students in over twenty countries speaking at yoga festivals, conferences, and even on the stage at Tony Robbins events.
Jack and Hanna, co-facilitators and co-founders of Happy Jack Yoga University are both E-RYT 500's and decades-long yoga practitioners. Jack and Hanna are supported by experts in various fields, and some names you may be familiar with.
Dr. Edwin Bryant PhD and Professor of Hinduism, Leah B RYT-500 and Yoga Business Expert, and Jen Mark, Yoga Anatomy expert and RKin, BSc., CAT(C), RYT-200 lead the modules in their respective areas of expertise: philosophy, business, and anatomy.
Why choose Happy Jack Yoga's 300 hour online YTT
The Happy Jack Yoga 300-hour teacher training is called Yoga Mastery. It is unique in that for a portion of the training, you get to choose twelve CE courses you want to further your expertise in.
Happy Jack Yoga University offers twenty-plus different yoga certification courses, including unique courses like Yoga for Mental Health, Yoga for Spiritual Care, The Divine Feminine: Yoga Goddesses, Leadership Confidence and Voice, Business of Yoga, and countless others.
You'll also get to join live yoga classes with the lead educators, weekly calls, and a private YTT support group with other students.
The Happy Jack Yoga online yoga teacher training syllabus includes your choice of 12 modules
Business of yoga
Yin yoga teacher training
Meditation teacher training
Leadership, confidence & voice
Yoga for injuries
Pranayama, mantras & mudras
Yoga nidra teacher training
Ayurveda training
Pain relief
Boost your immune system
Certified yoga life coaching
Restorative yoga teacher training
Yoga philosophy & spirituality
Prenantal yoga
Yoga for everyone
Sacred yogic texts
Bhakti yoga
Trauma informed yoga
Yoga for conflict
Yoga for mental health
Yoga as a spiritual care
The divine feminine
Happy Jack Yoga school ratings:
Happy Jack Yoga takeaway:
The internationally known and wildly successful yogi and entrepreneur Briohny Smyth just relaunched her 300 hour online yoga teacher training with the online yoga teacher training academy she founded, Aligned Yoga.
This course is a life-altering educational opportunity with Bri and the team of incredible educators. Read about my experience with Aligned Yoga for my insight into her style as an educator.
Bri's teaching style is captivating and informative, motivating and fun. Her career in yoga spans over a decade in the industry where she has become somewhat of a household name.
You may remember her from the Equinox commercials, or you may practice with her on Alo Moves where she teaches her signature Vinyasa flow-based ladder classes.
Bri has also been leading yoga retreats globally for over a decade.
For building proper alignment and strength, there's really no one better to turn to. But the Aligned Yoga teacher training experience is so much more than that!
Why choose Aligned Yoga's 300 hour online YTT
Through this course, you will study creative sequencing for different levels, explore theories on meditation, pranayama, and contemplation, learn how to build a career in the yoga and wellness space, and more.
The business aspect of yoga is one area where some trainings fall short, but not this one. Bri has built a brand around her name, and she's got one of the largest social media followings of any yogi on the planet. What that equates to is reach. In this digital era, learning how to build a community is essential.
Bri has become very successful at teaching online and launching an online yoga school as well. There's just so much to learn from her in terms of digital entrepreneurship.
Guest teacher Dice Ide-Klein (one of my favorite yoga teachers) leads the mobility modules. And if you've ever practiced with Dice before, you know what a treat it will be to learn his teaching and training methodology!
Bri's online community of trainees is very engaged and interactive. The Facebook group is alive with Q&A and sharing, and inside the learning platform itself, Bri is personally answering every question that arises from her students who are moving through the modules. Seriously, every single question.
Oh, and a fun little perk is that by becoming a student of Aligned Yoga you get a free 1-year membership to Alo Moves too.
The Aligned Yoga online yoga teacher training syllabus includes
Self-assessment for your practice
Mobility training
Functional anatomy
Prenatal yoga
Advanced adjustments
Practice teaching
Yoga playlist curation
Business skills for yoga teachers
Social media for yoga teachers
Sequencing
Cueing
Yoga history and philosophy
Pranayama
Kirtan and mantra
Meditation
Ayurveda
Soulful Yin
Mental health tools for yoga teachers
Take a look at the Aligned Yoga website and signup for the free day with Aligned Yoga to get a first-hand feel of what a day in the life of an Aligned student is like.
Aligned Yoga school ratings
Aligned Yoga takeaway
Brett Larkin pioneered online yoga teacher training in 2015, and she has meticulously perfected the signature Uplifted yoga teacher training method with each passing year.
The Uplifted advanced online yoga teacher training is an interactive and transformational educational experience.
Uplifted online YTT's are more structured than many other online yoga trainings in that students progress through the 4 month course with the same classmates on the same timeline during the live online class portion. This creates a sense of both accountability and community.
You are not left on your own in an Uplifted training. Instead, you are uploading images of your poses and teaching techniques for feedback from your peers and mentors, both of which will help you develop as a teacher and a leader.
Students also participate in scheduled weekly live group calls with the same core classmates, getting to know each other and ultimately evolving as educators together.
Why choose Uplifted 300 hour online YTT
This training is especially unique in that Brett herself is a bit of a business mogul! To have the opportunity to get her business blueprints and best practices for success is pretty priceless. This training focuses heavily on the business of yoga. Which is, in fact, quite important!
This 300hr training gets into branding, mindset, and money, all of which are key components to actually creating a thriving yoga business. You'll get personal feedback on your website, website copy, as well as done-for-you classes, workshops, and challenges to help your business explode.
Other areas of intense study include advanced anatomy, meditation, Tantric philosophy, chakras, rituals, and more.
Because the Uplifted training method is so unique, this 300-hr YTT also includes a Bridge portion to bridge the gap between what you learned in your 200-hr and how Uplifted teaches a 200-hr. So you are actually getting much more than a 300hr teacher training. Make sense?
The Uplifted online yoga teacher training syllabus includes
The Subtle/Soulful Self
Tantric philosophy and the Chakras
The energetic body
Chanting and meditation practice
Money
Mindset
Mantra
How to make money as a yoga teacher
How to price your offer rights
The Body & Branding
Myofascial release
Advanced anatomy
Personal feedback on your website design & copy
Done for you content, classes, workshops, sacred circles, Pre-made lesson plans, and more
If you feel that the Uplifted training is the one for you, I suggest you enroll sooner rather than later to ensure that you can take advantage of the payment plan options and complete your 100 hours of online learning before live classes begin. Trainings also typically sell out.
Brett Larkin Yoga Uplifted school ratings
Brett Larkin Yoga Uplifted takeaway
5 times best-selling author and yoga textbook creator, Mark Stephens, has entered the online yoga space. His 300 hour online yoga teacher training certification is truly one of the most distinguished and extraordinary online YTT courses you can opt for.
This 300 hr online YTT with Mark only presents itself once/year. The next opportunity kicked off in January of 2023, and registration will remain open for several months.
Mark has been leading yoga teacher trainings around the world for 20 years. And now, with the launch of his online advanced yoga teacher training, you don't have to travel around the world to study under him!
You can now study under this highly esteemed international trainer at your own pace in your own space – online.
Mark's published books include: The Art of Sequencing, Teaching Yoga, Yoga Adjustments, Yoga Therapy, and Yoga for Better Sleep. Mark has been practicing yoga since 1991, he's a Certified Yoga Therapist with a background in academia.
In 1997 Mark founded Yoga Inside Foundation, bringing therapeutic yoga classes to poorer inner cities, prisons, and treatment centers throughout the United States. Following that, Mark founded the L.A. Yoga Center and Santa Cruz Yoga.
Why choose Mark Stephens Yoga 300 hour online YTT
This yoga teacher training program created by and facilitated by Mark focuses on what he calls the five essential elements of teaching yoga. This includes: practical anatomy & physiology, ancient roots and modern philosophies, refined teaching of Asana, pranayama & meditation, creative sequencing, and specialized teaching.
In this course Mark shares his extensive knowledge of yoga history, philosophy, physiology, anatomy, Eastern and Western theories on consciousness, and many other topics that he has studied at a very deep level.
This 300 hour yoga teacher training online is meant to be completed over an 8 month period and has a definitive start date in 2024. However, although this is a completely self-paced program, every other week you'll have the opportunity to meet with Mark and your peers on Zoom for Q&A.
Mark Stephen's online yoga teacher training syllabus includes
Ancient roots and modern philosophies
Pranayama & meditation
Practical anatomy & physiology
Refined teaching of asana 
Specialized teaching
Creative sequencing, and more
Browse around Mark's website and take a look at the free 1 hour video where his enthusiasm and expertise are very evident! This video offers a good idea of what the lecture portions of the training are like.
Mark Stephens Yoga school ratings
Mark Stephens Yoga takeaway
What I love about Yoga Farm Ithaca is the authenticity in everything they create, do, and stand for. This Yoga Farm Ithaca 300 hour online training is live, deep, and interactive.
Yoga Farm Ithaca's 300 hour online yoga teacher training program is called Spiritual Warrior, and it combines elements from Trauma-informed yoga, Kundalini, Ayurveda, and Enneagram. The idea is to dive into those concepts and really learn to master and embody them throughout the duration of the course.
Jeannie O'neill is the lead educator of the Spiritual Warrior 300-hr. Jeannie is a 500E-RYT Vinyasa and Kundalini Yoga Teacher, Mindfulness Meditation instructor, a Yoga Alliance Continuing Education Provider, and she is an Ayurvedic health practitioner.
Why choose Yoga Farm Ithaca's 300 hour online YTT
By studying the Enneagram personality types you will experience personal and spiritual growth, understand how to develop successful relationships both professionally and personally, and further develop your leadership skills. By studying Ayurveda, you will better understand whole-body wellness and how to nourish yourself and your students from the inside out.
You will embark on a journey deep into self-growth and self-improvement in this advanced teacher training to reveal your own inner guru. You will learn the ancient teachings and principles of Kundalini in a non-dogmatic way that go far beyond what other schools may offer. This training goes beyond Yogi Bhajan to Laya Yoga and Kriya Yoga, which pre-date some of modern-day Kundalini yoga's baggage.
Yoga Farm Ithaca's advanced 300 hour yoga certification course is held over a 9 month period, and although it is optimized to be a live online YTT, all classes are recorded and available for replay. To wrap the session, students will design a teaching project to present to become certified at the 300 hour level, after which you can register as a 500 hour yoga teacher.
The Yoga Farm Ithaca online yoga teacher training syllabus includes
Ayurveda & Kundalini
Enneagram & Kundalini
Lunar archetypes & Kundalini
Teaching Kundalini through the lens of Ayurveda
Teaching Kundalini through the lens of Enneagram
Teaching Kundalini through the lens of the archetypes, and more
With a further look at Yoga Farm Ithaca on their website, you are bound to be intrigued by their master teachers and the beautiful course they have created. To learn more about the four different online yoga teacher training certification courses they offer, read this full review.
Yoga Farm Ithaca school ratings
Yoga Farm Ithaca takeaway
If you want to embark upon a life-elevating advanced yoga teacher training, the Full Circle Yoga School's online 300 hour yoga teacher training may be exactly what you've been seeking!
Full Circle Yoga School has been guiding yoga teacher trainings globally throughout the US and in Bali, Costa Rica, Mexico, and Peru since 2016. Their online yoga teacher trainings are led by their team of 13 educators who have all come together to create their online yoga course offerings, giving students the incredible opportunity to study under multiple instructors who each teach their respective specialty subjects in their online yoga teacher trainings.
Full Circle Yoga School is a spiritually and mystically infused yoga school. Their founder, Jolie Wilson, is certified in 7 different types of yogic practices and her personal evolutionary journey is continuous. Jolie views yoga as ​​a lifestyle, a science, and an art.
The school's teaching style entwines the rich and colorful history and philosophy of yoga with the lifestyle wisdom teachings of Yoga, teaching students how to restore balance and harmony in their own lives and in the lives of those who attend their yoga classes too.
Why choose Full Circle Yoga School 300 hour online YTT
Full Circle Yoga School offers the multi-faceted teachings of the yogic way of life and dives deep into the movement practices of Hatha and Vinyasa. There's no question that this is a very dynamic and interesting 300 hour teacher training course to choose.
Students get a real in-person YTT feel with the weekly live Zoom check-ins and the personal feedback given on each students teaching and adjustment styles from the videos yoga teacher training attendees upload for review.
The Full Circle online yoga teacher training syllabus includes:
30+ Hrs Yin Yoga- Graduate Teaching a Full Yin Yoga Class
Kundalini Yoga- Graduate Teaching Kriyas Interwoven Into Your Yoga Classes
Ayurvedic Aromatherapy-Benefits & Uses
Space Holding – Strength Through Softening and Responsive vs. Reactive Leadership
Daily Meditations
Trauma & Tension Release
Trauma Informed Teaching
Intro Intuitive Arts
What Does it Mean to Be an Empowered Teacher?
Shadow Work Workshop
Intuitive Writing & Meditation Workshop
How To Create & Hold Sacred Ceremonies
Yoga Sutra Study
Bhagavad Gita Study
Chakra Study & Going Beyond 7 into the 13 Chakras
Personal Ethics & For Teaching
Asana
Refinements
Adding To Your Toolbox
Creative Sequencing
Living A Yogic Life
Life as a Moving Meditation
Energetic Alignment
Bandhas & Going Deeper
Yoga From the Inside Out
Advanced-Steps Toward Arm Balances
Headstand
Handstand
Forearm Balance
12 Hours In Depth Yoga Anatomy as applied to Body
Muscles
Bones
Systems
Fascia, and Beyond
Manifestation as part of daily life and weaving it into your classes
Salutations – Moon, Egyptian, Seated, Kneeling, Half, With Crescent Lunge
Strengthening Your Intuition
Safety & Injury Prevention in Asana
Working with Injuries
Self Development, and more.
Graduate from this program prepared to teach a full Yin yoga class and Kundalini classes while gaining a deeper understanding of trauma-informed teaching throughout the course.
Full Circle Yoga School school ratings
Full Circle Yoga School takeaway
---
How do I become a 300 hour yoga instructor?
To become a 300 hour yoga instructor, you need to complete both a 300-hr and a 200-hr YTT certification program.
A YTT 300 online builds upon the knowledge you learned in your previous 200-hr yoga training, so that is why you first need to have learned the core teachings included in a basic/foundational yoga teacher training.
Because you're already experienced and likely have a strong home practice established, you're not starting with the basics in an online learning format. This works in your favor.
You've got the foundations down, but you want to expand on your knowledge, and it's perfectly safe and accessible for you to do that online.
And in fact, being able to digest course content at your own pace can truly be considered an advantage to online learning. I personally prefer very quiet learning environments, like home.
Some options for 300 hour online yoga teacher training in India
The question about online yoga teacher trainings from yoga schools based in India comes up often.
For students based in India, or for students who would like to study under Indian teachers, Siddhi Yoga International has been running in-person yoga teacher training courses in Rishikesh India for many years, and they offer an online 300hr yoga teacher training.
Recommended RYS 300 Courses – recommended Yoga Alliance Registered Yoga Schools 300 hour
The recommended schools in this article are RYS's or 'Registered Yoga Schools' with Yoga Alliance. And not only that, but these specific online 300 hour yoga teacher training options are very highly rated by past students on the Yoga Alliance website.
Their past trainees are all highly likely to recommend the courses to other aspiring yoga teachers. I checked! This speaks volumes. Learn more about Yoga Alliance requirements and registration.
Each school has hundreds of positive reviews on Yoga Alliance. See the info boxes above with overall school ratings. On a scale of 1-5, these are rated at 4.8 and above. Pretty impressive. This is another reason I consider these the best 300 hour online yoga teacher training certification courses.
What do you learn in an online 300hr yoga teacher training
A 300 hour training is much more customized than a 200 hour certification course. This is partly because the teacher trainees or students have already learned the fundamentals of the practice in their previous training. Schools that offer 300 hr programs can tailor a lot of the hours to focus on what they, as educators, value or specialize in.
That said, Yoga Alliance has created educational standards for RYS's running advanced yoga teacher training programs. See below for the breakdown of YA (Yoga Alliance) requirements for RYS 300 courses.
When you read the online 300hr yoga teacher course descriptions outlined for each school, you get an idea of how customized they really are.
It's really interesting to look at how different they are. This is where personal choice comes in and where you'll want to decide on what you value and want to dive deeper into in your studies.
Yoga Alliance 300 hr RYS standards

What does RYT 300 mean?
The title of RYT 300 means that the yoga teacher has successfully completed a 300 hour yoga teacher training from a school that is registered with Yoga Alliance. Yoga Alliance uses the abbreviation RYT for Registered Yoga Teachers and RYS for Registered Yoga Schools.
Takeaway on 300 hour online yoga teacher training
If you're ready to take your yoga history knowledge to the next level, learn advanced principles, and dive into the business component of yoga, a 300-hour yoga teacher training is your next step. Expect it to be fascinating, fulfilling, and fun (oh, and challenging!).
FAQ about 300 hour yoga teacher training
Some brands and yoga teacher trainings that we write about may offer us a small commission should you decide to make a purchase or signup after reading our content. Thank you for enabling us to exist!