How You Can Make Money As A Yoga Teacher – Insider Info & Inspiration!
As someone who specializes in writing about online yoga teacher training and the online yoga industry in general, I consider myself to be a bit of an expert on this topic! I work with many of modern-day yoga's most successful 'yogipreneurs' and I love studying their blueprints and tracking their upward trajectories. I have some of their tips, tricks, and insider info to share with you about how you can become an extremely successful yoga teacher, too! Because while it is important to love what you do, it is also nice to be able to make a whole lotta money at it! For you aspiring yoga teachers who are wondering if you can really make a living as a yoga teacher, this is for you.
---
Article content:
(Click any link below to jump directly to section)
---
Can you make a living as a yoga teacher? I mean, really?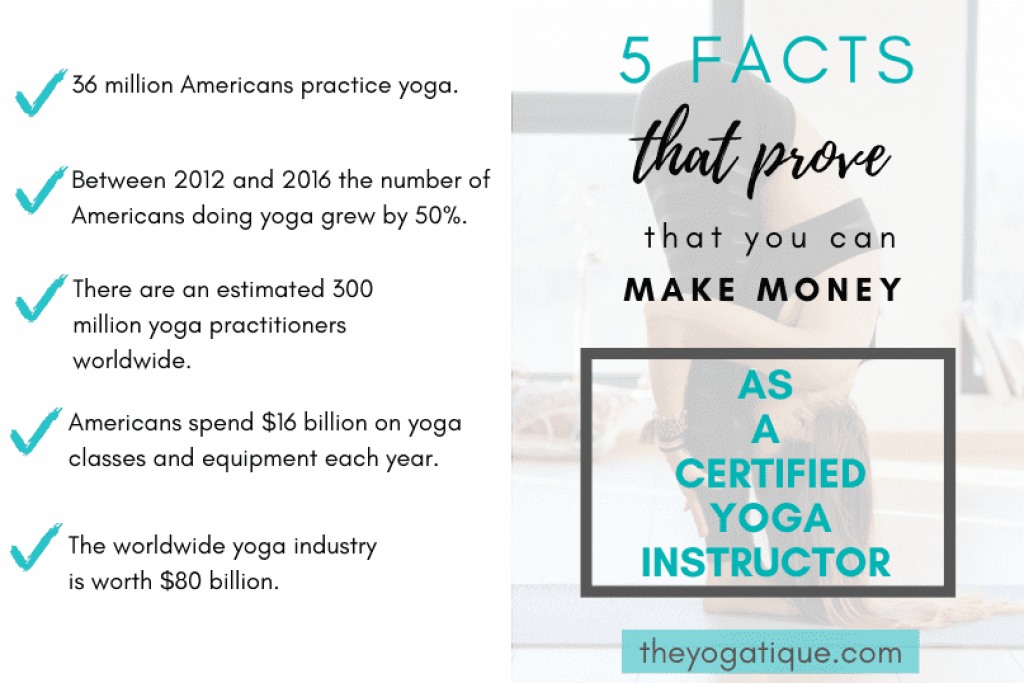 Yes, you can make a living as a yoga instructor and in fact, there has never been a better time to do so. The entire global population is investing in their health and wellness, and this means that they are investing in yoga. The yoga statistics don't lie!
Is yoga teacher training on your radar?
Online Yoga Teacher Training Offers
Accreditation
Lifetime access
Click below to discover the best Yoga Alliance certified online YTT's to join now!
Yoga teachers are in-demand
Per The Good Body's article on the topic of the popularity of yoga, there is no reason to believe that people taking a vested interest in yoga is a fad. It definitely is not. And with 300 million yoga practitioners around the globe – most of them will need a yoga teacher.
How to make 6 figures as a yoga teacher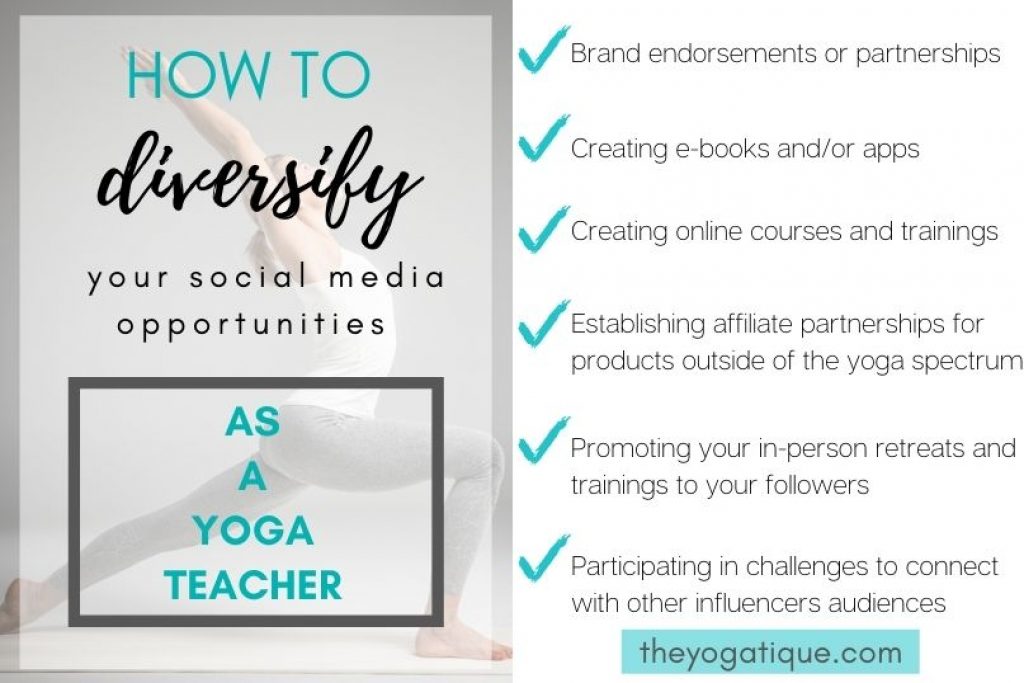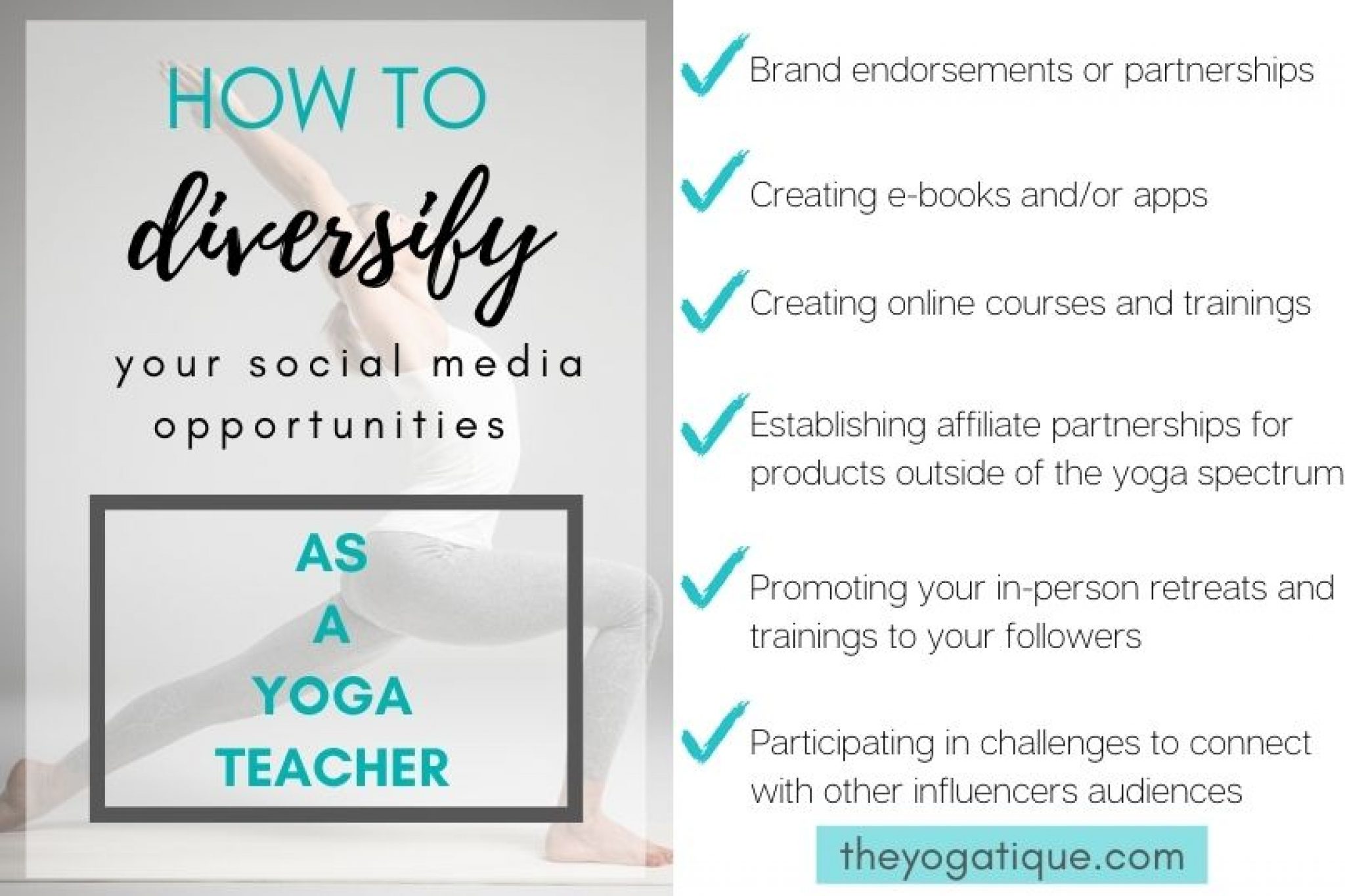 Some of my favorite Instagram yogis like Chelsea Williams and Hannah Barrett weren't born yogalebrities, but they are now. Growing their followings and creating communities have turned them both into successful entrepreneurs who have launched digital products and created their own apps, online yoga courses, e-books and brand ambassador partnerships. They have figured out what it takes to be a successful yoga teacher. You can do that too.
A few ways you can make serious money (and even 6 figures) as yoga instructor:
Brand endorsements or partnerships.
Creating e-books and/or apps.
Creating online courses.
Creating affiliate partnerships for products outside of the yoga spectrum that your community might be interested in.
Promoting your in-person trainings and retreats to your followers.
Participating in challenges to connect with other influencers audiences.
What does this all add up to? Serious cash. That is how you can make 6 figures as a yoga teacher.
So yes, yoga teachers who are teaching online can definitely make money and in some cases, a lot of it. Making a living as a yoga teacher is totally doable.
This success does not happen overnight, let's be real. But there are numerous yogipreneurs that I know of who have become extremely successful by leveraging social media and creating communities and followings.
So how does this affect you as an aspiring yoga teacher?
Technology and social media have created an awesome opportunity for you to do what you love, have the ultimate location independence, and make great money as a yoga instructor.
With the right mix of creativity and dedication, there are countless streams of income available for yoga teachers to tap into now.
Will it require ambition? Absolutely. But that is part of the fun of it. Being self-made is extremely rewarding.
Even the generation of yogis who were operating multi-location successful in-person yoga studios and conducting yoga teacher trainings long before anyone was shopping on Amazon have taken their yoga businesses online.
Two names in yoga that you're probably familiar with who are making a living as yoga teachers
Paul Grilley, Baron Baptiste, and Mark Stephens are just three names of many of the great minds of current-day yoga who have gone digital.
We are evolving in how we learn, study, and consume information. This is partly out of necessity, and partly out of practicality.
↓Great Yoga Alliance approved yoga teacher trainings you should look into↓
How much do yoga instructors make per hour?
Most in-studio yoga teachers make between $15-$20 per hour to teach an entire classroom full of students, and they more than likely don't work full-time. A yogi who launches their own online studio is estimated by Uscreen to make an average of $4,200 per month starting out.
So while teaching in a studio making $15-$20 per-class teaching is certainly a great way gain valuable teaching experience, but it is certainly not at the high end of the pay scale in the yoga industry.
How to make money teaching yoga on YouTube
According to YouTube 'To qualify for YPP you need to be in good standing with YouTube, have 4,000 valid public watch hours in the previous 12 months, and at least 1,000 subscribers.'
YouTube is an entirely different stream of income that some yogipreneurs focus on and some don't. Monetizing a YouTube channel will require that first and foremost the creator meets the stated threshold above.
Once creators have met that threshold on YouTube they can then start monetizing their channel via ads. Ad revenue can amount to a nice chunk of change each month, but it's still not going to amount to what yoga teachers make on courses.
And of course, most yogis who have created success on YouTube go on to then create their own digital products. For example, Yoga With Adrienne who is perhaps YouTube's most known yogi now sells her own yoga courses on her website as well subscriptions to her own private online yoga studio.
Online yoga courses, once perfected, can be one way to make passive income as a yoga teacher.
So, is yoga a profitable business?
For impassioned yogis with an entrepreneurial spirit, there has never been a more lucrative time in the yoga industry.
How much can you make as yoga instructor? That's really up to you. But with the right mindset, the sky is the limit, yogi!
Some online yoga studios, online yoga teacher training programs, and brands that we write about may offer us a small commission should you decide to make a purchase or signup after reading our content. Thank you for enabling us to exist!