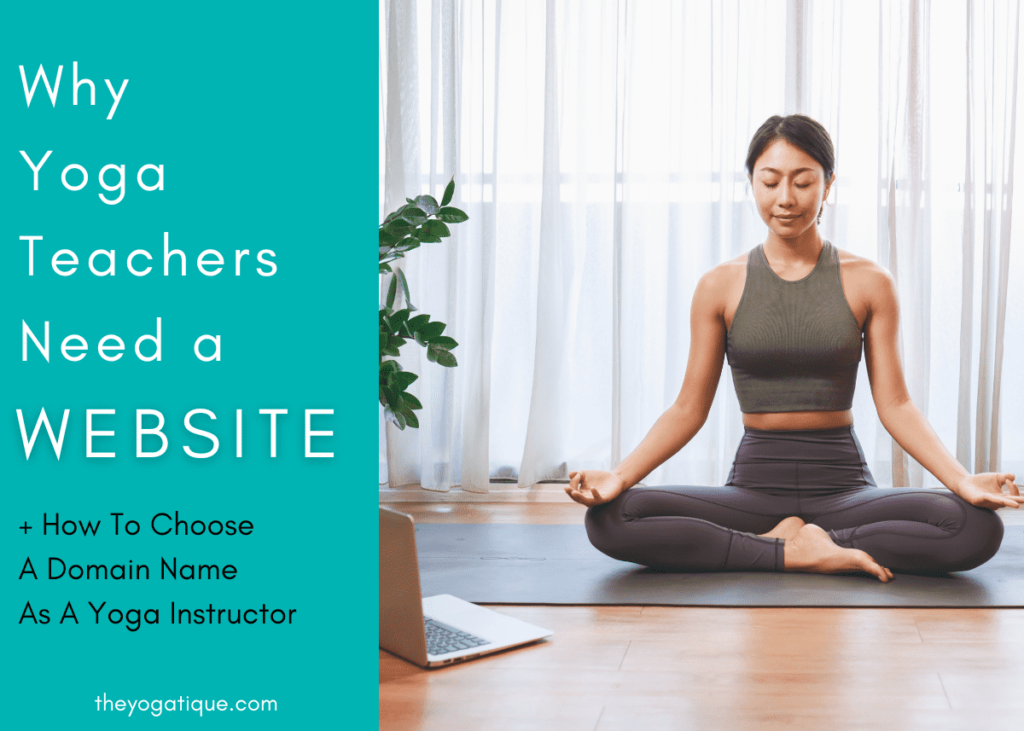 Are you a yoga teacher looking to establish your online presence? I'm excited for you! Having a website is an ideal way to showcase your expertise, connect with potential students, and build your brand. But before you embark on this exciting journey, it's essential to understand why you need a website as a yoga teacher and how to choose the right domain name for your website, yogi.
A domain name is like your website's address on the internet, and it plays a crucial role in attracting visitors, going viral, and establishing credibility. In this article, we will explore the key factors to consider when selecting a domain name that represents your yoga brand effectively.
Much of what you'll read below is based on my own experience choosing and registering domain names that I own. I'll share tips to help guide you in choosing a domain name that will resonate with your audience and the algorithm!
About this new path you are about to walk down of creating your own website as a yoga teacher, keep this famous quote in mind: "Will it be hard? Yes. Will it be worth it? Absolutely!"
---
Article content:
(Click any link below to jump directly to section)
---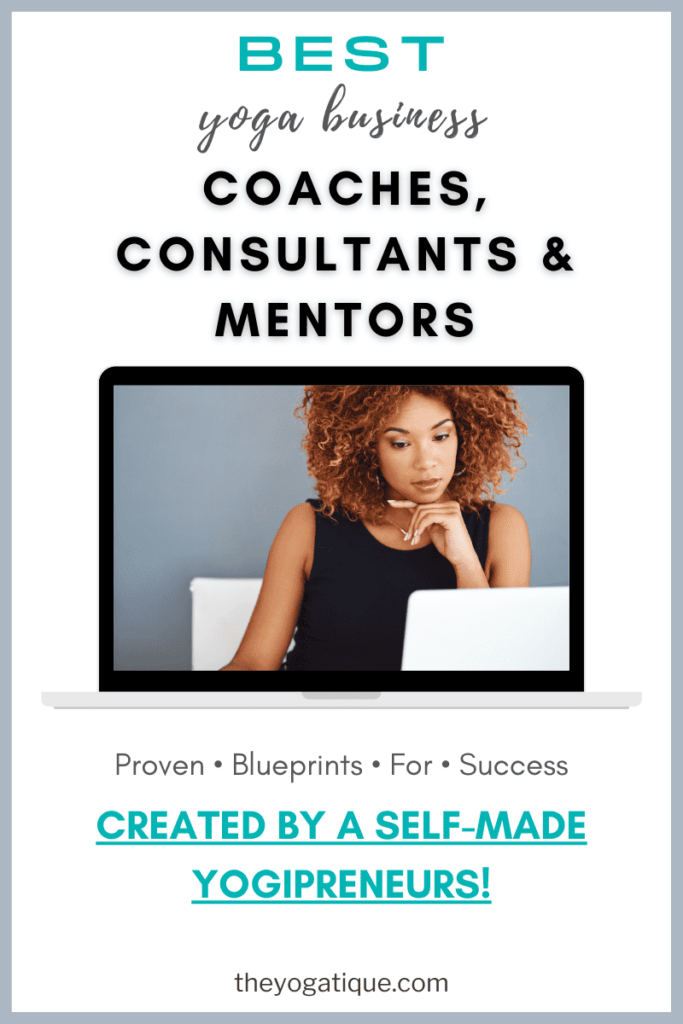 BUILD A SIX-FIGURE YOGA BUSINESS THIS YEAR!
Yoga Business Coaching Offers
Business strategy
Business planning
Marketing plans
Proven blueprints
⬇Click below to discover the best yoga business coaches, mentors & consultants⬇
Why you should have a website as a yoga teacher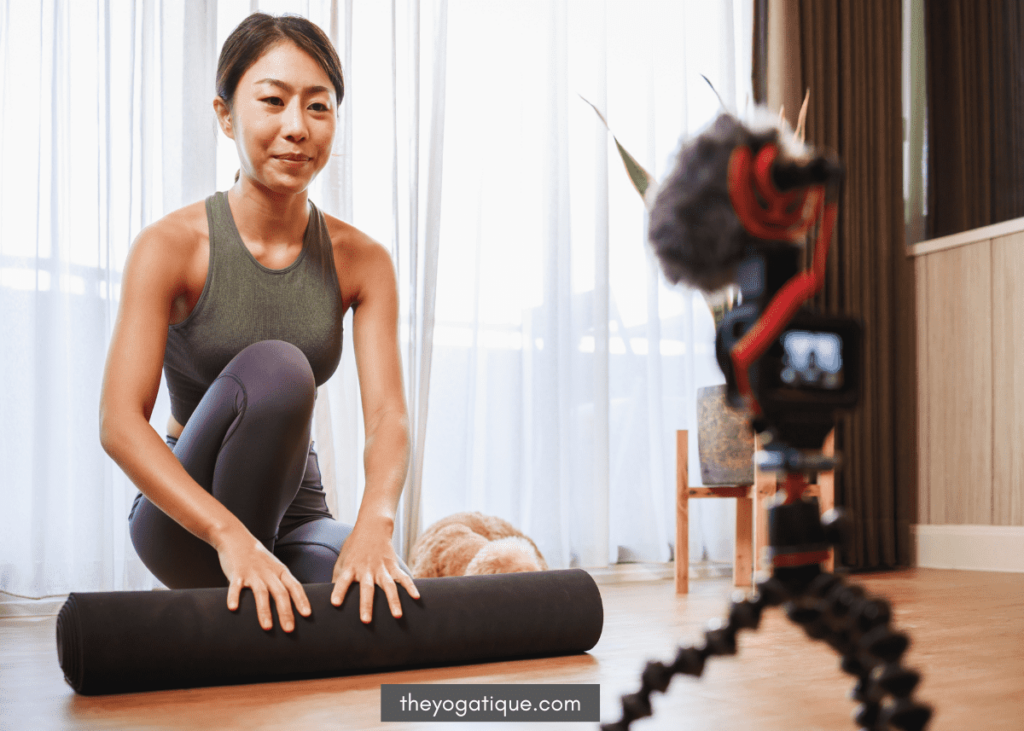 Before we dive into the specifics of choosing a domain name, let's understand why building a website is essential for yoga teachers. In today's digital age, having an online presence is vital for reaching a broader audience and expanding your teaching opportunities.
A website allows you to showcase your qualifications, share valuable resources and articles, promote your classes and workshops, and even offer online courses or consultations. It serves as a hub for your existing students, potential students, and clients to connect with you and learn more about your unique teaching style.
Your career as a yoga teacher could take you in many directions in the future: products, digital products, running retreats, teaching at festivals or corporate events, etc. So you might as well establish your website sooner rather than later if you want to make money from your yoga expertise, which I'm sure you do!
What makes a good domain name for a yoga teacher?
Now that you understand the importance of having a website, let's explore the characteristics of a good domain name:
Memorable
Choose a domain name that is easy to remember. You want word-of-mouth marketing to work for you. Short, concise, and catchy names tend to stick in people's minds. Alexandria Crow's domain name is yogaphysics.com is a great example of short, concise, and catchy.
Relevant
Your domain name should reflect your yoga teaching and the purpose of your website. Incorporate keywords related to yoga to make it clear what your site is about.
Brandable
Consider creating a unique and brandable domain name that helps you stand out from the competition. It should align with your yoga brand and convey your personality or teaching style.
You can get creative here, but not too creative (sorry, yogi)!
Mountainsoulyoga.com exemplifies this concept of being creative but not too creative while also being easy to read. Doyogawithme.com is a pretty well-known name in the online yoga space, and it is another example of a good domain name for a yoga niche website.
Easy to spell and pronounce
Avoid complex spellings or words that are difficult to pronounce. A domain name that is easy to type and say aloud will make it easier for people to find and share your website.
Remember, a good domain name is like a yoga pose – it should be balanced, aligned, and leave a lasting impression on your visitors.
Unique
Sometimes (oftentimes!) we think of an amazing domain name, but it's already taken. While you might be inclined to modify that name slightly because you like it, I don't suggest doing that, especially if an established brand already owns the domain.
Using the example of doyogawithme.com again, I would not suggest naming your website doyogawithmenow.com, for example. The results could be people accidentally landing on the wrong website. A unique domain name should definitely be the goal!
What to avoid when choosing a domain name as a yoga instructor
While there are several factors to consider when choosing a domain name, there are also some pitfalls you should avoid:
Avoid hyphens and numbers
Including hyphens or numbers in your domain name can lead to confusion. It's best to stick with letters only.
Avoid trademark infringement
Conduct a thorough search to ensure that your chosen domain name does not violate any trademarks or copyrights. You don't want to face legal issues down the road. You can search the US trademark database here.
Trademarks & copyrights are a bit of a tricky topic, so if you do so happen to find a trademark on your dream domain name, make sure you understand the trademark to know if you really would be in-fact, infringing on the trademark or not.
Avoid long and complicated names
Lengthy domain names can be hard to remember and type correctly. Keep it simple and concise. Your domain name should be under 15 characters, ideally.
Avoid limiting yourself
While it's essential to have a niche-specific domain name, make sure it doesn't limit your growth in the future. Choose a name that allows you to expand your offerings if needed.
Keep this in mind if you are considering using your own name for your domain name, which many yogis do. I don't think it's necessarily a bad idea to use your own name as your domain, but you are also then giving the entire world your last name (which sometimes changes!), and should you ever want to sell your business in the future, having the business be your name would make that tough.
If you do decide to use your name, I strongly suggest adding the word yoga into the domain name as well.
Avoid choosing a creative domain name extension
I do not recommend choosing .me, .life, .yoga, or anything else like that. Trust me on this. Those are not considered Top Level Domains, which you will learn more about later on in this post.
Avoid using a @wordpress.com or @wix.com extension
You want to own your domain name and have full control of it. You want to have a self-hosted website.
If you choose to host with Wix or Wordpress and have a domain that ends in @wordpress.com or @wix.com or anything similar from a different platform, you will be limited in the future. And it's more professional and authoritative to have a .com extension.
By steering clear of these common mistakes, you can ensure that your domain name sets a solid foundation for your online presence.
You do not want to change your domain name in the future name once you've become successful and established online. Risk and expense are involved in changing domain names, especially if you have an established website with blog posts that are getting traffic. Also, doing a domain migration is quite a technical process that you would not want to do yourself, nor risk hiring the wrong individual for the job.
I brainstormed for many many months before ultimately deciding to build a website on this domain, theyogatique.com. And even the word 'the' in the domain is not totally ideal!
What does top-level domain mean & why is it an important consideration?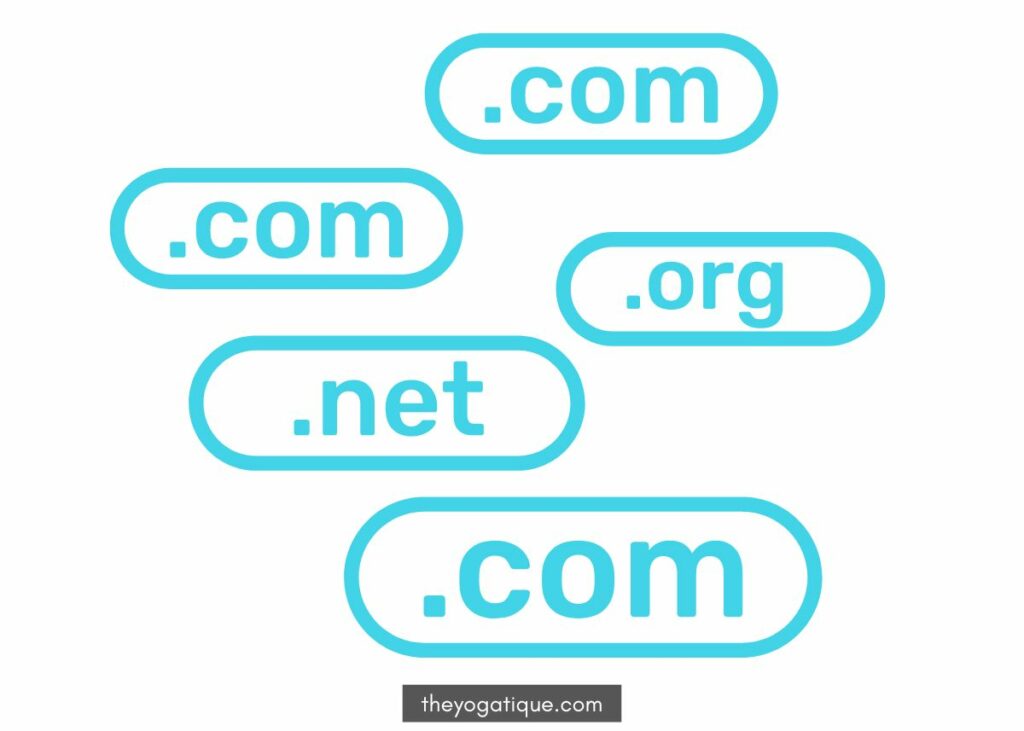 When choosing a domain name, you'll encounter the term "top-level domain" (TLD). A TLD refers to the extension at the end of your domain name, such as .com, .org, or .net. It's crucial to select the right TLD for your website as it can impact your brand perception and search engine optimization (SEO).
Here are some popular TLD options:
.com: This is the most widely recognized and trusted TLD. It's ideal for commercial websites and is often the first choice for businesses. I recommend choosing a .com extension for your domain name.
.org: This TLD is commonly used by non-profit organizations and can help convey a sense of trustworthiness and purpose.
.net: Originally intended for network-related websites, .net has now become a versatile TLD suitable for various industries.
While these are just a few examples, there are other TLD options available. Keep in mind that some TLDs may have specific requirements or restrictions.
I suggest .com as it's still the most widely recognized TDL and still considered the most premium domain extension. The selection may be more scarce because .com is the most popular domain extension, but with some creative thinking, I am sure you'll come up with a good yoga domain name!
Who you should buy your domain name from
When it comes to purchasing your domain name, there are numerous domain registrars and hosting providers to choose from. I buy all of my domain names (yes, all of them!) from NameCheap: I'm a little addicted to buying domain names. I'll call myself a collector. Is that weird?!
Here's why I choose Namecheap
As the name suggests, Namecheap offers affordable domain registration services along with excellent customer support.
What I like about Namecheap is that they offer free domain privacy forever (not just for the first year). This is very important. You do not want your first name, last name, and contact information out there for anyone to be able to find if they know which tools to use to get that information.
I also prefer to choose technical service providers that offer fantastic online customer support and have an extensive online knowledge base for me to refer to.
If this is your first website build, I promise you that you will have a lot of questions, yogi. If not now, in the future when it comes time to connect your domain name to your website (more on that in a different article).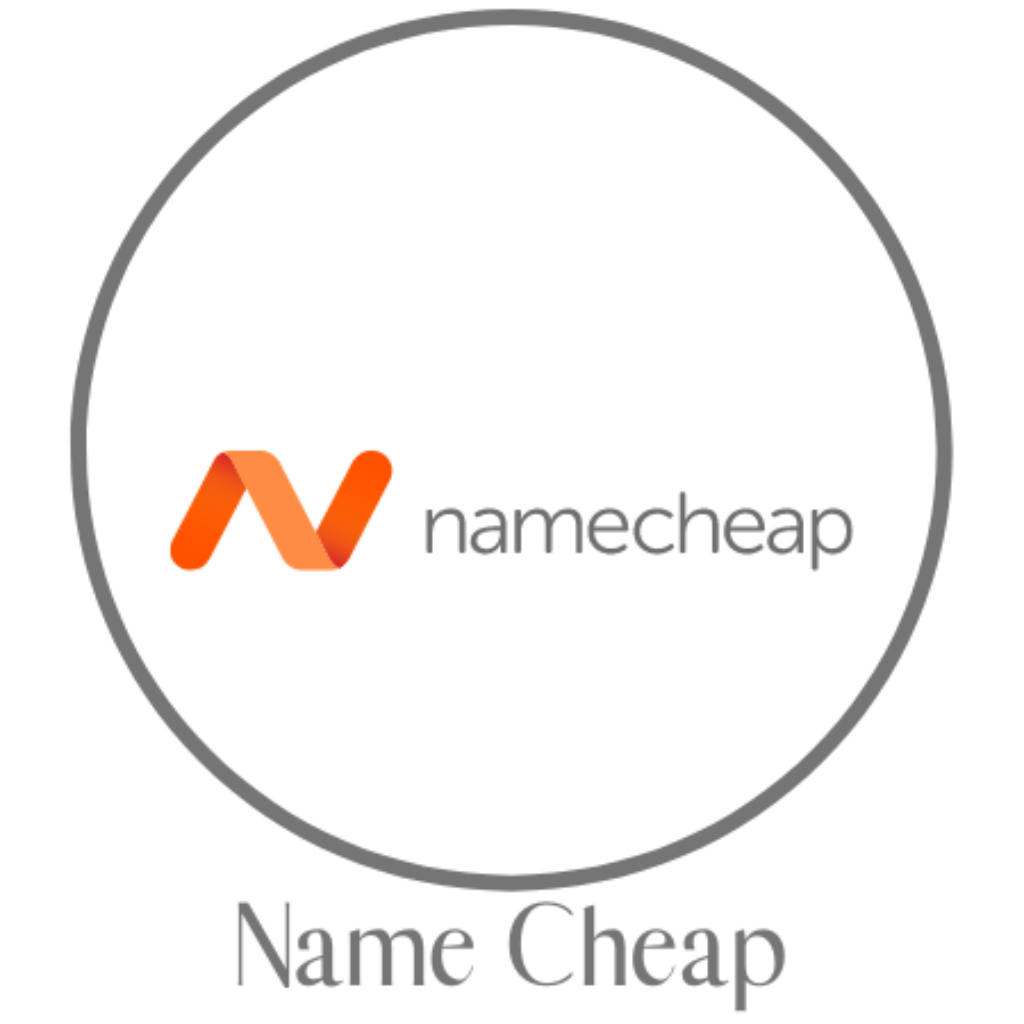 CHECK OUT NAMECHEAP BELOW
.com domains start at $5.98 ✔️
Fantastic customer service & knowledge base ✔️
Easy WordPress installation process ✔️
Free domain privacy forever ✔️
Before making a decision, compare prices, read customer reviews, and consider the additional services offered by each provider. It's important to choose a reputable registrar that provides reliable customer support and easy management of your domain.
Although it is not that difficult to switch domain registrars, learn from my mistakes of using GoDaddy initially (as many people do) and then switching. It's a technical process to switch registrars. Although not nearly as technical as changing a domain name.
Who you should not buy your domain name from
While there are many trustworthy domain registrars, it's crucial to be cautious and avoid unreliable providers.
I'm just going to put it out there bluntly, I do not recommend that you choose GoDaddy for any services, despite any amazing offers they may throw at you, and I think many other online business owners would agree with me.
I do not recommend using GoDaddy for hosting (more on that in a different article), and as a first-time website owner, you may be susceptible to their upselling. They are high-pressure.
Here are a few red flags to watch out for when looking at domain registrars:
Exorbitant Prices: Be wary of registrars that charge significantly higher prices than the industry average. Always compare prices before making a purchase.
Poor Customer Reviews: If a registrar has consistently negative reviews regarding their service quality or customer support, it's best to steer clear.
Hidden Fees: Some registrars may lure you in with low initial prices but surprise you with hidden fees during the checkout process or when it's time to renew (GoDaddy is rather famous for this). Read the terms and conditions carefully.
No free domain protection: This should be included for free from any good domain registrar provider in my opinion.
No easy way to migrate your domain: It should not be impossible to leave and migrate to a different registrar should you choose. Some registers make this process more difficult and lengthy than others.
By doing thorough research and choosing a reputable provider, you can ensure a smooth and reliable experience when purchasing your domain name.
What to do after you have purchased your domain
The three most important steps to take immediately after purchasing your domain are:
Turn on automatic renewal so your domain automatically renews next year. You do not want your domain to "drop". There are many companies now that buy domain names the second they are dropped. This means that your domain and website are either gone forever or will skyrocket in price for you to buy it back.
Secure your login to your registrar. I recommend

2-factor authentication

on all technical services like: your domain registrar, your hosting company, and your website. I use the Google 2 Factor Authentication app for this.
Lock your domain name so that it cannot be transferred.
Takeaway on why yoga teachers need a website & how to choose a domain name as a yoga teacher
Choosing a domain name for your yoga website is an important step in establishing your online presence. By considering the factors that make a good domain name and avoiding common pitfalls, you can select a memorable, relevant, and brandable name that resonates with your target audience.
Additionally, paying attention to the top-level domain and selecting a reputable registrar ensures a seamless experience. So, take your time, get creative, and choose a domain name that represents your yoga brand authentically, and don't forget to turn on the automatic renewal option once you've found and purchased the perfect domain name!
To your online success!
FAQ about teaching yoga online
How do I market myself as a yoga teacher?
Find, choose, and/or create your niche, create an eye-catching and functional website, batch create your social media posts and post them to Facebook, Instagram, Twitter, and Tik Tok, create an e-book or other pop-up to collect email addresses of your site visitors, send a regular newsletter.
Can you make a living teaching yoga online?
Absolutely! Consider creating yoga courses, online paid yoga membership subscriptions, online yoga teacher training to make great money teaching yoga online!
Some online yoga studios, online yoga teacher training programs, and brands that we write about may offer us a small percentage should you decide to purchase after reading our content. Thank you for enabling us to exist!