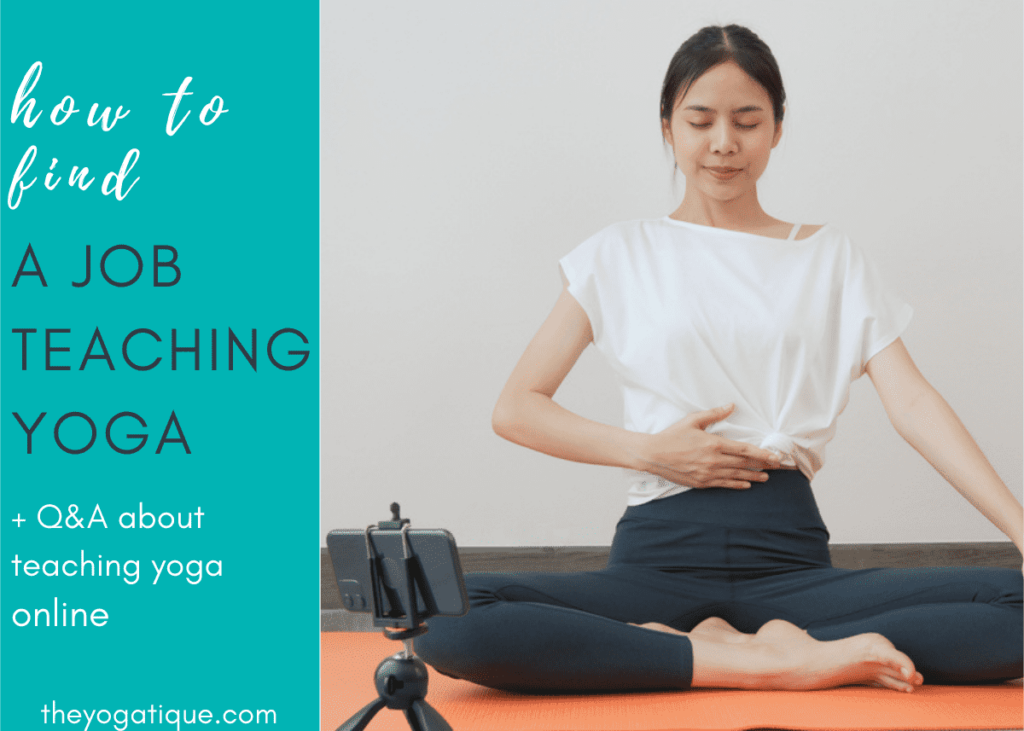 If you are like me, you want to diversify your income opportunities as a yoga teacher and make more money! The good news is that jobs for certified yoga teachers in this digital era are plentiful. It is literally the most lucrative time to be teaching yoga (I'm not kidding). How? By going virtual! If you are ready to tap into your creative business mind and discover how you can create massive success for yourself as a yoga teacher, I wrote this easy-to-read article with actionable tips about how to get a job teaching yoga.
Nowadays, you can find everything online, and online yoga classes, courses, and memberships have become increasingly popular in recent years. As a result, new and experienced yoga instructors are moving to the online teaching model.
But is teaching yoga online worth it, and how do you find online yoga teacher jobs? This article will answer all your burning questions about teaching yoga remotely.
Let's get right to it, so that you can get a job teaching yoga!
---
Article content:
(Click any link below to jump directly to section)
---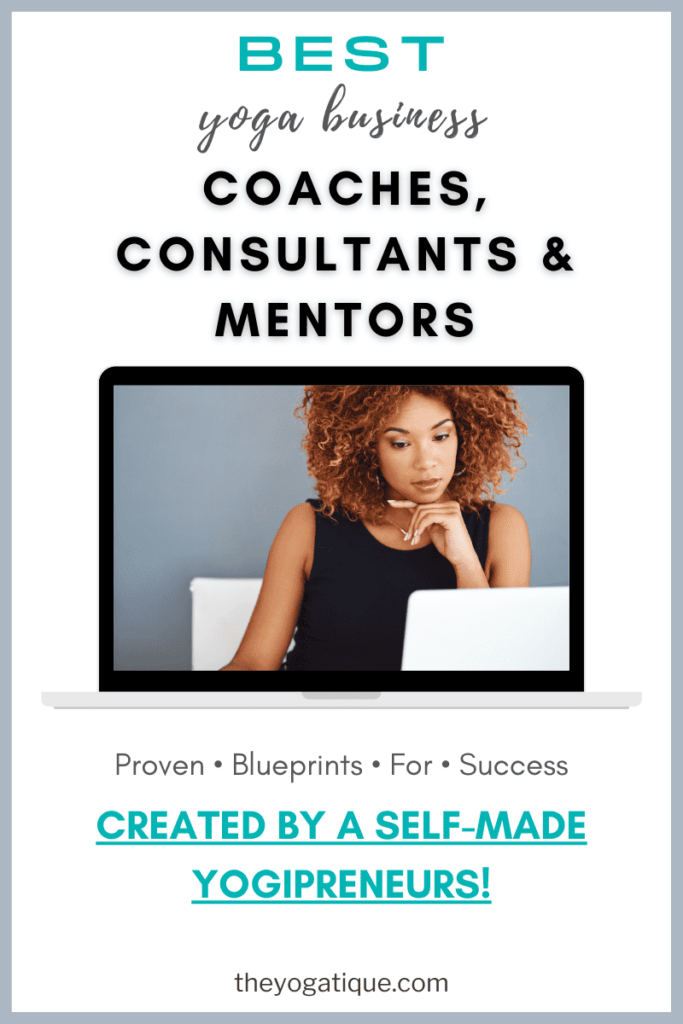 BUILD A SIX-FIGURE YOGA BUSINESS THIS YEAR!
Yoga Business Coaching Offers
Business strategy
Business planning
Marketing plans
Proven blueprints
⬇Click below to discover the best yoga business coaches, mentors & consultants⬇
3 places to look to find remote yoga teacher jobs
Teaching yoga online requires less time and energy than in-person classes, as you don't have to travel across town from one studio to another as a remote yoga teacher. Virtual classes also have a higher capacity, allowing you to teach more people at once and, thus, earn more money. Teaching yoga online has become a very desirable career path for many yoga teachers!
It depends on the type of remote yoga job you're interested in. Here are a few common ways to find opportunities to teach yoga online.
1. Browse yoga job sites like Yoga Trade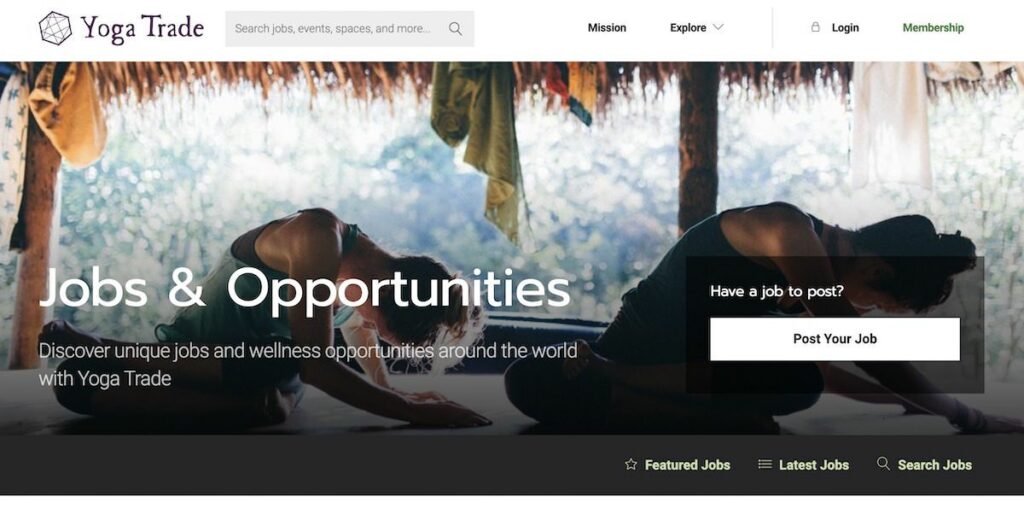 Many corporate companies seek online yoga instructors to hold classes for their employees (yes, even online). They may post on job search websites, LinkedIn, or freelance marketplaces like Upwork. Be sure to update your LinkedIn and Upwork profiles and make it known you are available for work so potential employers can contact you.
2. Do personal outreach to online yoga platforms
If you want to teach on an established yoga platform like YogaDownload, Glo, or YogaAnytime, check their website or contact them to find out their hiring process.
YogaDownload, for example, has a content partner program that allows yoga teachers (like you!) to sell your classes and offerings on their platform. Very cool, right? And I think that other online yoga platforms operate in a similar fashion. Do a little Googling on the topic!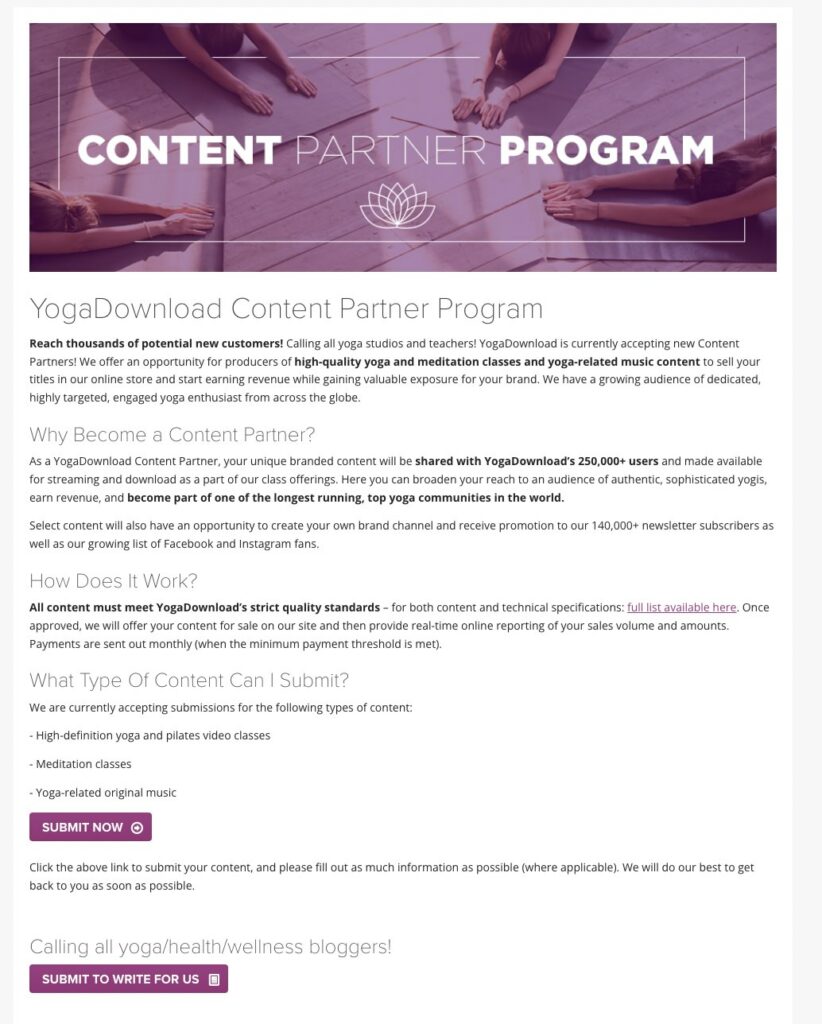 3. Look (and post) in yoga Facebook groups
You can find various opportunities on Facebook (seriously Facebook groups for everything yoga is a goldmine). There are many remote work and yoga job groups worth checking for options. I did a quick search on Facebook using the words yoga teacher jobs and multiple groups populated. Specifically, a group called Yoga Jobs All Over The World which has over 50,000 members. So definitely try that!
Moreover, Facebook is a great place to network and find collaborations, so don't be afraid to post in groups advertising your services.
Should you become a freelance yoga instructor?
Being a freelance yoga instructor is one way to make a decent income from teaching yoga without overextending yourself. Teaching yoga online, particularly by creating paid membership communities, courses, and even physical products so that you have multiple sources of income are creative freelancing ideas to diversify your income as a yoga teacher.
Like all jobs, being a yoga instructor has pros and cons. Many yoga teachers don't get rich, and teaching can be a tiring job that can result in burnout.
Of course, this all takes a lot of work, so in answer to whether you should become a yoga teacher – yes, but only if you are genuinely passionate about it. Building a successful yoga teacher career will take time and dedication, but if your life purpose is to share the magic of yoga with others, it will be more than worth it!
Unique freelance yoga jobs every yoga teacher should know about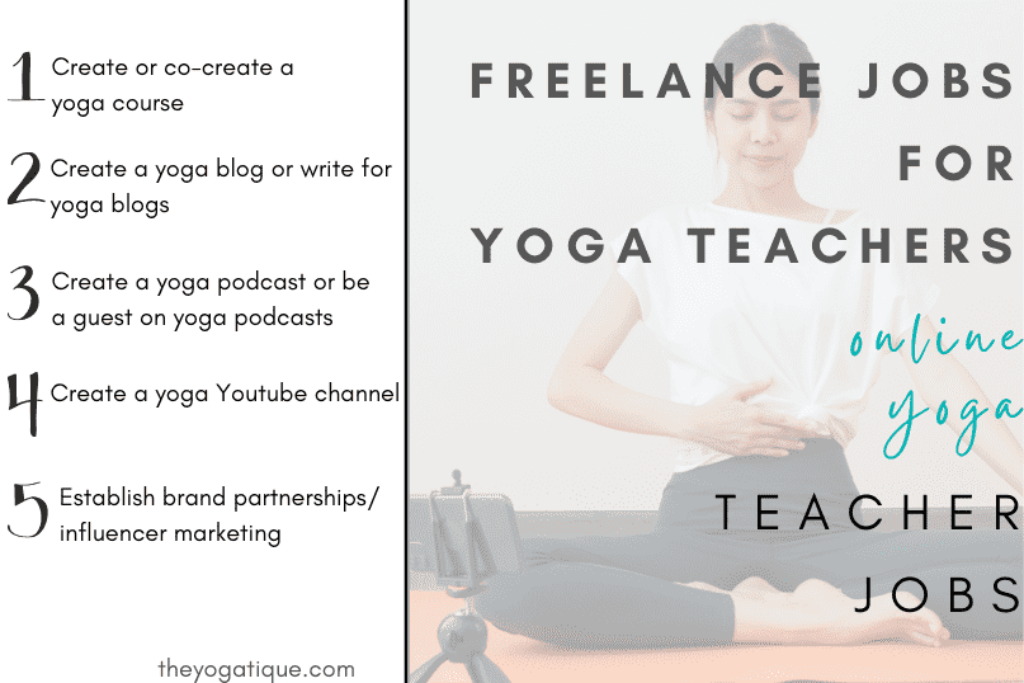 Aside from teaching live classes online, there are many other ways you can use your yoga skills and knowledge to make money remotely. Here are a few unique ideas to consider so you can be your own boss (!) or get a job teaching yoga.
1. Create a yoga course
If you want to create a passive income through teaching yoga, why not create a yoga course? This is the real way to make serious money teaching yoga online. Creating success in courses can easily equate to a six-figure income teaching yoga online (seriously).
To create a yoga course, you'll need to plan and film a series of on-demand content that you package together.
You can create a course about any yoga-related topic, really. For example, it could be focused on asana, either general or niche, such as yoga for better sleep or yoga for runners. Or, you can create a meditation, pranayama, or yoga philosophy course, depending on your interests and expertise. You could even launch your own 200-hour online YTT.
Creating courses is, without a doubt, a serious investment of both time and money, but done right (and marketed right) the ROI (return on investment) can be very lucrative.
2. Create a yoga blog or write for yoga blogs
If you love to express yourself through the written word and have a creative flair, why not consider writing for yoga blogs or even creating your own blog? Yoga and other wellness-related brands regularly create online content like articles. Collaborating with websites and blogs can be a different yet great way to share your yoga knowledge and make additional money. I do a lot of this!
3. Create a yoga podcast or be a guest on yoga podcasts
I don't know about y'all, but I listen to podcasts and a lot of them! Most known brands and names in the yoga industry have podcasts, you just may not know it.
Some yoga podcasts that I can come up with off the very top of my head are: Alo Mindfull, The Yoga Room with Mark Stephens, Life in Commune with Carling Harps and Patrick Beach, Brett Larkin's Yoga Podcast. Millions of people are still hooked on podcasts, and they are certainly another angle to consider when building your brand.
4. Create a yoga Youtube channel
If you're interested in finding success in online business that could become a significant passive income, look into starting a Youtube channel. This is a great way to share your knowledge with a broad audience and build a following.
YouTube channels take a long time to grow and monetize, so this is not an immediate money maker. Still, it is estimated that the top Youtube yoga teacher, "Yoga With Adriene," makes over $10K monthly, with most of her revenue coming from ads.
If you want to take your career in that direction, start earlier rather than later to get used to being on camera and to begin building your following.
YouTube has watch and subscriber requirements that creators must meet to monetize their videos.
YouTube Partner Program application requirements:
500 subscribers with 3 public uploads in the last 90 days, and either 3K valid public watch hours in the last 12 months OR 3M public Shorts views in the last 90 days.
5. Establish brand partnerships/influencer marketing
You may be aware of some of the social media influencers in the yoga space. There are a lot of them! Perhaps you have noticed that many of these yogis and yoginis have established huge brand partnerships, and promote certain brands with their audiences in the form of reels, posts, stories, etc. To be honest, this is a viable way of making significant income these days. It certainly doesn't happen overnight, but it is absolutely possible to make a ton of cash as a yoga influencer.
How much should you charge for a yoga session as a yoga teacher?
For private online classes, you can charge anywhere between $25 to $100 (or more) per hour. But this depends on your experience and expertise as a teacher. Online group classes are not usually done on a drop-in basis, those types of online yoga classes are done on a monthly membership fee kind of structure.
The average cost to attend an in-person group yoga class is $10 to $25, though newer teachers may charge as low as $5.
There is no set standard for what you should charge to teach a yoga class. However, brand-new yoga teachers typically charge a lot less than those with years of experience.
Is teaching yoga in high demand?
That said, yoga teachers are very in-demand to be leading yoga classes virtually and in-person in this global yoga movement that has migrated from the east to the west.
Nearly everyone has heard of yoga and its benefits. Check out some fascinating stats on yoga to learn just how big of an industry yoga really is. You can find yoga studios worldwide and online, as well all know.
Yoga has become in demand, mainly for its de-stressing benefits that are much-needed in our modern, fast-paced society. As more and more people learn about the incredible benefits of yoga, the increase of people practicing it increases.
2022 statistics show that yoga is now a $37.46 billion industry. And of course, most all of these yoga practitioners around the world need a yoga teacher. You want in on that, right?!
Is teaching yoga a good career?
As yoga is now so popular, it's easy to assume that training to teach it would be a smart career move. However, it's not only the number of practitioners that has increased in recent years but also the number of qualified yoga instructors. So now, yoga teachers need to be more business savvy than ever to make serious money.
But while there are many qualified yoga instructors on paper, not all of them aspire to teach. This is because many yogis do yoga teacher training purely to deepen their personal practice and experience a personal transformation.
Although there is a lot of competition in the yoga teaching industry now, there are many benefits to teaching yoga as a career. If you love yoga, teaching it to others can be extremely rewarding and fulfilling. You'll get to spend your days elevating the collective consciousness and helping others make healthy, positive choices in their own lives. An ideal way to spend your days, right?!
Takeaway how to get a job teaching yoga
There are various ways you can find a job teaching yoga, from job sites to social media to reaching out to companies directly. Teaching live classes is only one of the many ways yoga teachers can teach students, but its the route many yoga teachers decide to take. But, if you think outside the box, you will discover many interesting ways to build a yoga business – online and beyond!
FAQ about teaching yoga
Can you make a career as a yoga teacher?
You certainly can make a career out of teaching yoga. But as with anything, it's good to diversify your income streams, even as a yoga teacher. What I mean by that is to do some in-person teaching, some online teaching, some guest blogging, some teacher trainings, and some brand partnerships. I suggest creating a clear career roadmap to success for yourself and then following it!
Is it hard to make money as a yoga instructor?
If you do not diversify your income streams or open your own business as a yoga teacher, you may not find huge financial success. The money is really in being self-employed, with at least part of your business being online.
Some online yoga studios, online yoga teacher training programs, and brands that we write about may offer us a small percentage should you decide to purchase after reading our content. Thank you for enabling us to exist!