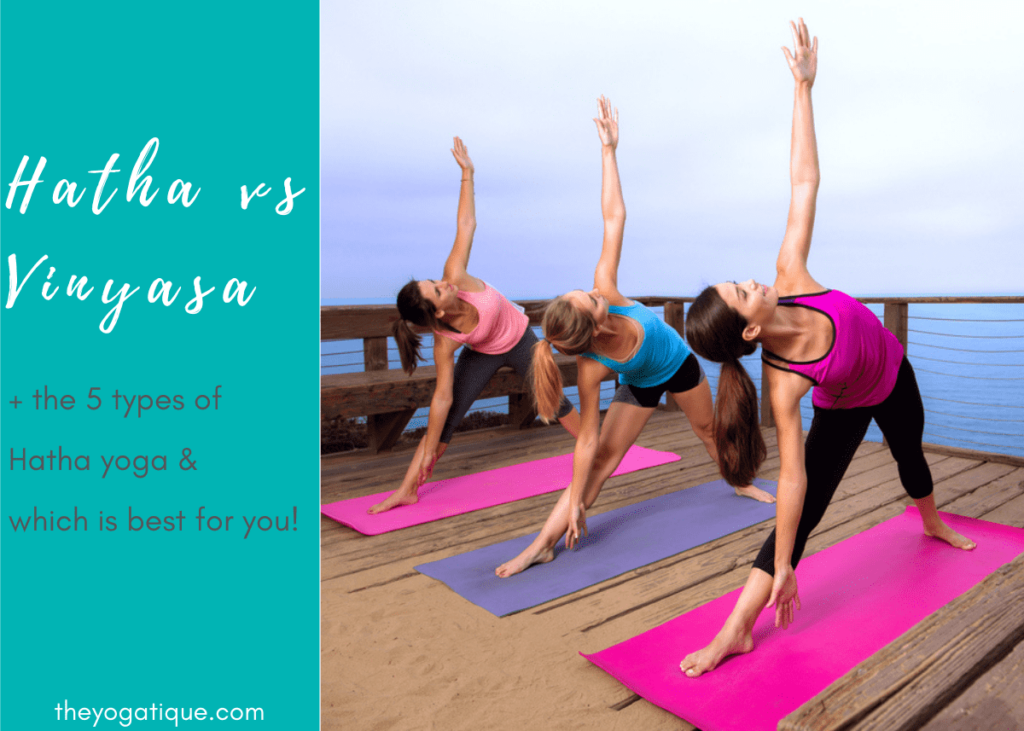 You finally decided to take the leap and sign up for your first yoga class. You begin browsing the studio schedule but then are hit with total overwhelm…"Why are there so many different types of yoga?!" "Which is better, Hatha yoga vs. Vinyasa?"
As a newbie looking to try yoga, navigating the many styles can be a roadblock. But you don't have to let the vast selection put you off.
In this article, I'll explain the key differences between the two most popular yoga styles; Hatha yoga vs Vinyasa. I'll break down both in the most understandable way, helping you decide which is best suited to your unique needs.
Are you ready to gain a deeper understanding, yogi? Let's do it!
---
Article content:
(Click any link below to jump directly to section)
---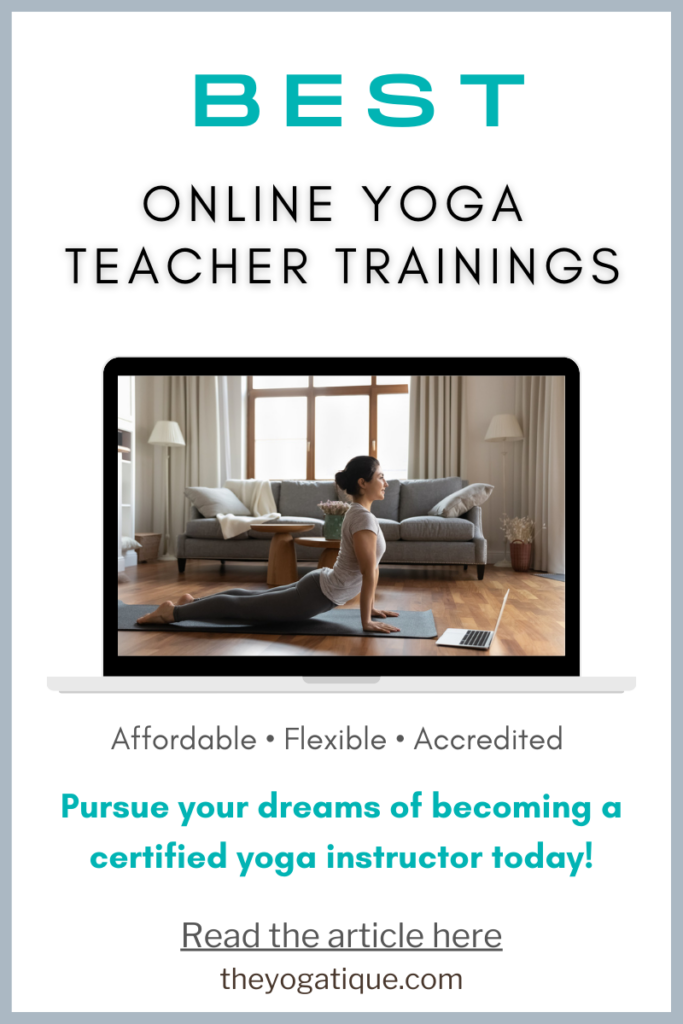 IS YOGA TEACHER TRAINING ON YOUR RADAR?
Online Yoga Teacher Training Offers
Affordability
Flexibility
Certification
Lifetime access
⬇Click below to discover the best Yoga Alliance registered online yoga certification courses⬇
Hatha yoga origination
Hatha refers to many modern yoga styles like Vinyasa, yet it can be traced back ​​​​to the 1st century CE. Hatha comes from the Raja yoga branch. The physical practice was made famous by the renowned Indian yoga guru Sri Krishnamacharya.
Krishnamacharya taught Hatha yoga to many of the most famous yoga teachers, including Pattabhi Jois, B. K. S. Iyengar, Indra Devi, and T. K. V. Desikachar. These teachers then adapted the traditional yoga practice, creating the many different yoga styles we know today, like Ashtanga and Iyengar.
Vinyasa yoga origination
Vinyasa comes from the Ashtanga lineage, which was made famous by Patthabi Jois. Jois studied under the "original" Hatha yoga teacher Sri Krishnamacharya in Mysore, India, during the early 20th century. Patthabi Jois founded Ashtanga Yoga, and over time, the substyle known as Vinyasa developed.
There is no official founder of Vinyasa yoga, nor is it a specific system. Moreover, unlike Ashtanga yoga which follows a set sequence, Vinyasa offers much more flexibility and creativity in sequencing.
Moreover, Vinyasa refers to any sequence of yoga poses that flow from one to another. That being said, sequences typically progress in difficulty throughout Vinyasa classes. Each posture helps warm up the body, preparing it for more advanced poses.
5 differences between Hatha and Vinyasa yoga
Still wondering which type of yoga practice is best for you? Don't fret. Let's dive into 5 key differences of Hatha yoga vs Vinyasa, so you know what to expect in each class.
1. Vinyasa is a faster pace
The main difference between Hatha yoga vs. Vinyasa is speed – you move faster in Vinyasa yoga.
In a Hatha yoga class, you hold every posture for at least five breaths. In contrast, in Vinyasa, you may take just one breath (an inhale or exhale) in a pose before moving to the next one.
Because of its dynamic nature, Vinyasa yoga tends to be more physically demanding. Thus, Vinyasa is better for weight loss and burning fat as you are likely to sweat more in a Vinyasa class than in a Hatha class.
For this reason, many people feel that Vinyasa is harder than Hatha yoga. Vinyasa requires more stamina and, thus, gets your heart racing more than Hatha yoga. And in terms of breath control, it can be tricky for beginners to maintain slow and steady breathing in Vinyasa yoga.
Even so, the slower pace of Hatha yoga makes this style quite challenging, especially the standing poses. For example, you hold balance postures like Tree Pose and Warrior 3 for longer than in a Vinyasa class. By the fifth breath, you are really feeling the burn!
Likewise, as you hold Warrior 2, you'll feel your arms get tired. Thus, Hatha yoga can significantly build muscular strength. In addition, you can still practice advanced poses in Hatha yoga, depending on the class level.
2. Hatha focuses on alignment, Vinyasa focuses on transitions
Why is Vinyasa so fast-paced?
The Sanskrit word Vinyasa means "to place in a special way." This refers to the sequencing of the postures. Vinyasa yoga has a very flowy style where you transition between the poses in a graceful, smooth way that makes it appear almost like a dance.
Unlike traditional Hatha yoga, which focuses on finding the correct alignment, Vinyasa focuses on the transition, linking one pose to the next.
However, one aspect of Vinyasa yoga that many new yogis don't realize is that Vinyasa also means "to link movement and breath." Therefore, the style is about more than just making a beautiful-looking sequence. The true purpose is to move with each breath to attain balance in the mind and body.
3. Hatha is better for beginners
If someone asks me what type of yoga they should do as a beginner, I often suggest Hatha.
Vinyasa yoga can be overwhelming and challenging when you're unfamiliar with the yoga poses and are not used to controlling your breath.
In my experience, one of the main reasons people say that "yoga is not for them" is because they didn't try a beginner-friendly style.
Suppose you've never done yoga before and attend a multi-level Vinyasa yoga class. You'll likely struggle to keep up, even if you're fit.
However, suppose you first practice Hatha yoga to learn the postures, alignment, and breath control. In that case, you'll likely find Vinyasa much less confusing and much more enjoyable.
Compared to Vinyasa, Hatha is a gentle practice. Even so, it still brings many physical benefits, such as increased body strength, leaner muscles, and improved flexibility.
Restorative and yin yoga is much more gentle than Hatha, though. The practices involve only floor-based yoga postures that you hold for several minutes and in a passive way.
4. The sun salutations are different
Did you know there are three different sun salutations?
In Ashtanga and Vinyasa yoga, you practice sun salutations A & B, while in traditional Hatha yoga, you practice the Hatha variation. The Hatha version has many similarities to A & B. It also includes some of the same poses, like the downward-facing dog and the upward-facing dog.
However, the Hatha variation is gentler as there is no Chaturanga Dandasana. Chaturanga is a common Ashtanga Vinyasa asana that improves upper body strength, among other benefits.
5. Vinyasa yoga is more repetitive
Hatha yoga tends to allow for more creativity in sequencing. In a Vinyasa class you will perform the same movements to build a sequence. Then you will repeat the same sequence.
↓Great Yoga Alliance certified yoga teacher trainings you should look into↓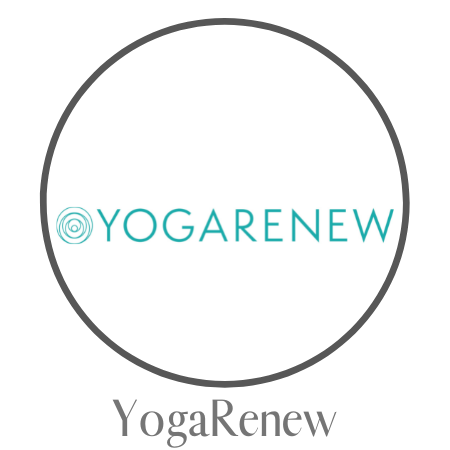 Best Price
• Yoga Alliance: 4.8/5
• 2,400+ reviews
• Self-paced
• $1,200 in free bonuses
• Offers 12+ yoga certifications
See Training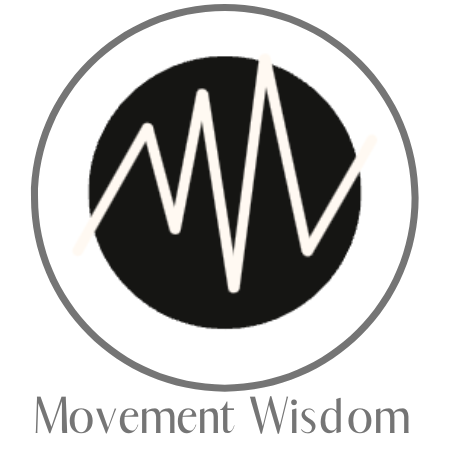 Most Popular
• Yoga Alliance: 5/5
• Learn 4 yoga styles
• Self-paced
• Expert educator
•
USE CODE
YOGATIQUE
FOR $100 OFF
(If paid in full)
See Training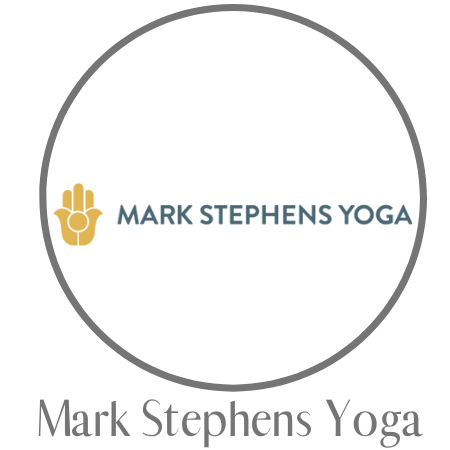 Renowned Educator
• Offered 1X year only
• Textbook author
• Cohort training starts in
Oct
• 4 months to certification
•
Spaces are limited
See Training
5 types of Hatha yoga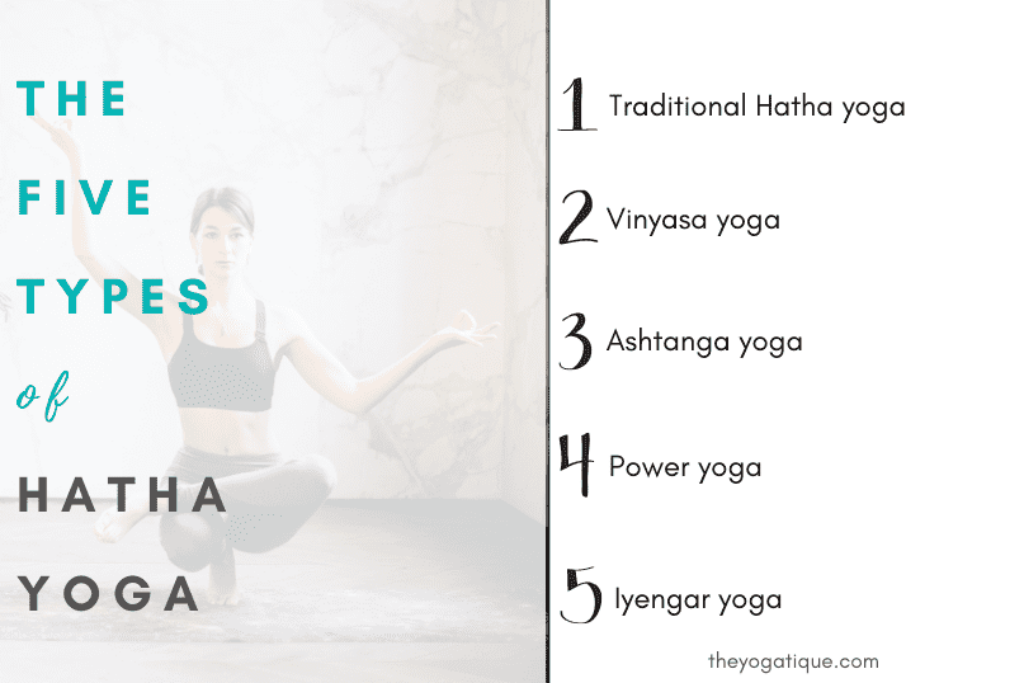 In westernized modern yoga, Hatha is an umbrella term used to describe several styles of yoga, such as Vinyasa, Iyengar, Power, and Ashtanga yoga. This is because these sub-styles stem from the traditional Hatha yoga lineage. If at any point you enroll in an online yoga course and become a yoga teacher, you will likely take a course that teaches from the Hatha lineage, as most do.
However, every yogi should know that these other styles significantly differ from traditional Hatha yoga. They may feature many of the same poses, but the pace, sequencing, and primary focus differ.
Many yoga studios and gyms call their yoga classes Hatha, but in reality, it can be any sub-style. Unfortunately, this leads to a lot of confusion because a "Hatha" class you attend at one studio could be totally different from one at another.
So, to help you understand the distinctions between the different styles, let's take a brief look at the 5 different types of Hatha yoga:
1. Traditional Hatha yoga
Hatha refers to a spiritual and physical practice that combines physical postures with breathing techniques. Hatha teaches you how to control your life force energy through deep breathing, helping you to unite the body and mind. You typically hold each posture for at least a few breaths, focusing on controlled movements.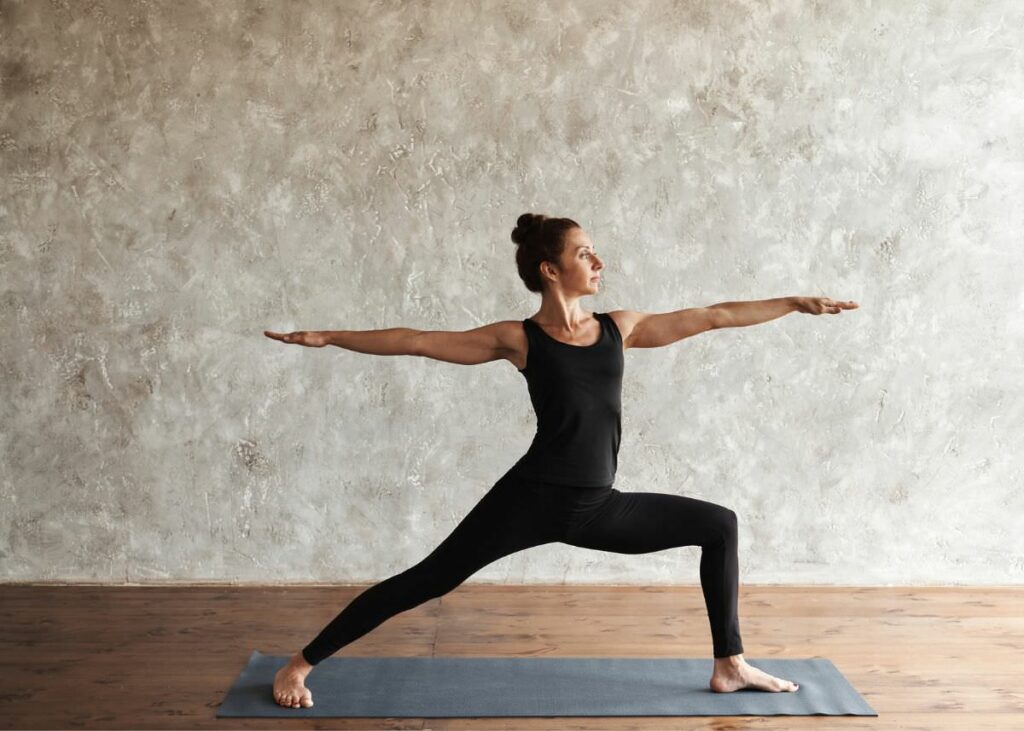 2. Vinyasa yoga
Vinyasa yoga is a dynamic yet mindful movement practice where you link each breath to each movement. The asanas are sequenced together with an almost constant flow. Along with the general benefits of hatha yoga, Vinyasa is particularly good for increasing your energy levels, building muscle strength, and improving cardiovascular health.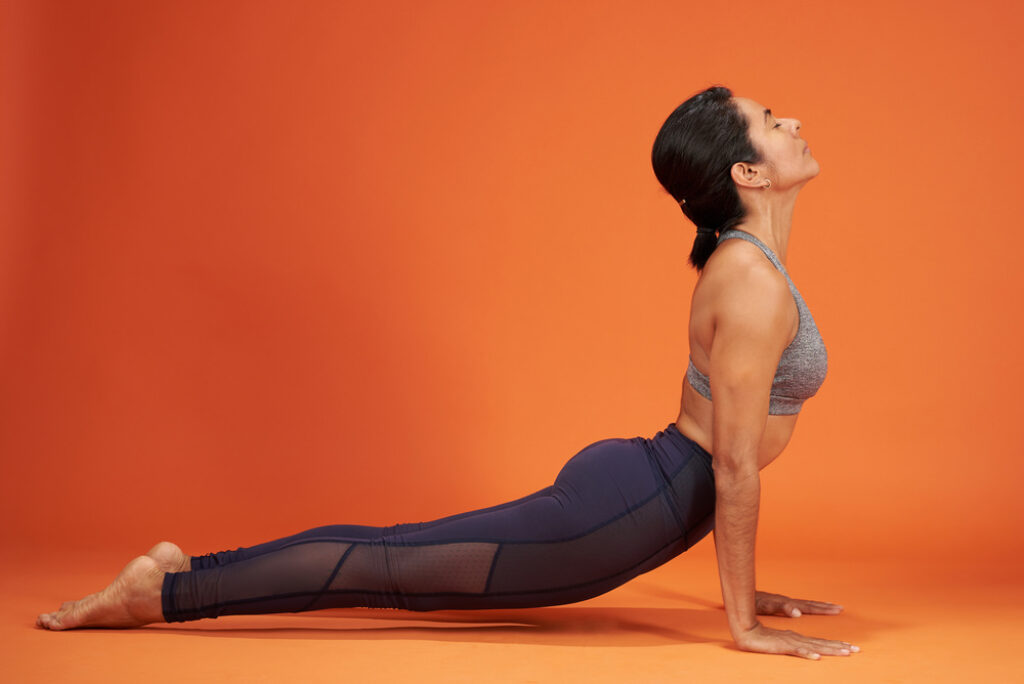 3. Ashtanga yoga
Many yogis believe Ashtanga to be the hardest yoga style, as you must master all postures in one series before moving on to the next.
Ashtanga yoga is a disciplined and physically strenuous style of yoga. There are six series, all of which have set yoga poses that must be practiced in a specific order.
Ashtanga Vinyasa is a blend of Ashtanga and Vinyasa, bringing more "flowy" and flexible sequencing options to the traditional Ashtanga yoga style. In this class, you'll follow an Ashtanga series but loosely, omitting or changing some poses.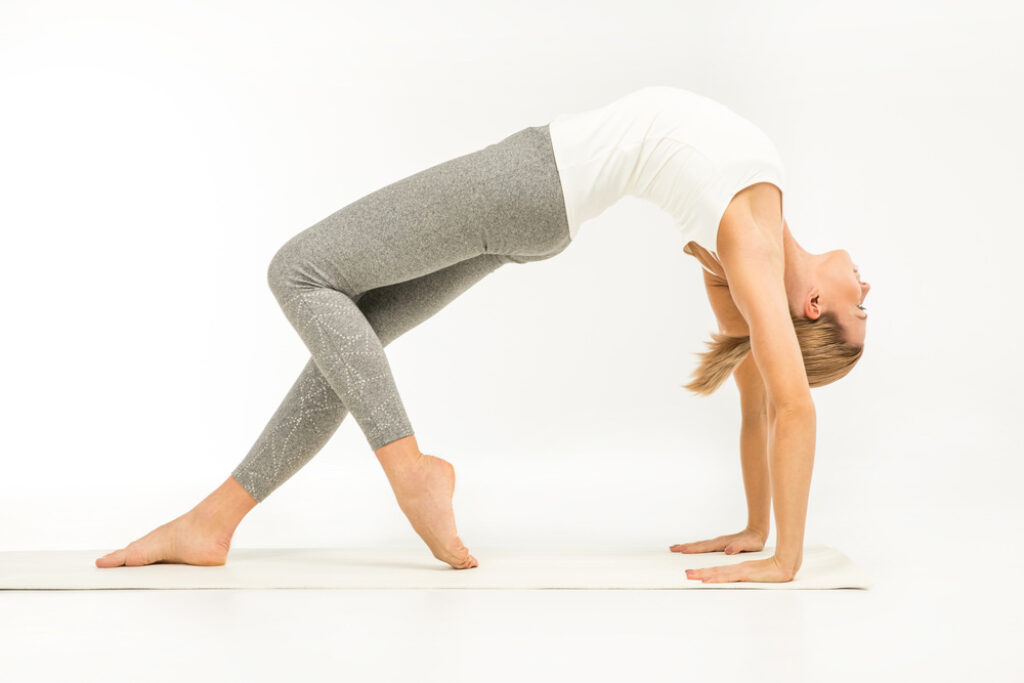 4. Power Yoga
Power yoga is a physical fitness practice widespread in gyms. It is similar to Vinyasa but is often faster and with additional upper body and core strength training.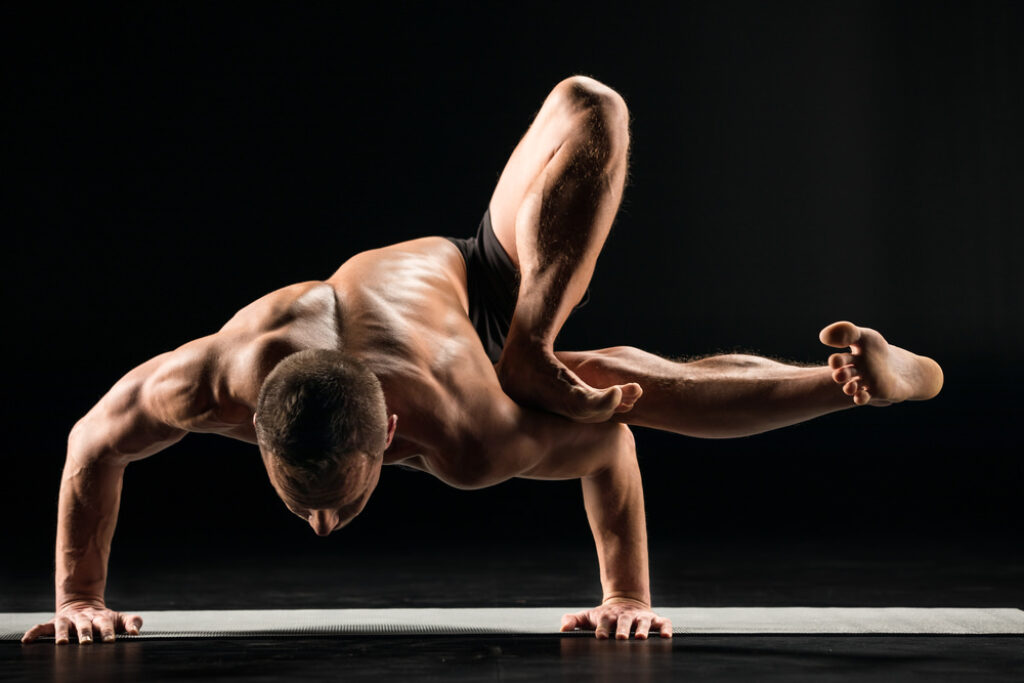 5. Iyengar Yoga
Unlike all the other styles, Iyengar yoga has a slower pace than traditional Hatha. This is because you hold each posture for numerous breaths, taking time to ensure you have the correct alignment. Iyengar yoga also incorporates props into the practice like chairs, for example.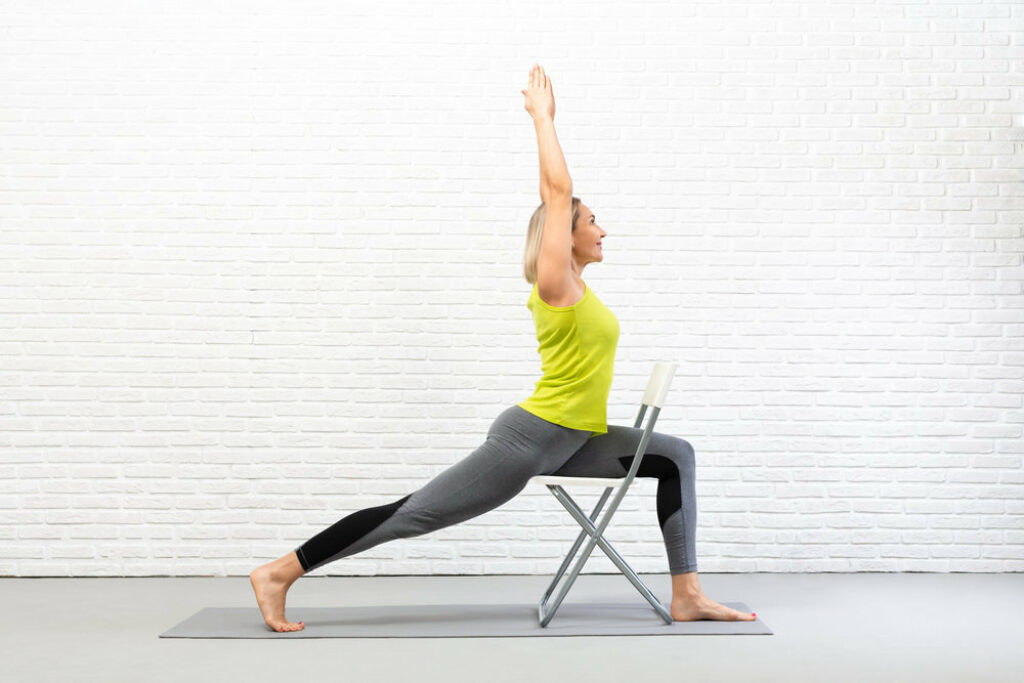 Takeaway on Hatha yoga vs Vinyasa
Whether you love Vinyasa or prefer traditional Hatha, a regular yoga practice brings endless benefits to the body, mind, and soul. Both Hatha yoga vs. Vinyasa help you build strength and improve flexibility in the entire body. In addition, they calm the mind, lower stress levels, promote better breath control, and so much more!
FAQ about Hatha yoga vs Vinyasa
Is Hatha yoga beginner friendly?
Hatha yoga is beginner friendly because of its long holds of yoga postures. Hatha yoga is less physically demanding than some of the other styles of yoga that are flow-based.
Is Vinyasa yoga the hardest?
A level 4 Vinyasa class will be very physically challenging. The difficulty of a Vinyasa class will depend on what level of class you are in.
Some online yoga studios, online yoga teacher training programs, and brands that we write about may offer us a small commission should you decide to make a purchase or signup after reading our content. Thank you for enabling us to exist!