I have been essentially solely practicing yoga online for over 8 years. Why? Because in September of 2013 I left my life in the United States as I knew it and I moved to a beautiful island in the Gulf of Thailand. Wahoo! But leaving the US meant also leaving my favorite yoga teachers, my favorite yoga studios, and my access to invigorating Vinyasa flow classes that I love so much. I quickly discovered that I would need to become resourceful to be able to maintain my fiery yoga practice while living in this new paradise. So I turned to the internet, and after months of trying different yoga teachers online and yoga platforms, I discovered what I consider to be the best yoga instructors offering online classes.
There's no question that yoga is a personal practice, and my favorite teachers may not end up being yours. But if you're looking for a fantastic four to practice with to find out if their teaching styles resonates with you, I highly recommend considering the four yoga instructors that I introduce below.
Some of the yoga instructors I've included teach on YouTube and offer what I consider to be the best YouTube yoga classes, while others teach on major online yoga studios or on yoga apps that you may have heard of before.
I've included everything from instructors teaching free yoga classes online to high-end boutique-style yoga studios that you can join that have a roster of famous teachers. There's truly something for everyone and I have quite honestly practiced for countless hours with each of these teachers that I'm recommending.
Why I love to practice yoga online
I love the flexibility of being able to practice yoga on my own time. I also love having a variety of classes beyond yoga, like barre and HIIT at my fingertips. The cost of taking yoga classes online is of course a fraction of the cost of an in-studio membership. Even the most expensive online yoga studio will cost you $49/month for unlimited access, and that's about double the cost of other platforms.
Another huge factor for me is that oftentimes I don't have access to great internet because I'm in the middle of a jungle or someplace crazy! With some of the yoga platforms I've detailed below, you can download classes for offline access to your device. Then there are really no excuses to not get on your mat every day. For me this feature is clutch.
So without further ado, I reveal my favorite 4 online yoga instructors:
(Click any name below to jump to more info about that instructor)
1. Ashley Galvin (Alo Moves)
2. Shelby Heintzelman (Commune Yoga)
3. Erin Sampson (YouTube)
4. Dice Iida-Klein (Glo)
Join Alo Moves For 25% Off!
100 new workouts added every month ✔️
2,700+ existing online yoga & fitness classes ✔️
Train with the world's best yoga instructors & fitness trainers at home ✔️
⬇Use code THEYOGATIQUE25 on Alo Moves below⬇
1. Ashley Galvin (Alo Moves)
Ashley Galvin knows no limits when it comes to intensity! If you like challenging sequencing and flow classes that are relentless until the very end of class then try Ashley's advanced online yoga classes on Alo Moves. Ashley's Vinyasa flow style classes are a two-for-one deal because not only do you get your yoga in, but you work a cardio session in as well!
Look forward to challenging asanas and postures that will push your physical limitations every moment that you are on the mat with her. It is quite possible that I've tried nearly all of Ashley's classes and I have several that are in consistent rotation in my life.
Ashley's teaching style certainly leans more towards using yoga as an exercise rather than a spiritual practice because her classes are so physically challenging. I wouldn't recommend Ashley's classes to a complete beginner yogi because the pace is fast and the transitions can be tricky. But whether you're looking for a quick morning yoga flow or a seriously strenuous 60 minutes on the mat, Ashley has you covered!
For a guaranteed sweat session every time, try Ashley.
| | |
| --- | --- |
| Ashley's classes are ideal for: | Intermediate to advanced |
| Where can you practice with Ashley: | Alo Moves |
| Cost of membership: | $149/year (exclusive 25% off discount offer) |
join Now
Alo Moves
Use code THEYOGATIQUE25 for 25% off ✔️
100 new classes added each month ✔️
2 week free trial ✔️
No questions asked easy cancellation ✔️
Workouts, barre, HIIT, meditation, yoga, recipes & more ✔️
Read the full Alo Moves review to learn more about Alo Moves.
2. Shelby Heintzelman (Commune Yoga)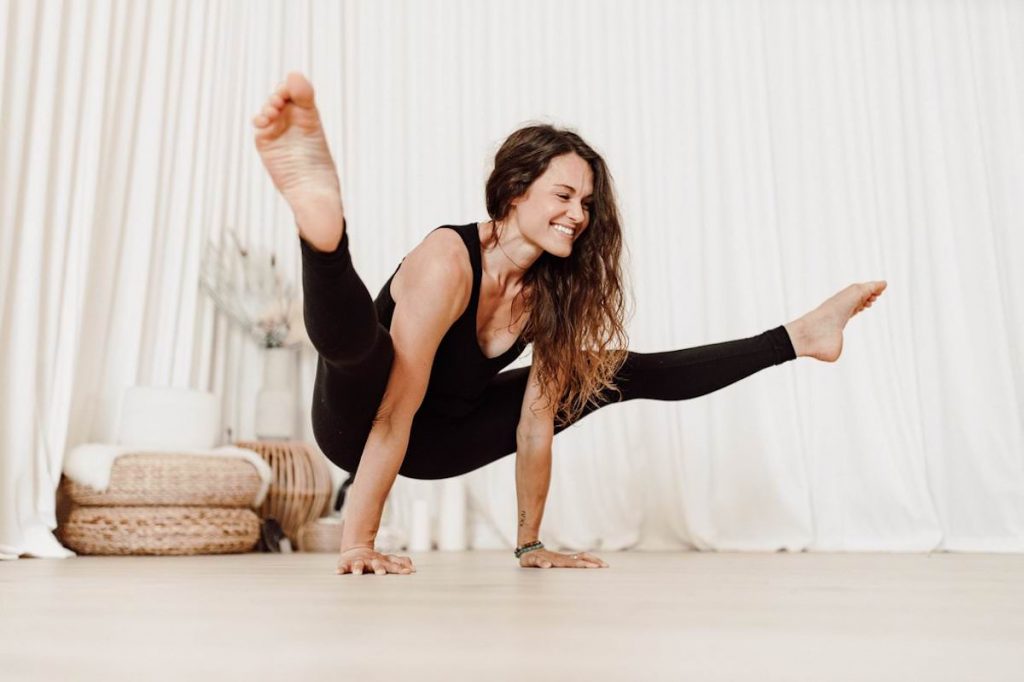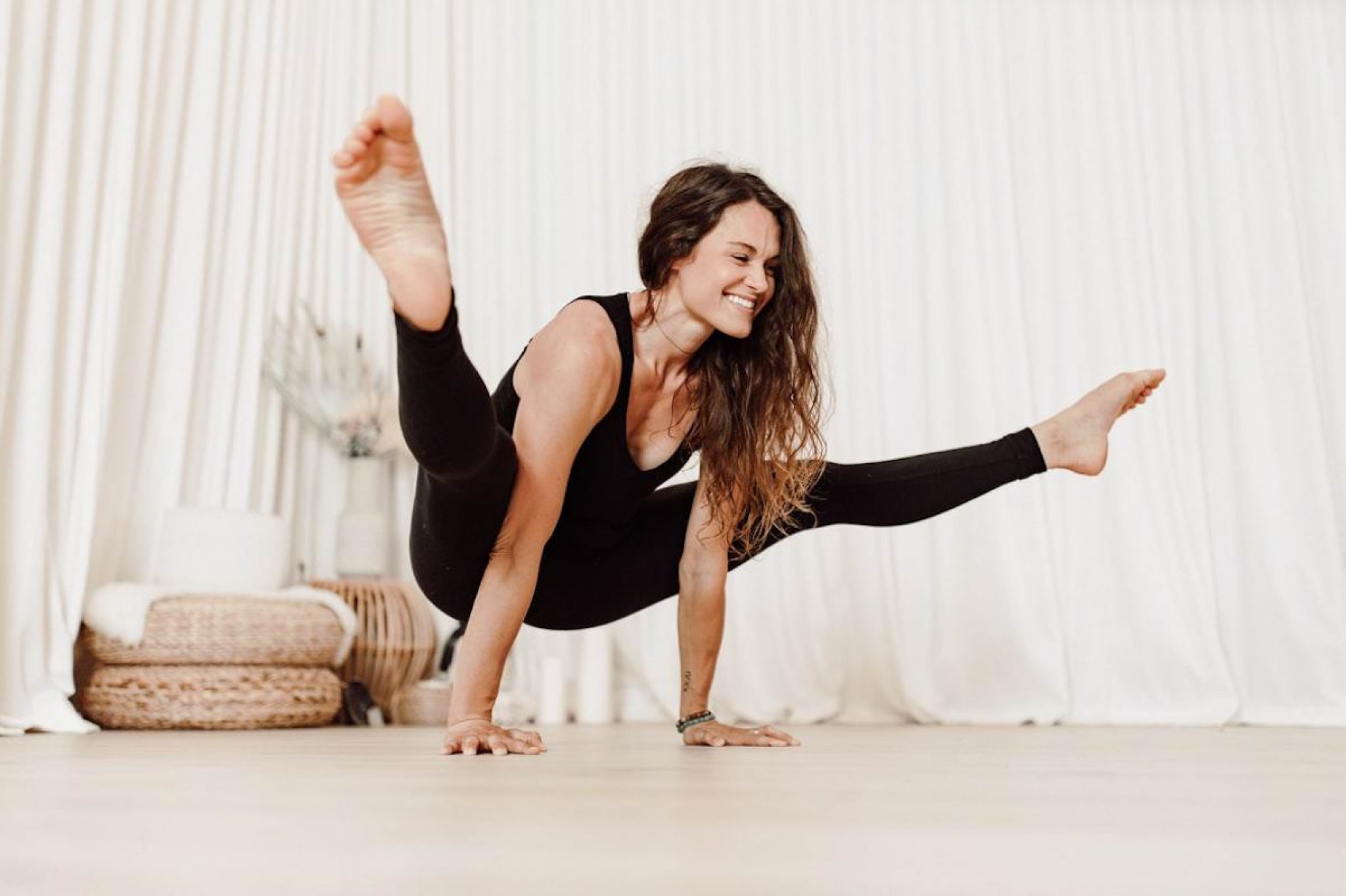 Shelby Heintzelman may not be a name that you're familiar with (yet) but believe me, this woman might just change your world! Commune Yoga is owned by Carling Harps and Patrick Beach – two names you may be familiar with being that they are two of the most recognized names in modern yoga.
Shelby earned her 300 hour yoga teaching certification at Awakening Yoga Academy, Carling and Patrick's yoga teacher training academy so she's got that really juicy and organic vibe woven throughout her classes. Having Carling and Patrick as her mentors, her style has been strongly influenced by them and that is reflected in her teaching. Her whimsical disposition, effortless movement, impeccable cueing, and creativity are really something special. Shelby exudes the principles of the 8 limbs of yoga.
Commune Yoga is on the pricier side, but their small team of teachers are so dynamic that honestly, I think it's worth it. If you've never tried a mobility flow with Carling Harps, your body is in for a real treat!
Side note: I'm pretty much obsessed with all of the instructors on the Commune Yoga website, but Shelby is my addiction.
| | |
| --- | --- |
| Shelby's classes are ideal for: | Intermediate to advanced |
| Where can you practice with Shelby: | Commune Yoga |
| Cost of membership: | $30/month |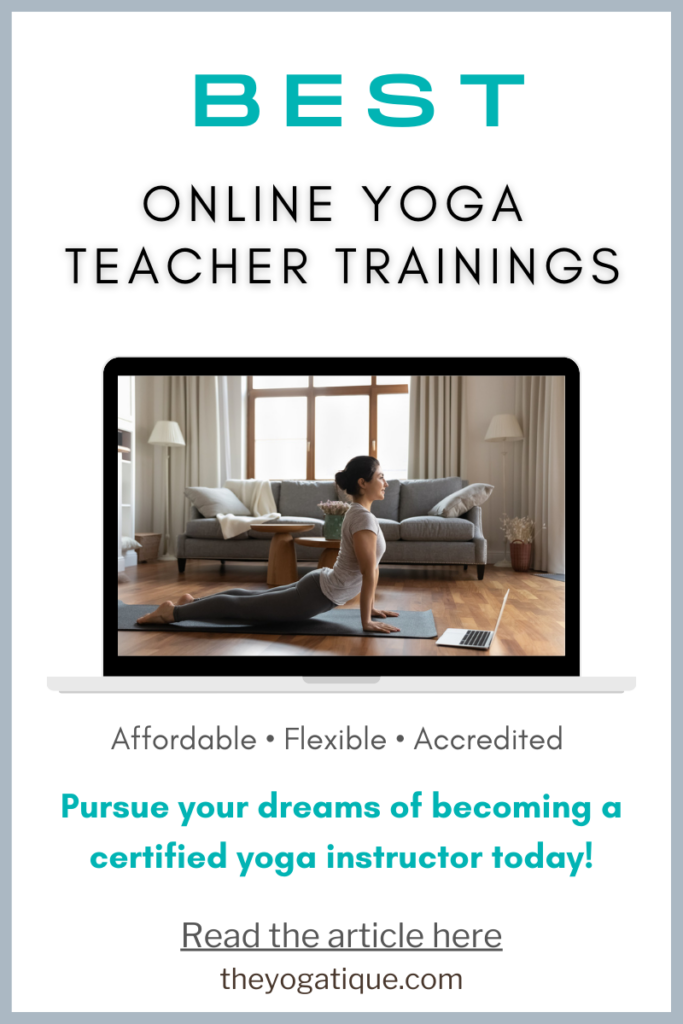 IS YOGA TEACHER TRAINING ON YOUR RADAR?
Online Yoga Teacher Training Offers
Affordability ✔️
Flexibility ✔️
Certification ✔️
Lifetime access ✔️
⬇Click below to discover the best Yoga Alliance registered online YTT's to join now ⬇
3. Erin Sampson (YouTube)


Erin Sampson is the owner of Five Parks Yoga based in Boulder Colorado. I don't recall exactly how I stumbled upon Erin many years ago on YouTube but I love her free YouTube yoga classes. They are challenging enough, but not too challenging. In the years past Erin has consistently put out new free yoga videos, but in mid 2021 she had an injury that slowed down the release of new classes. But not to worry, there are hundreds of past yoga classes you can press play on and she's recovering from her injury so
What I like about Erin is her authenticity, relatability, and creativity. Her classes are literally ideal for any level and they're always different. Some yoga instructors may begin to turn to the same poses a little too often, but Erin doesn't do that.
If you're looking for free yoga classes then Erin is your girl.
| | |
| --- | --- |
| Erin's classes are ideal for: | All levels |
| Where can you practice with Erin: | YouTube |
| Cost of membership: | Free |
Get my picks for the best streaming yoga platforms here.
4. Dice Iida-Klein (Glo)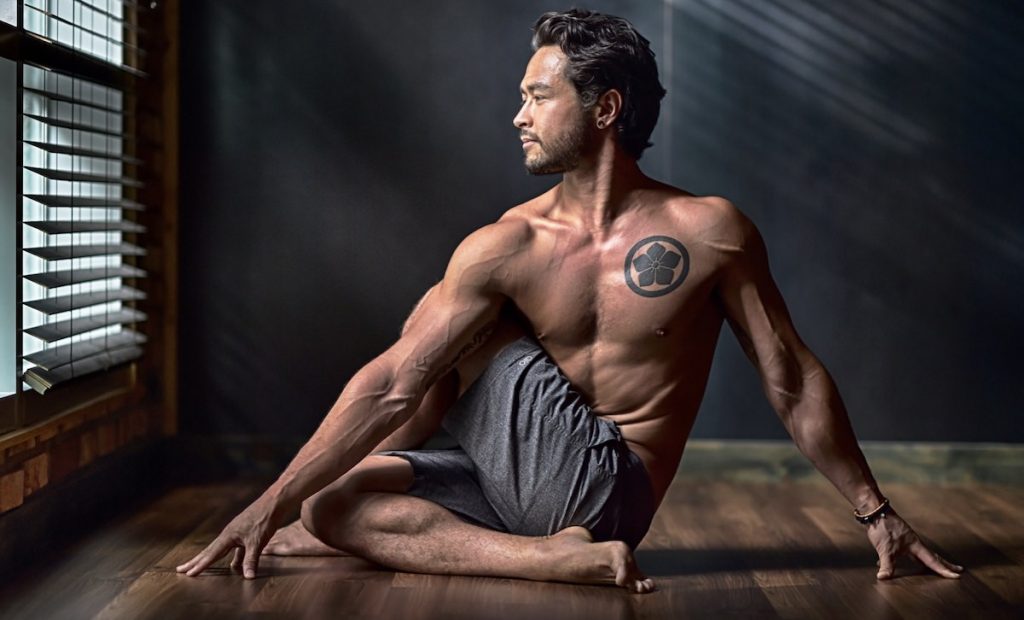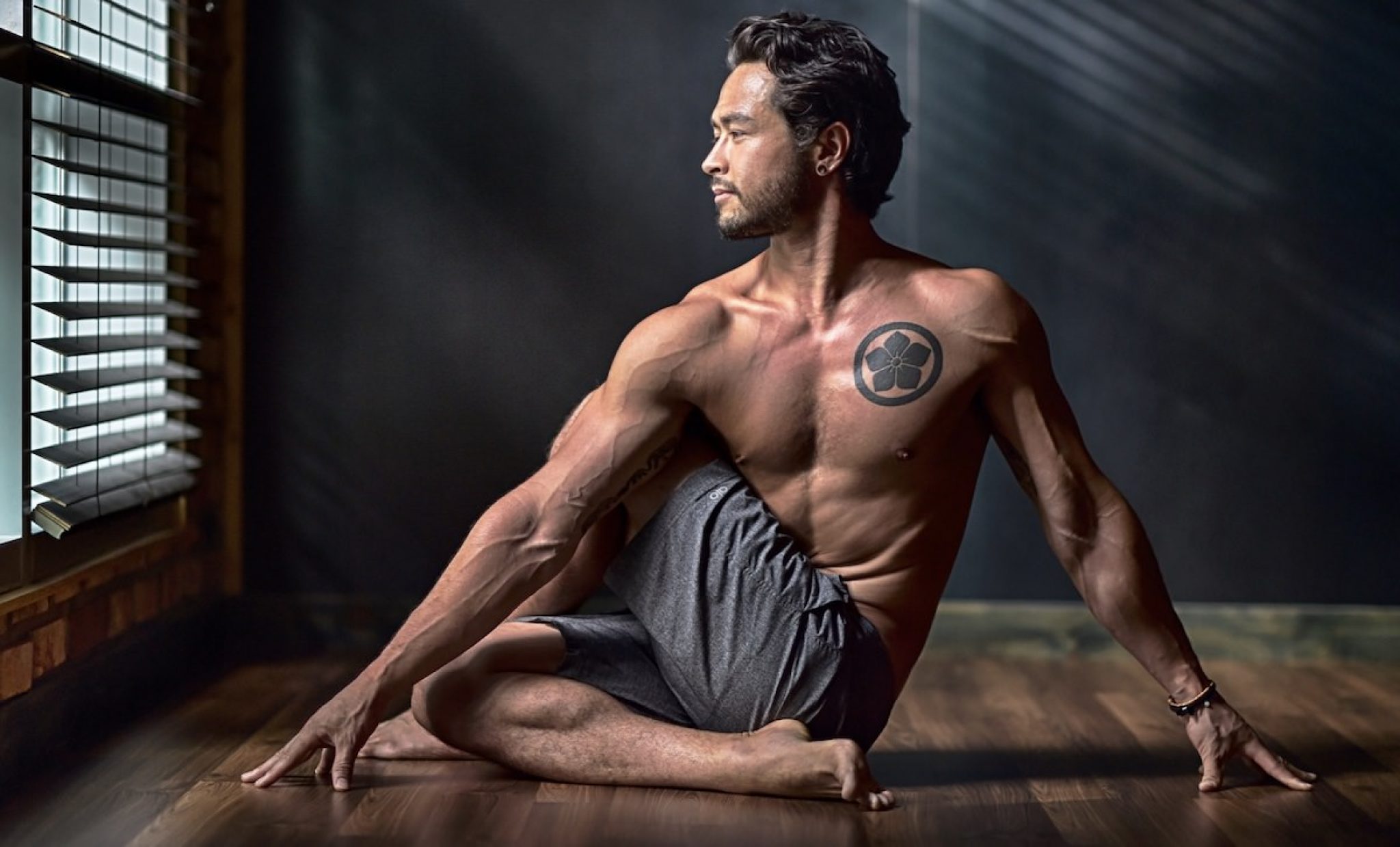 I think that many years ago when I was on YouTube a video with Dice appeared in the right sidebar on YouTube as a yoga video that YouTube thought I would like based on my search history. And YouTube thought right!
At that time I did not know anything about Dice, or the fact that he's actually a rather well-known name in the yoga world, but I was intrigued by him. After searching for more at-home yoga classes on YouTube with Dice I found that the options were scarce on YouTube because Dice teaches yoga classes on Glo. So I joined Glo!
Sometimes male yoga instructors can be too challenging for me, or too handstand-focused. Make no mistake about it, Dice's yoga videos are strength-based classes but they're not over the top. Brice does some mandala-style type flows which always keep me on my toes and he also teaches ladder flows.
For someone who has never done a yoga class, I wouldn't suggest jumping right into one of Dice's classes, but if you are fairly familiar with foundational yoga poses and you like a challenging flow that doesn't move at a really fast pace then Dice could be the ideal yoga instructor for you.
| | |
| --- | --- |
| Dice's classes are ideal for: | Intermediate and up |
| Where can you practice with Dice: | Glo |
| Cost of membership: | $18/month |
I hope you enjoy practicing with these yoga instructors as much as I do!
Some online yoga studios, online yoga teacher training programs, and brands that we write about may offer us a small commission should you decide to make a purchase or signup after reading our content. Thank you for enabling us to exist!