Alo Moves has taken center stage in the online yoga world and online fitness app arena. This brand has upped the ante and raised the barre (pun intended) for how to create a subscription-based yoga platform that people use, love, and get real results from, and all at a very reasonable cost. As an 8 year Alo Moves member myself, I'm going to share some things with you that you may not know about this exemplary brand.
Did you know that behind all of the awesome advertising and celebrity ambassadors at Alo is a mission-driven brand with mindfulness leading the decision-making process in everything from new product development to yoga video production? Well it's true, the Alo Yoga brand, which owns Alo Moves, is committed to sustainability, ethical practices, and creating a work environment where their employees all around the globe are supported.
How does Alo succeed at being an ethical corporation? By hiring third parties to oversee the exact processes where many other big companies fail at ethicality.
Join Alo Moves for 25% off!
100 new workouts added every month.
2,700+ existing online yoga & fitness classes.
Train with the world's best yoga instructors & fitness trainers at home!
Use code THEYOGATIQUE25 on Alo Moves below.
Ethics
WRAP is the independent watchdog company that Alo uses to ensure ethical practices at their manufacturing facilities. So what exactly does that mean? That means that the Alo employees who are working on the production lines are working in sweatshop-free environments, and WRAP oversees this. This means that Alo meets WRAP's expectations on what they consider to be fair pay, standard working hours and clean, safe working conditions.
Environment
Alo's headquarters in Los Angeles is completely solar-powered, and there are many other initiatives they've taken to reduce the carbon footprint of the company and their employees such as their recycling program and solar power stations on-site for electric cars.
ALO stands for Air, Land, Ocean…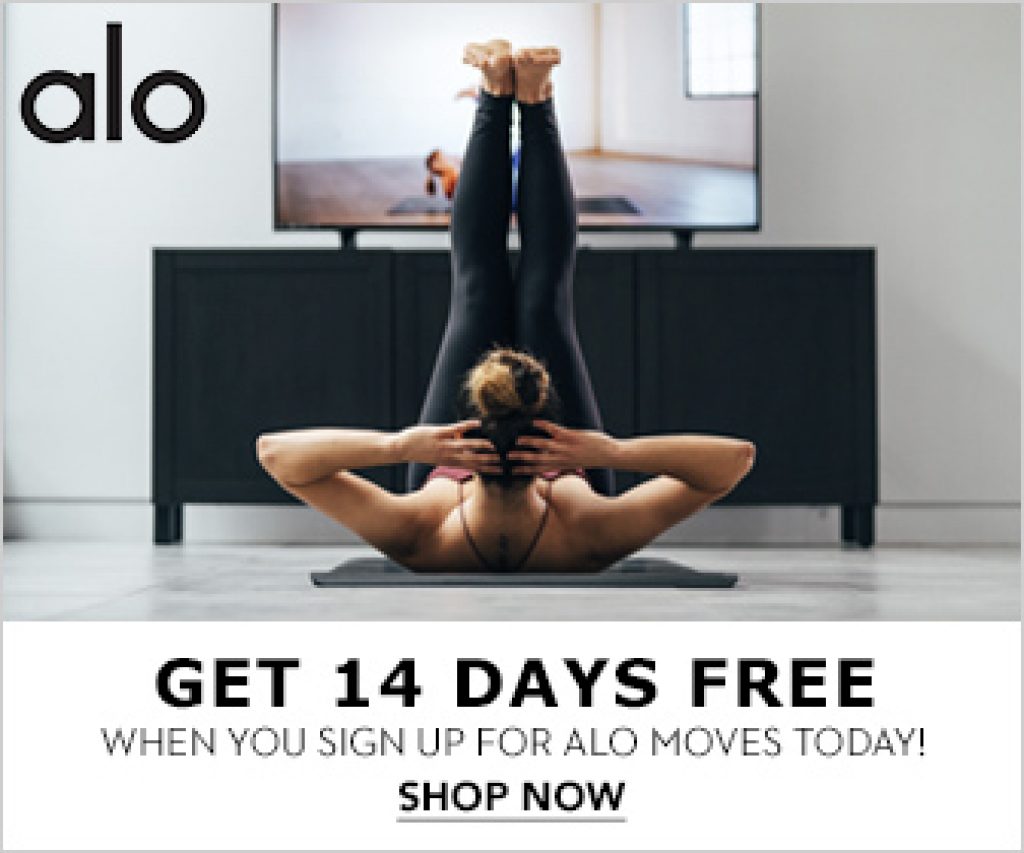 Education
At Alo, they believe that mindfulness practices and yoga can begin at any age. Alo Gives is an awesome program that provides free online yoga videos for kids! The concept is for these quick and simple mindfulness and yoga videos to be introduced into classrooms so that kids can begin developing skills such as breathing and being in the present at a very young age.
5 things you don't know about Alo Moves but should
1. Alo Moves is not just yoga. Alo Moves also offers –
Barre
Breathwork
Core
HIIT
Meditation
Mindfulness
Personal development
Pilates
Sound baths
Strength
Stretching
Yoga nidra
Yoga pose skill building
Yoga teacher resources
2. Alo Moves is great for beginners. Alo offers several series and online yoga classes specifically for beginner yogis. Alo Moves has also created a very comprehensive video series featuring Sri Dharma Mittra that includes video tutorials that define and demonstrate 36 yoga postures. This is a great beginners resource!
3. Alo Moves has an app available for both iOS and Android devices. Using the app you can download your favorite workouts and take them anywhere and everywhere – even where you don't have internet.
4. Alo Moves is very easy to cancel. Although as an 8 year Alo Moves member myself I doubt you'll want to cancel! But should you want to cancel your Alo Moves subscription it's very easy. Simply login to your Alo Moves account and go to Settings – Manage My Membership and hit Cancel Membership. No need to email back and forth with anyone at the corporate hq to cancel, which is always a relief!
5. Alo Moves offers live online yoga classes. If you're not an Alo Moves member yet but you follow an Alo Moves instructor like Ashley Galvin on Instagram you can stay up to date on the live classes being offered by the yogis that you're following on IG. But otherwise, as a non Alo Moves member it would be hard to stay up to date on Alo Moves live class schedule, which they do post on their website, but the schedule is only available for Alo Moves members to see.
So that's a wrap on 5 things about Alo Moves that you didn't know but do now!
With over 2,500 classes, 70 instructors, and 5-star app rating are you ready to become an Alo Moves member yet?!
Use code THEYOGATIQUE25 to signup for Alo Moves at 25% off below.
Some online yoga studios, online yoga teacher training programs, and brands that we write about may offer us a small commission should you decide to make a purchase or signup after reading our content. Thank you for enabling us to exist!