A Sherpa jacket or a Puffer jacket is kind of a must this season, don't you think? These faux-fur and recycled material oversized cozy jackets by Alo Yoga aren't new, but that doesn't mean that it's too late for you to get in on the trend! We've got the scoop on all of the color and style options for Alo Yoga Sherpa and Alo Yoga Puffer jacket collections for you right here.
---
Article content:
(Click any link below to jump directly to section)
---
The celebrities spotted sporting Alo Yoga
So you may have noticed celebrities like Kendall Jenner rocking Alo gear lately. Taylor Swift, Hayley Baldwin, and Gigi Hadid have also been spotted in Alo Yoga leggings. Why? Because the cut and fit that this brand crafts make you look and feel fantastic! Alo Yoga has put the time and research in to create form-flattering, high-quality apparel that have become a must-have for all of the hottest stars and models.
Alo Yoga – an eco-friendly brand
Another reason Alo Yoga is so popular is because it is an eco-friendly brand that puts the environment and their employees first. Alo, which stands for Air, Land, Ocean has committed to sustainable practice and being sweat-shop free.
The brand has earned a globally-accredited platinum certification from WRAP, an independent watchdog company that verifies that their production facilities operate in ethical ways. And, Alo Yoga's L.A. locations and flagship headquarters are powered by solar power! So cool.
Alo Yoga online yoga classes and other apparel and jewelry offerings
Alo Yoga does not just produce apparel and yoga mats, this brand offers everything you need to live your best yogi life. To perfect your asana practice look no further than Alo Moves – Alo's online yoga platform (formally known as Cody App) which hosts thousands of premium online yoga, barre, fitness, HIIT, and other classes.
Besides apparel, classes, and gear, Alo has also gone into jewelry, making some of the most gorgeous mala necklaces and bracelets ever. And again, remaining true to their ethos – their precious gemstone collection is handmade in Tibet.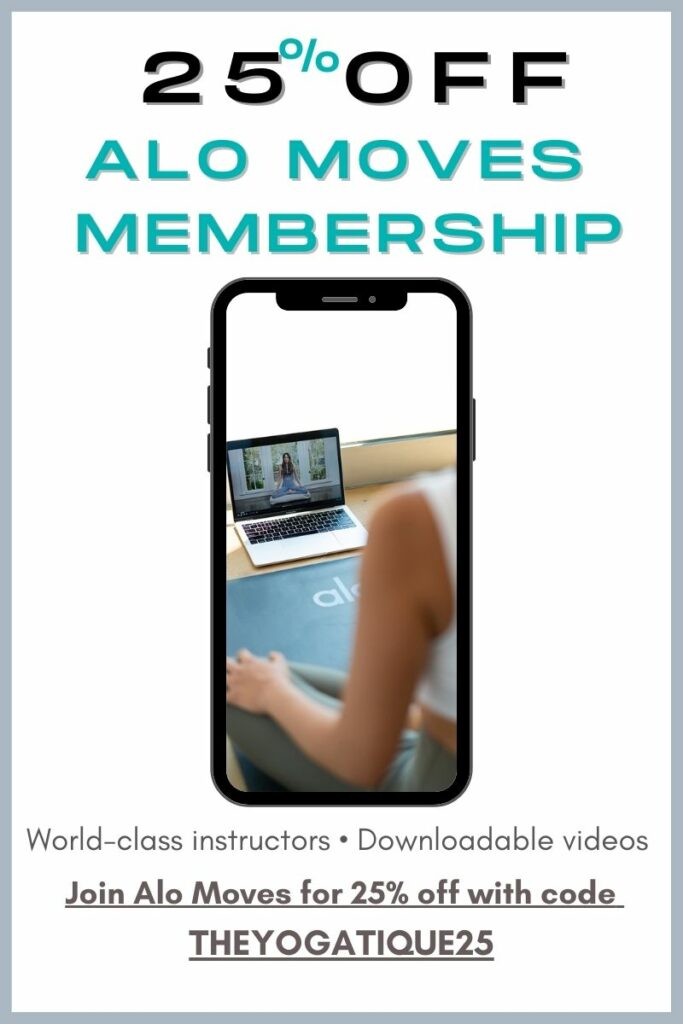 Join Alo Moves For 25% Off!
100 new workouts added each month
Downloadable workouts & yoga classes
2,500+ existing classes
World's best instructors
⬇Use code THEYOGATIQUE25 on Alo Moves⬇
Let's look at Alo Yoga's hottest jackets
Alo Yoga Sherpa jackets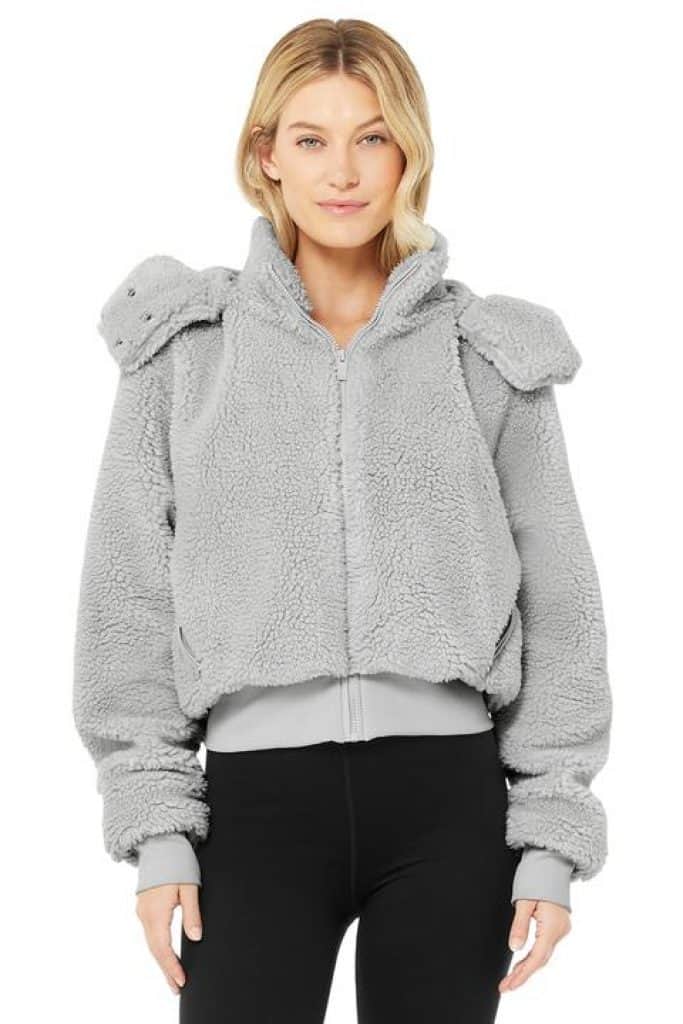 A Sherpa jacket will have you feeling hot and looking cool! This signature Winter jacket by Alo Yoga is sported by the hottest celebs and social media influencers. Why? Because they are kind of too. die. for. Don't you think?!
There are seven styles of this plush overcoat to wrap yourself up in – yes seven.
Click the shop link below and get 10% off your order when you signup for the Alo Yoga Newsletter on aloyoga.com.
Pay in full or make payments with no added interest on Alo.
---
Alo Yoga Puffer jackets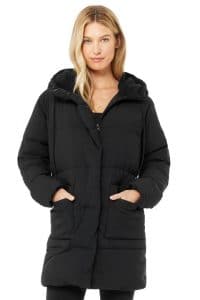 Cocoon yourself inside of a Puffer jacket and never feel cold this Winter. Alo Yoga Puffer jackets are perfect to go from the slopes to the streets with their sleek look and ultra-warm and weather-ready recycled DWR ripstop material.
There are currently three different style options available in this eco-friendly, recycled-material coat. From short and sweet to calf-length and cozy, one of these three classic length coats should strike your fancy.
Click the shop link below and get 10% off your order when you signup for the Alo Yoga Newsletter on aloyoga.com.
Pay in full or make payments with no added interest on Alo.
Looking for more interesting yogi lifestyle content? See our post about how to avoid a headache after yoga and check out our blog to discover more about online yoga classes and online yoga teacher training courses.
Some online yoga studios, online yoga teacher training programs, and brands that we write about may offer us a small commission should you decide to make a purchase or signup after reading our content. Thank you for enabling us to exist!