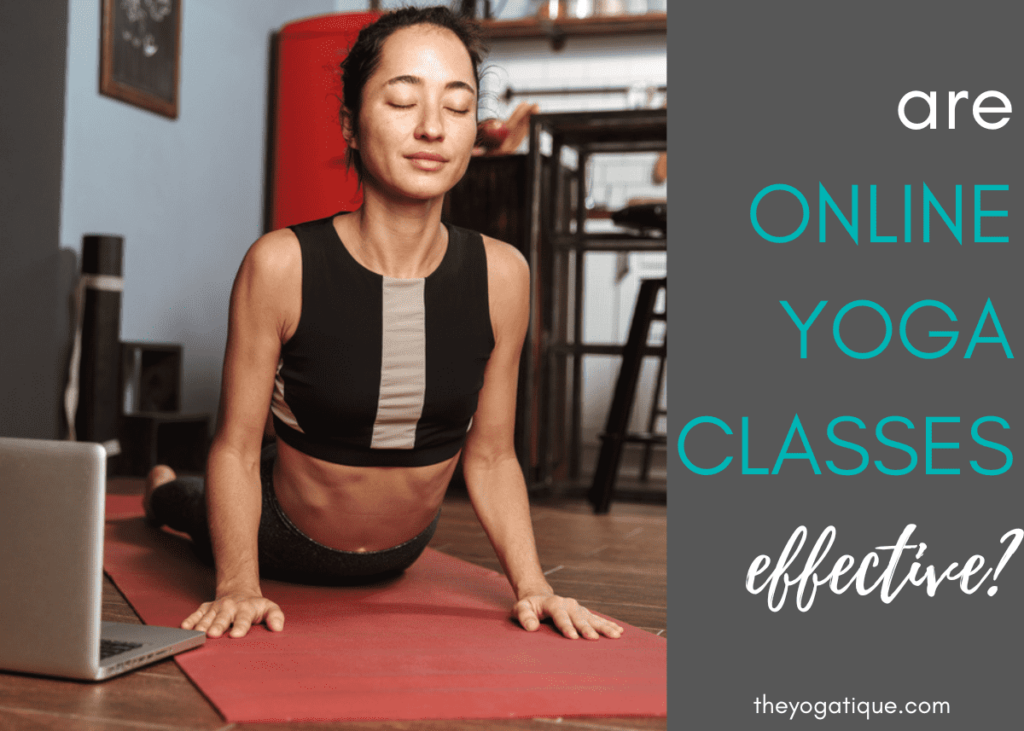 As a person who has been living a "location independent" lifestyle for 9 years, I began practicing yoga exclusively online when I left the United States to go explore the globe long ago. I immediately found online yoga classes to be very effective and the ideal replacement for my in-studio yoga practice that I left behind. In this article, I'll get into why and how online yoga classes offer me everything I need to keep my yoga practice strong, varied, and consistent. If you've been wondering are online yoga classes really effective, read on!
When I was previously living in San Diego, I was practicing yoga at Yoga Six in Point Loma, a yoga studio that specializes in heated Vinyasa classes.
I essentially solely practice Vinyasa yoga then and now, although I'm working on incorporating different styles of yoga into my life more often, like Yin because I truly believe in the benefits of Yin and other slower practice styles like Restorative as well. 
Because I typically prefer to practice Vinyasa, which at the time I wasn't able to find easily in other countries, I found Codyapp online by way of Google.
Codyapp, now known as Alo Moves, introduced me to yogis like Briohny Smyth, Ashley Galvin, and Carling Harps, all three of whom were leading the Vinyasa style flows online that I am partial to.
I was hooked on Alo Moves, and I've been a member ever since!
---
Article content:
(Click any link below to jump directly to section)
---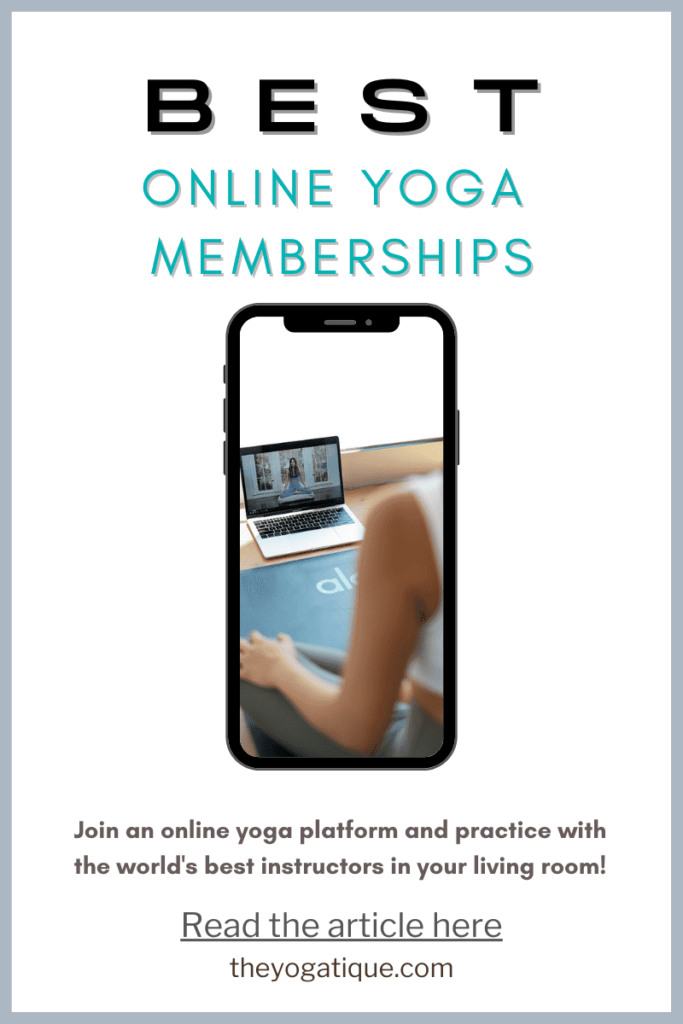 SEARCHING FOR THE BEST
ONLINE YOGA MEMBERSHIP TO JOIN?
Online Yoga Subscriptions Offer
Countless classes
Best instructors
⬇Click below for the best online yoga memberships⬇
Is online yoga good?
Online yoga classes are a very good way to maintain your yoga practice without being tied to a specific yoga studio.
Of course, the quality of online yoga classes and online yoga platforms will vary depending on a few factors like the teaching experience and communication styles of the yoga instructors, the sound quality, and even the filming caliber.
This is why in my opinion, it's better to become a member of a paid online yoga platform rather than do free online yoga classes. 
Paid online yoga platforms offer a higher quality experience, in my opinion.
It is my belief that, generally speaking, the quality of classes are better with paid online yoga subscription memberships.
And let's be real, even the most expensive online yoga membership may put you out about $35/month – doing yoga online is very economical.
Considering that $35/month (on the very high end) gets you access to extraordinary and highly qualified yoga teachers like Dice Lida-Klein on Glo, and unlimited classes, the cost is even more justifiable.
You will literally be able to train with the best yoga instructors in your own living room by becoming a member of an online yoga studio.
One of my favorite examples of this is Commune Yoga, founded by Carling Harps and Patrick Beach. I would never be able to attend in-person yoga classes with them or their team because I don't live in the area, but I am a monthly subscriber to their online yoga platform, and my body has never moved in the ways that it does in a Commune Yoga class. I'm not kidding.
Commune Yoga's signature Awakening Yoga style is absolute magic. Shelby Hintzeman is one of my favorite yoga instructors from their team. Learn more about why she's one of my favorite online yoga instructors.
How does an online yoga class work?
Taking an online yoga class is quite simple, but there are some tips that can help you get the most out of your online yoga experience.
Tips for taking an online yoga class:
Quickly determining which yoga props are being used in the class is wise so that you can quickly pass on the classes that require props that you don't have around. You can often see the props being used within the first 30 seconds of the video (the props may also be in the photo that is used for the class promo image).
Use the filters for class duration/time if you know you are definitely looking for a class that goes for a certain amount of time 30-45 mins, for example. Doing this is ideal if you are on a time crunch OR you prefer to take classes of a certain length.
Filter by newest class. This is my favorite way to filter classes because I have taken SO MANY online yoga classes on the platforms that I am a member of, Alo Moves and Commune Yoga. Because I have taken so many existing classes (and many multiple times), I like to see the newest classes first.
The faster you are able to get into your flow, the more likely you are to do it.
The paradox of choice becomes a thing when we have so many options presented to us, like hundreds or thousands of yoga classes.
This is why I like to try to decide on a class as quickly as possible so that I don't end up scrolling on the online yoga platform endlessly like its social media (this happens).
What is the cost of online yoga classes?
On the very high end, an online yoga membership will only cost you just over $1/day. So if you take 1 class/day that's about $1/per class. Not bad, right?!
Most online yoga memberships actually cost significantly less than that. About $1/day assumes that the online yoga platform costs $35/month, which most do not. Most online yoga memberships are under $20/month.
See our online yoga comparison chart, which breaks down all of the major online yoga platforms and includes stats like price, number of classes, etc.
Benefits of online yoga classes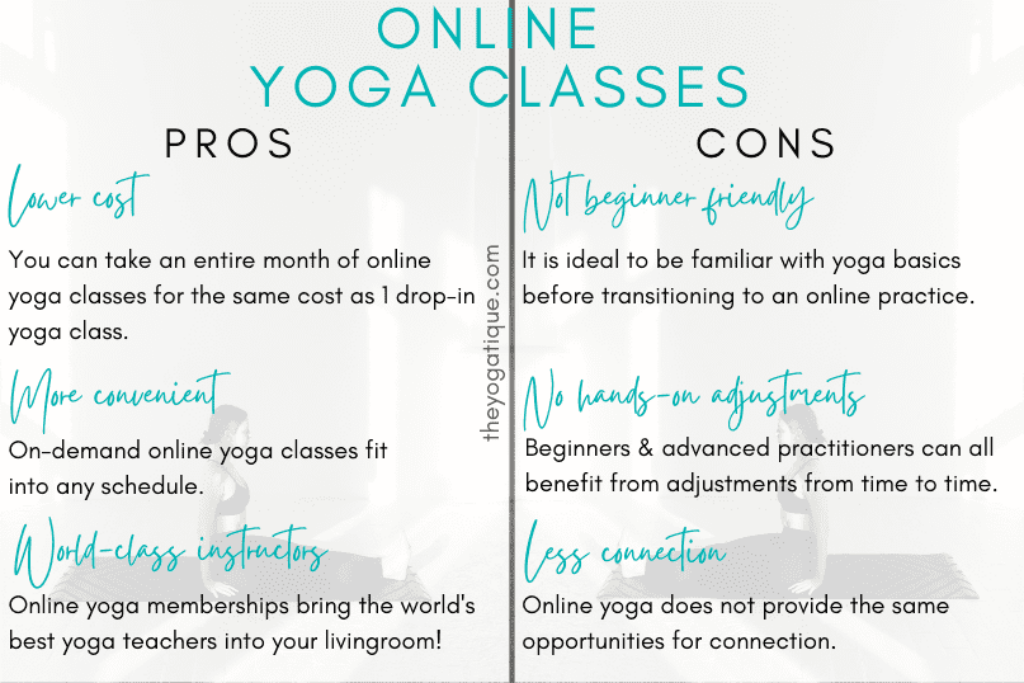 The three biggest benefits of online yoga classes are that they are less expensive and more convenient than in-person yoga classes, and you have more quality instructors at your fingertips.
Advantages of online yoga classes
Those three major benefits mentioned above also go for online yoga teacher training, which, in case you didn't know, is a thing!
Cost, convenience, and quality are what make online yoga teacher training so appealing as well. Discover the best online yoga certification courses, and you'll learn why online YTT's are such a popular option.
Disadvantages of online yoga classes
Personally, I would not recommend online yoga to a person who has never done any yoga in their life before. While I do think that online yoga classes are suitable for beginners, I don't think they are ideal for people who are not familiar with the basics of yoga.
When I first began practicing yoga about 15 years ago, I attended an intro series at Shakti Vinyasa Yoga studio in the United States.
It was a 2-week program, and the class met twice a week for 4 weeks. Over the duration of the course, we learned the basic alignment and form of 53 yoga postures which gave me a very solid foundation from which to build my practice. 
When and if possible, I suggest attending an in-person introduction to yoga before taking your practice online.
Takeaway are online yoga classes effective
I hope I have helped you to clarify if online yoga classes are for you. I think if you try them, you will find them to be very effective too! Overwhelmed by online yoga subscription choices these days?! Here's my list of the best online yoga studios to join today!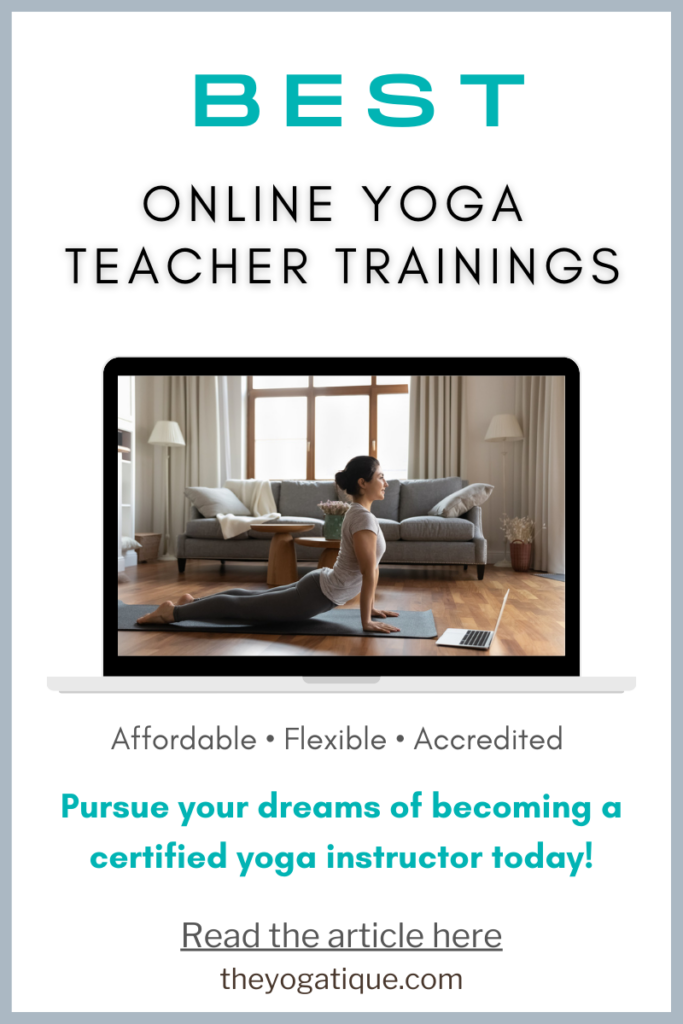 IS YOGA TEACHER TRAINING ON YOUR RADAR?
Online Yoga Teacher Training Offers
Affordability
Flexibility
Certification
Lifetime access
⬇Click below to discover the best Yoga Alliance registered online YTT's to join now ⬇
Still curious to better understand basic yogi principles and how to live a yogi lifestyle? Check out our article about the 8 limbs of yoga and lean into your yogic path.
FAQ about online yoga classes
What is the disadvantage of online yoga?
The disadvantage of online yoga is that you need to be very disciplined and motivated to do yoga on your own! Aside from that, it is my personal suggestion that beginners attend an in-person intro to yoga series, if at all possible, to learn the basic principles of alignment.
How many times a week should you do a yoga class?
The answer to this depends on your fitness level. A beginner may be quite sore when starting yoga and thus should only practice 2-3 times per week. While an advanced yogi can practice yoga 5 times per week without issue. That said, regardless of your level, listen to your body and give yourself rest and recovery days.
Some online yoga studios, online yoga teacher training programs, and brands that we write about may offer us a small commission should you decide to make a purchase or signup after reading our content. Thank you for enabling us to exist!