Alo Yoga's best-selling Warrior Mat is an absolute necessity to take your yoga practice to the next level. The thickness, grip, and quality of the famous Alo Yoga Warrior Mat will have you rooted and grounded, flowing, and flying. Discover what makes this mat a must in my Alo Yoga Warrior Mat review.
Over the years, I've collectively spent hundreds of dollars on yoga mats that needed to be replaced all too often. Well, that trend stopped after I invested in an Alo Warrior Mat.
Save your money and the environment by choosing an Alo yoga mat. If you've been wondering if Alo Yoga mats are good, keep reading to discover why Alo Yoga mats are not just good, they're great.
---
Article content:
(Click any link below to jump directly to section)
---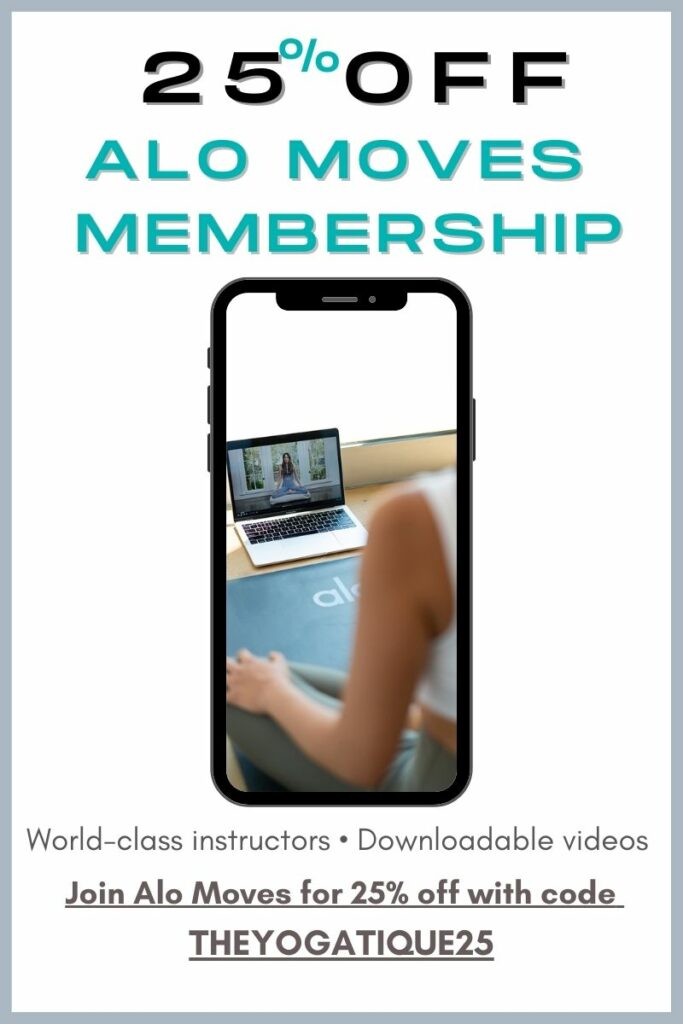 Join Alo Moves For 25% Off!
100 new workouts added each month
Downloadable workouts & yoga classes
2,500+ existing classes
World's best instructors
⬇Use code THEYOGATIQUE25 on Alo Moves⬇
My review of the Alo Warrior Mat – uncovering what makes this mat better than the rest
Materials: Alo Yoga uses non-toxic materials that last
The Alo Yoga Warrior Mat is made with an all-natural rubber bottom and an antimicrobial bacteria-resistant polyurethane leather top.
According to Leafscore's article all about toxins found in yoga mats, all-natural rubber mats are especially known for their great grip. Hence the unbreakable bond you'll feel with your Alo Yoga Warrior Mat. Alo's best-selling mat is also PVC free, formaldehyde-free, and non-toxic (whew).
Non-Slip grip: The Warrior Mat's dual-sided non-slip grip
The Alo Yoga Warrior Mat will have you holding that peak vinyasa pose like a pro and staying rooted and strong in your warrior 2 longer than ever. The secret? Alo Yoga's dual-sided non-slip grip.
If you've attended an Alo Moves online yoga class, then you've witnessed this magic mat in action as all of the Alo Moves yoga instructors use the Warrior Mat. Even in a hot yoga class, you'll be sticking those poses like a pro on this professional yoga mat.
Thickness: The Warrior mat has 4.2mm of thick padding for cushiony comfort
Cushiony comfort is a must for those long 90-minute yoga classes we love. We've all experienced that moment when we're in low lunge, camel pose, or the like, and our knees feel like they are directly on the floor with nothing in between. No thanks.
This generously padded 4.2mm yoga mat gives your knees and whole body a break. The standard yoga mat on the market is 3.3mm thick, so Alo invites you to spend more time on your mat with an extra millimeter of plushness.
Ethical manufacturing: Alo Yoga mats are ethically manufactured & sustainably produced
A few of the reasons that Alo Yoga is so popular is because Alo Yoga creates long-lasting, fashionable, and functional yoga mats and apparel that are ethically sourced and manufactured.
The Alo Yoga brand truly cares about their global workforce and maintains high standards pertaining to controlling the negative impact their production processes may have on the environment. Alo Yoga is 100% sweatshop-free, certified by Wrap, the #1 independent watchdog company. I personally feel very strongly about supporting companies that take care of their laborers abroad.
Color selection: The Alo Yoga Warrior Mat series is available in 6 core colors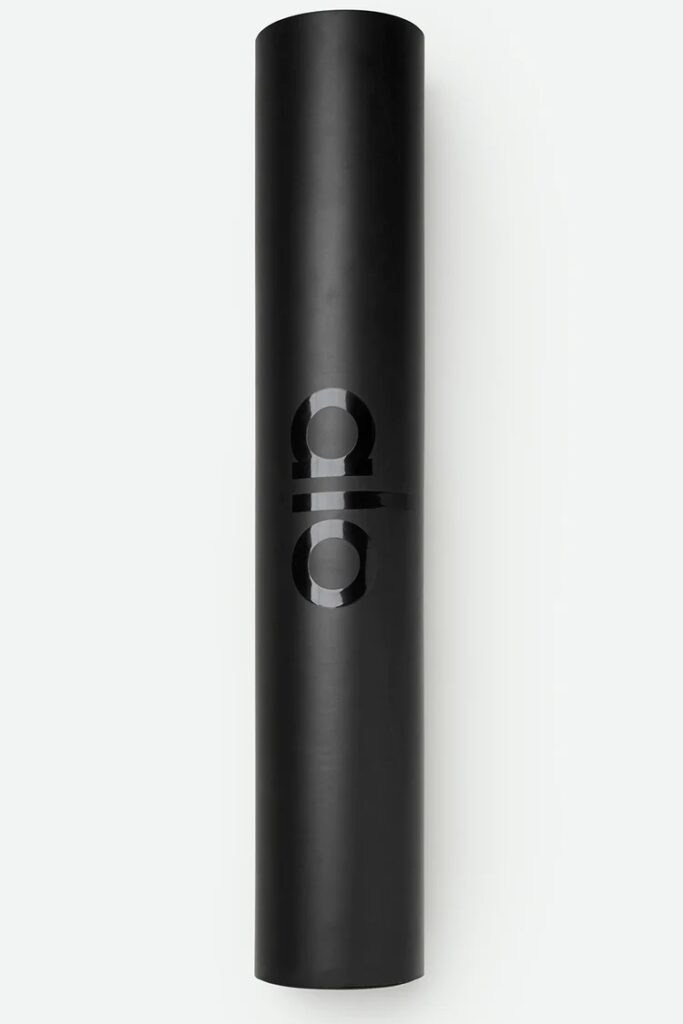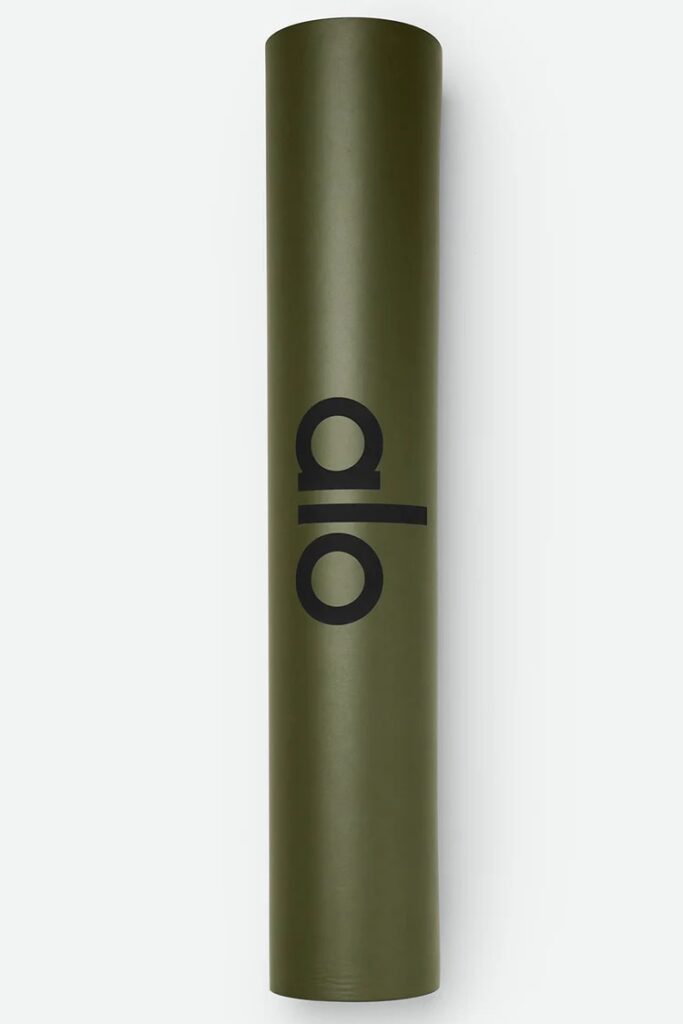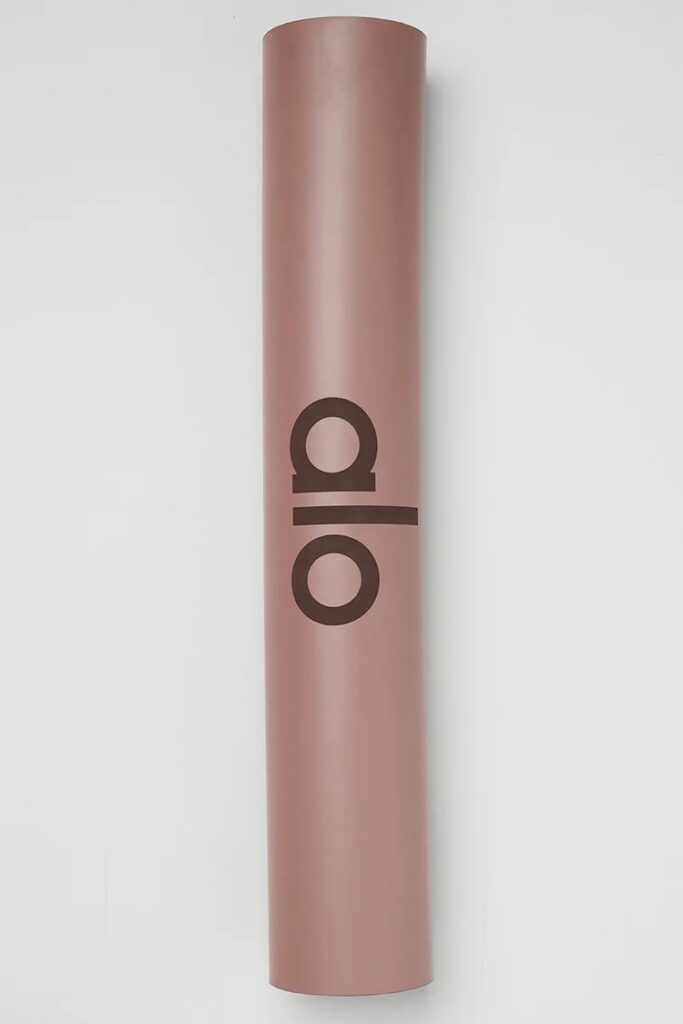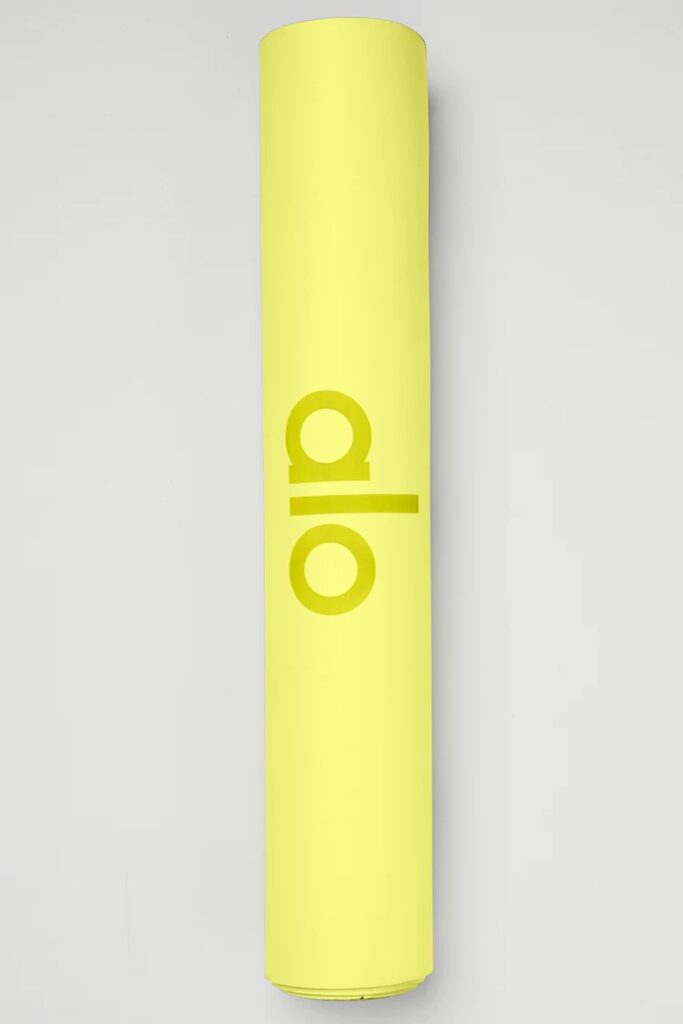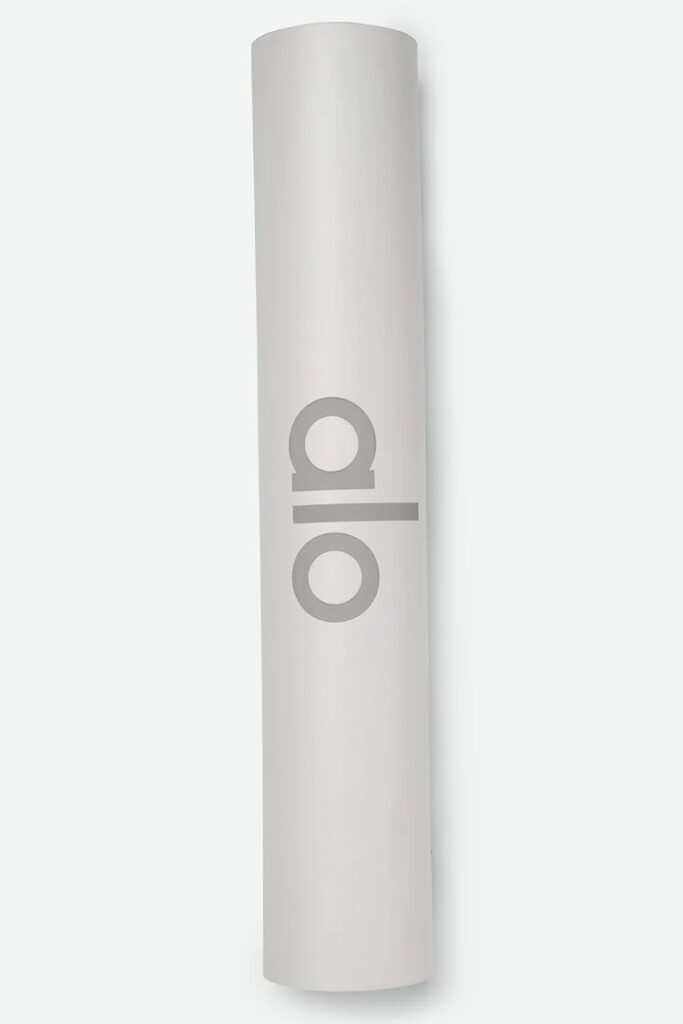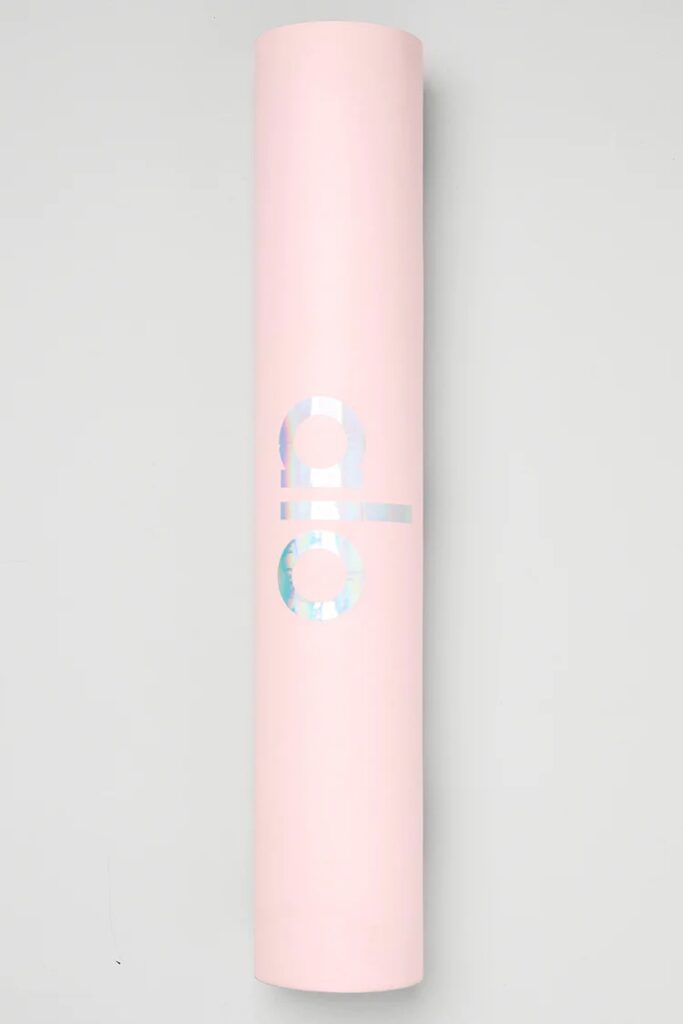 Why not express yourself and connect with your originality even on your yoga mat? Limited edition colors launch often, so check the link below to see the current color selection.
Alo Yoga Warrior Mat core collection colors:
Black Matte (jet black)
Jungle (jungle green)
Smoky Quartz (rose pink)
Highlighter (fluorescent yellow)
Dove Grey (chalk grey)
Powder Pink (bubblegum pink)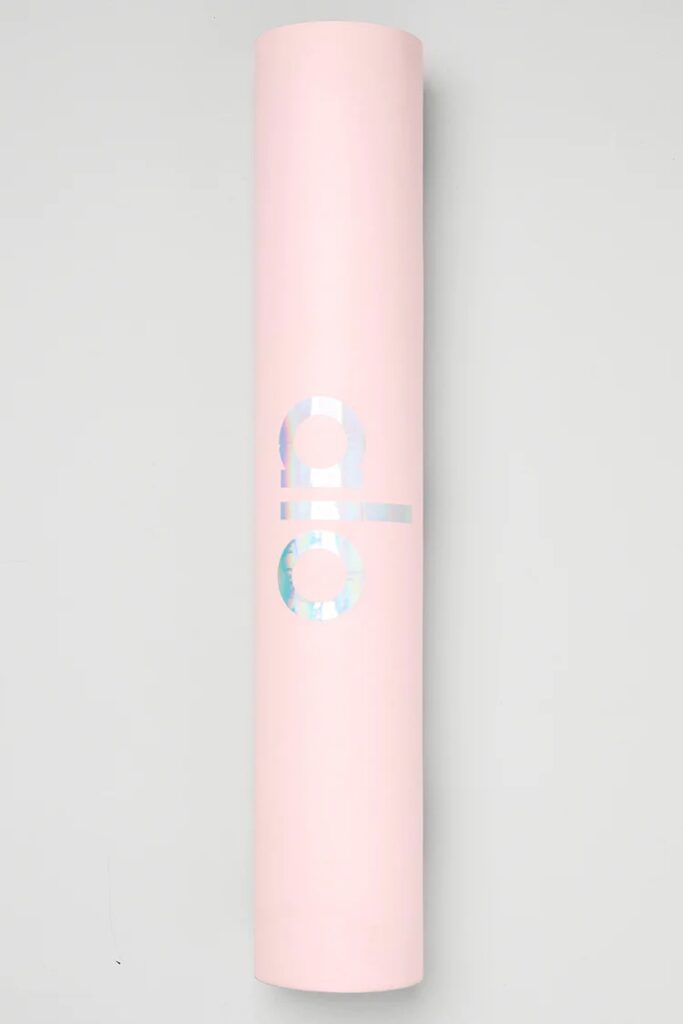 Shop the current
Warrior Mat Collection
Warrior Mat Size & Cost
Sizes:
Standard: 74 inches X 26 inches
Long: 84 inches X 26 inches
International shipping: Alo Yoga ships internationally for free
Alo Yoga offers free worldwide shipping. If you live abroad, you can order on the Alo Yoga website, and they'll ship your goods to you in Canada and most other places around the world. You can also get your Alo Yoga mat in the UK or get one delivered to you in Australia, no problem.
Why choose an Alo Yoga mat
The reason I love the Alo Yoga brand is because they are in fact a good company.
And Alo Yoga is not just functional and fashion-forward yoga apparel, they're also the company behind Alo Moves – the fitness platform that I've been a member of for over 8 years.
Click the shop link below and get 10% off your order when you signup for the Alo Yoga Newsletter on aloyoga.com.
Want more Alo?
Check out their awesome Gift of Wellness yoga gift bundles that include a yoga mat, blocks, and more, and get yourself all set up like a pro at home.
FAQ about Alo Yoga mats
Are Alo Yoga mats good?
Alo Yoga mats aren't just good, they're great. This conscious company incorporates worldly best practices into every step of the manufacturing and production process, including using sustainable materials and committing to the ethical support of their global workforce. An Alo Yoga Mat is a yoga mat made of durable materials that last and will support you in hitting every peak pose. Take an Alo Yoga Mat to your hot yoga classes and never slip again with their non-slip grip.
Which brand of yoga mat is best?
The best yoga mat brand title has got to be given to Alo Yoga. Alo produces the best yoga mats. Alo mats have been tested, tried, and true and are the choice yoga mat of yoga pros worldwide for a reason. The Alo Yoga mat collection offers it all – travel yoga mats, yoga mats with grid alignment, thick yoga mats, and non-slip grip on all of them to help you hold that pose!
Some online yoga studios, online yoga teacher training programs, and brands that we write about may offer us a small commission should you decide to make a purchase or signup after reading our content. Thank you for enabling us to exist!