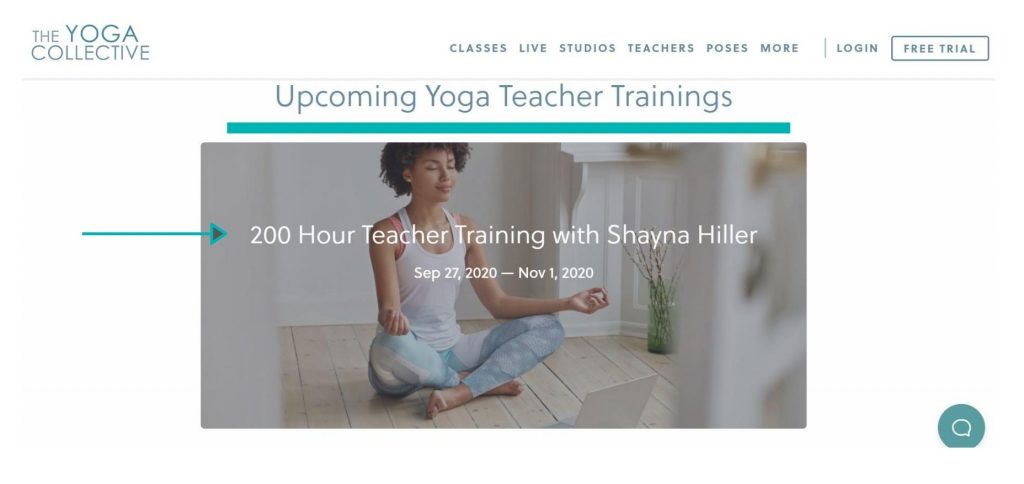 The Yoga Collective debuted their Yoga Alliance approved online yoga teacher training in 2020 with two popular and experienced online and in-studio yoga teachers, Shayna Miller and Ammy Creamer. Learn all about The Yoga Collective's new online yoga teacher training opportunity in this review!
Get Yoga Alliance Teacher Certified Online

The chance to earn your 200-hour yoga teacher training online from the comfort of your own home from such an amazing yoga studio is not one to pass up!
This online yoga teacher training offered by The Yoga Collective, two Los Angeles based sister studios is rooted in Vinyasa style yoga, but also covers Meditation, Tantra, Yin, Hatha, and breathwork.
The Yoga Collective Online YTT Features:
| | |
| --- | --- |
| Cost 200hr online YTT: | $1750 |
| Cost 300hr online YTT: | N/A |
| Installment Payment Option: | N/A |
| Program Duration: | 5 weeks |
| Lifetime Access to Course Material: | No |
| Live Streaming Online Education: | Yes |
Your first opportunity to earn your online Yoga Teacher Training Certificate with The Yoga Collective is a program lead by Shayna, 500-hr E-RYT, certified health coach, and yoga teacher business coach. Shayna believes that the philosophy of yoga is the foundation of the practice and she makes it one of her teaching pillars. Shayna's students can look forward to learning about many different facets of the yogic way beyond the physical asana. You will learn how to live, breathe, and move like a yogi with the Yoga Collective's all-encompassing online yoga teacher training program that begins in July of 2020.
By joining the online yoga teacher training revolution and becoming a certified yoga teacher and studying under Shayna you will embark on a transformational journey. You can look forward to learning from a teacher whose passion for teaching has taken her all over the globe leading yoga retreats for over a decade. Shayna's instruction are thoughtfully sequenced vinyasa-based blends that will help you explore your body and expand your mind.
Dive Deep into Yourself & Your Practice
Despite the fact that this yoga teacher training is taught online, one can expect the program to be just as rigorous as if it were held in a studio. The theory classes will be conducted daily online and will require a time commitment of 2 hours to dedicate to each self-study & homework, as well as home practice.
If the Yoga Collective sounds like a familiar name to you, it could be because you read our review of the Yoga Collective's online yoga classes. If not, be sure to check it out!
Transform From Student To Teacher
Curriculum to include, but not limited to:
Yoga History
The Business Side of Yoga
Asana
Yoga Philosophy
Yoga Anatomy
Vinyasa Sequencing
Ethics of Teaching
Pranayama & Bandhas
Finding Your Voice as a Teacher
The Yoga Diet, Nutrition, Mindful Eating
Meditation
Why not expand your physical and mental capabilities by joining the Yoga Collective's first-ever online yoga teacher training and discover yourself like never before.
Not sure if The Yoga Collective is the teacher training program for you? Then be sure to check out all of our online yoga teacher training reviews to find your ideal online yoga studio and get certified!
Some online yoga studios and online yoga teacher training programs that are reviewed by The Yogatique may offer us an affiliate commission should you decide to sign up via our site. The Yogatique's mission is to be your comprehensive online yoga resource – we write reviews regardless of whether we receive an affiliate commission or not.