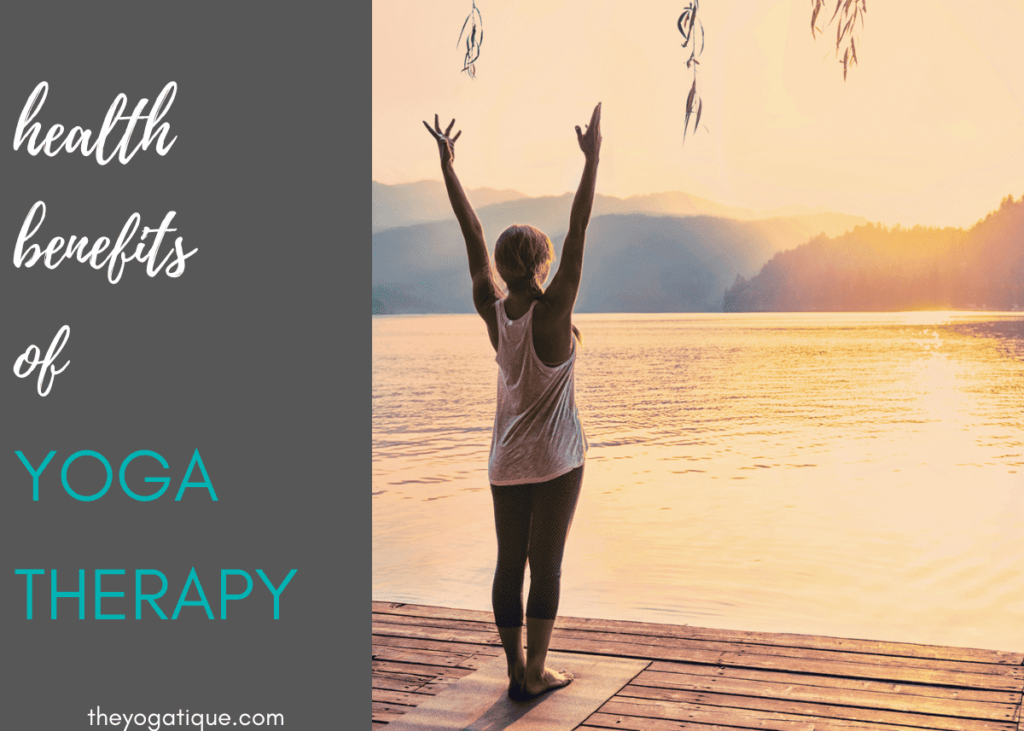 Have been contemplating which would be best suited for you, yoga or yoga therapy? Or maybe you have been trying to understand the benefits of yoga therapy versus a regular yoga class, or wondering if yoga therapy is even real? If so, this is for you!
The terms yoga and yoga therapy can sometimes be used interchangeably, yet there is a key difference between yoga therapy and yoga which we are delving into in this article.
Yoga serves as an excellent self-care practice for overall well-being. However, the benefits of yoga therapy extend further, as it is a targeted treatment for specific health conditions, using particular yoga exercises based on scientific research.
Read on to learn how yoga therapy benefits our mental and physical health and the science behind it.
---
Article content:
(Click any link below to jump directly to section)
---
What is yoga therapy?
The theory behind yoga therapy is to combine specific tools and exercises from yoga philosophy to assist in therapeutic healing for a variety of health conditions.
In a yoga therapy session, the yoga therapist will select specific physical postures, yoga asanas, breathing techniques, and meditation/relaxation techniques for existing health problems that their patients want to address.
Yoga therapists have completed years of training and are qualified to create actual treatment plans for each of their patients. Treatments might include a daily physical practice that might range from gentle such as Kundalini, to vigorous such as Vinyasa, depending on the individual case.
Props like yoga blocks, yoga straps, or chairs are commonly prescribed to assist the patient's physical limitations or needs.
In addition, the yoga therapist selects breathing exercises and relaxation practices that they believe will be most beneficial to the patient to help with the patient's specific health concerns.
It is important to note that yoga therapy is often times prescribed or suggested as an adjunct therapy; that said it should be used in addition to other forms of treatment.
Discover the differences between a yoga therapist and a yoga teacher.
What is the goal of yoga therapy?
Yoga therapy aims to eliminate, reduce, or manage symptoms causing pain or suffering, resulting in improved health. In cases of curing ailments and conditions, the goal of a long-term regular yoga therapy practice is to prevent the recurrence of the illness or the associated symptoms. Yoga therapy can be both preventative and/or curative.
Who can benefit from yoga therapy?
While yoga is beneficial for everyone, yoga therapy is ideal for people with health challenges. This includes chronic pain from physical conditions such as multiple sclerosis, heart problems such as heart disease and high blood pressure, and mental health conditions like anxiety, eating disorders, or PTSD.
People in good health most often practice yoga independently or via yoga classes with an instructor. However, for those who are considering yoga therapy to assist with the healing of an ailment, it is important to seek guidance from a certified yoga therapist.
As yoga therapy is a distinct practice from regular yoga, certified yoga instructors are not qualified to lead yoga therapy sessions, yoga therapists are.
When seeking a professional to assist in their healing process, patients should look for a yoga therapist registered with the International Association of Yoga Therapists. Healthcare providers such as GP's, physical therapists, and mental health professionals will often work alongside yoga therapists.
What conditions can yoga therapy help with?
Yoga therapy can be used as a complementary treatment for many conditions, including:
Chronic pain
Osteoporosis
Multiple sclerosis
Arthritis
Heart disease
High blood pressure
Diabetes
Autoimmune Diseases
IBS
Cancer
Parkinson's
Alzheimer's
Eating disorders
Insomnia
Depression and PTSD
3 Mental Health Benefits Of Yoga Therapy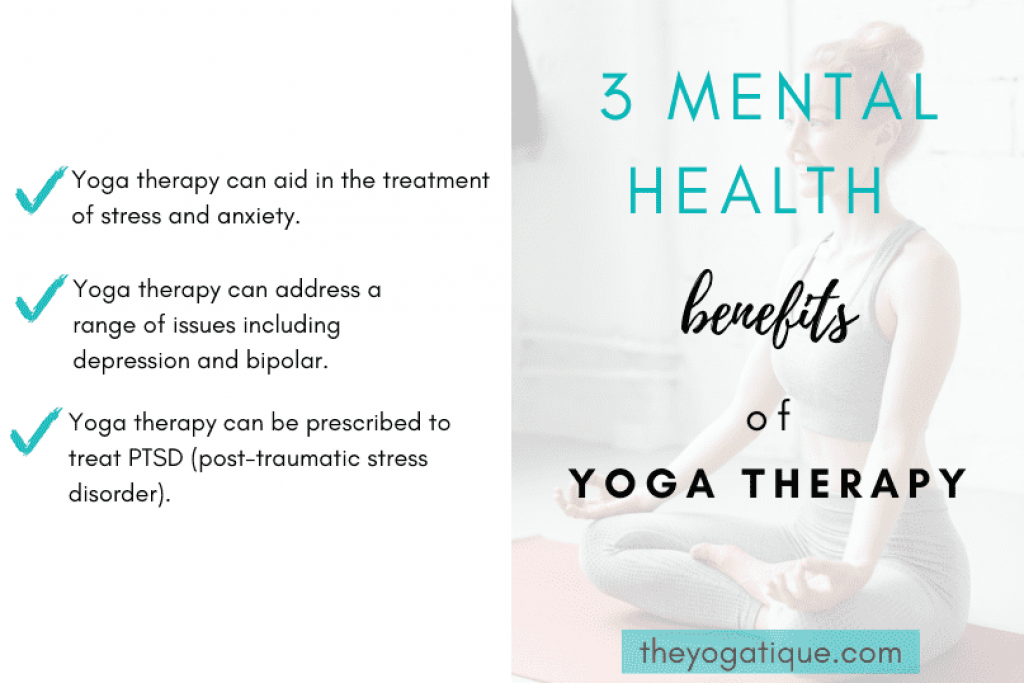 Yoga therapy aids with stress and anxiety
Yoga therapy can treat mental health conditions
Yoga therapy helps with post-traumatic stress disorder
Yoga therapy benefits extend beyond treating physical ailments as regular yoga therapy sessions can improve mental health in several ways.
1. Yoga therapy aids stress and anxiety
Like general yoga practice, yoga therapy is an excellent stress management tool. This is because of the connection to the breath that you cultivate through performing yoga poses and learning breathing techniques.
This conscious awareness of the breath calms the nervous system, switching off the fight-or-flight mode responsible for feelings of stress and anxiety. In addition, yoga techniques lower the stress hormone cortisol, which increases your tolerance for stressors, including physical pain.
2. Yoga therapy can treat mental health conditions
A daily practice of yoga can help reduce the symptoms of a wide range of mental health conditions ranging from depression to bipolar disorder. One reason is that yoga restructures the pathways in your brain known as neural networks.
Every time you practice yoga, your brain cells develop new neural connections, strengthening key parts of the brain. This improves the brain's executive functions, such as reasoning, decision-making, memory, learning, and reac­tion time.
3. Yoga therapy helps with post-traumatic stress disorder
A few studies have looked at yoga's specific effect on post-traumatic stress dis­order (PTSD) sufferers. For example, one study found that yoga reduces physiological arousal in PTSD patients and improves somatic regulation and body awareness, which are closely linked to emotion regulation. This suggests that yoga can help us handle difficult emotions more healthily, allowing us to heal from traumatic experiences instead of suppressing them.
Yoga therapy research
A large amount of scientific evidence spanning four decades shows a regular yoga practice improves your mood and mental state, reducing feelings of anxiety and depression. It also enhances the ability to deal with stress, preventing you from developing mental health illnesses in the future.
However, research has also found that yoga therapy is an effective complementary treatment for major psychiatric disorders such as schizophrenia and bipolar disorder.
Scientists believe this is due to yoga's effect on the nervous system (in particular, the activation of the rest and digest response). In addition, activation of the antagonistic neuromuscular systems and stimulation of the limbic system plays a significant role.
There have also been several studies looking at the effects of yoga therapy on specific physical health conditions. For example, a 2010 study on yoga for arthritis found the therapeutic practice reduces pain and other symptoms, such as tender/swollen joints, and improves mobility. In addition, a series of studies on yoga for musculoskeletal conditions like chronic low back pain and osteoarthritis found significant improvement in the functional outcomes of these ailments.
Takeaway on the benefits of yoga therapy
Yoga therapy is a therapeutic practice for targeted healing using the spiritual and movement components of yoga teachings. The benefits of yoga therapy are vast, and may also include increased positive feelings and self-esteem and a deeper sense of inner peace in daily life.
If you are looking for yoga therapy books to delve even deeper into this fascinating topic I recommend best-selling author Mark Stephens book, Yoga Therapy: Foundations, Methods, and Practices for Common Ailments.
Some online yoga studios, online yoga teacher training programs, and brands that we write about may offer us a small commission should you decide to make a purchase or signup after reading our content. Thank you for enabling us to exist!