Have you been curious to learn more about Omstars, yogi? Well here you go! My Omstars review reveals everything you want to know about Omstars, a one-stop-shop for online yoga classes and wellness tips. Kino MacGregor's online yoga platform, Omstars, is an exciting addition to the online yoga community and offers great value to their members. In this review of Omstars we'll get into prices, features, deals, and more. Let's get to it.
The dynamic group of well-known yoga instructors teaching on Omstars, and the breadth of yoga and lifestyle topics offered on the site make Omstars a robust resource for yogis to learn and practice yoga as a way of life.
And with our Omstars partnership, we are excited to be able to offer you an extended 44-day free trial versus the standard 14-day Omstars trial. Keep reading for the inside scoop, and use code Yogatique on Omstars below for an extra free month of Omstars!
The Yogatique Critique: Omstars Review
The Yogatique Promo:
44-day free trial!
Monthly Cost:
$14.99 or $12.50/month annually
Annual or
Biannual Cost:
Annual: $149.99
Biannual: N/A
Free Trial:
Yes, 44 days via The Yogatique
14 days elsewhere
Mobile App:
Yes
Downloadable Classes:
No
LIVE Online Yoga Classes:
Yes
Number of Online Yoga Classes:
3,000+
---
Article content:
(Click any link below to jump directly to section)
---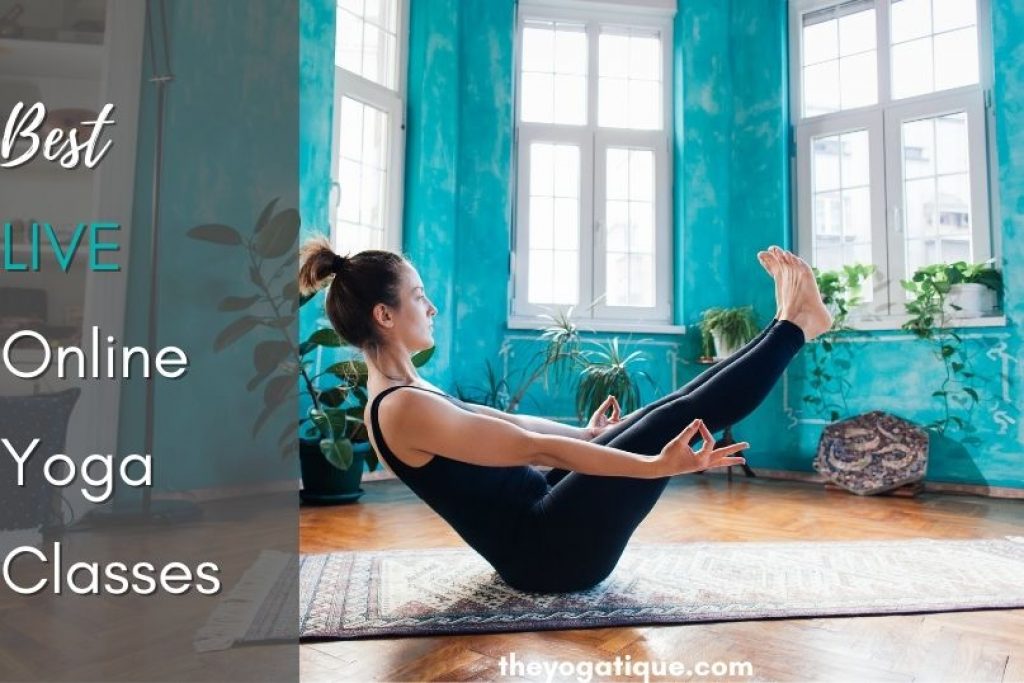 Looking for LIVE online yoga classes?!
We get it, and we got you ✔️
Discover the 6 best LIVE online yoga memberships to join today ⬇
Omstars Pros and Cons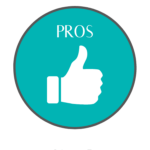 Special 44 day free trial offer
Diverse class & content offerings
Low-cost online yoga subscription
LIVE streaming online yoga classes
Mobile app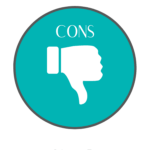 Certain yoga styles are not heavily represented
Site functionality could be enhanced for easier usage and navigation
An introduction to the Omstars instructors
In my Omstars review, I discovered that Omstars has a most intriguing group of instructors whose credentials range from certified yoga instructors to chiropractors to Cirque Du Soleil performers. Impressive, right?!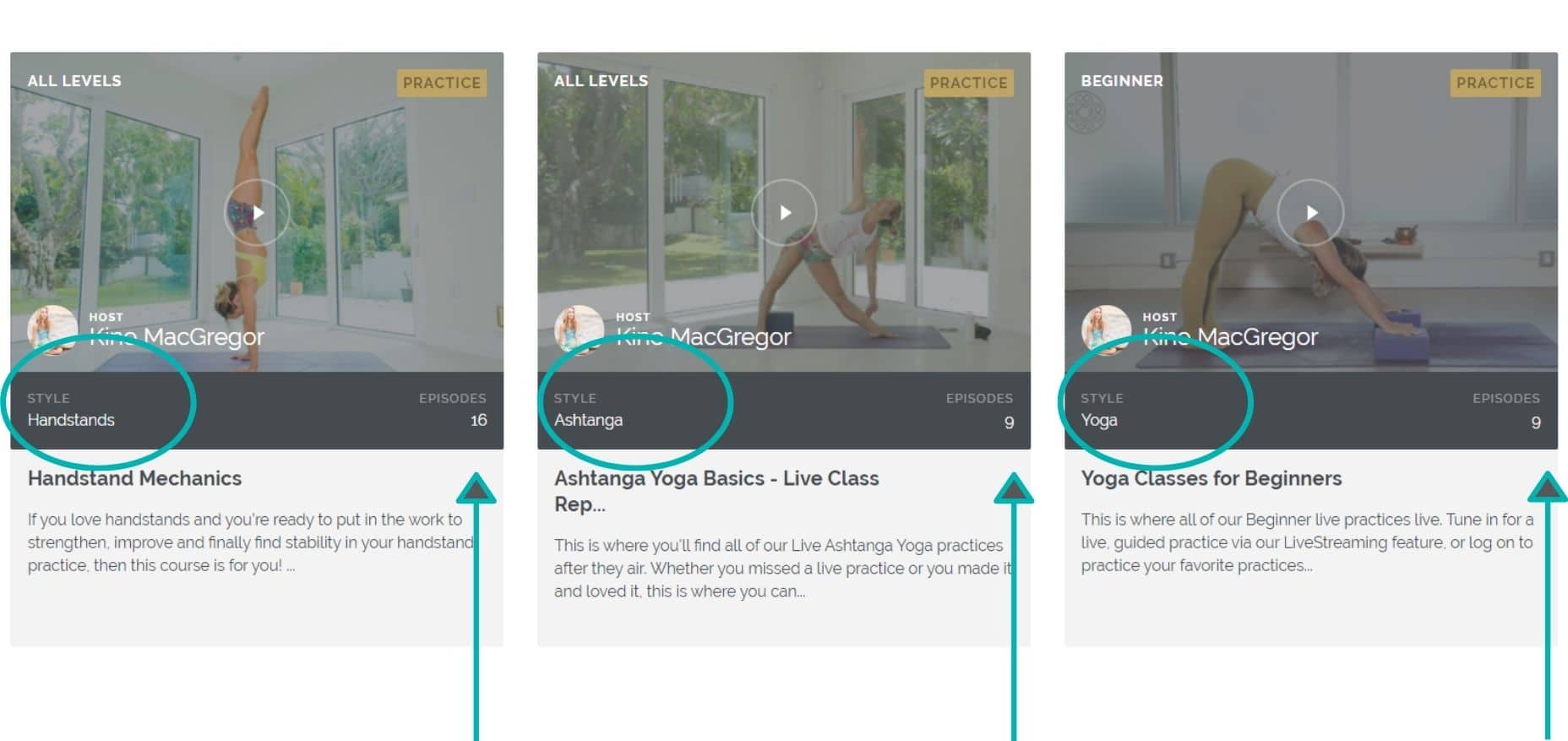 Meet Kino MacGregor – the founder of Omstars
Kino MacGregor, a co-founder of Omstars and an Ashtanga yogi master herself, tops the list of the Omstars noted line-up of instructors.
The famed yogini offers an ever-growing collection of yoga videos on her platform that she teaches in her signature Ashtanga style. Omstars is heavily Ashtanga-focused, but I expect that as Omstars grows, so will their offerings of other yoga styles.
So Kino devotees, you've found your place, Omstars is a must!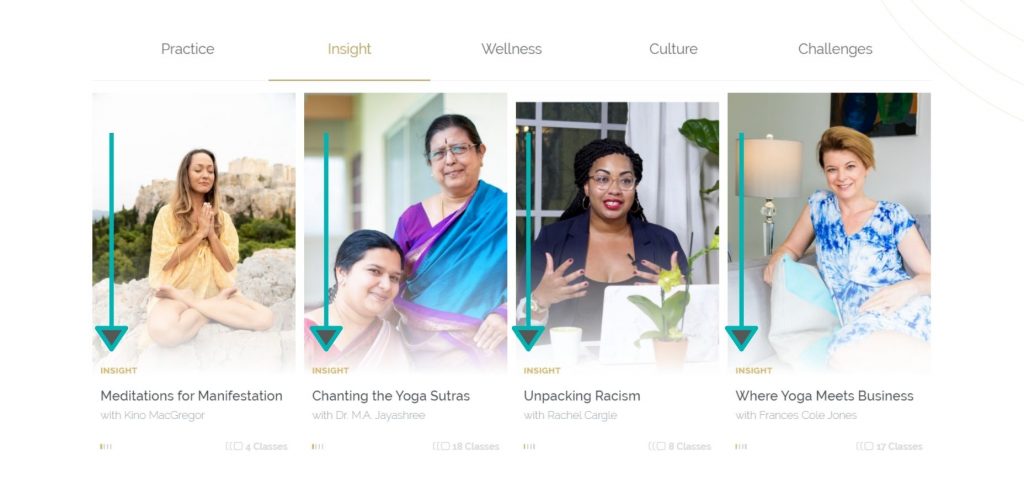 Discover LIVE online yoga classes on Omstars
Just like YogaDownload and YogaVibes, in July 2020 Omstars began offering LIVE online yoga classes.
For those of us who practice yoga at home every day, sometimes we find ourselves repeating our favorite online yoga classes over and over and over. Which frankly, can get a bit boring! This is where finding an online yoga studio that offers LIVE online yoga classes is a game-changer.
With LIVE online yoga class options, you can attend a fresh new yoga class every day. Just as if you were going to the studio and your yoga teacher had created a brand new sequence for that class, LIVE online classes are the same thing, but you take them at home. Make sense?!
While Omstars does not offer LIVE online yoga classes for free, they only charge $5 to attend as an Omstars subscriber. And it's $10 to drop-in into an Omstars LIVE class for non-subscribers.
The Yoga Collective also has a similar LIVE membership setup in that LIVE classes can be attended on a drop-in basis rather than being included with a monthly membership.
Omstars Review: Site Overview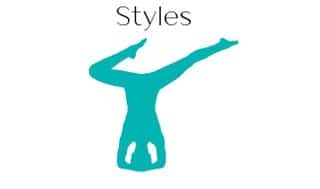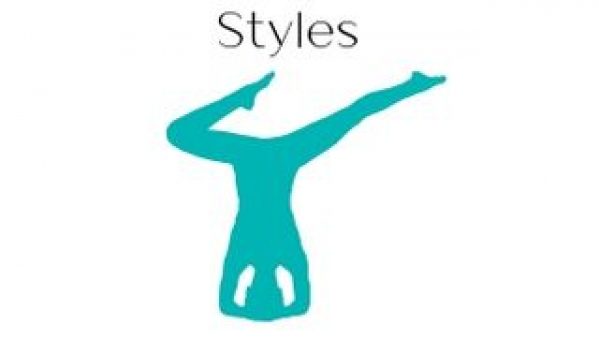 Acro, Anatomy, Arm Balance, Ashtanga, Ayurveda, Chair Yoga, Chanting, Dance, Dharma Yoga, Headstands, Hatha, Iyengar, Jing Yoga, Jivamukti, Kundalini, Meditation, Pranayama, Pre-Natal, Restorative, Vinyasa, Yin, Yoga Nidra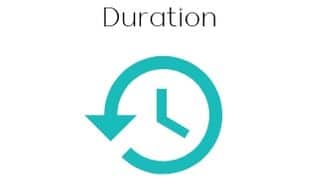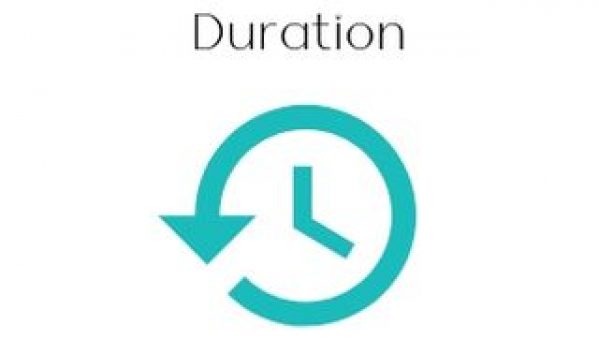 Unknown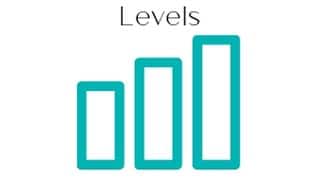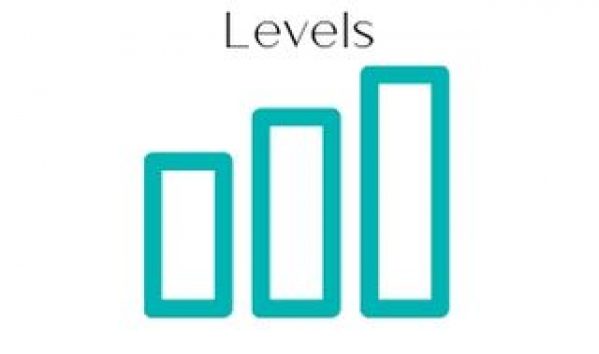 Beginner, Intermediate, Advanced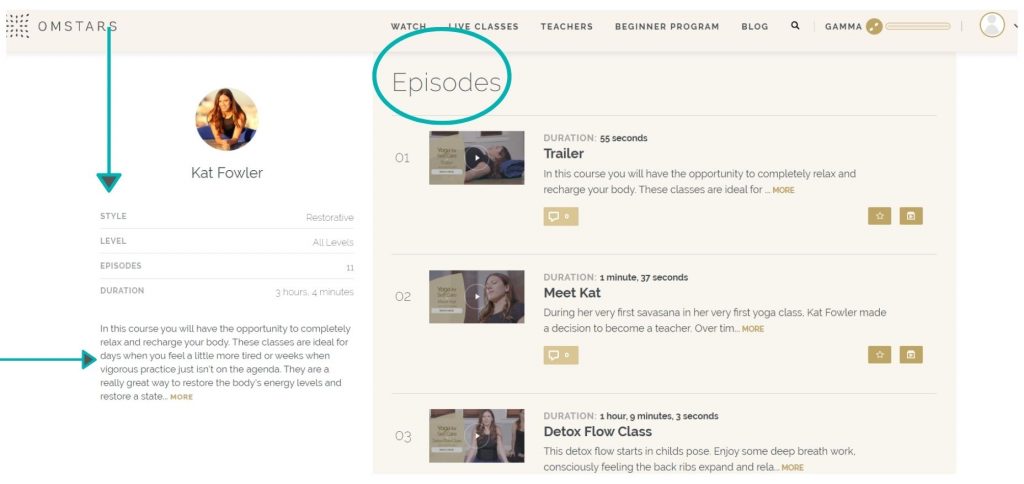 The ins and outs of the Omstars website
I love that Omstars offers a video introduction for each of their instructors. Be sure to check those out to get to know your yoga teachers a little bit better.
The Omstars website itself could be a little more user-friendly overall. The "Watch" tab could benefit from a drop-down menu to filter classes more quickly by yoga style and class duration. And the "Host" tab could also benefit from a drop-down menu to easily categorize yoga, culture, cooking, etc, again for ease of use.
I've heard from the Omstars team that there are many exciting updates to look forward to on the website, and soon.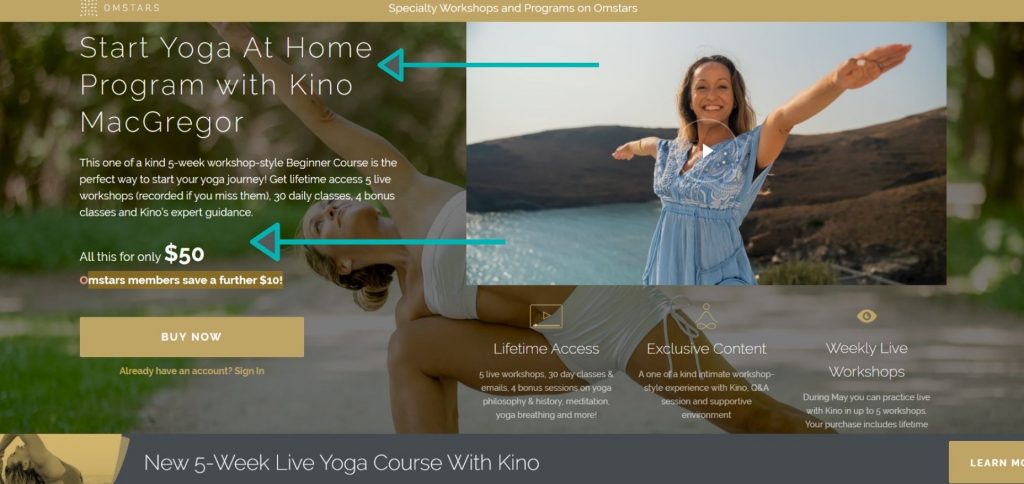 The Omstars reward system
One very unique component of Omstars is their reward system. For each 15-minute segment of yoga completed you gain 1 reward point. And 144 reward points are equal to $1 that can be used in their online shop or donated to the charity that they've partnered with, Yoga Gives Back. I love that.
In theory, it would take 9.6 hours of logged yoga classes to accumulate $1. So although it's a nice idea, especially the fact that accumulated dollars can be donated to charity, it could be made a little bit more achievable. It's a great concept though.
Takeaway on Omstars review
As a new company branding itself as the "Netflix of Yoga," Omstars is certainly aiming to offer their members an array of very diverse and all-encompassing video content relating to the "yogic way of life".
After practicing on Omstars myself, I think Omstars is absolutely worth discovering. And overall I think Omstars is a yoga membership that any Ashtanga or Kino lover simply must signup for!
Use code Yogatique for the special 44-day free trial offer below.
Seeking something a little different like a yoga podcast or more online platforms to peruse? Then be sure to read our Gaia and Alo Moves review, too.
Some online yoga studios, online yoga teacher training programs, and brands that we write about may offer us a small commission should you decide to make a purchase or signup after reading our content. Thank you for enabling us to exist!
Basic to intermediate yoga pose guide
If you are brand new to yoga, these poses below will be ones you will likely soon master with your own expression by repetition! As well as getting acquainted with the poses below, we encourage you to look at Yoga Journal's pose guide. And most importantly, listen to your body.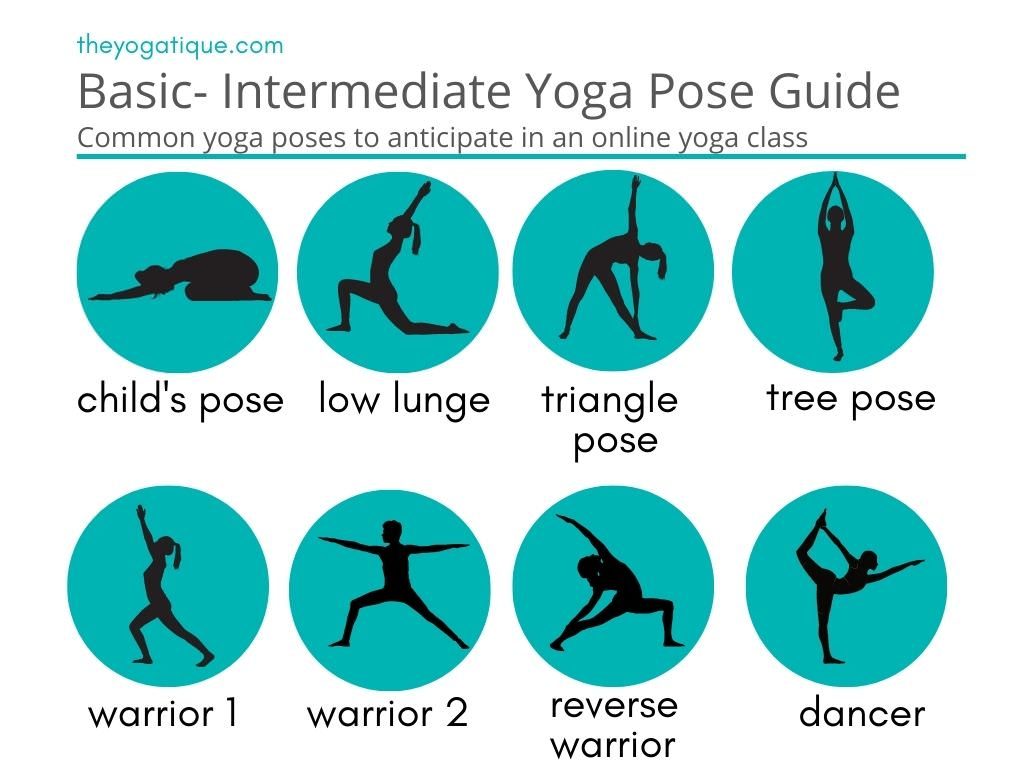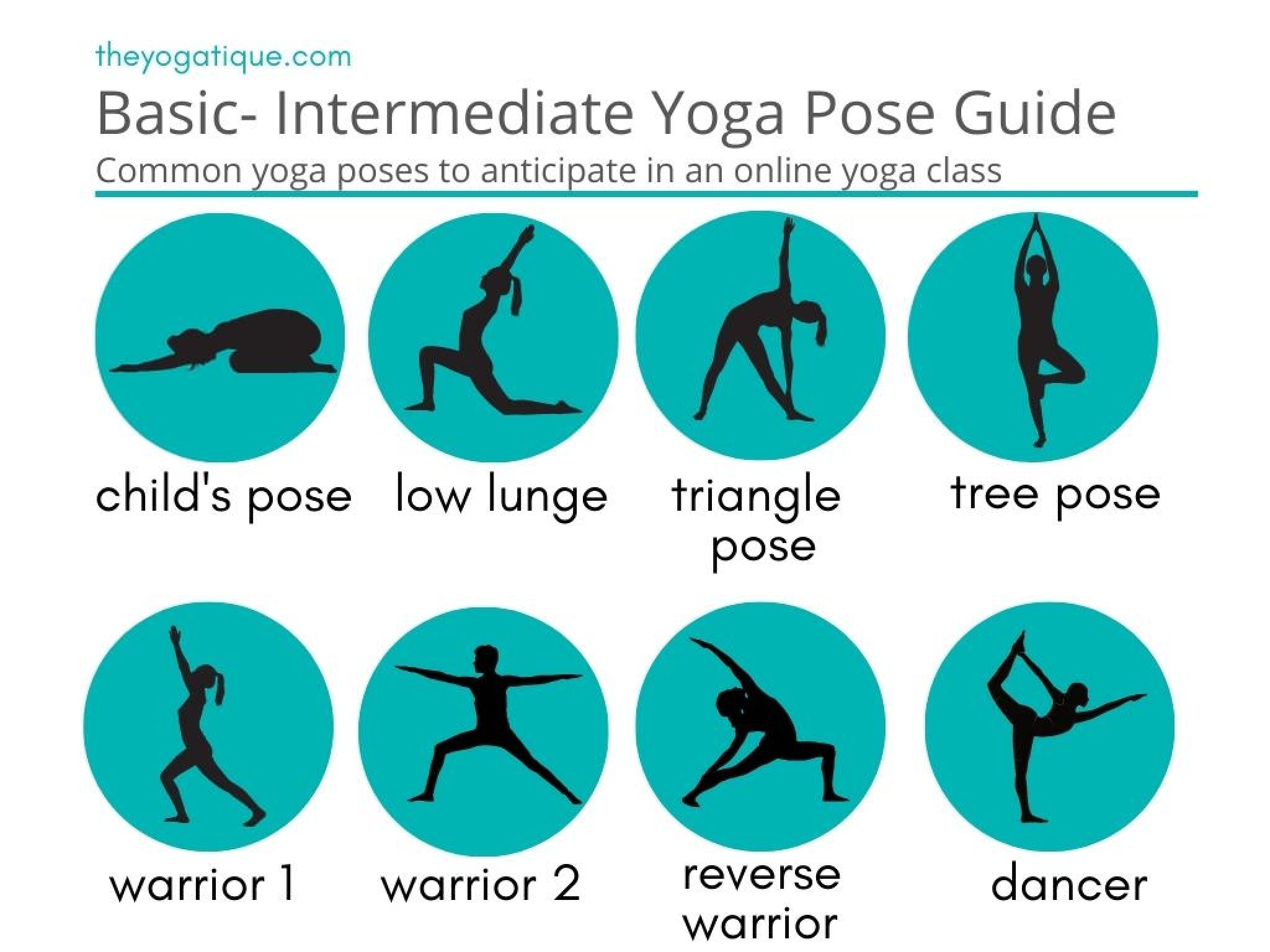 FAQ about Omstars
How much does Omstars cost?
Omstars costs $14.99/month. For that price, you get unlimited access to thousands of premium online yoga classes and weekly LIVE online yoga classes led by Kino MacGregor, too! Take advantage of our special 44 day free trial offer which should give you plenty of time to decide if Omstars is the ideal online yoga platform for you.
Omstars coupon
Our current Omstars coupon is for a free 44 day free trial period, during which time you can test this premium online yoga platform as much as you'd like. Take advantage of unlimited online yoga classes and free LIVE online yoga classes for an entire 44 days for free.
Omstars LIVE classes
Omstars offers weekly LIVE online yoga classes for their members. Try Omstars out for 44 days for free with our special 44-day free trial offer and check out their live classes for yourself.
Omstars
Get our exclusive 44-day free trial to Omstars. Omstars offers Ashtanga addicts more than enough online yoga classes for a lifetime! With their dynamic team of teachers who each offer very unique courses, you're bound to get hooked on this up and coming online yoga studio! And of course, we can't leave out the fact that Omstars is founded by famed Ashtanga Queen, Kino MacGregor herself!
PROS
Exclusive 44-day free trial!
Diverse class and content offerings
Low cost
Live streaming classes
CONS
Certain yoga styles not heavily represented
Site functionality could be enhanced for easier use and navigation